MLB mulls shorter season, full prorated salaries for players
Unable to yet reach a return-to-play agreement, Major League Baseball has discussed playing a shorter schedule in which it would pay members of the MLB Players Association their full prorated salaries, sources familiar with the situation told ESPN.
Though MLB does not intend to propose this to the players, the possibility of implementing a schedule of around 50 games that would start in July has been considered by the league as a last resort in the event the parties can't come to a deal, sources said.
Players have held out for a full prorated portion of their salaries based on a March 26 agreement with the league, and in an offer Sunday proposed a 114-game schedule that would cover 70.3% of their original salaries. A 50-game schedule with full pro rata would pay the players 30.8% of that number.
Language in the the March agreement appears to give commissioner Rob Manfred the right to deliver a season schedule after "good faith" discussions between the league and the union.
"Based on that feedback received from the Players Association," the agreement reads, "the Office of the Commissioner will construct and provide to the Players Association, as promptly as possible, a proposed 2020 championship season and postseason schedule (or multiple schedule options) using best efforts to play as many games as possible, while taking into account player safety and health, rescheduling needs, competitive considerations, stadium availability, and the economic feasibility of various alternatives."
In the first section of the agreement, under the "Resumption of Play" heading, it reads: "By entering into this agreement, the Office of the Commissioner, the Players Association, the Clubs, and Players recognize that each of the parties shall work in good faith to as soon as is practicable commence, play, and complete the fullest 2020 championship season and post-season that is economically feasible."
A shortened schedule would run in contrast with what the players sought in a proposal sent to the league Sunday. The league's first proposal to the union offered an 82-game schedule with significant salary cuts. Multiple players told ESPN they would not abide a shorter schedule, with one saying, "We want to play more games and they want to play less. We want more baseball."
The league, which has contended it will lose money each game it plays without fans and with players making their full pro rata, has pushed for a shorter season due to fears of a second wave of the coronavirus potentially wiping out its postseason and the revenue that comes with it. The economic feasibility language in the scheduling section also could serve as a rationale from the teams for a shorter season.
MVP plaque presenters will discuss Kenesaw Mountain Landis' name on awards
NEW YORK — The baseball organization that presents the annual MVP awards will consider whether the name of former commissioner Kenesaw Mountain Landis should be pulled from future plaques.
"The issue is being addressed," Jack O'Connell, longtime secretary-treasurer of the Baseball Writers' Association of America, said Wednesday. "It will definitely be put up for discussion."
Former NL most valuable players Barry Larkin, Mike Schmidt and Terry Pendleton this week told The Associated Press that they would favor removing Landis' name because of concerns about his handling of Black players.
"I could not agree more," writer and broadcaster Peter Gammons tweeted.
Meanwhile, a lively debate has popped up on social media about whose name should be on the plaque, if anyone's at all. Among those being suggested are Hall of Famer Frank Robinson, the only player to win the MVP in both leagues, Negro Leagues star Josh Gibson and Brooklyn Dodgers owner Branch Rickey, who signed Jackie Robinson.
Landis was hired in 1920 as MLB's first commissioner. No Black players played in the majors during his tenure, which ended with his death in late 1944. Robinson broke the color barrier in 1947, and Larry Doby followed later that season.
Landis' legacy is "always a complicated story" that includes "documented racism," official MLB historian John Thorn said.
Every AL and NL MVP plaque since Landis' death has carried his name — in letters twice as big as those of the winner — and an imprint of his face. Landis gave the BBWAA control of picking and presenting the MVP award in 1931.
"We are trying to work out the mechanics of dealing with the topic amid a pandemic," O'Connell said. "It will just be a matter of what form.
"It is safe to say that we would prefer to settle this matter before the winter meetings."
The BBWAA's next scheduled meeting is at the winter meetings in December in Dallas. The MVP winners are usually announced in November.
Landis' name has been on the plaques for 75 years, but it is not pledged to remain there under the BBWAA constitution. A vote by the membership could lead to a redesign by the end of the coronavirus-pandemic-delayed, 60-game season set to start in three weeks.
"I don't know that it needs a name," Larkin said. "MVP says it all."
Cardinals replace Yankees in Field of Dreams game against White Sox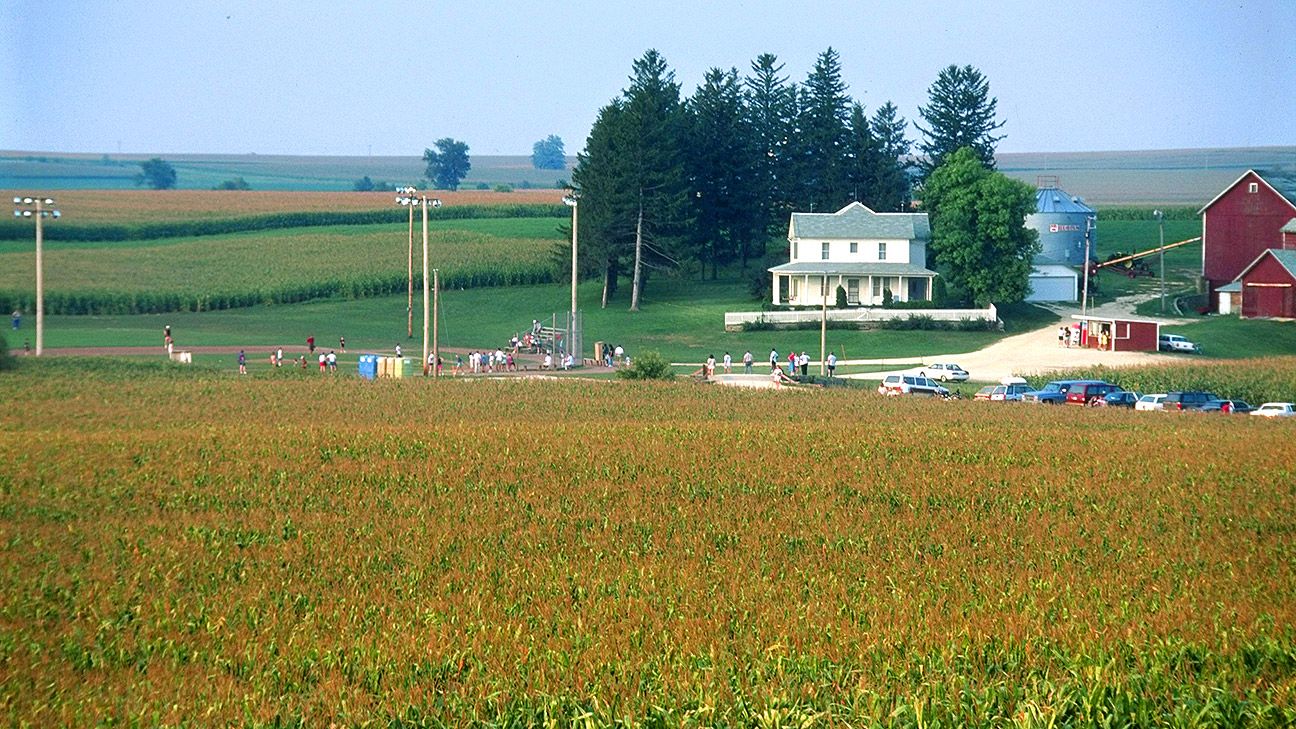 NEW YORK — The St. Louis Cardinals have replaced the New York Yankees as the opponent for the Chicago White Sox in the Field of Dreams game on Aug. 13 at Dyersville, Iowa, a source confirmed to The Associated Press on Wednesday.
The schedule change caused by the coronavirus pandemic meant the White Sox no longer play the Yankees this season. The new opponent was first reported by The Des Moines Register.
Major League Baseball hopes to announce its new schedule next week. Each team will play 60 games, 40 against division rivals and 20 against teams in the corresponding regional division in the other league.
"We hope to have the option to play," MLB said in a statement. "Construction is continuing and we are following all CDC and state protocols regarding recommended safety practices, including social distancing, washing hands, and temperature checks before arriving to the site."
It remains unclear whether fans would be allowed at the game, which is to be televised nationally by Fox.
"We are monitoring ongoing events and plan to remain as flexible as these circumstances demand," MLB said.
A temporary 8,000-seat stadium is nearing completion at the site, about 200 miles west of Chicago, adjacent to where the movie was filmed on a diamond in a cornfield. This would be the major league game played in Iowa.
The movie, released in 1989, starred Kevin Costner, Amy Madigan, James Earl Jones, Burt Lancaster and Ray Liotta.
Cubs pitching coach Tommy Hottovy details emotional fight against coronavirus
While fighting back tears, Chicago Cubs pitching coach Tommy Hottovy detailed his fight against the coronavirus, which sent him into home isolation for 30 days.
"I felt it was important for me to talk through what I went through because too much of what's out there is the easy stories of what people go through with this," the 38-year-old Hottovy said on the Zoom conference call Wednesday after composing himself. "If my journey through this helps one person realize how severe this can get, and that can save one life, then I want my story to be heard."
Hottovy is unsure how he contracted the virus, saying he took all the usual suggested precautions like washing his hands often. Still, it was hard for him not to blame himself, feeling he put his wife and kids in harm's way.
"I went through some really weird stages throughout the whole process," Hottovy said. "Depression. Thinking that I did do something wrong. How could I put my family in that situation?"
Hottovy never had to spend a night in the hospital, but he did have a long day in one as he needed help with his breathing. At first, his symptoms came and went before his fever spiked.
"For 30 days, this virus, it was always worse at night," Hottovy said. "I wouldn't sleep from midnight to six in the morning. Then from 6-10, I'd get some sleep. Every night, I'd get up at 2 and my wife would still be cleaning. She had to bring me food and water every day."
Based on the severity of his symptoms, Hottovy was asked whether he believes it is feasible for baseball or sports to play anytime soon.
"I do believe having sports is important," Hottovy said. "At the same token, one little misstep, one little contact situation by one person, can derail an entire industry."
As many in the game have already stated, Hottovy believes it can only be successful if everyone is pulling in the same direction.
"I want to do everything we can to bring baseball back to the fans," Hottovy said. "We have to take care of ourselves and each other and hold each other accountable or it could easily get derailed."
Hottovy said Cubs pitchers knew of his ailment early on, and he couldn't always communicate to the best of his ability during Zoom calls as he'd be short of breath. But it's those pitchers — and the rest of his team — that he wants to be there for. He contemplated opting out of the season but ultimately decided against it.
"There are still guys that don't want to come anywhere near me," Hottovy said with a chuckle. "Them (Cubs pitchers) living that kind of experience with me hit home a little bit. When you know someone that gets it, it hits home, when it's significant. No one is immune."
Hottovy said he lost a lot of weight, gets winded easily and is still recovering, saying he's at about 80% right now. But he hopes the worst is behind him and is now telling an emotional, cautionary tale.
"It shows you how fresh it is for me and how I want to be here for these guys because they have questions," Hottovy said. "Their families have questions. I do think it's important for me and my family to be accessible to these guys."