EA delays first look at Madden NFL 2021 to help 'drive change' amid protests
EA Sports is postponing a first look at Madden NFL 2021 planned for Monday in light of the protests in Minneapolis and around the country over the death of George Floyd.
"We stand with our African American / Black community of friends, players, colleagues and partners," EA Sports said in a statement on social media Sunday. "Our immediate attention is on actions we can take to drive change against the unjust treatment and systemic bias that is plaguing the nation and our world."
Floyd, a black man, died last week in Minneapolis after Derek Chauvin, a white police officer, kneeled on his neck for more than eight minutes.
EA announced last month that Madden NFL 2021 will be released on next-generation video game consoles but gave no more information about the game. Monday's event was slated to give fans a first look at the latest installment of the iconic franchise.
"We'll find another time to talk football with you. Because this is bigger than a game, bigger than sports, and needs all of us to stand together and commit to change."
Baltimore Ravens quarterback Lamar Jackson said in April that he would be on the cover this year, but EA Sports has not made an announcement.
EA also recently agreed to a deal with the NFL to remain the league's exclusive publisher of football simulation games through 2026.
Seahawks' Quinton Dunbar changes lawyers after report of payoff
Seattle Seahawks cornerback Quinton Dunbar has changed legal counsel after new information came to light late last week about a possible payoff that took place at the office of attorney Michael Grieco.
Grieco and Michael Weinstein have withdrawn as Dunbar's counsel, according to court records. Andrew Rier and Jonathan Jordan of Rier Jordan will now represent Dunbar as he faces four counts of armed robbery from a May 13 incident in Miramar, Florida.
"We agreed that new counsel would allow for continued advocacy of Mr. Dunbar's innocence without any collateral distractions," Grieco told ESPN in a text message Monday about his decision to step aside in the case.
Dunbar's new attorneys filed Sunday for a Notice of Appearance and Notice of Participation in Discovery requesting all the necessary information from the state for this case.
The switch was made just days after evidence obtained by the New York Daily News from a search warrant indicated that the witness in the alleged robbery, Dominica Johnson, oversaw a payout to the victims at Grieco's office. The warrant noted video footage and direct messages as evidence. All four alleged victims signed affidavits shortly after recanting their original stories.
The Miami Herald then reported over the weekend that, as of last month, Grieco was under criminal investigation.
Grieco responded to the Daily News' report over the weekend.
"Law enforcement, both local and federal, was advised from day one and beyond that the alleged 'victims' in this case were actively extorting [DeAndre] Baker and Dunbar," he told The Seattle Times. "These men fabricated a robbery story after waiting an hour to call police and then immediately began contacting the players demanding money.
"My office obtained accurate and truthful affidavits consistent with the independent witness and my client's account. These 'victims' are seasoned career criminals who have been arrested and/or convicted of crimes ranging from conspiracy to commit murder, to human trafficking, to filing a false police report. Mr. Dunbar took and passed a polygraph confirming that he did not participate or witness any robbery."
Baker, a cornerback for the New York Giants, also faces four counts of armed robbery and four counts of aggravated assault with a firearm from the incident. His attorney, Bradford Cohen, told ESPN over the weekend that no payment or offer of money was made from Baker.
NFL unveils Oakley Mouth Shield to combat coronavirus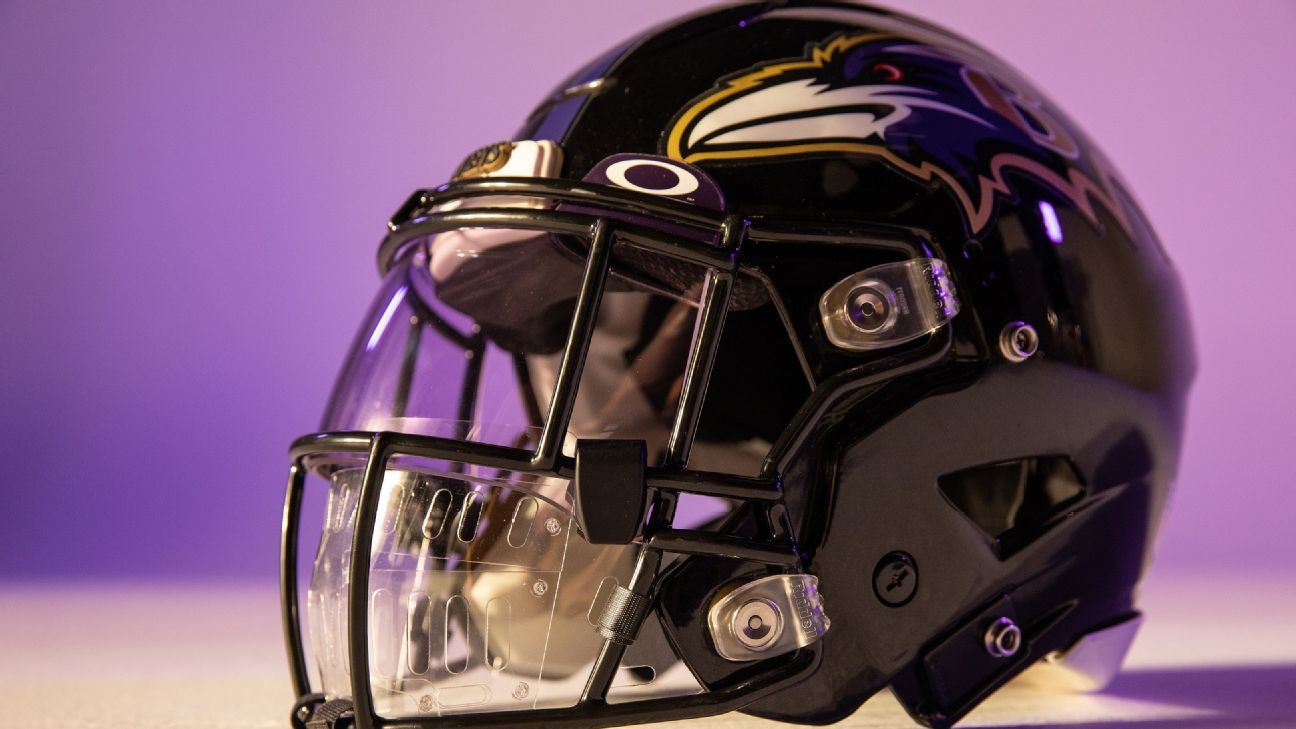 In the name of health and safety, NFL players could be sporting a whole new look in 2020.
The Oakley Mouth Shield — a product designed by doctors and engineers from the NFL and NFL Players Association to mitigate the spread of the coronavirus on the field of play — is expected to be distributed to all 32 teams over the next week, when it will receive a test drive on a much larger scale than it has gotten to date.
Safety protocol negotiations are ongoing between the league and players. Currently, there is no mandate to wear a face shield, but the NFL's medical experts are advocating for the use of the protective equipment.
"That's certainly what we're going to encourage," said Dr. Allen Sills, the NFL's chief medical officer. "And we hope that we're going to land on a product design that's something that everyone would want to wear, because they'll see the value and want that additional protection without any detriment to performance."
The Oakley Prizm Lens Technology used by skiers, military personnel and, most recently, NFL players for enhanced color and contrast in their visors, is featured in the new design. Plastic sheets extend down and attach to the faceguard. There are airways and openings on the mouth shield but none that allow the direct transmission of droplets, according to the chair of the NFL's engineering committee, Dr. Jeff Crandall.
The mouth shield has already been distributed to the Los Angeles Rams and Los Angeles Chargers — two teams close to Oakley's home base — per NFLPA medical director Dr. Thom Mayer, and has also been sent to various player representatives and equipment managers for feedback.
The two biggest concerns to date have been visibility and breathe-ability, according to Mayer.
"We've only had it on a few players — we have 2,500 players in the league — but I was surprised that … claustrophobia has not been an issue yet," he said. "I think it will be when we [have more players testing them]."
Houston Texans star defensive lineman J.J. Watt, for one, is firmly against the idea of wearing a face shield.
"My second year in the league I thought it'd be cool, I put a visor on my helmet," Watt told ProFootballTalk. "I was like, 'It looks so cool, I wanna put a visor on.' I had it on for about three periods of practice and I said, 'Take this sucker off — I'm gonna die out here.' … So now you're gonna put something around my mouth? You can keep that. If that comes into play, I don't think you're gonna see me on the field."
The current design, however, is the result of an iterative process based in large part on player feedback, with comfort and functionality top of mind along with protection. Quarterbacks who tested them recently were able to effectively call out plays, Mayer said, following initial responses that the sound was too muffled. There was also broad consideration given to field of view.
Crandall said that Oakley has conducted internal testing in which it has sprayed particles of fluid to represent droplets expelled by players and has seen a high success rate of blocked transmission.
"I don't know that there's a direct percentage that anyone's come up with because a laboratory is not the on-field environment, obviously," Crandall said. "There's lots of things that players do on the fields that they're not easily replicating [in] the laboratory, but it is a significant blockage to transmission of droplets. There is no straight pathway through the face shield or visor for a droplet to be transmitted."
While Oakley is the official supplier of the NFL, there are other manufacturers of face shields, and players may end up using other brands as well in 2020, according to chief revenue officer and executive vice president of NFL partnership Renie Anderson.
Mayer called football "probably the perfect milieu or petri dish in which to transmit the virus," given that it is a contact sport involving a large number of players. The NFL and NFLPA are hoping the different safety measures they are taking, including the introduction of the Mouth Shield, will lead to a safer environment.
"Just like everything we do, whether we're talking about better cleats or better performing helmets, it's all about something that's safer and yet also protects and in many cases enhances performance," Sills said. "That's the same mantra and the same sort of approach that we're taking here. I'm really pleased with how the work is going along. We're not at a finished product yet. Like most things in health safety, there's really no finish line here. So we're hoping to continue to innovate and improve as we go along. But we're excited about where we are and excited about the potential role this may play in risk mitigation on the field."
Better, worse or the same? A look at the Rams' changes on offense – Los Angeles Rams Blog
Better, worse or the same?
That's the question facing the Los Angeles Rams as they attempt to bounce back from an inconsistent 9-7 season that kept them from a third consecutive playoff appearance.
Unlike the past two years, the Rams offseason transactions did not draw overwhelming excitement, as their most notable moves included running back Todd Gurley's release and the decision to trade receiver Brandin Cooks to the Houston Texans.
So now, with free agency mostly in the rearview, and the NFL draft complete, it's time to look at the Rams' roster to determine if, based on personnel changes, they improved this offseason.
Let's start with the offense.
Quarterbacks
Additions: None
Losses: Blake Bortles (Unsigned)
These guys are back: Jared Goff, John Wolford
Better, worse or the same: Worse
This designation has nothing to do with Goff, but reflects the backup situation. Goff has never missed a start since he was promoted 10 games into his rookie season (with the exception of Week 17 of 2017, when coach Sean McVay rested starters). However, last season the experienced Bortles — who once helped the Jacksonville Jaguars to an AFC Championship Game appearance — provided insurance that the Rams' season could sustain a Goff injury.
An undrafted free agent in 2018 from Wake Forest, Wolford has never played in a regular-season NFL game.
"We love Jared," McVay said this offseason. "And there's a lot of upside to a John Wolford."
In four preseason games last year, Wolford completed 25 of 44 passes for 249 yards and three touchdowns. He spent the season on the practice squad.
Running backs
Additions: Cam Akers (Second-round pick)
Losses: Todd Gurley (Atlanta Falcons)
These guys are back: Malcolm Brown, Darrell Henderson, John Kelly
Better, worse or the same: Worse
Gurley's production declined last season, but he remained an above-average back who commanded respect from opposing defenses as a former NFL Offensive Player of the Year.
Henderson, Akers and Brown do not stoke that same fear in a defense. At least not yet.
Henderson played in 8% of the offensive snaps as a rookie. He flashed in a Week 6 loss to the San Francisco 49ers when he rushed 22 and 14 yards on consecutive carries. But it's to be determined whether Henderson is a feature back.
Akers could provide a strong presence between the tackles, but growing pains are expected after the rookie missed on-field instruction because of the virtual offseason program.
A sixth-year pro, Brown provides experience and is dependable — he rushed for a career-high five touchdowns last season. But expect the young backs to be featured after the Rams recently invested in them with early draft picks.
"What we wanted to do was get a group that we felt really good about," McVay said. "This enables us to say, 'We're not necessarily committed to any approach, it's a feel for the flow of the game.' But you'd like everybody to create a role for themselves, and we'll see what ends up happening then."
Receivers
Additions: Van Jefferson (Second-round pick), Greg Dortch (Two-year, $1.5 deal)
Losses: Brandin Cooks (Houston Texans)
These guys are back: Robert Woods, Cooper Kupp, Josh Reynolds, Nsimba Webster
Better, worse or the same: Same
Cooks' speed and ability to stretch a defense is a considerable loss. However, last season Cooks and Goff never established a consistent connection, as Cooks caught 42 passes for 583 yards and two touchdowns.
Reynolds and Jefferson can provide a fresh look.
A fourth-round pick in 2017, Reynolds served mostly as a backup the past three seasons, but filled in as a starter when needed. In 48 games, Reynolds caught 61 passes for 832 yards and seven touchdowns. The Rams expect that he will, or at least play a significantly increased role, this season.
"He's a guy that we have a lot of confidence in," McVay said. "We would not have made the move on Brandin Cooks if had not been for the confidence that we have in Josh Reynolds."
McVay touts Jefferson's ability to separate and catch the ball and ranks him among the best receivers in a loaded draft class. After the virtual offseason program, it's uncertain exactly how the rookie will fit into the offense, but his versatility will be key.
"Van really provides the opportunity to play all three spots," McVay said. "He's a really polished route runner."
Woods and Cooks return after 1,000-plus receiving yard seasons in 2019.
Tight ends
Matthew Berry shares how fantasy managers should handle Tyler Higbee in the draft.
Additions: Brycen Hopkins (Fourth-round pick)
Losses: None
These guys are back: Tyler Higbee, Gerald Everett, Johnny Mundt, Kendall Blanton
Better, worse or the same: Better
Watch for McVay's offense to utilize two tight ends more often after the Rams found late-season success last year in 12 personnel (1 running back, 2 tight ends).
Higbee proved himself as a playmaker in the final five games of 2019, when he caught 43 passes for 522 yards.
Everett, entering the final season of his rookie contract, has played well at times, but also is an inconsistent presence. Last season, he caught 37 passes for 408 yards and two touchdowns.
When Hopkins remained available in the fourth round of the draft, the Rams could not pass on the opportunity to select the Purdue product. As a senior last season, Hopkins caught 61 passes for 830 yards and seven touchdowns.
"We really like our tight end room right now," Rams general manager Les Snead said. "But we had him highly rated and felt like he could come in and carve out a role early."
With Cooks gone, watch for the tight ends to play an increased role in the passing game.
Offensive line
Additions: Tremayne Anchrum Jr. (Seventh-round pick)
Losses: None
These guys are back: Andrew Whitworth (Three-year, $30 million deal), Austin Blythe (One-year, $3.9 million deal), Rob Havenstein, Joe Noteboom, Brian Allen, Austin Corbett, David Edwards, Bobby Evans, Chandler Brewer, Jamil Demby, Coleman Shelton
Better, worse or the same: Same
The line did not undergo any personnel changes this offseason, with the exception of Anchrum's addition.
Snead and McVay expressed optimism in the group's ability to continue its development following last season's injuries (starters Noteboom, Allen and Havenstein were sidelined) and growing pains.
"We felt confident that if we continue grooming and developing these players, they'd have a chance to become a really solid offensive line," Snead said.
The challenge will be finding the correct combination of five starters after each position shuffled in 2019, with exception of Whitworth at left tackle.
Havenstein and Evans will compete at right tackle, and Evans also could play inside. It's uncertain if Blythe will remain at center, or if Allen will resume the role. Noteboom, Corbett and Edwards also will compete for a guard spot.