A Los Golpes
ESPN Radio
May 29, 2020
Cronmetro
ESPN Radio
May 29, 2020
El diario de Martn
ESPN Radio
May 27, 2020
Es as y punto con Hernn Pereyra
ESPN Radio
May 28, 2020
ESPN Radio Frmula
ESPN Radio
Mar 27, 2020
Ftbol Picante
ESPN Radio
Jun 1, 2020
Jorge Ramos y Su Banda
ESPN Radio
May 29, 2020
La Butaca
ESPN Radio
May 27, 2020
Los Capitanes
ESPN Radio
Mar 27, 2020
NFL Live
ESPN Radio
Mar 27, 2020
Nos ponemos las pilas con Fernando Palomo
ESPN Radio
May 19, 2020
Raza Deportiva
ESPN Radio
May 29, 2020
30 For 30 Podcasts
ESPN Radio
May 29, 2020
ESPORTS
ESPN Radio
May 22, 2020
FiveThirtyEight Politics
ESPN Radio
May 28, 2020
Around The Rim
ESPN Radio
May 4, 2020
Ariel Helwani's MMA Show
ESPN Radio
May 27, 2020
SC Featured
ESPN Radio
Mar 25, 2020
The Jump
ESPN Radio
May 29, 2020
The Bill Barnwell Show
ESPN Radio
May 20, 2020
Matty & The Caddie
ESPN Radio
May 27, 2020
College Football Live
ESPN Radio
May 19, 2020
espnW presents Be Honest with Cari Champion
ESPN Radio
Mar 25, 2020
ESPN Media Conference Calls
ESPN Radio
Apr 20, 2020
The Right Time with Bomani Jones
ESPN Radio
May 28, 2020
Mornings with Keyshawn, LZ and Travis
ESPN Radio
Jun 1, 2020
Brian Windhorst & The Hoop Collective
ESPN Radio
Jun 1, 2020
First Draft
ESPN Radio
Apr 29, 2020
The Dan Le Batard Show with Stugotz
ESPN Radio
Jun 1, 2020
Freddie and Fitzsimmons
ESPN Radio
Mar 12, 2020
NFL Live
ESPN Radio
May 29, 2020
98.7 ESPN New York: Dave Rothenberg
ESPN Radio
May 30, 2020
DiPietro, Canty & Rothenberg
ESPN Radio
Jun 1, 2020
Caught Offside
ESPN Radio
May 26, 2020
ESPN FC
ESPN Radio
Jun 1, 2020
Best of ESPNLA
ESPN Radio
May 29, 2020
Jalen & Jacoby
ESPN Radio
May 29, 2020
The Lowe Post
ESPN Radio
May 29, 2020
Cheap Heat with Peter Rosenberg
ESPN Radio
May 28, 2020
Spain and Company
ESPN Radio
Mar 25, 2020
The Paul Finebaum Show
ESPN Radio
May 29, 2020
Marty and McGee
ESPN Radio
Mar 25, 2020
Around the Horn
ESPN Radio
May 29, 2020
Baseball Tonight with Buster Olney
ESPN Radio
Jun 1, 2020
Behind the Bets with Doug Kezirian
ESPN Radio
May 28, 2020
Golic and Wingo
ESPN Radio
Jun 1, 2020
Highly Questionable
ESPN Radio
May 28, 2020
Outside The Lines
ESPN Radio
Mar 23, 2020
Courtside with Greenberg & Dakich
ESPN Radio
May 26, 2020
Fantasy Focus Baseball
ESPN Radio
Jun 1, 2020
Fantasy Focus Football
ESPN Radio
May 19, 2020
First Take
ESPN Radio
Jun 1, 2020
The Mina Kimes Show featuring Lenny
ESPN Radio
May 27, 2020
ESPN Podcasts
ESPN Radio
Jun 1, 2020
ESPN On Ice with Wyshynski and Kaplan
ESPN Radio
May 27, 2020
In The Gate
ESPN Radio
May 28, 2020
Brian Windhorst & The Hoop Collective
ESPN Radio
Jun 1, 2020
PTI
ESPN Radio
May 29, 2020
The Will Cain Show
ESPN Radio
May 29, 2020
The Sporting Life with Jeremy Schaap
ESPN Radio
May 29, 2020
Caught Offside
ESPN New York
May 26, 2020
The Michael Kay Show
ESPN New York
May 29, 2020
98.7 ESPN New York: Dave Rothenberg
ESPN New York
May 30, 2020
DiPietro, Canty & Rothenberg
ESPN New York
Jun 1, 2020
Best of ESPN New York
ESPN New York
Jun 1, 2020
Mason & Ireland
ESPN Los Angeles
May 29, 2020
The Sedano Show
ESPN Los Angeles
May 29, 2020
Weekend Warrior
ESPN Los Angeles
May 30, 2020
Best of ESPNLA
ESPN Los Angeles
May 29, 2020
Yankees' Aaron Judge 'game ready' but plate timing still lacking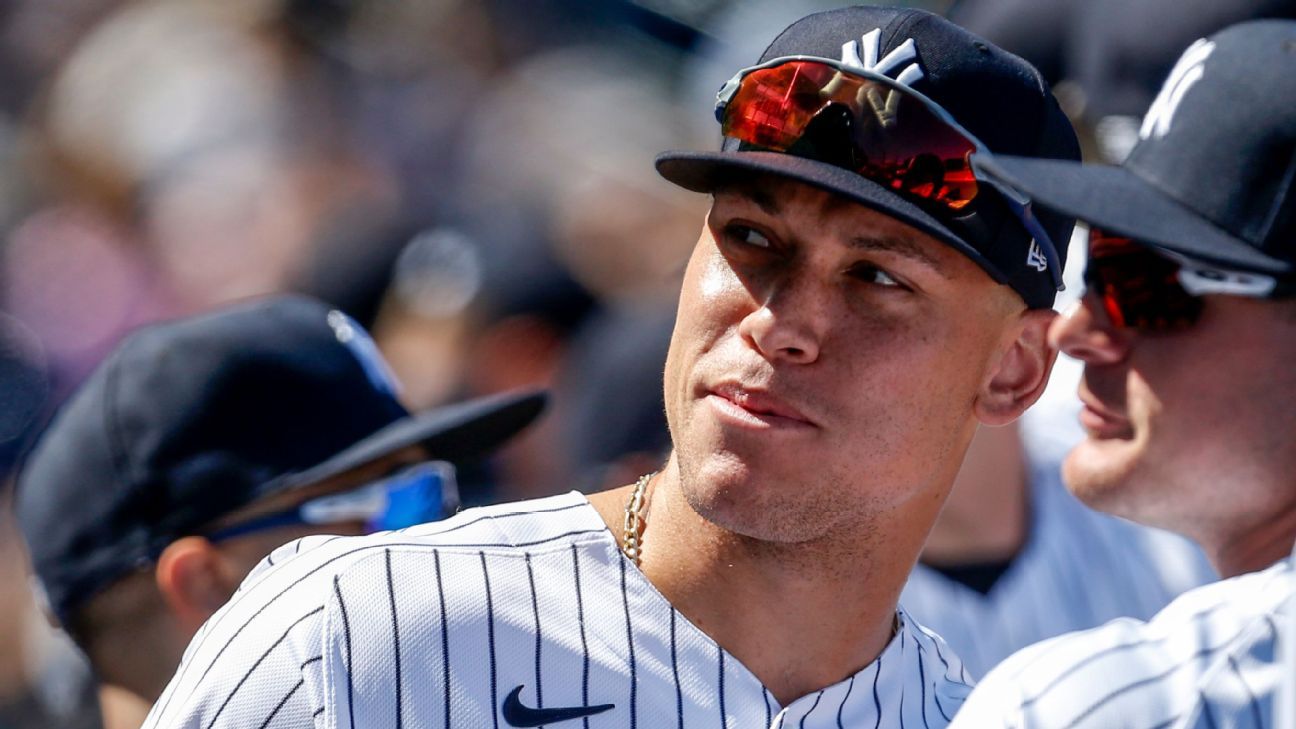 NEW YORK — All-Star outfielder Aaron Judge is one of the many Yankees that have benefited from this 3½ months hiatus, declaring himself "game ready" after the first instrasquad game at Yankee Stadium on Monday night.
Major League Baseball's shutdown due to the coronavirus pandemic has been a blessing in disguise for the Yankees, particularly for Judge, who was greatly limited in the spring due to a stress fracture to his first right rib, and a subsequent punctured lung. Judge has attributed the injury to an attempted diving catch in right field Sept. 18 against the Angels in the Bronx.
"I'm game-ready. Like I told you guys in spring training, I was going to be ready for Opening Day," said Judge, with a smile, at the end of an intrasquad scrimmage, where he went 0-for-2 with a strikeout hitting second in a lineup that played against the "Bombers," a squad mostly composed of Yankees bench players and minor leaguers. "I'm feeling good. The biggest thing now is just getting the reps in because I missed so many at-bats in spring training. I didn't get all the reps in the outfield, reps on the bases. Right now, it's just about getting my timing back in the game and just getting my game reps in and go out there for 60 games."
Judge, 28, added: "It feels good to be back on the field. I kept inching, trying to push them on the regimen a little bit on what we could do because my body was feeling great. I know we had a limited time to get ready for the season because we never knew when it was going to start."
In terms of the increasing number of players to have opted out this season, Judge said there was "never a doubt in my mind" when it came to playing this abbreviated season.
"There's obviously a risk, of anything," he said. "Just walking outside there's a risk, leaving your apartment there's a risk. There's risk everywhere, but I love this game and I love the team that we've got here and the opportunity we have here."
Judge also addressed the comprehensive protocols contained in the "2020 Operations Manual," an extensive document detailing rules and regulations that intend to protect the health and safety of players and team employees.
"That's what we talked about as a team and with each other, hammering being accountable for each other," Judge said. "Watching out for each other. Making sure you're washing your hands, making sure you wear your mask, making sure you're doing the things so that everybody stays healthy and stays on the field."
The Yankees were expected to open up the season in Baltimore in March, with many important players on the shelf, this after placing a major league record-setting 30 players on the injured list 39 times last season. Because of the coronavirus pandemic, the team will have a chance to get most of their injured players back for their rescheduled Opening Day, July 23, at the defending World Series champions, Washington Nationals.
Giancarlo Stanton, who strained his right calf in the spring after playing only in 18 games last season due to mostly lower body injuries, also benefited from the time off, and the Yankees hope he'll fulfill the designated hitter role on Opening Day.
"It's been pretty recent, (my calf) feeling 100 percent," said Stanton, who hopes to eventually play the outfield. "We're going to go through camp, make sure that the schedule lines up to be ready to DH and go from there. With the season being so short, this is really a one-stop shop of getting it right. I think we have a good schedule down and a good formula to get it right."
The Yankees will hold another intrasquad scrimmage on Tuesday night, with their $324 million dollar starter, Gerrit Cole, who is scheduled to throw four innings.
Dave Dombrowski joins group trying to bring Major League Baseball to Nashville
Former Boston Red Sox general manager Dave Dombrowski has joined Music City Baseball LLC, a Nashville-based group intent on bringing Major League Baseball back to the city.
The group lists Dombrowski as a baseball adviser on its website.
"It's clear to me that Nashville is ready for Major League Baseball, and Music City Baseball is making smart and exciting decisions as it works to bringing a team here," Dombrowski said in a statement. "From its relationship with the Negro Leagues Baseball Museum to its community support, Music City Baseball has built a strong foundation."
Dombrowski, 63, won a ring as the architect of Boston's 2018 World Series championship team but was fired just a year later amid a disappointing 2019 campaign. After beginning his career with the Chicago White Sox in 1978, Dombrowksi spent time with the Expos, Marlins and Tigers. He won another World Series ring as a member of the Marlins' front office in 1997.
Music City Baseball was formed in 2019 with the goal of bringing an expansion franchise to Nashville in the next few years. Their advisory board includes other MLB luminaries like Dave Stewart and Tony La Russa,
"Nashville is a city with deep baseball roots, and as we emerge from the uncertainty surrounding COVID-19, I believe baseball, and more specifically Music City Baseball, can play an important role in bringing the city back together," Dombrowski said. "My wife Karie and I are looking forward to becoming part of the Nashville community."
Aaron Nola clears virus protocol, reports to Phillies camp
PHILADELPHIA — Phillies ace Aaron Nola reported to camp on Monday after waiting a few extra days because he was in contact with someone who tested positive for the coronavirus.
"All my tests came back negative," Nola said. "If you don't have symptoms and you come in contact with somebody who ends up testing positive, you're out for probably at least seven days. That could possibly be two starts. It's obviously going to be a hard part of it. And sometimes it's out of our control. We just have to try to do our part every day."
The Phillies have had seven players and five staff members test positive for the virus. None has been identified.
Infielder Scott Kingery and pitchers Hector Neris, Ranger Suarez and Tommy Hunter were placed on the 10-day injured list with no specified injuries last week. Outfielder Adam Haseley and catcher Christian Bethancourt still haven't reported to camp.
Nola threw a bullpen upon arriving and would likely start Philadelphia's season opener later this month if he's ready. Nola finished third in NL Cy Young Award voting in 2018 when he was 17-6 with a 2.37 ERA. He was 12-7 with a 3.87 ERA last year.
"I was impressed by his bullpen [Monday] considering he hadn't done a lot for a week," manager Joe Girardi said. "It's too early to tell where he'll fit in. He would've been our Opening Day starter. I have to see where he's at. I'm not saying he won't be. I'm not ready to say."
Nola said he is committed to playing this season amid the pandemic.
"Nothing has crossed my mind about opting out," Nola said. "I want to play as bad as everyone else does. The guys who opted out, it's understandable."
The Phillies are scheduled to open the 60-game season at home against Miami on July 24.
Zack Wheeler, the No. 2 starter behind Nola, is in camp but uncertain about staying because his wife is due to deliver the couple's first child later this month.
"It's a very difficult decision. It's something that is still playing in my head. I have to be very careful here at the field, outside of the field, wherever I go," Wheeler said. "The baby's and Dominique's health are most important to me. So whatever I can do to make sure they are safe, that is the No. 1 goal for me. Baseball comes after that."