Tim Kurkjian's Baseball Fix – Cal Ripken, the birth of The Streak and the toughness it took to keep it going
You love baseball. Tim Kurkjian loves baseball. So while we await its return, every day we'll provide you with a story or two tied to this date in baseball history.
ON THIS DATE IN 1982, Cal Ripken began his consecutive-games streak.
It ended 16 years and 2,632 games later, a streak that demolished the previous record of 2,130 by Lou Gehrig, and probably is the most unbreakable MLB record. It was a streak achieved by an unbelievably competitive person, a man who always wanted to be available to help his team, a remarkably strong man and, after his father, the toughest person I've ever met.
The full "On this date …" archive
"Cal is an alien," teammate Randy Milligan once said.
On Opening Day 1985, Game 444 of The Streak, Ripken rolled his left ankle when his spikes caught on the second-base bag on a pickoff play. He heard a pop, but, naturally, he stayed in the game. His ankle was so badly bruised it was black and blue all around. On orders from the team, he went to the hospital after the game. The doctor gave him crutches, and told him to stay on them for two weeks. Ripken got to his car, threw the crutches away, treated the ankle all night and next day (a day off; otherwise, he said, he would not have been able to play). But a day later, he played.
How?
"I just taped it up real tight, it was fine," Ripken said.
Ripken's pain tolerance was remarkable. Among the many games (indoor hockey; sockball, which was baseball with a taped-up sock) he played in the Orioles' clubhouse was a game that Ripken invented, and, of course, he was the champion of: which player could withstand the most pain, and which was the hardest to bruise.
"Ten minutes before the start of a game, Rip threw me down and stuck a knuckle in my ribs," pitcher Ben McDonald said. "Then a couple of guys jumped him, and dug their knuckles in his ribs. We had him pinned down. He was yelling, 'No! No!' But he wouldn't give up. He would rather die. The next day, we compared ribs. I had three big bruises; he had one tiny red spot."
McDonald laughed.
"I can't wait until The Streak is over," McDonald said in 1995. "A bunch of us are going to get him down and pummel him. But we still won't be able to hurt him. And he will not bruise."
The toughness came from Ripken's father, Cal Sr. He was once hit in the face by a line drive while throwing batting practice at Fenway Park. Orioles trainer Richie Bancells raced to the mound. Rip Sr. was bleeding badly, but he screamed at Bancells, "Get the hell out of here! I haven't finished my round." He finished his round of BP, went to the hospital and was back in the third-base coaching box, with stitches in his face, in the third inning.
Ripken Sr. was a great soccer player. He played into his mid-50s against men half his age.
"When I was a kid, he came home from a soccer game with his huge blood blister on his big toe; those are very painful," Ripken Jr. said. "He took me down to our workshop in the basement, he took out a power drill, and drilled a hole into his toenail, relieving the pressure. Blood came spurting out. He said, 'Oooooooooh, that feels good!"'
Other baseball notes for May 30
In 1894, Bobby Lowe became the first player to hit four home runs in a game. He weighed 150 pounds. He hit all four off Ice Box Chamberlain. The next player to hit four in a game was Gehrig, in 1932.

In 1927, Walter Johnson threw his final shutout, No. 110. Different time, different game, obviously, but Greg Maddux, Tom Glavine and John Smoltz combined for 76 shutouts.

In 1972, Manny Ramirez was born. Forget, for a second, all the trouble he got into. He was a very smart hitter and had great balance and one of the most beautiful swings ever by a right-handed hitter.

In 1985, Fernando Salas was born. He is the only active pitcher whose last name is a palindrome. His most recent palindromic pitching line was July 5, 2018: 1-1-1-1-1-1.
Buster Olney's top 10 second basemen
If you'd like a peek into the future of catching once the electronic strike zone is implemented, just consider how quickly second base has changed since the rules against aggressive slides was adopted in 2016.
Back then, one skill separated good second basemen from the bad ones — the ability to take a throw with a runner bearing down, quickly transferring the ball from glove to hand and then firing an accurate throw to first to perhaps complete a double play. When fielders moved from other positions to second base, this was what almost all of them found to be the greatest challenge — learning how to do this adeptly.
But because of what is known as the Chase Utley rule, there is little value attached to this practiced flurry of hands and feet because the middle infielders almost never get dumped anymore.
Increasingly, teams treat second base much the way they do first base — as a spot to mine offensive potential through matchups. In yesterday's series piece, it was mentioned that the Dodgers deployed 10 different players at first. The volume was almost as high for L.A. at second: Enrique Hernandez, Max Muncy, Gavin Lux and Chris Taylor were among the eight second basemen deployed by Dave Roberts, at the helm of one of baseball's best and most progressive teams.
The Brewers provided a classic example of where the position stands with their handling of second base in 2018. After acquiring Mike Moustakas, they shifted Travis Shaw to second base, a position at which Shaw had played exactly zero innings professionally. But Milwaukee wanted a way to shoehorn Moustakas and Shaw into the lineup, rather than choose between the two, so Shaw learned how to play big league second base … in the big leagues.
He started 36 games in that spot as the Brewers surged to win the NL Central, and in 2019, it was Moustakas who made the move to second, for 359⅔ innings. Milwaukee reached the playoffs again with some new middle infielders getting significant time at a spot where, generally, high-caliber defense was once a priority.
Dodgers' Cody Bellinger ready for 'once-in-a-lifetime' season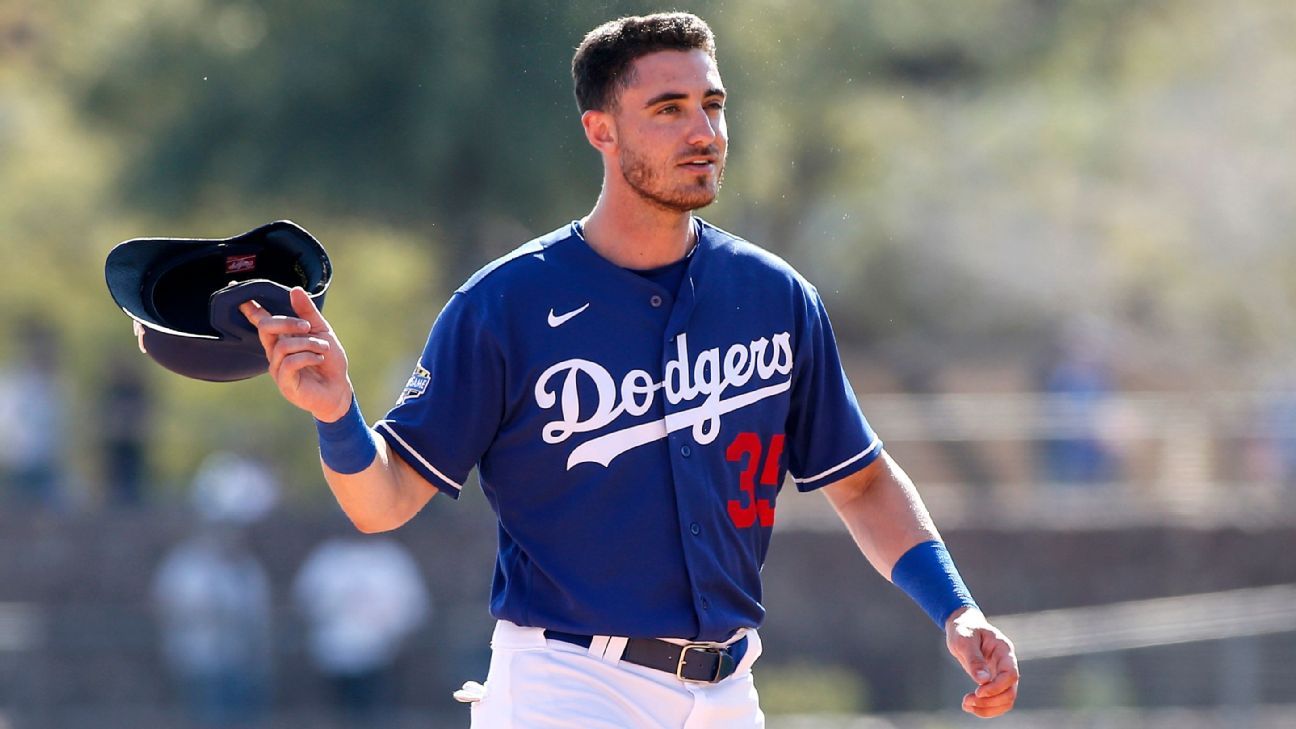 LOS ANGELES — Cody Bellinger is healthy, his mind is right and he's ready for whatever baseball's shortened 60-game season brings.
Bellinger is looking to pick up where he left off after a stellar performance for the Los Angeles Dodgers in 2019. The reigning National League MVP batted .305 with 47 homers and 115 RBIs for the NL West champions last year.
"Everything is going to be so weird this year. It's going to be fun," he said Thursday on a video conference call. "It could be a once-in-a-lifetime thing, so I'm just taking advantage of what we got."
What the Dodgers have in addition to Bellinger's offensive power is Mookie Betts, the 2018 American League MVP with Boston. He joins a team that led the NL with 279 homers last year, but lost to Washington in the division series.
Bellinger, who turns 25 on Monday, isn't putting pressure on himself to repeat last season's statistics.
"I just want to focus on what I've got to do in order to be good. I'm understanding that a little more," he said. "Just go out and be as consistent as I can, fine-tune the things that make me really good."
Bellinger was the NL Rookie of the Year in 2017, and then struggled the following year before rebounding in 2019.
"It was tough sledding for Cody for quite some time coming off that rookie campaign, and you start wondering, 'Was it real?' You question the confidence, the mechanical piece," manager Dave Roberts said. "Everything he does now is with conviction and intent. There's a talent component, but also there's a process and preparation component that sometimes you have to struggle to understand the value of it."
Bellinger spent the last few months working out in his home state of Arizona after spring training came to a halt in March because of the coronavirus pandemic. He focused on fine-tuning his swing.
"I just got to work on it in a stress-free environment," he said. "Just minor things I think about throughout the year. Figuring out why I was so good and remembering the feeling and not getting too caught up on last year. You're always evolving. I feel really good with where I'm at this year. It could be a blessing in the long run."
Bellinger and Roberts said hitters' concerns about the new batter's eye in the renovated outfield pavilions at Dodger Stadium are being addressed. First baseman Max Muncy hurt his left ring finger after he said he couldn't see a pitch that hit him earlier in the week.
"It was a little low," Bellinger said, "and the seats weren't blocked off, so if there were fans there, the pitcher's arm would potentially come out of the stands."
Roberts said the batter's eye "is still a work in progress" that may involve changing the paint scheme to matte from gloss, among other things.
During the first week of summer camp, Bellinger has gotten used to drinking out of his own cooler, not having teammates on either side of his locker and having everyone hear what the players say on the field in an empty stadium. Coming from Arizona, where masks in public were not always mandatory, he's had to don one in California, where they are required.
"I don't think it's a hassle to wear a mask," he said. "If your breath stinks, it sucks. But it just means you brush your teeth a little more."
Game notes
RHP Tony Gonsolin showed up at camp for the first time Wednesday, appearing on the field in uniform for an evening intrasquad scrimmage. He was one of seven players absent from camp earlier in the day. Roberts said Thursday he could not discuss the reason for Gonsolin missing the first week of camp and the reliever has not yet been made available to media. With LHP David Price choosing not to play this season, Gonsolin might have a shot at the rotation.
Phillies All-Star catcher J.T. Realmuto 'not too worried' about next contract
PHILADELPHIA — J.T. Realmuto isn't worried about his contract situation.
The All-Star catcher and the Philadelphia Phillies had preliminary discussions about a long-term deal before the coronavirus pandemic, but talks between the two sides haven't progressed since baseball returned last week.
Realmuto is eligible for free agency after the season unless the Phillies sign him before he can test the market. He's expected to seek at least $20 million per season.
Last week, Phillies general manager Matt Klentak said the pandemic has changed the landscape of baseball. Lost revenue could affect salaries around the league going forward.
"It definitely concerns me, not necessarily for myself, but for the free-agency class as a whole," Realmuto said Thursday. "The top guys usually find a way to get their dollars. Teams are going to want them. Maybe it's not 20 teams in on you — maybe five or 10. A lot of teams will be able to look at this as a time to take advantage and actually go for it instead of backing off, because half the league will try to cut revenue and save money and the others will look at it as an advantage to press forward. It could affect free agency as a whole, but for myself, I'm not too worried."
Realmuto hit .275 with 25 homers and 83 RBIs and led the league with 43 runners thrown out in his first season in Philadelphia in 2019, earning his second straight All-Star selection. He was acquired from Miami shortly before spring training last year in a deal that sent Philadelphia's top pitching prospect, Sixto Sanchez, to the Marlins.
Realmuto quickly has become Bryce Harper's favorite teammate in Philly. Harper was on base when Realmuto hit a homer in a scrimmage Wednesday. He crossed the plate, looked up in an empty stadium and screamed: "Sign him!"
"I hope he owns the team one day," Realmuto joked. "I might be able to catch until I'm 60 if he owns the team."
Realmuto lost his arbitration case in February and received a raise from $6.05 million to $10 million instead of his $12.4 million request. He said he doesn't harbor any resentment over losing.
"I love this organization," he said. "They've been great to me and my family since I showed up. From top to bottom, they're good people and they care about baseball. That's important to me."
Phillies manager Joe Girardi called Realmuto a "happy-go-lucky" guy who "loves to be on the field," and he doesn't expect the contract situation to be a distraction.
"He's the same person every day, happy to be here, wants to play and help the team win," Girardi said. "When he came back from his arbitration case, his personality hadn't changed and he had a smile on his face."