Roger Goodell says 'there remains an urgent need for action' in wake of recent 'tragic events'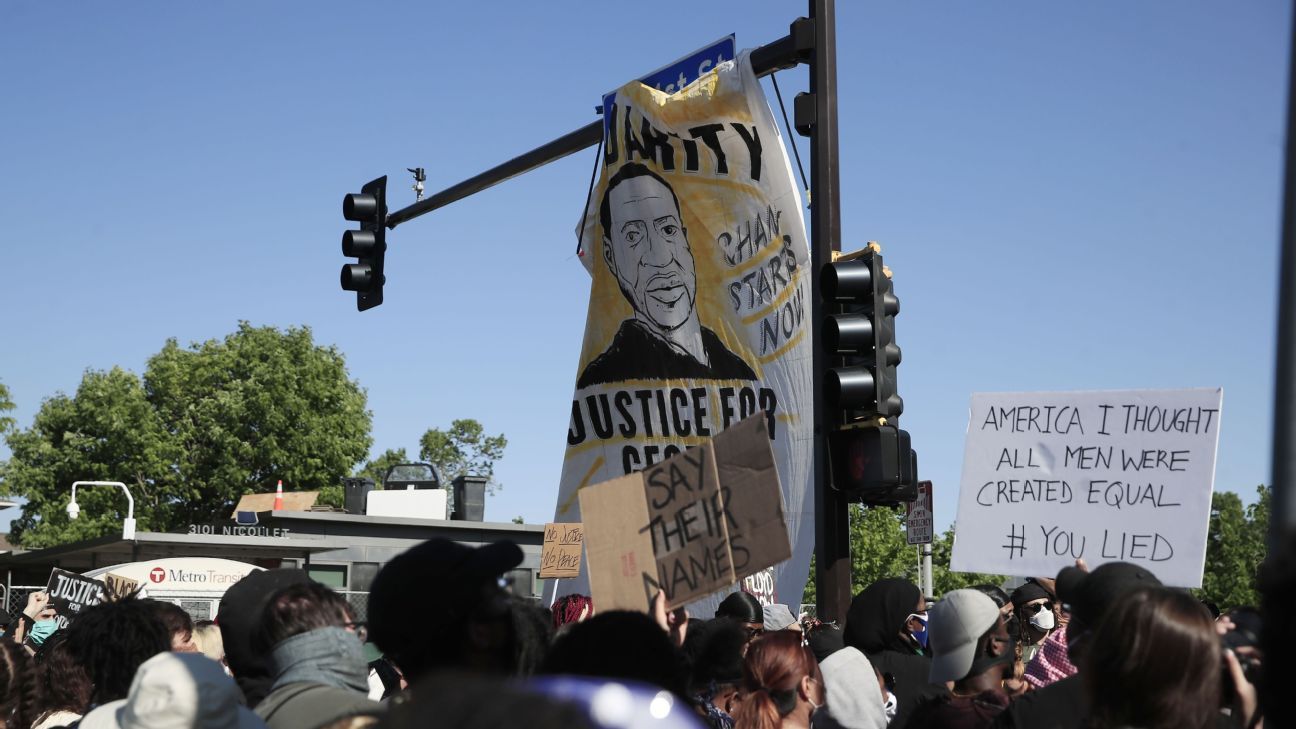 NFL commissioner Roger Goodell said in a statement Saturday that "there remains an urgent need for action" following the death of George Floyd in Minneapolis, while NFLPA executive director DeMaurice Smith sent a letter to all players to address the current state of what he called a "hurting" country.
NFLPA president and Cleveland Browns center JC Tretter also shared a statement on Twitter in which he said that he's felt a "range of emotions from disbelief to anger" this week.
Floyd, who is black, died Monday after Derek Chauvin, a white police officer, kneeled on his neck for several minutes. Floyd's death has shaken the Minneapolis community and sparked protests in cities across the United States.
Chauvin was arrested Friday afternoon and charged with third-degree murder and second-degree manslaughter, local authorities announced.
"The NFL family is greatly saddened by the tragic events across our country," Goodell said in his statement. "The protesters' reactions to these incidents reflect the pain, anger and frustration that so many of us feel."
Goodell expressed the NFL's condolences to Floyd's family, as well as those of Breonna Taylor and Ahmaud Arbery, the cousin of Detroit Lions safety Tracy Walker.
"As current events dramatically underscore, there remains much more to do as a country and as a league," Goodell said. "These tragedies inform the NFL's commitment and our ongoing efforts. There remains an urgent need for action. We recognize the power of our platform in communities and as part of the fabric of American society. We embrace that responsibility and are committed to continuing the important work to address these systemic issues together with our players, clubs and partners."
In his post, Tretter wrote that, "The issue of changing systemic racism and individual prejudice in our country is long overdue.
"As a white man, I will never fully understand the daily experiences and fears that people of color in this country live with. … Some may feel hesitant to speak out as they don't know what to say or how to do it. Your individual feat of saying the wrong thing is insignificant compared to the actual issues that need addressing. Racism is something that we all must take responsibility to end. As human beings, we need to identify and challenge prejudice, rather than deny it. Silence in the face of injustice only works to protect and perpetuate that injustice."
— JC Tretter (@JCTretter) May 30, 2020
Smith's message to players acknowledged the pain of the current situation, "shared by so many" but with "a history of being bore more by some than others."
"It is as wrong to be willfully ignorant to this pain as it is to use this pain as cover for inflicting pain on others," Smith wrote to players. "It is impossible to not take this personally. We should take it personally. We have the luxury of working in a great business, but that business takes place in our neighborhoods, involves our families and relies on the support of our fellow citizens."
Smith also said in his letter that during times like this, he seeks "the guidance of those who lived through tough, if not tougher times as a guidepost for the hope I need to have to survive," citing James Baldwin as someone "who always managed to express the reality of justifiable rage and the imbalance and injustice of a system, with the need to engage it with unrelenting truth and hope."
Smith went on to quote Baldwin, noting that he "is still right when he said that, 'It is not a romantic matter. It is the unutterable truth: all men are brothers. That's the bottom line.'"
"This is also the beautiful truth about our locker rooms and gives me hope that, despite the imperfections of America, we can be an example of a more perfect union," Smith concluded his letter, while offering support to those who need it.
As Tretter closed his message on Twitter, he delivered a message that he hoped would lead to action and eventually change.
"People of color have long tried to communicate what racism in America feels like for them. We can all be better listeners, validators and friends," Tretter said. "Our work will never be finished until every American feels safe, free and accepted in our country."
Bengals' Joe Burrow partners with food pantry for hunger relief fund
Cincinnati Bengals rookie quarterback Joe Burrow has partnered with local organizations in Southeast Ohio to create a hunger relief fund named in his honor.
On Thursday, the Athens County Food Pantry and Foundation for Appalachian Ohio announced the creation of the Joe Burrow Hunger Relief Fund that will serve the region. Between the pantry's donation and a dollar-for-dollar match from the FAO, the fund held $700,000 as of Thursday afternoon.
"I'm so grateful for the outpouring of support from people across the country around the food insecurity issues faced by those in my region," Burrow said in a release. "The initial funds that were raised have had an immediate impact for people throughout Athens County, and I am honored to lend my support and voice to this new initiative that will ensure that impact lasts long into the future."
The Bengals' rookie quarterback has been vocal about the topic long before he led LSU to the College Football Playoff championship in January and was the top overall pick in this April's NFL draft.
When Burrow won the Heisman Trophy in December 2019, he mentioned the issue of hunger in Athens County, where he spent the majority of his childhood. A fundraiser sparked by Burrow's comments elicited roughly $650,000 in donations.
Karin Bright, president of the Athens County Food Pantry, said that once donations started to pour in, the organization wanted to not only address immediate needs but also look at any long-term impact that could be made. That sparked the idea for the endowment that was announced Thursday.
"It sends a very clear message that as a food pantry, we really are looking at things in a long-term way and we are looking at supporting this region," Bright said.
According to a report released by the Ohio Development Services Agency in January 2019, Athens County had a poverty rate of 30.2%, which was the highest of any county in Ohio and doubled the statewide average. Per the Athens County Food Pantry, an estimated 12,900 people in the county — nearly one in five people — were food insecure before the spread of COVID-19.
In establishing the relief fund named after Burrow, Bright said there was a significant amount of discussion with Burrow's parents, Jimmy and Robin, throughout the process that culminated with Thursday's announcement.
Cara Dingus Brook, the president of the FAO, said the fund named after Burrow will help provide the level of support required to creating lasting change when it comes to food insecurity in the region. Brook said naming the fund after Burrow was "a fitting thing to do" because of the impact Burrow has made throughout the community.
"It has been a shot in the arm for everybody here," Brook said. "So often in an area that has suffered from persistent poverty, with it can come a culture of diminished expectations.
"And so to see this success and this success to say to everybody else, 'You can do it, too,' it just totally embodies everything we as a foundation believe is going to lead our region forward and help solve some of these really generational issues, whether it's economic issues or food insecurity."
The new fund named after Burrow will be operated by the FAO and help the Athens County Food Pantry continue its efforts throughout Southeast Ohio.
"Being able to create this endowment is just another incredible way we're going to be able to continue our work and support our region," Bright said.
Eagles owner Jeffrey Lurie's documentary film company finishes 'The Meaning of Hitler'
Philadelphia Eagles owner Jeffrey Lurie's documentary film company, Play/Action Pictures, on Thursday announced the completion of its inaugural project, which has been in the works for three years: "The Meaning of Hitler."
Lurie is an executive producer for the film. The threat of white supremacy is a topic that has been important to him for some time, and this is an example of his commitment to addressing social issues.
The announcement comes as Eagles wide receiver DeSean Jackson has received widespread condemnation for his social media posts, including an anti-Semitic message that he attributed to Adolf Hitler.
Jackson spoke with Lurie and general manager Howie Roseman — both of whom are Jewish — on Tuesday, a source told ESPN's Tim McManus, with Lurie expressing deep disappointment about the social media posts. Jackson expressed a desire to educate himself and to work directly with the Jewish community, and his camp contacted the rabbi at Chabad Young Philly a short time later to discuss ways for Jackson to donate to and work with the organization.
The documentary, which uses the 1978 best-selling book of the same title as a guide, was filmed in nine countries over three years.
"We couldn't be prouder that 'The Meaning of Hitler' is the first completed film made by our new documentary production company, Play/Action Pictures," Lurie said in a statement. "I envisioned Play/Action to be a leading creative force for films that engage with the most crucial and challenging issues of our time. The rise of white supremacy and neo-fascism in the United States and the world over are among the most important and serious threats we face today."
Lurie and his former wife, Christina, won an Academy Award in 2011 as executive producers of "Inside Job," a documentary that examined corruption on Wall Street.
ESPN's Adam Schefter contributed to this report.
No more jersey swaps? NFL players mock new game-day protocols
As the NFL plans for how to play through the coronavirus pandemic, the league distributed new game-day protocols to teams on Wednesday. As word spread, some of the rules — such as a ban on postgame jersey swaps — drew the ire of current and former players on social media, even though the NFL Players Association has signed off on the policy.
Here's a roundup of what players are saying about the new rules that will take effect for 2020 preseason and regular-season games.
This is a perfect example of NFL thinking in a nutshell. Players can go engage in a full contact game and do it safely. However, it is deemed unsafe for them to exchange jerseys after said game. 😂🤣😂 https://t.co/fWefsUSVDc

— Richard Sherman (@RSherman_25) July 9, 2020
thats DAMN SILLY bro.. 🤦🏾‍♂️ https://t.co/QDOwn2G3bc

— Deshaun Watson (@deshaunwatson) July 9, 2020
But we can tackle eachother? Cmon now https://t.co/lT63mvb0jO

— Savage (@kennyvaccaro) July 9, 2020
So I can be tackled during a game but after I can't swap jerseys ???

— IG MikeDavisRB (@MikeDavisRB) July 9, 2020
why won't the NFL just say they don't want players swapping jerseys lol! this wild… and what happens if they swap anyway?

— Shane Vereen (@ShaneVereen34) July 9, 2020
What is stopping Jersey swap going to do? We already played in a whole game!! pic.twitter.com/S5XgYhs89Y

— DJ Moore💫 (@idjmoore) July 9, 2020
So we can tackle each other for 60min but can't exchange jersey that takes 2 mins😂😂😂 https://t.co/5RKq54T0mH

— Darius Slay (@bigplay24slay) July 9, 2020
This has to be a joke… https://t.co/OrJBcBtiFl pic.twitter.com/cA8Iu0LI39

— Randall Cobb (@rcobb18) July 9, 2020
🤣🤣🤣🤣 yooo so we could hit each for 60 minutes but we can't switch jerseys, y'all look stupid

— Jonathan Feliciano (@MongoFeliciano) July 9, 2020