Ripple effect of the coronavirus: College baseball programs canceled – Chicago Bears Blog
VERNON HILLS, Ill. — Tony Brown's dream of playing college baseball became a reality when he committed to Furman University in August 2019.
Or so it seemed.
Furman, located in Greenville, South Carolina, was one of two Division I schools that extended baseball offers to Brown. And make no mistake, Brown worked hard for those offers.
• Stefanski's early impression on Browns
• How A.J. Brown can avoid soph slump
• Steelers' D vs. division's three Heisman QBs
• How Hyde fits in Seahawks' backfield
• Inside Broncos' biggest positional overhauls
An all-area middle infielder and three-year varsity starter at Vernon Hills High School in suburban Chicago, Brown — the son of former Chicago Bears defensive end Alex Brown — made the difficult decision to temporarily withdraw from high school prior to his senior year in 2018-19 and reclassify. It meant, among other things, no high school baseball that spring.
While preparing for his "second" senior year in 2019-20, Brown committed to Furman before the coronavirus pandemic hit and the season was canceled.
For Brown, missing two consecutive years of high school baseball stung. Still, he would be continuing his baseball career at Furman. Or so he thought.
The bottom fell out on May 18, when Furman athletics director Jason Donnelly announced the university would discontinue the men's baseball and men's lacrosse programs because of the financial impact of the pandemic.
"We were all on a call and the AD just broke everything down for us," Alex Brown said. "He broke the news to us."
The COVID-19 pandemic had an impact on high school seniors across the country who had their spring sports seasons canceled. But it also has impacted sports at the collegiate level. Athletes such as Tony Brown will start the recruiting process all over again. For his father and mother, it was hard to see their son's disappointment.
"I'm outside coming back from a run and my wife [Kari] and Tony walk out, and Tony rarely cries, but he has tears in his eyes, and my wife has tears in her eyes, so I know something bad has happened," the elder Brown said. "It was just heartbreaking."
---
Alex played defensive end for the Bears and the New Orleans Saints during a nine-year NFL career. Tony is a gifted student (above 4.0 GPA, 1320 SAT, 27 ACT). Vernon Hills recently named Brown the athlete of the year and also bestowed upon him a schoolwide math award, voted on by the faculty.
"I'm Tony's baseball coach, but I'm also a math teacher, and I had Tony in class," Vernon Hills varsity baseball coach Jay Czarnecki said. "I'm a pre-calculus honors teacher. The math award that Tony won goes to the student who brings a different dimension to your class, helps make it a better place and includes all the kids as a leader in the classroom. It's very rare your school's athlete of the year also wins the math award. It gives you a picture of the kind of kid that Tony is."
In elementary school, Brown skipped third grade, which proved the correct move academically but left him perpetually a year younger than his classmates. Nevertheless, by halfway through his freshman season — at the age equivalent to an eighth grader — Brown was promoted to varsity and went on to star for the Cougars in baseball and basketball over the next three years.
For whatever reasons, however, baseball recruiters weren't paying much attention.
"We weren't trying to gain an advantage by taking him out of school; it was just putting him in the grade he would've been in," Alex said. "Had Tony continued on the road he was on, he would have been 16 years old for the first month and a half of his senior year."
The extra year worked. Matt Plante, the vice president of Top Tier baseball who coached Brown on the program's top 17U team last summer, said Brown's performance on the elite travel baseball circuit improved dramatically after the reclassification.
"The kid is a hard worker," Plante said. "He works his tail off. First year he played with Top Tier (2018), he was a 6.8 or 6.9 60-yard dash runner; when he came back and reclassified, he got down to 6.6. All the measurable — exit velocity, overall strength — they all went up. First couple of tournaments last summer, he was on fire."
But for Tony, sitting out that first high school season was hard.
"The first couple of months were definitely the toughest because I'd grown up with everyone that was having their senior year and I had to watch them reach all those milestones," Brown said. "It was hard to see them live out their senior year; but I knew I had to make the most out of this year off because when I come back I'll be a completely different player. I really needed that year to develop."
The process culminated in Furman extending Brown an offer to join its baseball program.
"We told him to take a day [to think about the Furman offer] and make sure it's the right fit," Brown's mother, Kari said. "He woke up at 6 a.m. the next day and said he was ready to go."
Now Brown has to begin anew.
"We honestly have to go through the recruiting process all over again," he said. "I know how hard it was to get those offers, and it's tough — it's hard to reach out to schools because the roster spots are full and they don't have any scholarships left. I'm going to have to make some tough decisions as to if I want to walk on or go to a junior college. I honestly don't know."
---
Furman isn't the only school to eliminate college baseball because of cost-cutting measures related to COVID-19.
Just six miles north of Tony's alma mater, Jay Ward was a star left-handed pitcher at Carmel High School who committed in the summer of 2017 to play baseball at Bowling Green in Ohio. Ward appeared in nine games as a freshman in 2019 and pitched well in five relief outings this season before the NCAA canceled the remainder of the college season because of COVID-19.
"We were on our way to play games in the state of Alabama," Ward said. "We got to Cincinnati and stopped for food. All of a sudden, the coaches got a call and we turned the bus around and headed straight back. We were sitting in the locker room and the coaches told us the rest of the season had been canceled. You could hear a pin drop in there. No one saw that coming."
But that wasn't the worst of it.
"Every week after the season was canceled, we'd have a Zoom call with the team," Ward said. "We had a Zoom call scheduled with the team at 1:45 p.m. on Friday, May 15, and I couldn't be on the call because I was taking my last final. Apparently, 15 minutes before that Zoom call was supposed to happen, our coaches were told to be on another Zoom call with the director of athletics and a bunch of other important people in the athletic department at the school, and during that call they told the coaches they were cutting the program.
"The coaches had no idea. They were totally blindsided. … So I'm sitting there taking my final and my phone started blowing up. I'm like this is not normal. And guys are telling me the program was cut. I didn't believe it. I thought it was a joke. Then I went on Twitter and read that Bowling Green had cut the program."
The Bowling Green athletic department announced the university was "undergoing restructuring brought on by the current financial crisis" and athletics had been instructed to reduce its annual budget by $2 million. Eliminating baseball — the school's release stated — will save the school approximately $500,000 annually.
"From there, everything spiraled," Ward said. "I had my classes picked out for next year, I had my schedule, I had a lease for a house … all those plans just got flipped over. It was a total blindside. They didn't say anything to us, they didn't say anything to the coaches … they just cut the program. I had to call my parents and tell them what happened. I was just like, 'No way this just happened, no.'"
Ward moved swiftly, posting his video highlights and statistics on Twitter and tagging several well-known baseball recruiting sites. Since the NCAA will permit players such as Ward to transfer and play immediately for any school next year — scholarship agreements also will be honored for players affected at Bowling Green and Furman if they choose to stay and pursue their studies — the response has been encouraging. Ward has heard from several programs and received one offer.
"Everyone needs left-handed pitching," Ward said. "I'm blessed in that regard."
---
College baseball is not like college football, for which full-ride scholarships are plentiful. NCAA Division I baseball programs are allowed to offer a maximum of 11.7 fully funded scholarships to be spread over rosters that often reach 30 to 40 players. Standout students such as Tony Brown can additionally receive some academic scholarship money to help offset a greater portion of the cost, but the average scholarship amount most college baseball programs will offer players is around 40%.
College baseball's scholarship distribution system doesn't sit well with Joe Ferro — Brown's hitting instructor for the past 11 years and current baseball director of Phenom Wisconsin.
"So many times now, schools are bringing 20 kids in and half of those kids are gone after the first semester," Ferro said. "I think the NCAA needs to do a better job regulating scholarships and do a better job regulating what's going on and how much abuse of power can happen from the coaching staff. As a coach, you should also be graded on your transfers, in my opinion. If you're bringing 20 kids in and you're making promises to 20 kids and 15 are leaving, that's not fair. You're not being genuine to the kids you are recruiting."
College baseball recruiting is as tricky as ever. Long before former Furman and Bowling Green players began searching for new schools, the NCAA granted an extra year of eligibility to seniors unable to play their final collegiate season due to COVID-19. A good number of roster spots annually earmarked for incoming recruits will instead revert back to the seniors who accept the extra year of eligibility.
Also muddying the waters is MLB's revenue-related decision to trim the upcoming amateur draft from 40 rounds to five. Prospects not selected in the top five rounds can still sign with MLB teams, but for a maximum of only $20,000. Given the choice of returning to college or signing for that amount, many undrafted players — especially those who otherwise likely would have been selected in Rounds 6 through 10 — will opt for another year of college baseball, which further shrinks the number of available roster spots for guys such as Brown and Ward.
"A lot of the Power 5 conference schools I talk to say we don't have any room for any kids in the class of 2020 or 2021," Plante said. "They're on to the class of 2022 and 2023."
Which makes Brown's chances of finding a home even more difficult.
"It's been a long road," Alex Brown said. "We spent the better half of two years trying to explain to him that if you work your ass off and do everything right that this [the chance to play Division I college baseball] could happen — and then you find what you feel the perfect place is and then it doesn't happen."
Tony Brown is undeterred.
"I would still be in bed crying if that had happened to me," his mother said. "He cried for about 30 minutes and said, 'Let's go workout.' It doesn't stop. You have to keep grinding."
'I'll miss the National League game' — NL managers weigh in on the Universal DH
One thing that will be unmistakable for fans in the National League when games in the 2020 season get played: Pitchers won't be hitting, thanks to the adoption of the universal DH for this campaign. Whether it's just a feature of Major League Baseball's shortened 60-game season or a sign of things to come, we asked the NL's managers what they think about playing American League-style ball this season, and heard back from 14 of them. We also wanted their thoughts on the interleague matchups against the opposite division from the Junior Circuit for a third of their schedule this season.
Torey Lovullo, Arizona Diamondbacks: I've really enjoyed the National League style of baseball over the past three years, but I have had a lot of experience inside of the American League and in the use of the DH. It's just going to allow pitchers to run as long as they can, go as hard as they can, as long as they can, without taking score or at-bats into consideration. There's definitely a strategy to how and when you pull a pitcher in the National League; now it's going to be strictly based on performance and how we're going to win this baseball game. It simplifies it from a pitching standpoint, but it also has a lot of excitement with another big bat inserted into the lineup — you can score some runs. It's a more exciting brand of baseball when you're pushing points across the board.

Brian Snitker, Atlanta Braves: I spent the majority of my management career with a DH in the minor leagues. And having one this year is a very smart decision, healthwise. Bobby Cox used to tell me, when he managed in the American League, I'd ask, 'Skipper, how do you do that?' And he goes, 'Get a bag of balls and sit on it, watch the game.'
It's a little more difficult than that, of course. There's not going to be the pinch hitting, like there is a National League game. I think that is going to be the biggest thing. It's still a challenge. I've noticed sometimes in playing interleague games on the road, where we have a DH, sometimes it's like, man, things flow better with the National League game, and it's still a tough thing to manage as far as your bullpen, and things like that I think, than in the American League. It's not just a slam dunk that there's nothing going on with that. It's going to be different, and I don't know that managing a major league baseball game is ever easy. I always used it to maybe, for one of your regular guys, just to get them off their feet a little bit and keep them in the lineup. Now, as guys are going to have to use the season to get in shape, it might be a good avenue for a guy to give him a day off so that they can still hit.
David Ross, Chicago Cubs: When I was a player, I definitely would have voted against the DH. … I love the strategy for a catcher calling a game from behind the plate. Since retirement, being a fan, you just enjoy it a little bit more when you see a guy up there having a competitive at-bat. Now that I sit in the manager's seat, I get to try this out first and see how this goes — and let MLB and the players' union sort the rest out.
David Bell, Cincinnati Reds: I'll miss the National League game. I enjoy it, but at the same time, we've decided as an industry, for a lot of great reasons, to move forward with the DH role, at least for this year. Now it just becomes a challenge of making the most of that and normalizing that for our team. I do think our team is set up well for that. I'm sure there's other teams that feel the same way, but in our case, one of the great challenges going into this year was going to be getting all of our offensive players in the lineup, particularly in the outfield, where we have great depth. So, this will just make it easier to give more opportunities. For us, we believe it's an advantage.
Reds manager David Bell explains what the universal DH rule means for his team this season, including how it benefits his offense.

Bud Black, Colorado Rockies: I grew up in the American League as a player, and my first seven years as a coach were with the Angels in the American League. So I know the American League game. But when I went to the Giants as a player and I was 33 years old, I hadn't picked up a bat in a long time, and it was a different game. I grew to love the four years I was with the Giants; just the strategy that managers and coaches have to work through. I'm a traditionalist at heart. I don't know how many purists are out there in baseball. I think most people will prefer this. But there's a part of me that thinks the pitching is getting so good, velocities, secondary stuff, pitchers are now having such a hard time contributing offensively, so this might be a good thing really in the long run. A lot of decisions in the National League game are made for you on when to take the pitcher out with his spot in the lineup coming up. So this will be a little different for us, but I think we've all managed in this type of DH game.
Don Mattingly, Miami Marlins: Obviously, it helps everyone, and it particularly helps us. We've struggled to score runs. That's been a big issue the last couple of years, putting runs on the board. Our lineup is better; it's gotten deeper. There are a few players, like Big Papi [David Ortiz], Harold Baines or Edgar Martinez, who you can sit in there every day and they're going to bang. We'll probably have a guy that ends up fitting that role most of the time, but we'll be able to use it to give guys days off. That's how I've always pictured it. I watched Tony La Russa how he did it with the A's; he pretty much had Dave Parker, but he'd give Mac [Mark McGwire] a day to DH, he'd give Josie [Jose Canseco] a day to DH, he'd give Rickey [Henderson] a day. We can use it as a revolving door to be able to rest guys and to be able to keep our better lineup in there.
Dave Roberts, Los Angeles Dodgers: I would be disappointed. I think that in baseball there should be a place for both. I love the ability to keep an aging player in the game that can still hit. I understand the fans' excitement to see a hitter, but I also love a strategy of double switching and knowing that you have to pinch hit for a pitcher and use your bench and things like that. I love that kind of strategy. For me, I'm going get the best of both worlds. But I think in this particular case, with the pitchers not really being able to be built up, putting them in jeopardy as far an oblique [injury] long swinging the bat, I think this year it's very clear and it makes sense.
Craig Counsell, Milwaukee Brewers: I am not a fan of the designated hitter. I do think that in this season it's appropriate, for player health and for pitcher health. For us, it's going to involve Ryan Braun, and it's also a way probably for us to keep Christian Yelich in the lineup. Off the top of my head, those are probably the two players that I see in that spot, among others. I do think it helps us with Christian in that he can avoid having to play the field a couple days, and that's maybe some less days off, especially at the start, than we thought we may have had to give him. Because everybody's going to need a little bit of time off at the start, just because we're probably just not able to prepare the players the way we'd like to.
Luis Rojas, New York Mets: First, it's a very good thing. When it comes to players' health, it's a very good decision. Our pitchers, coming from home, I doubt that any one of them was swinging a bat … well, perhaps Jacob deGrom. I think it's very good that they thought of the pitchers and implemented the universal DH. I am pro-National League rules. I grew up, from a very young age, in National League ballparks, watching my father managing in the majors, watching National League games. I was a fan of National League teams. I'm going to miss the pitchers' strategy, but I totally support the DH, because our priority this season is to take care of the guys and to keep them healthy.
Joe Girardi, Philadelphia Phillies: I like the idea because I don't think that three weeks is enough time to get pitchers healthy to hit and feel good about it and get them the at-bats they need. I feel good about it. I think our team is built pretty good for a DH, in that we have Jay Bruce that can DH from the left side. Sometimes you might play him in left and DH [Andrew] McCutchen. Some days you might play somebody else in right and DH Bryce Harper or DH J.T. [Realmuto] to get him off his feet from behind home plate. I think we're in a good position to have a DH. And I actually like it, because I would have been worried about pitchers trying to (A) feel good about their pitching in a short period of time, and then (B) for us to feel good that they're not going to get hurt while hitting. Because if you think about it, if a player goes on the DL for two weeks, that's substantial in an abbreviated season.
I actually like the different strategies in the game, and I enjoyed managing in both leagues. I only managed one year with the Marlins as a National League manager, but I loved it. But I also loved managing having a DH, because during this time, when pitchers aren't going to be built up as they would be coming out of a normal spring training, not having to worry about if you're going to take a pitcher out the third inning or how you're going to get through all the innings because a big spot is coming up the game or maybe there's runners on second and third with two outs, that sort of thing. It's probably a blessing because there's going to be enough on our plates.
Derek Shelton, Pittsburgh Pirates: With the exception of interleague play, I have never been in a situation where we've had to work with the pitcher hitting, and having never managed in the major leagues, never had to manage with that. The one thing that I'm very aware of from being a hitting coach in the American League is that being a great DH is a difficult thing to do. The guys that have done it very well throughout their careers, whether it's David Ortiz or Travis Hafner or Nelson Cruz, they have to be very aware of what happens between at-bats. Having spent time around Hafner and Nelly, whom I believe are two of the better ones, and being with Nelly last year, it's a challenging thing to do.
We have to make sure that we're not putting our guys in a position where we're asking them to do something because they've never done it. And we have to be very aware that it is challenging and it's not just going to be something where you're gonna say hey, Player X needs to go DH and they're going to be able to handle it mentally. For National League players, that's why we won't run the same guy out every day. Because I think it's something you learn to do and you have to learn to be successful at it. I've been around guys that have been very successful of it and they all go about it differently, but they all took time to learn how to do it.

Mike Shildt, St. Louis Cardinals: I'm going to accept it, agree with it or don't agree with it. It's the rule, and we will figure out the best way we can compete with it. The bigger thing about is that it's just different. You have to make different decisions. And Tony La Russa always said this, you need to be able to be ready to manage from the first pitch so the decisions that you make will give the team the best chance to win. That's my responsibility. And our staff and myself will be prepared, ready to make those decisions, and ready to make the best ones we can we can make.
Jayce Tingler, San Diego Padres: I actually like the DH, specifically and especially for this year. We've got two pitchers in our starting rotation who are in good health, Garrett Richards and Dinelson Lamet, who have come off Tommy John for the last year, plus worked rehab last year and got to throw down the stretch last year for the last month or two. I've been a little concerned on them starting up, then stopping and now having to start up again. For the Tommy John guys and everything they have gone through, deep down in the back of my mind, if they were hitting, I would be worried about what happens if they popped an oblique, a hamstring. An injured list stint of six to eight weeks, it's probably your season.
Gabe Kapler, San Francisco Giants: I think the DH will give managers the ability to be creative and keep their clubs safer by getting players off their feet for a day. I know especially for clubs who have players with injury issues, it'll be nice to have that slot available.
What about the impact of this year's interleague schedule on your team?
Snitker: That's a lot of good teams! I was talking to one of our guys the other day, and I was like, OK, right out the bat, we're going to get Jacob deGrom. You know, like, good luck! Then you add in the AL East with all these really good teams that they have, it's going to be rough. But you know what, it may be a cliché, but you do take it a day and a game at a time. You don't look ahead; don't look behind. If you look ahead, you'll drive yourself crazy. I can't do that.
Girardi: The fact that we're only on the East Coast, I think will physically be easier on players. You could say that it's only a 60-game schedule, but think about players, who usually require about four weeks of games to be in a shape to play every day — they're not going to get that. Then you start talking about if you were changing time zones, and that would be somewhat difficult. So, I actually like it. I think it's a very good idea because I think you could bus to a lot of areas or train [to] a lot of areas where you're not going through airports. It's safer and I think it's the smart thing to do.
The AL East can be really tough, as I experienced for many years. We have a really tough division to begin with and we get that on top of it, so there's gonna be a lot of drama and there's gonna be a lot of fighting for a few spots.
Mattingly: The AL East is a tough division that we're going to have to deal with. We play the Rays every year, so that makes no real difference for us; they have a really good club and [Kevin] Cash does a tremendous job over there. We played the American League East a couple years ago, had to play Boston home and away, got to play the Yankees — that's just the way it is. We have a pitching staff that we know is young but talented. We're going to feel comfortable with anybody we throw out there on day-to-day basis. I don't feel like there are going to be many games that we throw starter out there that doesn't shut things down a bit and keeps us in the game.
Counsell: From our perspective, we've got six games against the Twins, who are one of the best teams in the American League for sure. And 40 games will be played in our division. To me, it highlights probably that the games in your division are even more important; they take on so much value. Those games against our rivals, competing for the division, they take up a bigger percentage of the schedule so all of them are going to be really important games.
I think this was the year to expand the playoffs. I don't think that in a regular 162-game season the playoffs should be expanded, because you don't want teams in there that didn't really deserve to get in there. This year, you want the playoffs expanded because you don't know what's going to happen in a 60-game season.
Black: It's going to be different. Part of the beauty of a long season is playing against other teams and traveling to other parts of our country, and have fans in the East Coast cities being able to watch players like Nolan Arenado, Trevor Story, Charlie Blackmon, those types of players. It's always been fun for me to travel our country and show our team. I'll miss that. I think the players will miss it.
Lovullo: It's easier for us to prepare knowing that we're not going to spend a lot of time playing other teams outside of the Western Division. We're going to see each other a lot. And that's typical of August, September baseball where you're mostly inside of your division.
Shelton: Having been in the AL Central the last two years [as a coach with the Twins], at least I have a little knowledge of that group [of teams]. The other thing we have to be aware of is that teams get hot. You'll see teams that finish in fourth place, but for two weeks or three weeks they're the best team in baseball. I think the fact that we are playing each other so much, and that we have so much information, it's going to make it more challenging. I think you're definitely going to see more parity.
Buster Olney's top 10 second basemen
If you'd like a peek into the future of catching once the electronic strike zone is implemented, just consider how quickly second base has changed since the rules against aggressive slides was adopted in 2016.
Back then, one skill separated good second basemen from the bad ones — the ability to take a throw with a runner bearing down, quickly transferring the ball from glove to hand and then firing an accurate throw to first to perhaps complete a double play. When fielders moved from other positions to second base, this was what almost all of them found to be the greatest challenge — learning how to do this adeptly.
But because of what is known as the Chase Utley rule, there is little value attached to this practiced flurry of hands and feet because the middle infielders almost never get dumped anymore.
Increasingly, teams treat second base much the way they do first base — as a spot to mine offensive potential through matchups. In yesterday's series piece, it was mentioned that the Dodgers deployed 10 different players at first. The volume was almost as high for L.A. at second: Enrique Hernandez, Max Muncy, Gavin Lux and Chris Taylor were among the eight second basemen deployed by Dave Roberts, at the helm of one of baseball's best and most progressive teams.
The Brewers provided a classic example of where the position stands with their handling of second base in 2018. After acquiring Mike Moustakas, they shifted Travis Shaw to second base, a position at which Shaw had played exactly zero innings professionally. But Milwaukee wanted a way to shoehorn Moustakas and Shaw into the lineup, rather than choose between the two, so Shaw learned how to play big league second base … in the big leagues.
He started 36 games in that spot as the Brewers surged to win the NL Central, and in 2019, it was Moustakas who made the move to second, for 359⅔ innings. Milwaukee reached the playoffs again with some new middle infielders getting significant time at a spot where, generally, high-caliber defense was once a priority.
Dodgers' Cody Bellinger ready for 'once-in-a-lifetime' season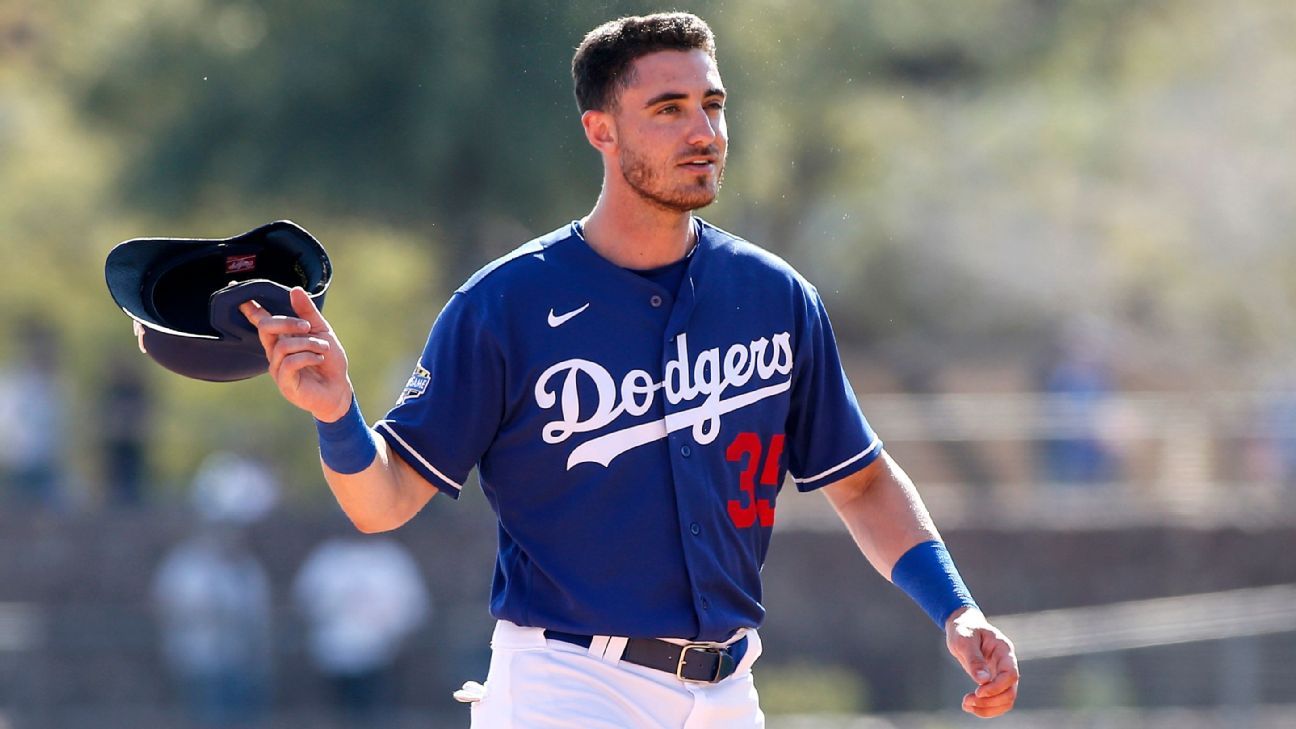 LOS ANGELES — Cody Bellinger is healthy, his mind is right and he's ready for whatever baseball's shortened 60-game season brings.
Bellinger is looking to pick up where he left off after a stellar performance for the Los Angeles Dodgers in 2019. The reigning National League MVP batted .305 with 47 homers and 115 RBIs for the NL West champions last year.
"Everything is going to be so weird this year. It's going to be fun," he said Thursday on a video conference call. "It could be a once-in-a-lifetime thing, so I'm just taking advantage of what we got."
What the Dodgers have in addition to Bellinger's offensive power is Mookie Betts, the 2018 American League MVP with Boston. He joins a team that led the NL with 279 homers last year, but lost to Washington in the division series.
Bellinger, who turns 25 on Monday, isn't putting pressure on himself to repeat last season's statistics.
"I just want to focus on what I've got to do in order to be good. I'm understanding that a little more," he said. "Just go out and be as consistent as I can, fine-tune the things that make me really good."
Bellinger was the NL Rookie of the Year in 2017, and then struggled the following year before rebounding in 2019.
"It was tough sledding for Cody for quite some time coming off that rookie campaign, and you start wondering, 'Was it real?' You question the confidence, the mechanical piece," manager Dave Roberts said. "Everything he does now is with conviction and intent. There's a talent component, but also there's a process and preparation component that sometimes you have to struggle to understand the value of it."
Bellinger spent the last few months working out in his home state of Arizona after spring training came to a halt in March because of the coronavirus pandemic. He focused on fine-tuning his swing.
"I just got to work on it in a stress-free environment," he said. "Just minor things I think about throughout the year. Figuring out why I was so good and remembering the feeling and not getting too caught up on last year. You're always evolving. I feel really good with where I'm at this year. It could be a blessing in the long run."
Bellinger and Roberts said hitters' concerns about the new batter's eye in the renovated outfield pavilions at Dodger Stadium are being addressed. First baseman Max Muncy hurt his left ring finger after he said he couldn't see a pitch that hit him earlier in the week.
"It was a little low," Bellinger said, "and the seats weren't blocked off, so if there were fans there, the pitcher's arm would potentially come out of the stands."
Roberts said the batter's eye "is still a work in progress" that may involve changing the paint scheme to matte from gloss, among other things.
During the first week of summer camp, Bellinger has gotten used to drinking out of his own cooler, not having teammates on either side of his locker and having everyone hear what the players say on the field in an empty stadium. Coming from Arizona, where masks in public were not always mandatory, he's had to don one in California, where they are required.
"I don't think it's a hassle to wear a mask," he said. "If your breath stinks, it sucks. But it just means you brush your teeth a little more."
Game notes
RHP Tony Gonsolin showed up at camp for the first time Wednesday, appearing on the field in uniform for an evening intrasquad scrimmage. He was one of seven players absent from camp earlier in the day. Roberts said Thursday he could not discuss the reason for Gonsolin missing the first week of camp and the reliever has not yet been made available to media. With LHP David Price choosing not to play this season, Gonsolin might have a shot at the rotation.