Jalen Ramsey, Rams 'on same page' concerning contract extension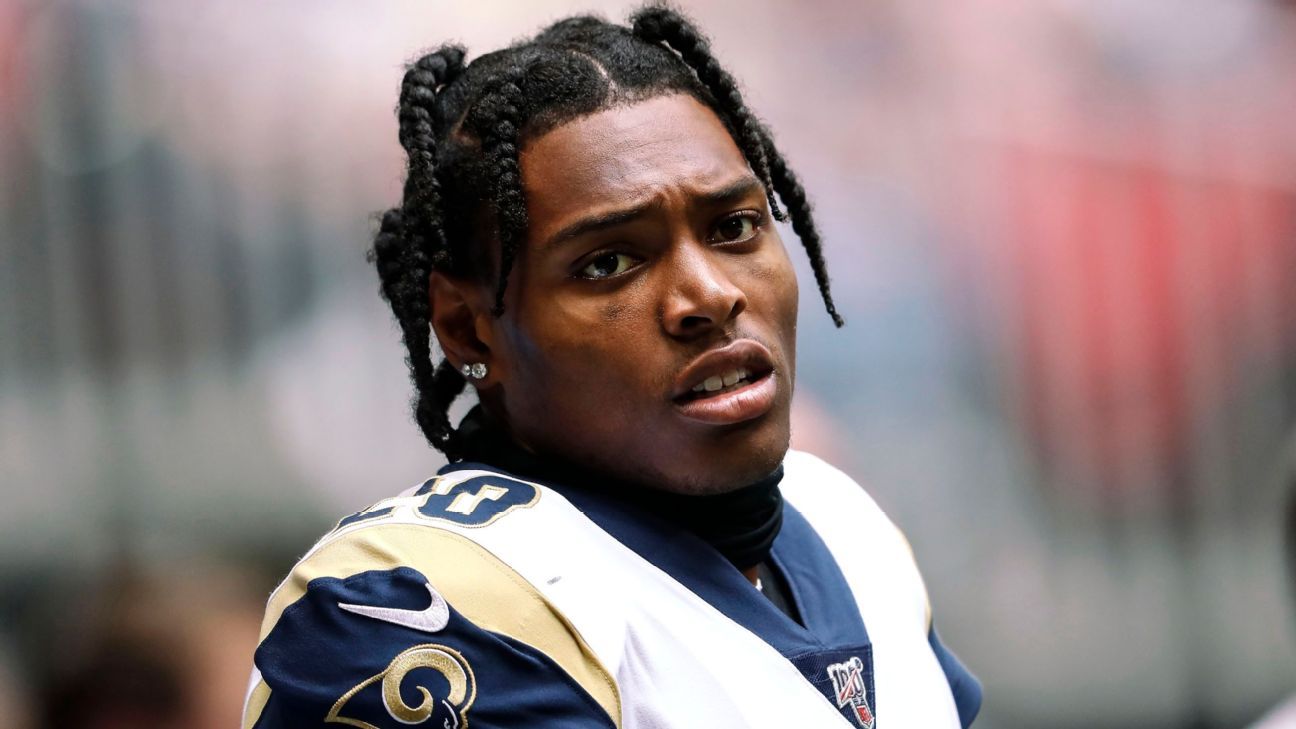 The Los Angeles Rams have been in contact with Jalen Ramsey's representatives about a contract extension as the All-Pro cornerback enters the final season of his rookie deal.
Ramsey played coy Tuesday when asked where negotiations stood.
"The Rams know where I stand," Ramsey said on a video conference with reporters. "I think that's all that matters at the end of the day. It will be handled. They know where I stand. They've been in contact with my agent. … They're on the same page as my agent."
When asked whether he would attend training camp if he had yet to sign an extension, Ramsey showed no hesitation.
"Yeah, for sure," he said.
Ramsey is expected to command a record-breaking contract, and it's anticipated that he will have the upper hand in negotiations, given what the Rams paid to acquire him before the trade deadline last season.
The Rams sent their 2020 and 2021 first-round draft picks and a 2021 fourth-round selection to the Jacksonville Jaguars for Ramsey, who was the No. 5 overall pick in 2016.
"I can't really worry about that," Ramsey said about the negotiations. "I just control what I got to worry about right now. … I feel like everybody knew what type of situation it was gonna be once they traded for me, so I think it doesn't really need to be talked about that much. It will get handled."
Considered among the top lockdown corners in the NFL, Ramsey has 10 interceptions, including one for a touchdown, and 49 pass deflections in four seasons.
The Rams have been aggressive in signing players to record-breaking contracts over the past two years.
Running back Todd Gurley signed a four-year, $40 million extension in July 2018 that included a record-breaking $45 million guaranteed. A month later, defensive tackle Aaron Donald signed a six-year, $135 million extension that amounted to the richest contract ever signed by a defensive player. Last September, quarterback Jared Goff signed a four-year, $134 million deal that includes a record-breaking $110 million guaranteed.
The Rams, however, cut Gurley this offseason and also traded receiver Brandin Cooks, who was in the midst of a five-year, $81 million contract.
Gurley's and Cooks' contracts will cost the Rams nearly $30 million in dead money cap charges in 2020.
Patrick Mahomes new contract puts him in elite company among the higest paid athletes in the world.
Steelers' JuJu Smith-Schuster surprises family with new house – Pittsburgh Steelers Blog
The Pittsburgh Steelers are snapping up real estate all over the country.
A day after running back James Conner posted a video of him surprising his mom with a house, wide receiver JuJu Smith-Schuster did the same for his family.
Smith-Schuster posted a 20-minute video of the backstory and surprise to his YouTube channel Monday night, reminding viewers that he grew up in a house with 23 people, and he didn't have his own bed until he got to college. That experience motivated him to buy a big house for his family.
"Now that I'm able to live my dream and play in the NFL, I think it's everyone's dream to take care of their family at some point in their life, especially when it's their parents," Smith-Schuster said on the vlog. "For me, myself, I'm buying my mom and dad a house. It's something I've wanted to do since I was a kid."
This is one of the biggest accomplishments of my life and a dream come true! I've wanted to do this for so long, finally being able to do this is just unbelievable to me. Check out the video! ➡️ https://t.co/7sNIZ1J5S0 pic.twitter.com/qysVCWgUhn

— JuJu Smith-Schuster (@TeamJuJu) July 6, 2020
Smith-Schuster told his mom the news earlier this year on FaceTime, revealing that he bought them a six-bedroom, five-bathroom house with a pool in Yorba Linda, California — their favorite of three finalists.
He surprised his brothers and sisters a couple months later, flying from Pittsburgh to L.A on June 19.
He told his siblings they were coming over to his AirBnB for a swim, but in reality, they were coming over to pick their rooms and design them.
Smith-Schuster, 23, is in the final year of his rookie deal with the Steelers.
Ten reasons for QB Patrick Mahomes' 10-year megadeal with the Chiefs – Kansas City Chiefs Blog
The Kansas City Chiefs agreed to a contract extension with quarterback Patrick Mahomes worth $450 million, the largest contract in American professional sports. Why did they take the plunge? Here are 10 reasons:
10. The 2017 10th overall pick is the fastest player in NFL history to 75 touchdown passes (30 games), surpassing Dan Marino (32 games). And he already has the most touchdown passes by a homegrown quarterback in Chiefs history.
9. Mahomes accounted for 12 touchdowns (passing and rushing) in the 2019 postseason — the most in a single postseason in NFL history.
8. He completed a 44-yard pass to Tyreek Hill on third-and-15 in the Super Bowl to help the Chiefs' comeback to win. On third-and-15 or longer last year, he was 13-of-17 for 299 yards and 3 TD — 17.6 yards per attempt.
7. He's not exactly known as a runner, but he's scrambled for more yards and first downs than any quarterback in the NFL since returning from injury in Week 10 of last season, including playoffs — yes, better than Lamar Jackson and Russell Wilson.
6. He has an absolute cannon for an arm. He has 22 touchdown passes of 20 or more yards downfield in the past two seasons, the most deep-ball touchdowns in the league.
5. Mahomes has an NFL-best 73 Total QBR under pressure since the start of 2018. The league average is 20.
• Rams optimistic on O-line's outlook
• Has Jaguars' offense gotten better or worse?
• How Vikings are pushing for social justice
• Measuring Brady's fantasy impact on Bucs
• How Marquise Blair fits Seattle defense
4. One reason he's so good under pressure — throwing on the run. He has 23 touchdown passes on the run in the past two seasons — eight more than anyone else, including during the postseason. He actually had more touchdown passes on the run last postseason (5) than the rest of the NFL combined (4), per NFL Next Gen Stats.
3. He's played 36 games in his career, including postseason, and never lost by more than one score or posted a Total QBR below 50 in a game. In other words, he's never had a below-average game (QBR 0-100 scale). It's the most consecutive games with a QBR of 50 or more to start a career (36) since the metric was first calculated in 2006. (The next-highest is 12 by Dak Prescott.)
2. Mahomes was 5-0 in 2019 when trailing by double-digits, the best record in a season in NFL history, including postseason. He's also the first quarterback in NFL history to win three straight games by double-digits after trailing by double digits, including postseason. He accomplished that streak during last season's playoff run.
1. He became the youngest quarterback (24) in NFL history to win both an MVP and Super Bowl title, surpassing Brett Favre. He also surpassed Tom Brady as the youngest quarterback to win Super Bowl MVP.