Tiger Woods' game, Tom Brady's wild ride, Phil Mickelson's antics and Peyton Manning's interest made for a fun day of golf
The weather did not cooperate, but that was about the only thing that went wrong Sunday during The Match: Champions for Charity. As Phil Mickelson, Tom Brady, Peyton Manning and Tiger Woods held an oversized cardboard check with a total of $20 million written in, they were soaking wet but smiling.
It was a soaked, but successful day at The Medalist in Hobe Sound, Florida, where the legends of golf and football sped around in their own carts, raised considerable funds for coronavirus relief, filled the airwaves with banter and played some good golf, too.
Here are a few takeaways:
Tiger's game
For the first time in 98 days, we got to see Woods in action. And the last time we saw him, he didn't look good. Woods shot 77 at Riviera Country Club on Feb. 16 and finished last among those who made the cut at the Genesis Invitational. And he complained that his back was stiff.
When he then skipped the WGC-Mexico Championship and Arnold Palmer Invitational, there was cause for concern. And when he then skipped the Players Championship, it was easy to wonder if he would be ready for his Masters title defense.
All of it became moot when the Players was canceled after one round and the coronavirus pandemic shut down the PGA Tour. Woods hasn't played since but neither has anyone else. And the time off has done him some good.
Woods didn't miss a fairway. His swing looked smooth and in rhythm. He hit some deft pitch shots and a really nice long bunker shot. And all of this in difficult, rainy conditions.
It was just a charity match, but he looked pretty good. Who knows when Woods will resume his schedule when the PGA Tour returns next month, but his game looks good to go.
Phil being Phil
Mickelson did his best to hype the match and went out of his way to say he'd be taking down Tiger — again — in the second of their made-for-TV match encounters. While that didn't happen, it wasn't without Lefty doing all he could to make it happen.
Mickelson gave a vintage description of how he would play a pitch shot early in the match when on-course reporter Justin Thomas asked him about it; was clearly on-brand when he gave a shoutout to one of his sponsors on a long-drive hole, then promptly airmailed his tee shot left into the trees; seemed to take great joy in zipping around in his golf cart; then launched a tee shot onto the par-4 11th to set up an eagle putt by Brady; and generally seemed to enjoy himself.
Mickelson hasn't made it official, but he is expected to play the first event back next month at the Charles Schwab Championship.
Brady's bounce back
The new Tampa Bay Buccaneers quarterback started out as if he were playing golf in the old Bucs creamsicle jerseys, a comedy of errors at every turn. The weather didn't help, and Brady got off to a shaky start.
Charles Barkley was giving him grief, and offered up a $50,000 donation to COVID-19 relief if Brady could hit a par-3 green. He missed badly. "I should have said if you could hit it on the planet," Barkley bellowed.
But as Brady has been known to do, he gathered himself. Even after taking a penalty stroke on the par-5 seventh hole, he holed a 100-yard wedge shot — while his pants split and his microphone broke — to earn a $100,000 donation from Brooks Koepka, who wondered if Brady could even make a par.
I thought this was CHAMPIONS for charity Chuck…🤔 https://t.co/Vzu3xZQxOk

— Tom Brady (@TomBrady) May 25, 2020
And on the back nine, as he and Mickelson attempted to rally, Brady was solid, helping keep his team in the match.
Manning's enthusiasm
The retired NFL quarterback brought a lot to the second edition of The Match. He was fun and engaging and self-deprecating. He admitted how difficult it was afterward to step into that arena with Tiger and Phil and play a sport for which he is not known. And he hit some great shots, making an early birdie putt to put his team 2-up and hitting a great iron approach shot late to help keep the team 1-up. The Augusta National member acquitted himself quite nicely.
Justin Thomas, announcer
The fourth-ranked player in the world has a lot of golf ahead of him, but the friend of Tiger proved his worth in a cameo TV role. He had no problem dishing on Woods and Mickelson — and Barkley — and he brought some excellent insight as a Medalist member. He came across smooth but is no doubt looking forward to getting back to his day job.
Modified alternate shot
The back-nine format was fun, and it helped keep the Match moving on the back nine as weather and darkness threatened. It also brought strategy to the competition, and allowed for some good drama when Mickelson drove the green at the par-4 11th and Brady drained the putt for an eagle. One scary thought: Imagine if there had been true alternate shot, meaning they could not pick the best drive.
The Match III
It's almost inevitable. The first match, won by Mickelson in Las Vegas in 2018, came with a $9 million payday. It also had numerous technical glitches, and with just Woods and Mickelson involved, lacked the banter we saw Sunday. The second iteration was a marked improvement, and it was probably livelier and more fun because the players were competing for bragging rights and charity.
Woods and Mickelson formed this partnership a few years ago with an eye on these type of matches.
Next time, put Tiger and Phil together. How about taking on Rory McIlroy and Thomas? The young guys might be favored, but with a big payout on the line, who is to say the veterans won't prevail?
The real thing
Two weeks. Two made-for-TV, sports-starved-viewer-filling events. All for charity.
Last week it was McIlroy, Dustin Johnson, Rickie Fowler and Matthew Wolff at Seminole, and raising more than $10 million for relief efforts.
This time, Tiger, Phil, Manning and Brady doubled that amount in a similar event.
To criticize either would miss the point. Both served a great purpose, a welcome diversion while also offering a huge monetary boost to fight the pandemic.
But now the real thing beckons. Assuming all goes well, the PGA Tour returns in Texas in a little over two weeks. We expect Phil to be there. Tiger's return is more of a mystery.
The golf will count, however, and a busy season beckons with plenty of obstacles in trying circumstances but plenty of cautious optimism.
Dwayne Haskins, social media react to Washington NFL team name change
Washington quarterback Dwayne Haskins said he's "looking forward to the future" after the NFL franchise announced on Monday that it will be retiring its nickname and logo after completing a thorough review that began on July 3.
Haskins was one of several current and former NFL players who weighed in on the latest news, with other players asking social media followers to offer suggestions on what name the franchise should use next.
Last week, ESPN's Adam Schefter reported that the franchise would not use any Native American imagery.
Washington's logo of an American Indian chief had been designed by a Native American in 1971.
Washington has held the same nickname for the past 87 seasons, the most consecutive seasons with one nickname before a change in the history of NFL, NBA, MLB and NHL franchises, according to Elias Sports Bureau.
Another source told ESPN that the plan, as of now, is to retain the franchise's use of its burgundy and gold colors.
Here is how social media reacted Monday to the news:
As a kid who grew up in the dmv it'll always be #HTTR but looking forward to the future 🤝 https://t.co/1qjYtrhGra

— Dwayne Haskins, Jr (@dh_simba7) July 13, 2020
I guess all of these jerseys, t-shirts, helmets, etc. that I have in my house are collector's items now? pic.twitter.com/IQ0wY6xuli

— Ross Tucker (@RossTuckerNFL) July 13, 2020
Unbelievable ha. https://t.co/6Gjo6HvflV

— Tyrann Mathieu (@Mathieu_Era) July 13, 2020
Going to be crazy seeing a different logo for the redskins … and name !!!

— F L ⚡️ S H (@Melvingordon25) July 13, 2020
— Chris Baker (@cbakerswaggy) July 13, 2020
It's been a long & difficult journey 2 achieve this end. @suzanharjo recognized this injustice over 30yrs ago. Thank u for leading the way! #Forward2Gther #Equality4All https://t.co/82wunOD9C7

— Notah Begay III (@NotahBegay3) July 13, 2020
Washington …….??? Let's hear it

— T.J. Ward (@BossWard43) July 13, 2020
I think it will be Redwolves!

— Phillip Daniels (@PhillipDaniels) July 13, 2020
Seahawks' Quinton Dunbar changes lawyers after report of payoff
Seattle Seahawks cornerback Quinton Dunbar has changed legal counsel after new information came to light late last week about a possible payoff that took place at the office of attorney Michael Grieco.
Grieco and Michael Weinstein have withdrawn as Dunbar's counsel, according to court records. Andrew Rier and Jonathan Jordan of Rier Jordan will now represent Dunbar as he faces four counts of armed robbery from a May 13 incident in Miramar, Florida.
"We agreed that new counsel would allow for continued advocacy of Mr. Dunbar's innocence without any collateral distractions," Grieco told ESPN in a text message Monday about his decision to step aside in the case.
Dunbar's new attorneys filed Sunday for a Notice of Appearance and Notice of Participation in Discovery requesting all the necessary information from the state for this case.
The switch was made just days after evidence obtained by the New York Daily News from a search warrant indicated that the witness in the alleged robbery, Dominica Johnson, oversaw a payout to the victims at Grieco's office. The warrant noted video footage and direct messages as evidence. All four alleged victims signed affidavits shortly after recanting their original stories.
The Miami Herald then reported over the weekend that, as of last month, Grieco was under criminal investigation.
Grieco responded to the Daily News' report over the weekend.
"Law enforcement, both local and federal, was advised from day one and beyond that the alleged 'victims' in this case were actively extorting [DeAndre] Baker and Dunbar," he told The Seattle Times. "These men fabricated a robbery story after waiting an hour to call police and then immediately began contacting the players demanding money.
"My office obtained accurate and truthful affidavits consistent with the independent witness and my client's account. These 'victims' are seasoned career criminals who have been arrested and/or convicted of crimes ranging from conspiracy to commit murder, to human trafficking, to filing a false police report. Mr. Dunbar took and passed a polygraph confirming that he did not participate or witness any robbery."
Baker, a cornerback for the New York Giants, also faces four counts of armed robbery and four counts of aggravated assault with a firearm from the incident. His attorney, Bradford Cohen, told ESPN over the weekend that no payment or offer of money was made from Baker.
NFL unveils Oakley Mouth Shield to combat coronavirus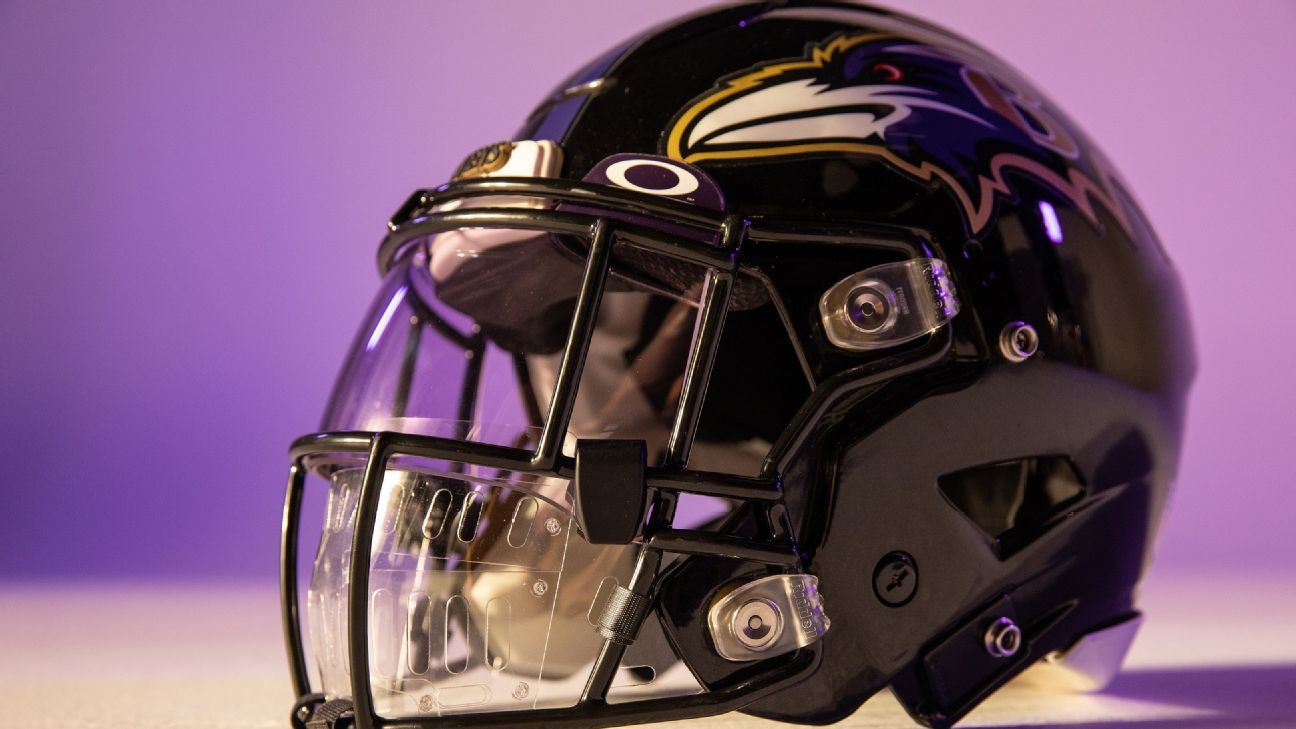 In the name of health and safety, NFL players could be sporting a whole new look in 2020.
The Oakley Mouth Shield — a product designed by doctors and engineers from the NFL and NFL Players Association to mitigate the spread of the coronavirus on the field of play — is expected to be distributed to all 32 teams over the next week, when it will receive a test drive on a much larger scale than it has gotten to date.
Safety protocol negotiations are ongoing between the league and players. Currently, there is no mandate to wear a face shield, but the NFL's medical experts are advocating for the use of the protective equipment.
"That's certainly what we're going to encourage," said Dr. Allen Sills, the NFL's chief medical officer. "And we hope that we're going to land on a product design that's something that everyone would want to wear, because they'll see the value and want that additional protection without any detriment to performance."
The Oakley Prizm Lens Technology used by skiers, military personnel and, most recently, NFL players for enhanced color and contrast in their visors, is featured in the new design. Plastic sheets extend down and attach to the faceguard. There are airways and openings on the mouth shield but none that allow the direct transmission of droplets, according to the chair of the NFL's engineering committee, Dr. Jeff Crandall.
The mouth shield has already been distributed to the Los Angeles Rams and Los Angeles Chargers — two teams close to Oakley's home base — per NFLPA medical director Dr. Thom Mayer, and has also been sent to various player representatives and equipment managers for feedback.
The two biggest concerns to date have been visibility and breathe-ability, according to Mayer.
"We've only had it on a few players — we have 2,500 players in the league — but I was surprised that … claustrophobia has not been an issue yet," he said. "I think it will be when we [have more players testing them]."
Houston Texans star defensive lineman J.J. Watt, for one, is firmly against the idea of wearing a face shield.
"My second year in the league I thought it'd be cool, I put a visor on my helmet," Watt told ProFootballTalk. "I was like, 'It looks so cool, I wanna put a visor on.' I had it on for about three periods of practice and I said, 'Take this sucker off — I'm gonna die out here.' … So now you're gonna put something around my mouth? You can keep that. If that comes into play, I don't think you're gonna see me on the field."
The current design, however, is the result of an iterative process based in large part on player feedback, with comfort and functionality top of mind along with protection. Quarterbacks who tested them recently were able to effectively call out plays, Mayer said, following initial responses that the sound was too muffled. There was also broad consideration given to field of view.
Crandall said that Oakley has conducted internal testing in which it has sprayed particles of fluid to represent droplets expelled by players and has seen a high success rate of blocked transmission.
"I don't know that there's a direct percentage that anyone's come up with because a laboratory is not the on-field environment, obviously," Crandall said. "There's lots of things that players do on the fields that they're not easily replicating [in] the laboratory, but it is a significant blockage to transmission of droplets. There is no straight pathway through the face shield or visor for a droplet to be transmitted."
While Oakley is the official supplier of the NFL, there are other manufacturers of face shields, and players may end up using other brands as well in 2020, according to chief revenue officer and executive vice president of NFL partnership Renie Anderson.
Mayer called football "probably the perfect milieu or petri dish in which to transmit the virus," given that it is a contact sport involving a large number of players. The NFL and NFLPA are hoping the different safety measures they are taking, including the introduction of the Mouth Shield, will lead to a safer environment.
"Just like everything we do, whether we're talking about better cleats or better performing helmets, it's all about something that's safer and yet also protects and in many cases enhances performance," Sills said. "That's the same mantra and the same sort of approach that we're taking here. I'm really pleased with how the work is going along. We're not at a finished product yet. Like most things in health safety, there's really no finish line here. So we're hoping to continue to innovate and improve as we go along. But we're excited about where we are and excited about the potential role this may play in risk mitigation on the field."