Nick Foles brings familiarity with Nagy's Andy Reid-based offense – Chicago Bears Blog
The Chicago Bears' eagerly anticipated quarterback competition might technically be on hold, but the manner in which incumbent starter Mitchell Trubisky and challenger Nick Foles navigate their way through Chicago's virtual offseason program could determine the eventual winner.
"There's no competition going on right now over Zoom, as you know," Bears coach Matt Nagy conceded on Friday. "I think what those guys are doing right now is they're all building up their mental capacity within this offense as to what they like."
Offensive preferences aside, Foles' presence in Chicago is directly correlated to Trubisky's performance in 2019.
• Lions' Aussie rookie punter to make history?
• Trubisky, Foles navigate QB derby virtually
• Love package? Run D fixed? Pack answers questions
• Healthy Gilbert poised to emerge for Steelers
• No joke, Bill Murray trying to make Patriots
The former second overall pick finished 28th in total QBR (39.4), tied for 27th in touchdown passes (17), 21st in passing yards (3,138), 32nd in yards gained per pass attempt (6.1) and 28th in traditional quarterback rating (83.0) — numbers that compelled the Bears to send a fourth-round compensatory draft choice to Jacksonville for Foles, whose restructured contract pays him $12 million in total cash in 2020 and can be voided (by Foles) in 2021.
Put it this way: Had Chicago been satisfied with Trubisky's development after three NFL seasons, general manager Ryan Pace (the man who traded up to draft Trubisky over Patrick Mahomes and Deshaun Watson) never acquires Foles — the MVP of Super Bowl LII. However, Foles also has experienced plenty of ups and downs over the span of eight seasons with the Eagles (twice), Rams, Chiefs and Jaguars.
One thing Foles has going for him as the quarterbacks gear up to battle each other are his bonds with a bunch of Chicago's new offensive coaches, as well as Nagy himself.
But while Foles was exposed to Andy Reid's system in Philadelphia and Kansas City, the clear edge for the 25-year-old Trubisky is that he's already spent two years with Nagy, calling plays in his own variation of Reid's system.
"I think obviously I have a foundation from when I was in Kansas City and we ran a different version of the offense," Foles said last month. "And Philadelphia was different than this. But that's the fun part is you get to bring that information that we did in Philly to Chicago and try to fine-tune it and develop that Bears offense DNA.
"It's by no means starting over with no knowledge of the offense. Definitely starting out on my two feet –I'm excited to learn more about what they're doing. It might mean a few different terminologies, a different run game and stuff like that, but I'll be able to understand it decently well to begin with."
Thus far, the league-mandated virtual offseason prevents players and coaches from congregating under the same roof, but teaching the playbook is fair game.
At 31 and coming off an injury-plagued 2019 season, Foles probably needs the classroom work more than the offseason on-field work. If Foles can report to training camp on equal footing with Trubisky in terms of knowing the offense, then any unfamiliarity between Foles and the receivers/tight ends can be ironed out quickly.
"We always talk about it [Foles learning the offense] like riding a bike," Nagy said. "He's been through some different offenses, even from the last time we were together in Kansas City. But what happens is once you present somebody like Nick the playbook and they start looking at it, all of a sudden it just clicks and you start remembering it and you just start retraining your brain from what you knew in the past year or couple years.
"But that doesn't take much. Nick is a smart guy."
Trubisky faces his own learning curve entering Year 4.
"In Mitch, I've seen a player in the previous two years who's learning how to play the quarterback position," Nagy said. "That doesn't always mean on the field, that means off the field — watching tape, what notes do you take, what's your schedule going to be, right? How do you accept coaching? How do you give feedback? And all of that stuff has been going on right now, has been going on in different ways. So what we'll do, when we're allowed, we get together and we'll talk through some of the summary of what we just talked about — with the details of plays, with his scheduling, etc. — and I can see he's starting to create his own way, his own habits. And obviously the biggest thing is none of it matters unless we all go out there and do it on the field, and now that's going to be the next challenge, taking it onto the field and doing it through a competition."
Chicago claims its decision to decline Trubisky's fifth-year option ($24.8 million and guaranteed only against injury) will have no bearing on the upcoming quarterback competition. But with absolutely nothing tying Trubisky to the Bears beyond 2020, you can argue that the absence of a fifth-year option has leveled the playing field. Foles would earn $4 million in 2021 if he opts not to void the restructured deal.
"We're all very open and honest in the discussions we have and then we just let things play out," Nagy said. "In the end, what we want is for both those quarterbacks to be the best possible quarterbacks they can be individually and making it hard on us making the decision as to who the starter is, and that makes the Bears a better football team.
"When you have two good people like we do in Mitchell and Nick, it makes these types of decisions and conversations a lot easier to have because they're competitive as hell, they want the best for the Bears, and they're going to fight their tails off to do that. I think that's the beauty of it."
Dwayne Haskins, social media react to Washington NFL team name change
Washington quarterback Dwayne Haskins said he's "looking forward to the future" after the NFL franchise announced on Monday that it will be retiring its nickname and logo after completing a thorough review that began on July 3.
Haskins was one of several current and former NFL players who weighed in on the latest news, with other players asking social media followers to offer suggestions on what name the franchise should use next.
Last week, ESPN's Adam Schefter reported that the franchise would not use any Native American imagery.
Washington's logo of an American Indian chief had been designed by a Native American in 1971.
Washington has held the same nickname for the past 87 seasons, the most consecutive seasons with one nickname before a change in the history of NFL, NBA, MLB and NHL franchises, according to Elias Sports Bureau.
Another source told ESPN that the plan, as of now, is to retain the franchise's use of its burgundy and gold colors.
Here is how social media reacted Monday to the news:
As a kid who grew up in the dmv it'll always be #HTTR but looking forward to the future 🤝 https://t.co/1qjYtrhGra

— Dwayne Haskins, Jr (@dh_simba7) July 13, 2020
I guess all of these jerseys, t-shirts, helmets, etc. that I have in my house are collector's items now? pic.twitter.com/IQ0wY6xuli

— Ross Tucker (@RossTuckerNFL) July 13, 2020
Unbelievable ha. https://t.co/6Gjo6HvflV

— Tyrann Mathieu (@Mathieu_Era) July 13, 2020
Going to be crazy seeing a different logo for the redskins … and name !!!

— F L ⚡️ S H (@Melvingordon25) July 13, 2020
— Chris Baker (@cbakerswaggy) July 13, 2020
It's been a long & difficult journey 2 achieve this end. @suzanharjo recognized this injustice over 30yrs ago. Thank u for leading the way! #Forward2Gther #Equality4All https://t.co/82wunOD9C7

— Notah Begay III (@NotahBegay3) July 13, 2020
Washington …….??? Let's hear it

— T.J. Ward (@BossWard43) July 13, 2020
I think it will be Redwolves!

— Phillip Daniels (@PhillipDaniels) July 13, 2020
Seahawks' Quinton Dunbar changes lawyers after report of payoff
Seattle Seahawks cornerback Quinton Dunbar has changed legal counsel after new information came to light late last week about a possible payoff that took place at the office of attorney Michael Grieco.
Grieco and Michael Weinstein have withdrawn as Dunbar's counsel, according to court records. Andrew Rier and Jonathan Jordan of Rier Jordan will now represent Dunbar as he faces four counts of armed robbery from a May 13 incident in Miramar, Florida.
"We agreed that new counsel would allow for continued advocacy of Mr. Dunbar's innocence without any collateral distractions," Grieco told ESPN in a text message Monday about his decision to step aside in the case.
Dunbar's new attorneys filed Sunday for a Notice of Appearance and Notice of Participation in Discovery requesting all the necessary information from the state for this case.
The switch was made just days after evidence obtained by the New York Daily News from a search warrant indicated that the witness in the alleged robbery, Dominica Johnson, oversaw a payout to the victims at Grieco's office. The warrant noted video footage and direct messages as evidence. All four alleged victims signed affidavits shortly after recanting their original stories.
The Miami Herald then reported over the weekend that, as of last month, Grieco was under criminal investigation.
Grieco responded to the Daily News' report over the weekend.
"Law enforcement, both local and federal, was advised from day one and beyond that the alleged 'victims' in this case were actively extorting [DeAndre] Baker and Dunbar," he told The Seattle Times. "These men fabricated a robbery story after waiting an hour to call police and then immediately began contacting the players demanding money.
"My office obtained accurate and truthful affidavits consistent with the independent witness and my client's account. These 'victims' are seasoned career criminals who have been arrested and/or convicted of crimes ranging from conspiracy to commit murder, to human trafficking, to filing a false police report. Mr. Dunbar took and passed a polygraph confirming that he did not participate or witness any robbery."
Baker, a cornerback for the New York Giants, also faces four counts of armed robbery and four counts of aggravated assault with a firearm from the incident. His attorney, Bradford Cohen, told ESPN over the weekend that no payment or offer of money was made from Baker.
NFL unveils Oakley Mouth Shield to combat coronavirus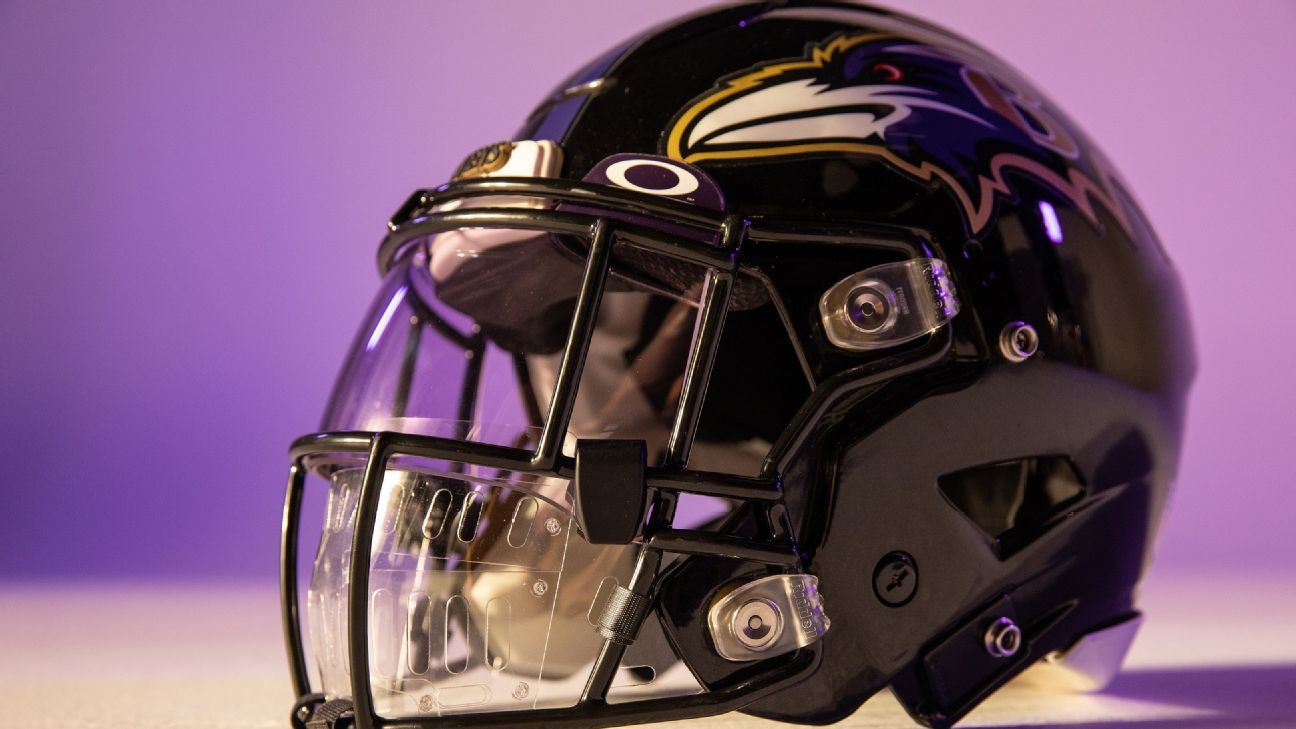 In the name of health and safety, NFL players could be sporting a whole new look in 2020.
The Oakley Mouth Shield — a product designed by doctors and engineers from the NFL and NFL Players Association to mitigate the spread of the coronavirus on the field of play — is expected to be distributed to all 32 teams over the next week, when it will receive a test drive on a much larger scale than it has gotten to date.
Safety protocol negotiations are ongoing between the league and players. Currently, there is no mandate to wear a face shield, but the NFL's medical experts are advocating for the use of the protective equipment.
"That's certainly what we're going to encourage," said Dr. Allen Sills, the NFL's chief medical officer. "And we hope that we're going to land on a product design that's something that everyone would want to wear, because they'll see the value and want that additional protection without any detriment to performance."
The Oakley Prizm Lens Technology used by skiers, military personnel and, most recently, NFL players for enhanced color and contrast in their visors, is featured in the new design. Plastic sheets extend down and attach to the faceguard. There are airways and openings on the mouth shield but none that allow the direct transmission of droplets, according to the chair of the NFL's engineering committee, Dr. Jeff Crandall.
The mouth shield has already been distributed to the Los Angeles Rams and Los Angeles Chargers — two teams close to Oakley's home base — per NFLPA medical director Dr. Thom Mayer, and has also been sent to various player representatives and equipment managers for feedback.
The two biggest concerns to date have been visibility and breathe-ability, according to Mayer.
"We've only had it on a few players — we have 2,500 players in the league — but I was surprised that … claustrophobia has not been an issue yet," he said. "I think it will be when we [have more players testing them]."
Houston Texans star defensive lineman J.J. Watt, for one, is firmly against the idea of wearing a face shield.
"My second year in the league I thought it'd be cool, I put a visor on my helmet," Watt told ProFootballTalk. "I was like, 'It looks so cool, I wanna put a visor on.' I had it on for about three periods of practice and I said, 'Take this sucker off — I'm gonna die out here.' … So now you're gonna put something around my mouth? You can keep that. If that comes into play, I don't think you're gonna see me on the field."
The current design, however, is the result of an iterative process based in large part on player feedback, with comfort and functionality top of mind along with protection. Quarterbacks who tested them recently were able to effectively call out plays, Mayer said, following initial responses that the sound was too muffled. There was also broad consideration given to field of view.
Crandall said that Oakley has conducted internal testing in which it has sprayed particles of fluid to represent droplets expelled by players and has seen a high success rate of blocked transmission.
"I don't know that there's a direct percentage that anyone's come up with because a laboratory is not the on-field environment, obviously," Crandall said. "There's lots of things that players do on the fields that they're not easily replicating [in] the laboratory, but it is a significant blockage to transmission of droplets. There is no straight pathway through the face shield or visor for a droplet to be transmitted."
While Oakley is the official supplier of the NFL, there are other manufacturers of face shields, and players may end up using other brands as well in 2020, according to chief revenue officer and executive vice president of NFL partnership Renie Anderson.
Mayer called football "probably the perfect milieu or petri dish in which to transmit the virus," given that it is a contact sport involving a large number of players. The NFL and NFLPA are hoping the different safety measures they are taking, including the introduction of the Mouth Shield, will lead to a safer environment.
"Just like everything we do, whether we're talking about better cleats or better performing helmets, it's all about something that's safer and yet also protects and in many cases enhances performance," Sills said. "That's the same mantra and the same sort of approach that we're taking here. I'm really pleased with how the work is going along. We're not at a finished product yet. Like most things in health safety, there's really no finish line here. So we're hoping to continue to innovate and improve as we go along. But we're excited about where we are and excited about the potential role this may play in risk mitigation on the field."