Reggie Robinson II, deaf in one ear, can impact Cowboys on, off the field – Dallas Cowboys Blog
Not long after he was selected by the Dallas Cowboys with the No. 123 overall pick in the fourth round of the 2020 NFL draft, cornerback Reggie Robinson II was with one of his coaches from high school in Cleburne, Texas, a little more than an hour's drive from The Star in Frisco, Texas.
He and his former defensive coordinator Jason Payne were reminiscing about Robinson's days on the football field as a defensive back and wide receiver. That experience led Robinson to become the first player from Cleburne High School to be taken in the NFL draft in 44 years.
» Dallas' offseason story: From panic to hope
» Bill Barnwell's offseason winners, losers
» 2020 schedule: Fast start for McCarthy era
» Cowboys' DiNucci a 'young Marc Bulger'
» Cowboys' 2020 draft analysis for every pick
Payne asked if Robinson would jump on a Zoom call with the current Cleburne football team.
"To see a professional athlete and not only that, one from Cleburne, their hometown, a person who was in the shoes they want to be in, you could see them perk up a little bit," Payne said. "I think it meant a lot to the guys."
Robinson had been just like them, growing up in the town's peewee league and coming through the same middle school programs. In high school, he starred in football and ran track. He had dreams just like they did, even if the New Orleans Saints were his favorite team — being a Louisiana native — and not the Cowboys.
Robinson wasn't sure if he had made an impact on his audience.
"But later that day, one of the kids posted on Facebook I had joined the call and they were excited," Robinson said.
To make an impact on the Cowboys as a rookie, Robinson likely will have to get by with limited practice time because of the coronavirus pandemic. He is learning all he can from his virtual meetings, and he is going through skill work and lifting on his own to be in the best shape possible whenever he can get to The Star for the first time.
Off the field, he can make an impact in other ways besides the effect he is having on his hometown. Robinson is deaf in his left ear, and he can support others who are like him.
"We found out when he was in third or fourth grade when they did a hearing test at school," said his father, Reginald, who played on the defensive line at Grambling State University. "He had a big hearing aid, and you know how some other kids can be about that. He didn't wear that very long at all."
Robinson started sitting closer to the front of his classes to hear the teachers better. The impairment didn't affect his grades in high school or at Tulsa, where he recently graduated with two degrees, one in organizational studies and the other media. It did not affect him on the field, either.
"You know, I [had] kind of forgotten [about his hearing loss] because he never let that be an issue," Payne said. "He never let that be a crutch for him. He didn't want that to be an excuse. He was always very in tune with what we were doing, paying attention on the field. It's kind of funny to say you would forget that, but that's how he was."
About the only concession Robinson makes is ensuring anyone he talks to is placed on his right side.
"Honestly, I didn't know about it when we were recruiting him, and I didn't find out until he got on campus," Tulsa coach Philip Montgomery said. "It was one of those deals where I was walking beside him down the hall and I said something to him, and he kind of turned his head to talk to me. He tells me, 'Coach, you know I'm deaf in this ear, right?' No, Reggie, I didn't know that."
Robinson played on either side of the field, and his fellow defensive backs would use hand signals to communicate, if necessary.
America's Team (@dallascowboys) is getting a stud in @TulsaFootball CB Reggie Robinson II. #AmericanPow6r pic.twitter.com/I7U1Ao8H4m

— The American (@American_Conf) April 25, 2020
"The great thing was I didn't know there was any difference from anybody else," Robinson said. "I definitely started sitting closer in classes so I could hear, but it wasn't like I was born with both ears being good and I lost something. To me, it's not a big deal."
It was not a big deal to the Cowboys, either.
The Dallas staff saw Robinson's production improve from year to year. As a senior at Tulsa, he intercepted four passes and had 17 pass deflections. Robinson also blocked four kicks in his career. During the draft process, Cowboys vice president of player personnel Will McClay came to love Robinson's game. At 6-foot-1 and 205 pounds, Robinson has the size to line up against bigger receivers or potentially play safety. He clocked a 4.4-second 40-yard dash at the NFL combine but ran faster in workouts, so he has the speed to match up, as well.
"I remember the first time I watched the tape on him at Tulsa, and you are wondering why he is not part of the conversation with the other guys up there in the first two rounds," Cowboys coach Mike McCarthy said. "Obviously, his size, his strength, his ability as another big corner to play with length [are a plus]."
Two weeks ago, Robinson and the rest of the rookies had their welcome-to-the-organization virtual meeting with owner and general manager Jerry Jones, executive vice president Stephen Jones and McCarthy. And there have been virtual meetings with his position coach, Al Harris.
For the first time this week, Robinson will take part in meetings with the Cowboys' veterans, but he won't be as starstruck as the Cleburne kids he spoke to after the draft.
"We're all on the same team, all at the same point. They're more experienced, but you can't be a fan," Robinson said. "You've got to make it seem like you belong there too."
Dwayne Haskins, social media react to Washington NFL team name change
Washington quarterback Dwayne Haskins said he's "looking forward to the future" after the NFL franchise announced on Monday that it will be retiring its nickname and logo after completing a thorough review that began on July 3.
Haskins was one of several current and former NFL players who weighed in on the latest news, with other players asking social media followers to offer suggestions on what name the franchise should use next.
Last week, ESPN's Adam Schefter reported that the franchise would not use any Native American imagery.
Washington's logo of an American Indian chief had been designed by a Native American in 1971.
Washington has held the same nickname for the past 87 seasons, the most consecutive seasons with one nickname before a change in the history of NFL, NBA, MLB and NHL franchises, according to Elias Sports Bureau.
Another source told ESPN that the plan, as of now, is to retain the franchise's use of its burgundy and gold colors.
Here is how social media reacted Monday to the news:
As a kid who grew up in the dmv it'll always be #HTTR but looking forward to the future 🤝 https://t.co/1qjYtrhGra

— Dwayne Haskins, Jr (@dh_simba7) July 13, 2020
I guess all of these jerseys, t-shirts, helmets, etc. that I have in my house are collector's items now? pic.twitter.com/IQ0wY6xuli

— Ross Tucker (@RossTuckerNFL) July 13, 2020
Unbelievable ha. https://t.co/6Gjo6HvflV

— Tyrann Mathieu (@Mathieu_Era) July 13, 2020
Going to be crazy seeing a different logo for the redskins … and name !!!

— F L ⚡️ S H (@Melvingordon25) July 13, 2020
— Chris Baker (@cbakerswaggy) July 13, 2020
It's been a long & difficult journey 2 achieve this end. @suzanharjo recognized this injustice over 30yrs ago. Thank u for leading the way! #Forward2Gther #Equality4All https://t.co/82wunOD9C7

— Notah Begay III (@NotahBegay3) July 13, 2020
Washington …….??? Let's hear it

— T.J. Ward (@BossWard43) July 13, 2020
I think it will be Redwolves!

— Phillip Daniels (@PhillipDaniels) July 13, 2020
Seahawks' Quinton Dunbar changes lawyers after report of payoff
Seattle Seahawks cornerback Quinton Dunbar has changed legal counsel after new information came to light late last week about a possible payoff that took place at the office of attorney Michael Grieco.
Grieco and Michael Weinstein have withdrawn as Dunbar's counsel, according to court records. Andrew Rier and Jonathan Jordan of Rier Jordan will now represent Dunbar as he faces four counts of armed robbery from a May 13 incident in Miramar, Florida.
"We agreed that new counsel would allow for continued advocacy of Mr. Dunbar's innocence without any collateral distractions," Grieco told ESPN in a text message Monday about his decision to step aside in the case.
Dunbar's new attorneys filed Sunday for a Notice of Appearance and Notice of Participation in Discovery requesting all the necessary information from the state for this case.
The switch was made just days after evidence obtained by the New York Daily News from a search warrant indicated that the witness in the alleged robbery, Dominica Johnson, oversaw a payout to the victims at Grieco's office. The warrant noted video footage and direct messages as evidence. All four alleged victims signed affidavits shortly after recanting their original stories.
The Miami Herald then reported over the weekend that, as of last month, Grieco was under criminal investigation.
Grieco responded to the Daily News' report over the weekend.
"Law enforcement, both local and federal, was advised from day one and beyond that the alleged 'victims' in this case were actively extorting [DeAndre] Baker and Dunbar," he told The Seattle Times. "These men fabricated a robbery story after waiting an hour to call police and then immediately began contacting the players demanding money.
"My office obtained accurate and truthful affidavits consistent with the independent witness and my client's account. These 'victims' are seasoned career criminals who have been arrested and/or convicted of crimes ranging from conspiracy to commit murder, to human trafficking, to filing a false police report. Mr. Dunbar took and passed a polygraph confirming that he did not participate or witness any robbery."
Baker, a cornerback for the New York Giants, also faces four counts of armed robbery and four counts of aggravated assault with a firearm from the incident. His attorney, Bradford Cohen, told ESPN over the weekend that no payment or offer of money was made from Baker.
NFL unveils Oakley Mouth Shield to combat coronavirus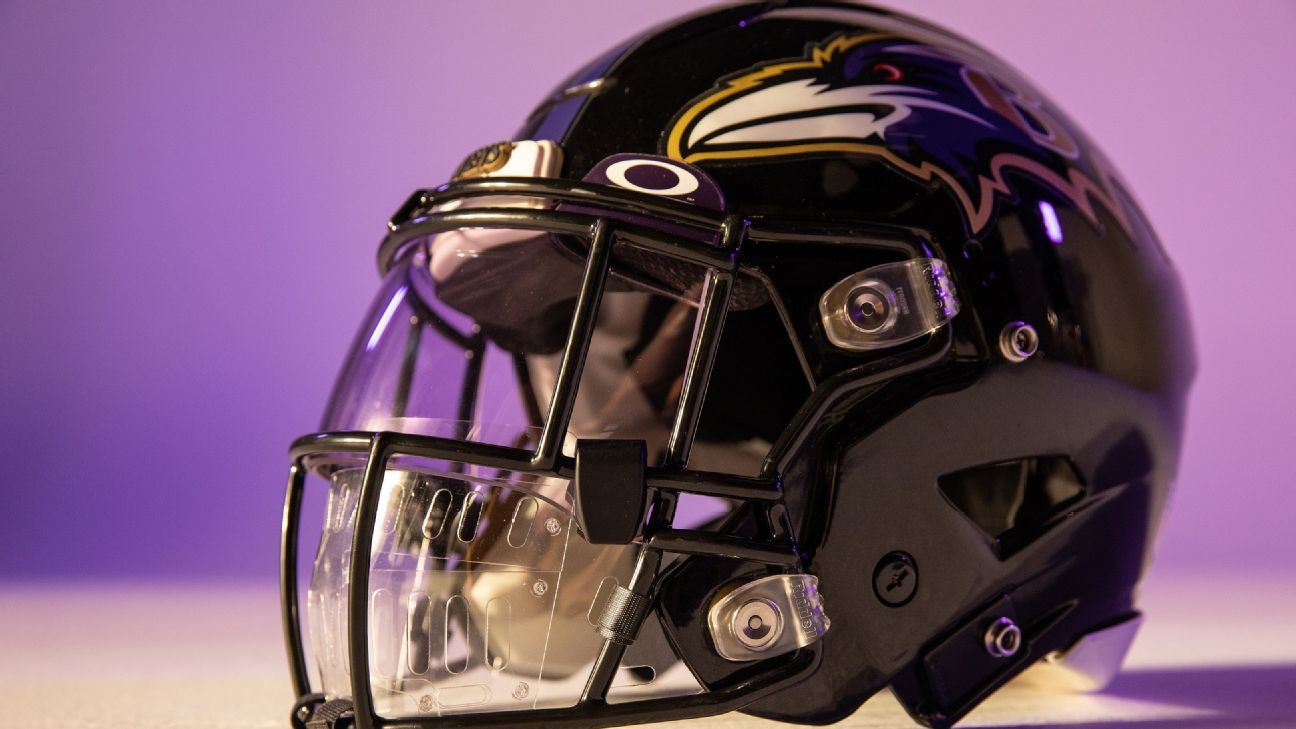 In the name of health and safety, NFL players could be sporting a whole new look in 2020.
The Oakley Mouth Shield — a product designed by doctors and engineers from the NFL and NFL Players Association to mitigate the spread of the coronavirus on the field of play — is expected to be distributed to all 32 teams over the next week, when it will receive a test drive on a much larger scale than it has gotten to date.
Safety protocol negotiations are ongoing between the league and players. Currently, there is no mandate to wear a face shield, but the NFL's medical experts are advocating for the use of the protective equipment.
"That's certainly what we're going to encourage," said Dr. Allen Sills, the NFL's chief medical officer. "And we hope that we're going to land on a product design that's something that everyone would want to wear, because they'll see the value and want that additional protection without any detriment to performance."
The Oakley Prizm Lens Technology used by skiers, military personnel and, most recently, NFL players for enhanced color and contrast in their visors, is featured in the new design. Plastic sheets extend down and attach to the faceguard. There are airways and openings on the mouth shield but none that allow the direct transmission of droplets, according to the chair of the NFL's engineering committee, Dr. Jeff Crandall.
The mouth shield has already been distributed to the Los Angeles Rams and Los Angeles Chargers — two teams close to Oakley's home base — per NFLPA medical director Dr. Thom Mayer, and has also been sent to various player representatives and equipment managers for feedback.
The two biggest concerns to date have been visibility and breathe-ability, according to Mayer.
"We've only had it on a few players — we have 2,500 players in the league — but I was surprised that … claustrophobia has not been an issue yet," he said. "I think it will be when we [have more players testing them]."
Houston Texans star defensive lineman J.J. Watt, for one, is firmly against the idea of wearing a face shield.
"My second year in the league I thought it'd be cool, I put a visor on my helmet," Watt told ProFootballTalk. "I was like, 'It looks so cool, I wanna put a visor on.' I had it on for about three periods of practice and I said, 'Take this sucker off — I'm gonna die out here.' … So now you're gonna put something around my mouth? You can keep that. If that comes into play, I don't think you're gonna see me on the field."
The current design, however, is the result of an iterative process based in large part on player feedback, with comfort and functionality top of mind along with protection. Quarterbacks who tested them recently were able to effectively call out plays, Mayer said, following initial responses that the sound was too muffled. There was also broad consideration given to field of view.
Crandall said that Oakley has conducted internal testing in which it has sprayed particles of fluid to represent droplets expelled by players and has seen a high success rate of blocked transmission.
"I don't know that there's a direct percentage that anyone's come up with because a laboratory is not the on-field environment, obviously," Crandall said. "There's lots of things that players do on the fields that they're not easily replicating [in] the laboratory, but it is a significant blockage to transmission of droplets. There is no straight pathway through the face shield or visor for a droplet to be transmitted."
While Oakley is the official supplier of the NFL, there are other manufacturers of face shields, and players may end up using other brands as well in 2020, according to chief revenue officer and executive vice president of NFL partnership Renie Anderson.
Mayer called football "probably the perfect milieu or petri dish in which to transmit the virus," given that it is a contact sport involving a large number of players. The NFL and NFLPA are hoping the different safety measures they are taking, including the introduction of the Mouth Shield, will lead to a safer environment.
"Just like everything we do, whether we're talking about better cleats or better performing helmets, it's all about something that's safer and yet also protects and in many cases enhances performance," Sills said. "That's the same mantra and the same sort of approach that we're taking here. I'm really pleased with how the work is going along. We're not at a finished product yet. Like most things in health safety, there's really no finish line here. So we're hoping to continue to innovate and improve as we go along. But we're excited about where we are and excited about the potential role this may play in risk mitigation on the field."