Tom Brady reflects on Bill Belichick relationship in Howard Stern interview
Tom Brady said he went into 2019 thinking it would be his final season with the New England Patriots and delved into his relationship with coach Bill Belichick in an expansive two-hour interview Wednesday on SiriusXM's "The Howard Stern Show."
Brady was asked about the thought that he wouldn't have had success without Belichick, who selected him in the sixth round of the 2000 draft.
"I think it's a pretty s—ty argument actually that people would say that, because again, I can't do his job, and he can't do mine," Brady said on the program. "So the fact you could say, 'Would I be successful without him, the same level of success?' I don't believe I would have been. But I feel the same vice versa, as well.
"To have him allowed me to be the best I can be, so I'm grateful for that. I very much believe that he feels the same way about me, because we've expressed that to each other."
The new Tampa Bay Buccaneers quarterback told Stern he didn't have any resentment that Belichick didn't make him a Patriot for life.
"No, absolutely not," Brady answered, somewhat emphatically. "No, because this is a part for me, in my life, to experience something very different. There are ways for me to grow and evolve in a different way that I haven't had the opportunity to do — that aren't right or wrong, but just right for me.
"… I never cared about legacy. I could give a s— about that. I never once, when I was in high school, said, 'Man, I can't wait for what my football legacy looks like.' That's just not me. That's just not my personality."
He told Stern "it was just time" to move on to another team.
"I don't know what to say other than that," Brady said. "I accomplished everything I could in two decades with an incredible organization, an incredible group of people, and that will never change. No one can ever take that away from me, no one can ever take those experiences or Super Bowl championships away from us."
Brady was asked if Belichick's loyalty influenced his decision.
"I think he has a lot of loyalty. He and I have had a lot of conversations that nobody has ever been privy to, nor should they be, that so many wrong assumptions were made about our relationship or about how he felt about me. I know genuinely how he feels about me," Brady said. "Now I'm not going to respond to every rumor or assumption that's made, other than what his responsibility as coach is to get the best player for the team — not only in the short term but in the long term as well.
"So what I could control is trying to be the best I could be in both of those situations also. I got into uncharted territory as an athlete because I started to break the mold of what so many other athletes had experienced, so I got to the point where I was an older athlete and he's starting to plan for the future, which is what his responsibility is. I don't fault him for that. That's what he should be doing. Not that I would ever coach, but if I was ever in a position of authority, I would understand that too."
Brady told Stern that he didn't make his "final, final decision" until he told Patriots owner Robert Kraft on March 16, relaying that they shed tears during their in-person meeting at Kraft's home.
"But I would say I probably knew before the start of last season that it was my last year," Brady said. "I knew that our time was coming to an end."
Miami Dolphins to open drive-in theater at Hard Rock Stadium
The Miami Dolphins will soon let fans drive their cars inside the stadium where football players typically play every weekend in the fall.
The Dolphins announced Tuesday that they are launching an outdoor drive-in theater inside Hard Rock Stadium that will be used to show marquee games in team history, classic movies, commencement ceremonies, concerts and more. They are also hosting an open-air theater which can host small groups for an intimate viewing experience in the complex plaza.
The Dolphins have mocked renderings of the drive-in venture, which they say can host up to 230 cars. They are promoting it as a family-friendly event that people can participate in amidst the coronavirus pandemic.
Food and beverage can purchased through an online system and delivered to cars. Restrooms will also be made available for use. Fans can put their name on an email list via the stadium website to be notified when tickets are available.
"We've spent several weeks planning this to be able to provide people with a safe option to go out and enjoy movies, classic Dolphins content, concerts, and celebrate 2020 graduates," said Dolphins and Hard Rock Stadium vice chairman and CEO Tom Garfinkel. "It's a fundamental human need to physically experience and celebrate events and experiences together, and we're trying to provide options for everyone where they can be safely socially distant and socially present at the same time."
Hard Rock Stadium became the first public facility to earn the Global Biorisk Advisory Council's STAR accreditation, the standard used for facilities to implement cleaning, disinfecting and infectious disease prevention work practices to control risks involved with infectious agents like the coronavirus.
Garfinkel and the Dolphins have been proactive and innovative in ways to function during the pandemic. They released mock-up plans earlier this month for what it could like to host approximately 15,000 fans in the stadium for NFL fans if the NFL and the government allows it in the fall. Owner Stephen Ross also said on CNBC Tuesday that there will "definitely" be a football season this fall and the plans as of now is to include having fans in the stands.
Hard Rock Stadium was the host for Super Bowl LIV. It also has hosted Miami Open tennis tournaments, several multiple large music festivals, college football championship games and international soccer games.
Ravens' Lamar Jackson to host informal workouts for teammates
With the Baltimore Ravens facility unavailable to players due to the coronavirus pandemic, reigning NFL MVP Lamar Jackson is hosting his Baltimore Ravens teammates for some informal workouts in south Florida next week.
Wide receiver Miles Boykin told reporters in a video conference call that he is scheduled to run plays with Jackson, wide receiver Marquise "Hollywood" Brown and others in what is believed to be the team's largest gathering this offseason.
"We're still finalizing it," Boykin said Tuesday. "There are going to be a lot of guys down there. There's only so much you can do in [virtual] meetings without being able to go out on the field."
And while the Ravens announced Tuesday that they have re-opened their training facility under Phase 1 of the NFL process, it is still closed to players and coaches. Like many other teams, Baltimore's offseason training activities would've begun by now.
What works in the Ravens' favor is their continuity and familiarity on offense. Baltimore returns 11 of 13 players who caught a pass from Jackson last season in what was the NFL's highest-scoring offense (33.2 points per game).
Boykin said there are plans for additional workouts with Jackson beyond next week. Jackson's recent throwing sessions appear to have been limited to Brown, who also lives in Florida. Based on social media posts, it looks like Jackson and Brown have been working on routes at a local park.
👀 @Primetime_jet and @Lj_era8 are putting in WORK. 😈 pic.twitter.com/flBTNJnJXS

— Baltimore Ravens (@Ravens) May 23, 2020
Boykin isn't sure of the exact details of the workouts.
"Right now, we just have the plan to go down there and be able to run through some plays on offense and just play football a little bit to get back to something that we love doing," Boykin said. "It'll be exciting for us to be together, just work on that chemistry."
This is the second straight year that Jackson has gotten together with teammates in the offseason, which had been a point of contention with the Ravens' previous starting quarterback. Joe Flacco only held private workouts twice in his 11 seasons in Baltimore.
Jalen Ramsey, Rams 'on same page' concerning contract extension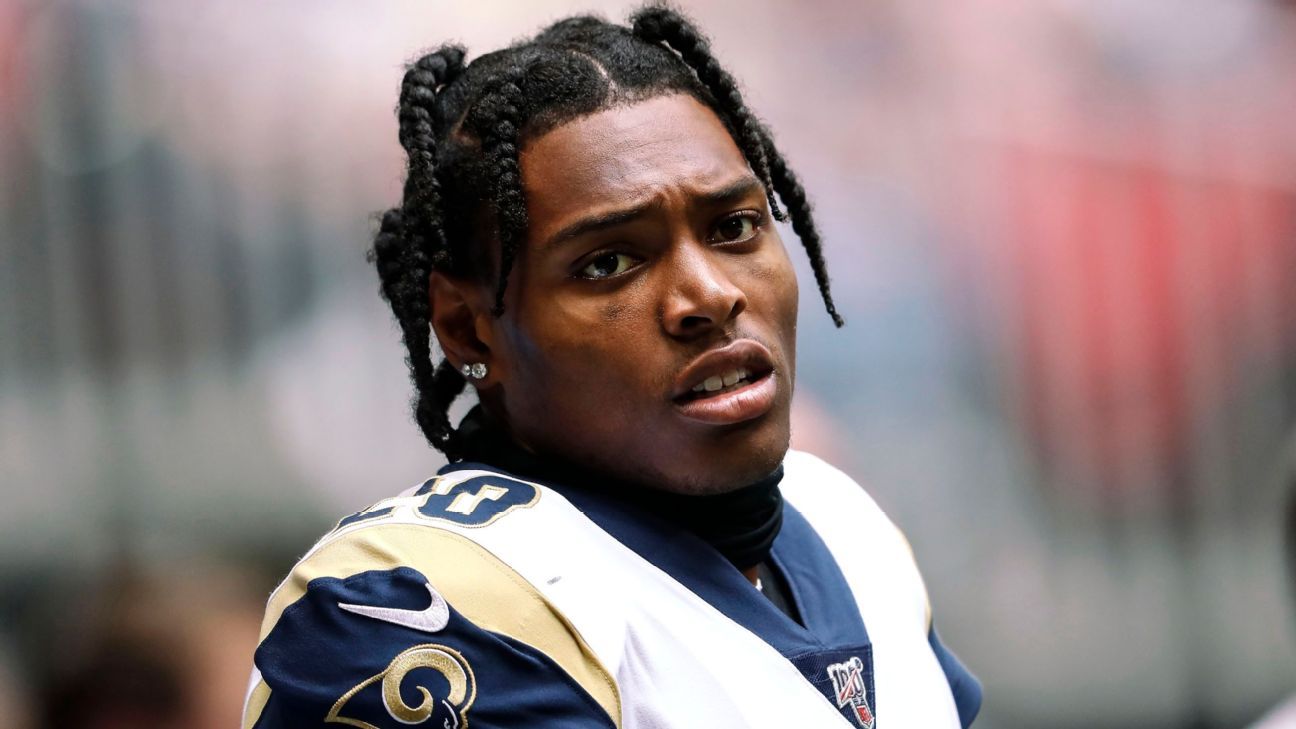 The Los Angeles Rams have been in contact with Jalen Ramsey's representatives about a contract extension as the All-Pro cornerback enters the final season of his rookie deal.
Ramsey played coy Tuesday when asked where negotiations stood.
"The Rams know where I stand," Ramsey said on a video conference with reporters. "I think that's all that matters at the end of the day. It will be handled. They know where I stand. They've been in contact with my agent. … They're on the same page as my agent."
When asked whether he would attend training camp if he had yet to sign an extension, Ramsey showed no hesitation.
"Yeah, for sure," he said.
Ramsey is expected to command a record-breaking contract, and it's anticipated that he will have the upper hand in negotiations, given what the Rams paid to acquire him before the trade deadline last season.
The Rams sent their 2020 and 2021 first-round draft picks and a 2021 fourth-round selection to the Jacksonville Jaguars for Ramsey, who was the No. 5 overall pick in 2016.
"I can't really worry about that," Ramsey said about the negotiations. "I just control what I got to worry about right now. … I feel like everybody knew what type of situation it was gonna be once they traded for me, so I think it doesn't really need to be talked about that much. It will get handled."
Considered among the top lockdown corners in the NFL, Ramsey has 10 interceptions, including one for a touchdown, and 49 pass deflections in four seasons.
The Rams have been aggressive in signing players to record-breaking contracts over the past two years.
Running back Todd Gurley signed a four-year, $40 million extension in July 2018 that included a record-breaking $45 million guaranteed. A month later, defensive tackle Aaron Donald signed a six-year, $135 million extension that amounted to the richest contract ever signed by a defensive player. Last September, quarterback Jared Goff signed a four-year, $134 million deal that includes a record-breaking $110 million guaranteed.
The Rams, however, cut Gurley this offseason and also traded receiver Brandin Cooks, who was in the midst of a five-year, $81 million contract.
Gurley's and Cooks' contracts will cost the Rams nearly $30 million in dead money cap charges in 2020.