MLB draft rankings — The top 100-plus players available in 2020 and beyond
The rankings below may look like those from any other draft year at this juncture, but most of the conversations I have with scouts are about the logistics and strategic adjustments to this year's Major League Baseball Rule 4 draft due to COVID-19, rather than about which player is better than another. We talked about that, too, and those thoughts are contained below in the comments under the rankings, but this introduction will focus more on the meta elements hovering above the player evaluations.
Right now, the draft is set to start on June 10th and to go five rounds. It can move to as late as July 20th and to as many as 40 rounds, but no one expects it to be bigger than 10 rounds. The expectation from those I spoke with is that no amateur competition of any kind will happen between now and draft day, thus no additional in-game data will be collected. So, the draft will occur with significantly less information, along with significantly fewer players picked and signed.
The five-round length is the biggest adjustment, and it obviously remains to be seen how this will affect strategy, but teams already have some suspicions. The fact that there is a hard cap on any undrafted player of $20,000 means that a whole draft pool has to be spent on drafted players. In the event a team thinks they have a unique and extreme opinion on a high school prospect, and would normally take that player in the 15th or 20th round and sign him for a $500,000 bonus, that team now has to take that player in the top five rounds. So, teams will be incentivized to "play it straight" and draft players much closer to how they like them, rather than moving bonus money around based on the perception of players.
Taking a college senior who is a seventh-round talent in the fourth round for a below-slot $50,000 bonus will save some money, but that has to go to one of a handful of picks, which doesn't allow for much creativity in terms of where and how to use those savings. It's expected that college juniors that hope to go in the fifth round and turn pro will be squeezed, as the draft pool gets very homogeneous at that point. The slot for the last pick of the fifth round is $321,100, with all leftover players stuck with $20,000 or returning/going to school with reduced leverage. Most teams will just find a half dozen players that they like for their last pick and offer them half of slot, if not less, and see who takes it.
Redshirt juniors or seniors who are legitimate top-five-round talents (Duke RHP Bryce Jarvis or East Tennessee State RHP Landon Knack) will get moved up the board for under-slot bonuses so clubs can get a strong value for their pick and lock in savings that will give them the hammer at later picks, when other clubs will be trying to cut under-slot deals to pay for earlier picks.
There's also the ugly rumor that some clubs may not have the cash flow to actually spend all of the draft pool money that they're allotted. There's currently a transaction freeze, but it would likely be lifted before draft day to allow for moves. What if a team has an above-average $10 million draft pool due to a (tradable) competitive pick and their owner tells the GM he can only spend $7 million on this year's draft class?
With the two-year bonus deferment, a high school prospect who will be an eligible sophomore in 2022 now has extra leverage to get a higher bonus in 2022 (with a strong college performance) and collect it all at the same time than if they signed in the 2020 draft. This applies to RF Austin Hendrick, RHP Nate Wohlgemuth, LF Sterlin Thompson, and RHP Ben Hernandez in the Top 102. I chose 102 because that's the amount of picks in the top three rounds; I'll expand this to the full five rounds (161 picks) by the next update.
Key takeaways from MLB's initial economic proposal to re-start 2020 season
Team owners in Major League Baseball have reportedly made their long-anticipated initial proposal to the MLB Players Association about what the players could make during the pandemic-shortened 2020 season. Working from what details have come out from sources, we look at the key takeaways from what we're hearing about the proposal so far.
What would make a sliding scale be more appealing to players than a revenue split?
For one, it protects them against a shutdown due to a second wave of COVID-19, perhaps during the playoffs, when television revenues are at its peak. Plus, the lower-paid players wouldn't feel the further hit on their salary as much, thanks to the sliding scale. Already, one lesser paid player thought he'd only lose about $100,000-$150,000 compared to the uncertainty of sharing revenues.
Why would MLB's highest-paid players be willing to agree to a deal that costs them more than others?
There's a good chance they won't but if they did it would be because a player who was going to make $20 million would still make about $6.5 million this season while also protecting the lower-paid players. But this offer has a real chance to divide players unless a better solution is presented. The top earners are in a sort of Catch-22. Many probably have enough money to survive without playing this season but $6.5 million is still $6.5 million.
How much more likely does this proposal make the players to agree to a deal?
One player said it's already 'much better' than any revenue-sharing split but that doesn't make it likely they'll accept. Players already believe they agreed to a prorated salary structure so selling them on taking even less won't be easy. Just easier than a revenue-sharing proposal. The good news is the owners have shown some willingness to negotiate but, in fact, this is their first real proposal. Revenue sharing was a trial balloon which popped upon leaking to the media.
Where do talks go next from here?
The union is likely to respond, perhaps with their own plan, which might include full prorated salaries but with deferments. Behind the scenes, many players and agents find this idea intriguing, knowing revenues will return in coming years, and full value of current contracts can be paid. Another option is to offer a straight cut across the board — say 10 percent — instead of a sliding scale. The hit wouldn't be horrendous for any one player but would the owners accept? It won't save them as much as their current proposal.
Sources — MLB proposal includes pay cuts for highest-paid players
Major League Baseball has proposed cutting the salaries of the highest-paid players in baseball, with the lowest-paid players taking lesser cuts from their full prorated shares, in its first economic proposal to the MLB Players Association, sources familiar with the situation told ESPN.
The long-awaited plan, which was delivered to the union Tuesday afternoon, proposes that high-salaried players take significant reductions of what they will be paid during a prospective season, according to sources.
While the size of the pay cuts is unclear, sources said the highest-paid players under the proposal would receive perhaps less than 40% of their full-season salaries.
As word of the proposal spread, players bristled at the notion of taking further pay reductions — particularly ones that would affect the highest-paid players — after a March agreement that they believe guarantees them a full prorated share of their salaries. Under that deal, players would receive slightly more than 50% of their agreed-upon salary over an 82-game season.
MLB has disputed that agreement, believing that the language calls for a good-faith negotiation if games start without fans in the stands, which they would in early July with a deal.
Tuesday's proposal calls for a sliding scale, as USA Today first reported, that would mirror the pay cuts in some organizations, where the highest-paid employees have taken greater pay reductions, according to sources.
Dodger Stadium now largest coronavirus testing site in California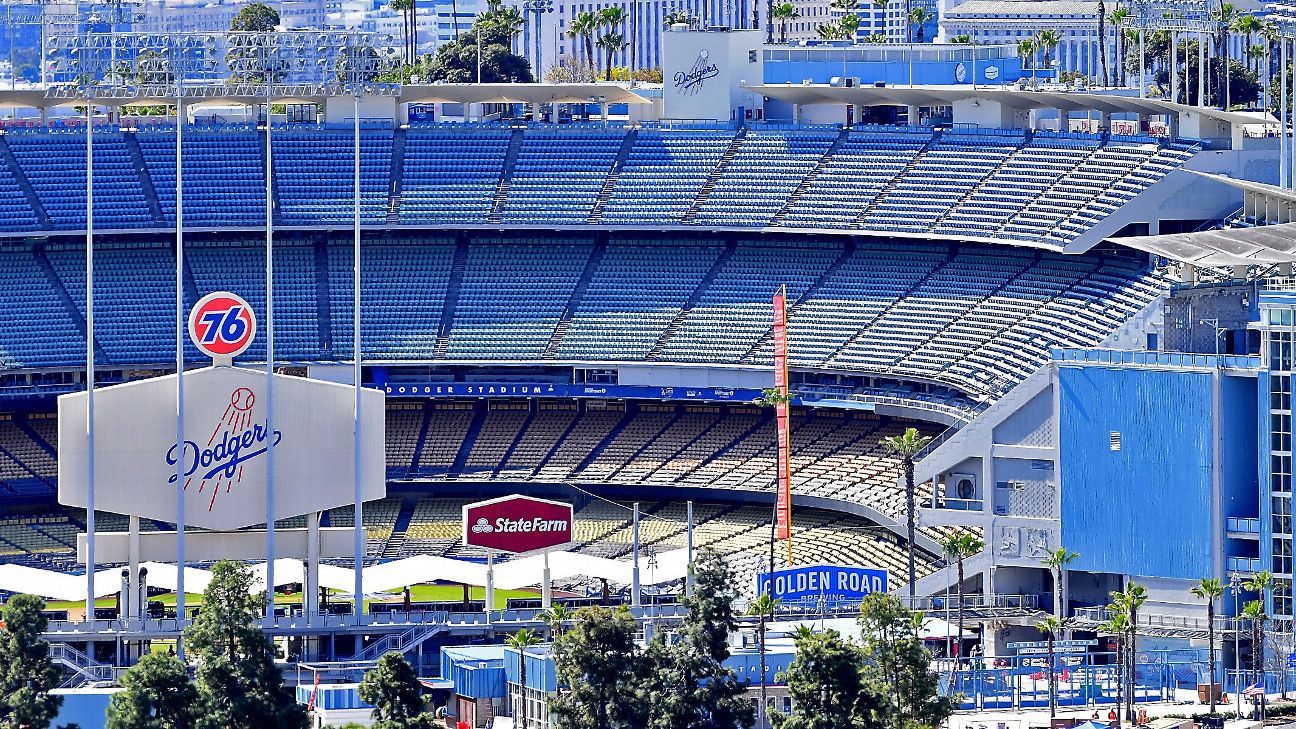 LOS ANGELES — Dodger Stadium, which has hosted nearly 20 million fans over the last five seasons, opened as a coronavirus testing facility that is considered to be the largest in the state of California.
The drive-through testing site has the capacity to test 6,000 people daily, Los Angeles Mayor Eric Garcetti said Tuesday from a lectern. Tests will be conducted from the stadium parking lot, with large video monitors explaining the process in hopes of maximizing efficiency.
Garcetti worked in collaboration with Dodgers president Stan Kasten and will also partner with the L.A. Fire Department and the nonprofit Community Organized Relief Effort to operate the site.
Roughly 60 staff members will be on hand to help, Garcetti said, adding that Los Angeles is now testing an average of 15,000 people a day.
Dodger Stadium is currently also open to injured Dodgers players for treatment, as is the team's spring training facility in Phoenix.