Tom Brady is the signing of a lifetime for long-suffering Bucs fans – Tampa Bay Buccaneers Blog
(Editor's note: ESPN's Bob McClellan grew up in Central Florida, and his father bought six Buccaneers season tickets in 1976. His brother maintains four of them to this day.)
The GOAT chose the Tampa Bay Buccaneers. He wasn't traded there. It wasn't for lack of options. Yet Tom Brady signed a two-year deal.
You can't understand how much the New England Patriots quarterback coming to Tampa Bay means to a Bucs fan.
And by Bucs fan, I'm speaking to those of us who've had season tickets in our families since the franchise started in 1976. (We started in the west stands, about the goal line, six seats, six rows up on the aisle. Baseball Hall of Famer Al Lopez and his family were in the row in front of us. A quiet, sweet man.)
The Bucs haven't fared well chasing big names. They were snubbed by Hall of Fame coaches Bill Parcells (twice) and Bill Cowher. A 2008 trade for Brett Favre fell through at the last minute. And for years players have wanted to do whatever they could to get out of Tampa. Bo Jackson famously never came, even after the Bucs chose him No. 1 overall.
The defense has had great players. Three of them — Lee Roy Selmon, Warren Sapp and Derrick Brooks — are already in Canton.
But the offense … my God, the offense. How best to explain the futility we have seen under center? Try this on:
Brady has been to 10 more Pro Bowls than all other Bucs quarterbacks. In the 44 seasons of the franchise.
Brady has been named to the Pro Bowl 14 times. Bucs quarterbacks have been named four times — one each for Jameis Winston, Trent Dilfer, Jeff Garcia and Brad Johnson.
Let's have some more fun with numbers.
The four quarterbacks who have started the most games in Bucs history are Dilfer (76 starts), Vinny Testaverde (72), Winston (70) and Doug Williams (67). They made 284 starts. Brady has made 283.
TB12 has won 219. QBucs4 won 123 (Dilfer 38-38; Williams 33-33-1; Winston 28-42; Testaverde 24-48). Brady's winning percentage is .774. The Bucs' quartet was .433.
Brady has 541 touchdown passes and 179 interceptions. The QBucs4 (Williams, 73-73; Dilfer, 70-80; Testaverde, 77-112; Winston, 121-88) had 341 touchdown passes and 353 interceptions.
I had to read that a few times myself just to digest it without throwing up on my Derrick Brooks jersey. Tom Brady has 200 more touchdown passes in one fewer game than the QBucs4.
And you thought Winston threw interceptions at an alarming rate. He has the best TD-INT ratio of the QBucs4 by a country mile.
The first NFL game I went to was at Tampa Stadium. Steve Spurrier was the quarterback. The Bucs went on to go 0-14. Spurrier made 12 starts and had seven touchdown passes and 12 interceptions. It was the start of an alarming trend.
Brady has been in the league for 20 years. He never has had more interceptions than touchdown passes in a season. Never even close. In Tampa, we celebrated when a QB had more TDs than picks.
Here is a list of guys I saw play QB in person in Tampa, all of whom started games. You are totally forgiven if you don't recall any. I wish I didn't.
Randy Hedberg

Jeb Blount

Parnell Dickinson

Jack Thompson

Gary Huff

Mike Rae

Jerry Golsteyn
Without checking with ESPN's Stats & Information group, I'm pretty sure the Bucs are the only team to start a Parnell and a Jeb at QB.
Williams was the quarterback I saw in person the most. Absolute cannon for an arm. Didn't always know where it was going. Tough as nails. I was upset when the Bucs let him go.
Brady is the fifth Bucs quarterback who has won a Super Bowl in his career and the third who was the MVP in a Super Bowl. Only one — Johnson — won a championship while with the Bucs. Williams was a Super Bowl MVP for the Washington Redskins, and Steve Young was a Super Bowl MVP with the San Francisco 49ers. Dilfer was the starting QB for the Super Bowl champion Baltimore Ravens.
The success quarterbacks had once they had departed Tampa used to be a running joke. "Well, wonder how long before he wins a Super Bowl."
The Bucs haven't had the best track record in signing free agents, which possibly is tied to the franchise's futility. They've had 26 double-digit losing seasons, including a streak of 12 in a row.
Johnson and Garcia are among their best free-agent signings. They hit big on defensive end Simeon Rice and wide receiver Vincent Jackson, for sure, but the most recent signing of those four was Jackson, and that was eight years ago. And Rice came when the Bucs already had one of the best defenses in the league, so that move made sense.
I can't blame free agents for ignoring Tampa Bay. It has been mostly synonymous with futility. Money usually trumps everything, but given that, how do you not sign a difference-maker since 2012?
Now, the most successful postseason QB of all time is going to suit up in red and pewter. It's really not something I gave much thought. I know the Bucs expressed interest, but the Bucs have expressed interest in a lot of guys over the years who chose other places. Feels like almost all of them, to be honest. It just seemed implausible.
I understood Brady to the Chargers. He grew up in California. And plenty of journalists were on the bandwagon for him to go to the West Coast.
I thought Tennessee made the most sense. It was the team that eliminated his from the playoffs in 2019. It has a run game the likes of which Brady has never seen, and a rookie wide receiver who had a 1,000-yard season. Moreover, it has a coach who was a longtime teammate of his and remains a friend in Mike Vrabel.
Brady has no ties of which I'm aware to Bucs coach Bruce Arians or offensive coordinator Byron Leftwich. He doesn't know receivers Mike Evans and Chris Godwin or tight ends O.J. Howard and Cameron Brate. He never has spent significant time in Florida.
But here he is. TB in TB.
Welcome to your new pasture, GOAT. And thanks for coming.
Miami Dolphins to open drive-in theater at Hard Rock Stadium
The Miami Dolphins will soon let fans drive their cars inside the stadium where football players typically play every weekend in the fall.
The Dolphins announced Tuesday that they are launching an outdoor drive-in theater inside Hard Rock Stadium that will be used to show marquee games in team history, classic movies, commencement ceremonies, concerts and more. They are also hosting an open-air theater which can host small groups for an intimate viewing experience in the complex plaza.
The Dolphins have mocked renderings of the drive-in venture, which they say can host up to 230 cars. They are promoting it as a family-friendly event that people can participate in amidst the coronavirus pandemic.
Food and beverage can purchased through an online system and delivered to cars. Restrooms will also be made available for use. Fans can put their name on an email list via the stadium website to be notified when tickets are available.
"We've spent several weeks planning this to be able to provide people with a safe option to go out and enjoy movies, classic Dolphins content, concerts, and celebrate 2020 graduates," said Dolphins and Hard Rock Stadium vice chairman and CEO Tom Garfinkel. "It's a fundamental human need to physically experience and celebrate events and experiences together, and we're trying to provide options for everyone where they can be safely socially distant and socially present at the same time."
Hard Rock Stadium became the first public facility to earn the Global Biorisk Advisory Council's STAR accreditation, the standard used for facilities to implement cleaning, disinfecting and infectious disease prevention work practices to control risks involved with infectious agents like the coronavirus.
Garfinkel and the Dolphins have been proactive and innovative in ways to function during the pandemic. They released mock-up plans earlier this month for what it could like to host approximately 15,000 fans in the stadium for NFL fans if the NFL and the government allows it in the fall. Owner Stephen Ross also said on CNBC Tuesday that there will "definitely" be a football season this fall and the plans as of now is to include having fans in the stands.
Hard Rock Stadium was the host for Super Bowl LIV. It also has hosted Miami Open tennis tournaments, several multiple large music festivals, college football championship games and international soccer games.
Ravens' Lamar Jackson to host informal workouts for teammates
With the Baltimore Ravens facility unavailable to players due to the coronavirus pandemic, reigning NFL MVP Lamar Jackson is hosting his Baltimore Ravens teammates for some informal workouts in south Florida next week.
Wide receiver Miles Boykin told reporters in a video conference call that he is scheduled to run plays with Jackson, wide receiver Marquise "Hollywood" Brown and others in what is believed to be the team's largest gathering this offseason.
"We're still finalizing it," Boykin said Tuesday. "There are going to be a lot of guys down there. There's only so much you can do in [virtual] meetings without being able to go out on the field."
And while the Ravens announced Tuesday that they have re-opened their training facility under Phase 1 of the NFL process, it is still closed to players and coaches. Like many other teams, Baltimore's offseason training activities would've begun by now.
What works in the Ravens' favor is their continuity and familiarity on offense. Baltimore returns 11 of 13 players who caught a pass from Jackson last season in what was the NFL's highest-scoring offense (33.2 points per game).
Boykin said there are plans for additional workouts with Jackson beyond next week. Jackson's recent throwing sessions appear to have been limited to Brown, who also lives in Florida. Based on social media posts, it looks like Jackson and Brown have been working on routes at a local park.
👀 @Primetime_jet and @Lj_era8 are putting in WORK. 😈 pic.twitter.com/flBTNJnJXS

— Baltimore Ravens (@Ravens) May 23, 2020
Boykin isn't sure of the exact details of the workouts.
"Right now, we just have the plan to go down there and be able to run through some plays on offense and just play football a little bit to get back to something that we love doing," Boykin said. "It'll be exciting for us to be together, just work on that chemistry."
This is the second straight year that Jackson has gotten together with teammates in the offseason, which had been a point of contention with the Ravens' previous starting quarterback. Joe Flacco only held private workouts twice in his 11 seasons in Baltimore.
Jalen Ramsey, Rams 'on same page' concerning contract extension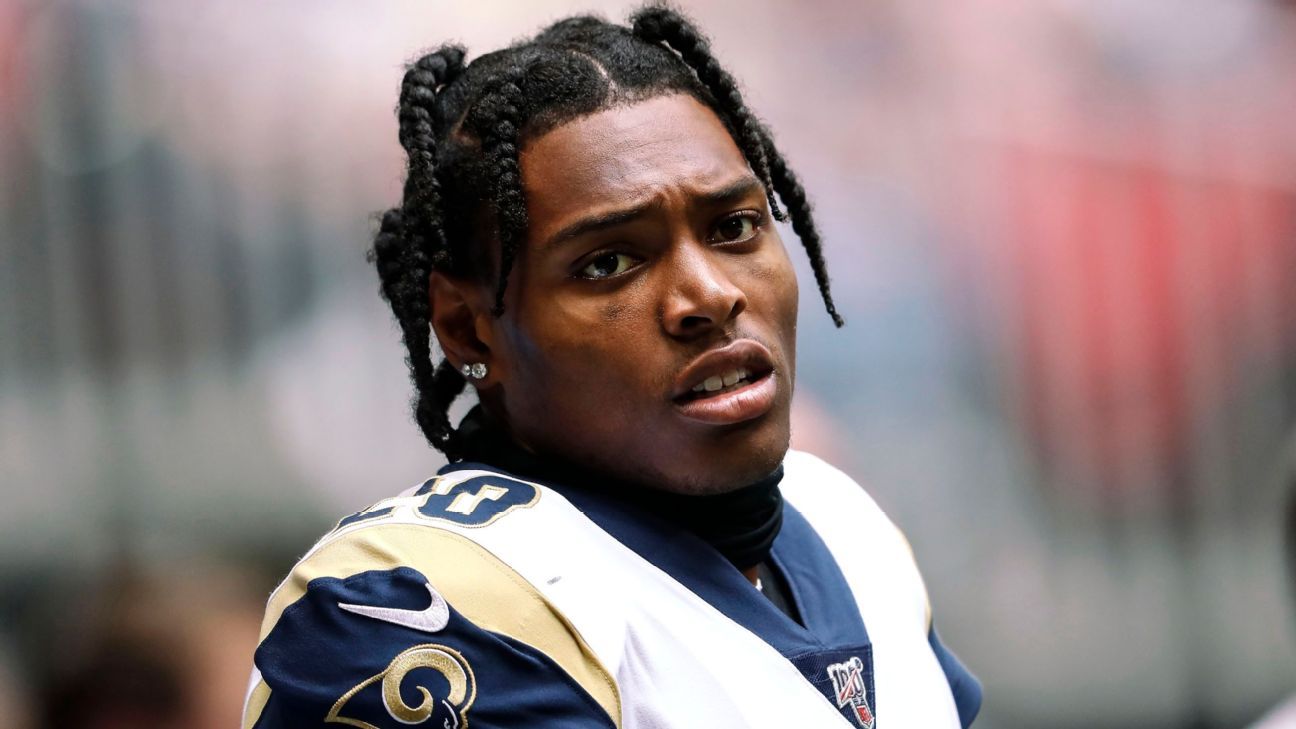 The Los Angeles Rams have been in contact with Jalen Ramsey's representatives about a contract extension as the All-Pro cornerback enters the final season of his rookie deal.
Ramsey played coy Tuesday when asked where negotiations stood.
"The Rams know where I stand," Ramsey said on a video conference with reporters. "I think that's all that matters at the end of the day. It will be handled. They know where I stand. They've been in contact with my agent. … They're on the same page as my agent."
When asked whether he would attend training camp if he had yet to sign an extension, Ramsey showed no hesitation.
"Yeah, for sure," he said.
Ramsey is expected to command a record-breaking contract, and it's anticipated that he will have the upper hand in negotiations, given what the Rams paid to acquire him before the trade deadline last season.
The Rams sent their 2020 and 2021 first-round draft picks and a 2021 fourth-round selection to the Jacksonville Jaguars for Ramsey, who was the No. 5 overall pick in 2016.
"I can't really worry about that," Ramsey said about the negotiations. "I just control what I got to worry about right now. … I feel like everybody knew what type of situation it was gonna be once they traded for me, so I think it doesn't really need to be talked about that much. It will get handled."
Considered among the top lockdown corners in the NFL, Ramsey has 10 interceptions, including one for a touchdown, and 49 pass deflections in four seasons.
The Rams have been aggressive in signing players to record-breaking contracts over the past two years.
Running back Todd Gurley signed a four-year, $40 million extension in July 2018 that included a record-breaking $45 million guaranteed. A month later, defensive tackle Aaron Donald signed a six-year, $135 million extension that amounted to the richest contract ever signed by a defensive player. Last September, quarterback Jared Goff signed a four-year, $134 million deal that includes a record-breaking $110 million guaranteed.
The Rams, however, cut Gurley this offseason and also traded receiver Brandin Cooks, who was in the midst of a five-year, $81 million contract.
Gurley's and Cooks' contracts will cost the Rams nearly $30 million in dead money cap charges in 2020.