Ex-Broncos DE Derek Wolfe, Ravens agree to 1-year deal, source says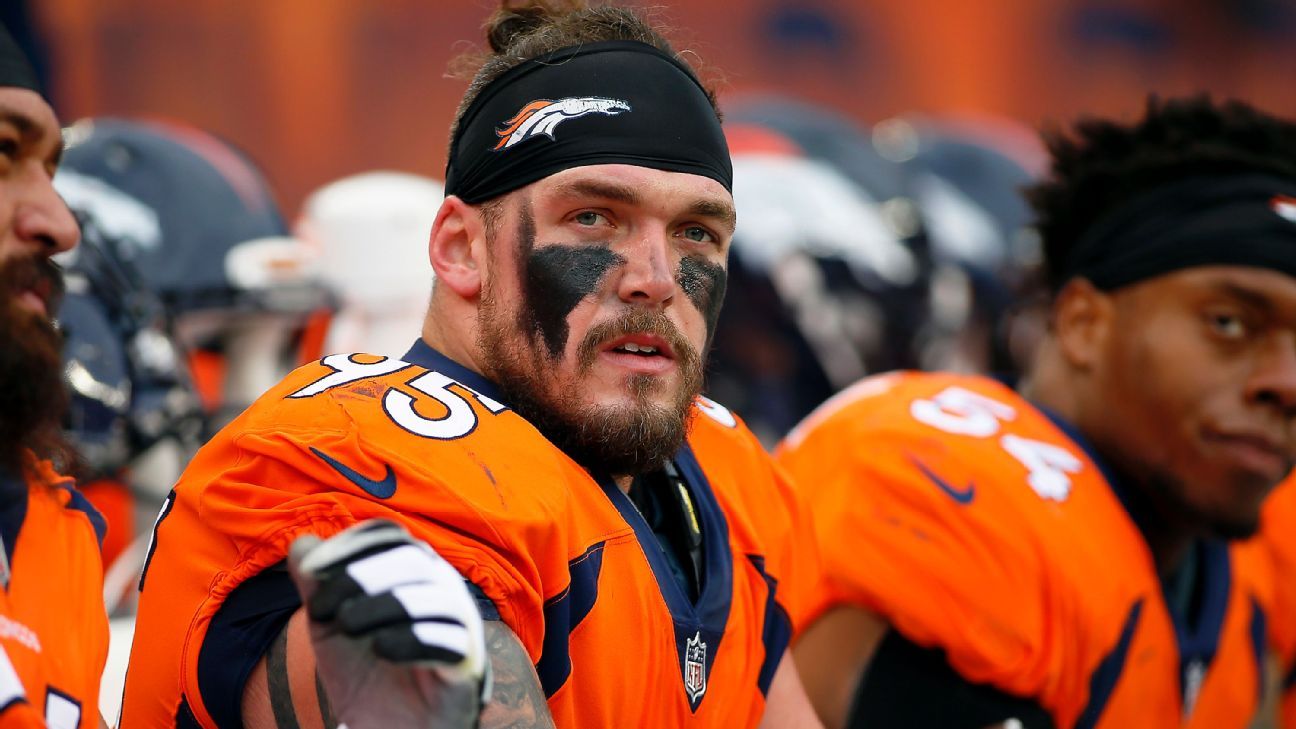 ‪Former Denver Broncos defensive end Derek Wolfe has reached agreement on a one-year deal worth up to $6 million with the Baltimore Ravens, a source told ESPN's Adam Schefter.
The addition of Wolfe comes one day after the Ravens were unable to finalize a deal with Michael Brockers. There was an issue with Brockers' injured ankle, and the sides couldn't agree on a revised deal, a source said.
Baltimore has made it a priority to reshape its defensive front. The Ravens acquired defensive end Calais Campbell from the Jacksonville Jaguars, traded defensive end Chris Wormley to the Pittsburgh Steelers and watched defensive tackle Michael Pierce sign with the Minnesota Vikings in free agency.
Wolfe should help improve the pass rush for the Ravens. Baltimore's defensive linemen totaled four sacks in 2019, the fewest by any team.
Wolfe finished his eighth season with the Broncos in 2019 and was one of the longest-tenured players on the team's defense; only cornerback Chris Harris Jr. and linebacker Von Miller have played on the defense longer.
Coach Vic Fangio's defensive scheme turned out to be perfect for Wolfe as he had one of his best all-around years in 2019 with 34 tackles and a career-best seven sacks. Wolfe has 33 sacks in his career.
Wolfe's high-motor play has been a key part of the defensive front, and Miller credits Wolfe for many of his sacks "because of what Wolfe does next to me. He's a beast."
That intensity has come at a physical price at times, as Wolfe has battled through some injuries throughout his career, including neck surgery. He has played 16 games three times and went to injured reserve this past season after 12 games with a dislocated left elbow.
Wolfe, who turned 30 in February, was a second-round pick by the Broncos in 2012 — the team had traded out of the first round that year — and he immediately started 16 games as a rookie for a team that won the AFC West. He has started every game he played in for the Broncos — 108 in all — and while he hoped to re-sign with the Broncos at season's end, he added "it's a business."
ESPN's Jamison Hensley and Jeff Legwold contributed to this report.
Peyton Manning says he could pick Eli Manning or Nick Foles to caddy against Tom Brady
Prior to The Match: Champions for Charity, which raised $20 million for coronavirus relief, against Tampa Bay Buccaneers QB Tom Brady and Phil Mickelson, former Denver Broncos and Indianapolis Colts QB Peyton Manning came prepared with the jokes and trash talk, before teeing off with his partner, Tiger Woods.
Peyton when asked who he would have brought as his caddy (while standing near Brady): "Its hard to get to him. Do you bring Eli? Could do that. Do you bring Nick Foles? Maybe."

Brady: "That's a cheap shot!"

— Field Yates (@FieldYates) May 24, 2020
Peyton, two words, if Tom and Phil start coming back…"Philly Special." Go win it. #TheMatch2

— Nick Foles (@NickFoles) May 24, 2020
Manning, a two-time Super Bowl winner, didn't always get the better of Brady when the played each other. Seeking a caddie, Manning said he thought about bringing his brother, former New York Giants QB Eli Manning, or Chicago Bears QB Nick Foles, who previously played with the Philadelphia Eagles. Those two are responsible for all three of Brady's Super Bowl losses.
Maybe Manning's head games worked. After Brady had some wild play, had fun in a golf cart and split his pants, the Mickelson/Brady team rallied from 3 down to get close at the turn. Then, Woods did what he often did against Mickelson — beat him down the stretch. The Woods/Manning team defeated the Mickelson/Brady team 1 up.
Tiger Woods and Peyton Manning edge Phil Mickelson and Tom Brady to win The Match
Rain filled the South Florida air on Sunday, threatening to make a mess of The Match: Champions for Charity at the Medalist Golf Club.
Instead, four sporting icons wouldn't let bad weather dampen what turned out to be an exciting, fun-filled exhibition that raised $20 million for COVID-19 relief efforts while highlighting the ups and downs of competitive golf.
Tiger Woods and Peyton Manning prevailed 1-up over Phil Mickelson and Tom Brady in Hobe Sound, Florida, but the outcome never really mattered.
Mickelson trash-talked, as did announcer Charles Barkley. Justin Thomas, the No. 4-ranked player in the world, dished some dirt and offered some barbs while serving as an on-course reporter. Celebrities called in and offered up challenge donations. Ultimately, after $10-million was pledged by the four players and WarnerMedia prior to the match, another $10-million was raised over the course of the afternoon via online and text donations and other pledges.
"Phil said he was nervous, so imagine us," said Manning, the retired, two-time Super Bowl winning quarterback who is also a member at Augusta National. "To go behind the ropes and get in these guys world and in the arena with them was really an incredible experience.
"I was not comfortable the whole time but raising $20 million as people are going through such tough times, it's something I'll always remember and cherish."
A Tiger-Phil match of some kind had long been in the works, a sequel to The Match that Mickelson won in 2018, capturing a $9-million payday in a winner-take-all Thanksgiving encounter in Las Vegas. Well before the coronavirus pandemic struck put a halt to sports, a Tiger-Phil match that included Manning and Brady was in the works. The concept changed to a fundraiser weeks ago while offering a chance to view live sports.
And all four players had their moments, led notably by Brady, the former New England Patriots quarterback who seemed to be taking grief the entire front nine before holing a wedge shot for a birdie on the seventh hole — while his pants were splitting and his microphone was breaking. That meant a $100,000 donation from Brooks Koepka — who had phoned in his pledge as he saw Brady struggling, saying he'd offer the money if the current Tampa Bay Buccaneers quarterback to make a par on the front side.
As Brady sprayed it around the course, Woods and Manning took a 2-up lead through 4 holes and were 3-up through six. Although Manning made a nice birdie putt at the fourth hole, it was Woods who was the most impressive golfer. For the first time since Feb. 16, he was viewed by the public hitting golf shots, and he did not disappoint.
Woods, who is tied for the most wins in PGA Tour history with 82, did not miss a fairway on his home course and looked comfortable hitting all manner of shots.
It was the first time he had played since he finished last among those who made the cut at the Genesis Invitational. He then skipped the WGC-Mexico Championship and the Arnold Palmer Invitational. And when he skipped the Players Championship, saying that a stiff back was not right, there was concern about his Masters title defense.
But the pandemic shut down the PGA Tour after one round of the Players Championship and the time away has allowed Woods time to regroup.
"I feel a lot better than I did then," he told Discovery last month. "I've been able to turn a negative into a positive and been able to train a lot and get my body to where I think it should be."
Things got off to a slow start due to the poor weather, which delayed the start by some 50 minutes. But once the players got going, there was some excellent banter and good golf. All of the players were outfitted with their own custom golf carts, with cameras focused on their faces and microphones available for questions from the announcers.
Even Woods got off a good shot when at Mickelson when he was told to mark his ball on a green and quipped: "Do you want me to mark it with one of my U.S. Open medals?" Woods has won the tournament three times; Mickelson, infamously, has six runner-ups in the championship but no victories.
Manning was the most talkative, and Barkley had no problem dishing out as much abuse as possible.
Mickelson hit a few wayward shots to start, but the 44-time PGA Tour winner settled down and served as a cheerleader to Brady, trying to keep him in the game. The duo rallied on the back nine as the format shifted to modified alternate shot. Mickelson bombed a tee shot onto the short par-4 11th green, and Brady holed the eagle putt to bring them to 2-down.
"This is where it changes," Mickelson said. He missed a good chance to bring the match close at the 13th, but got within one hole when Manning missed a short par putt at the 14th. But they could get no closer as the players preceded in heavy rain a near darkness.
After Woods hit his tee shot in the fairway at the 18th, with Manning knocking the approach to the front of the green, all that was left was a two-putt par for the victory.
Tom Brady earns extra charity money with birdie during The Match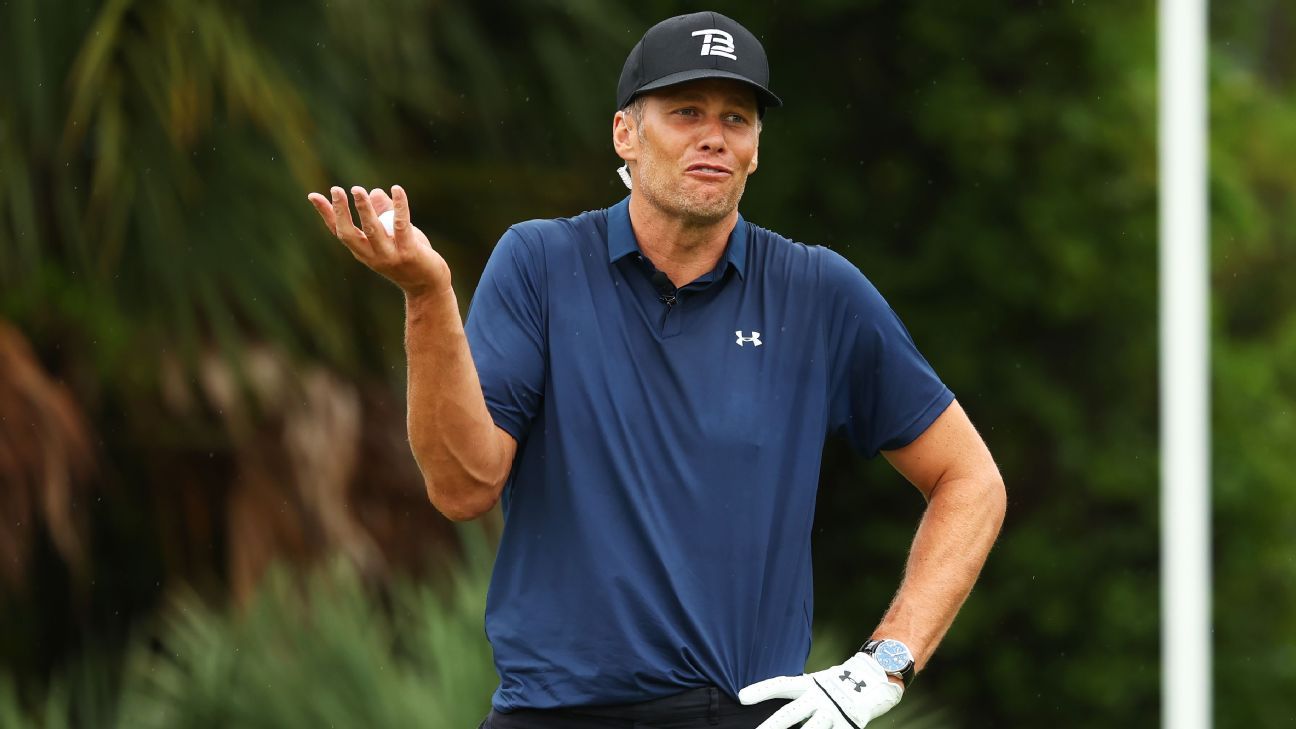 Tom Brady has looked like anything but the cool, calm quarterback and everything like a scared, high-handicap golfer during The Match: Champions for Charity.
But he still managed to come through in a big way on Sunday afternoon.
After getting taunted by announcer Charles Barkley and taking a beating on social media as his tee shots flew all over the Medalist course, the former New England Patriots and current Tampa Bay Buccaneers quarterback holed a wedge shot — while his microphone slipped and his pants split — to make a birdie on the seventh hole at the Hobe Sound, Florida, course. The shot came after he needed to take a penalty stroke after an errant tee shot.
This shot from @TomBrady though 😳 #TheMatch

(via @NBAonTNT) pic.twitter.com/0M0MGBzEor

— ESPN (@espn) May 24, 2020
"Chuck, shut your mouth, Chuck," Brady told Barkley following the shot, after some friendly banter between the two legends.
Playing with Phil Mickelson as his partner, the birdie in the best-ball part of the competition ended up only tying the hole, as Tiger Woods made a two-putt birdie — his eagle putt lipped out — to help him and partner Peyton Manning remain 3 up in the match that has raised more than $10 million for COVID-19 relief efforts.
Brady's birdie also brought a $100,000 donation from Brooks Koepka, who while watching the broadcast pledged that amount if Brady could par any of the remaining holes on the front nine. He threw in another $100,000 if Brady were to par either of the last two holes on the front side.