NFL owners, players' union set for critical CBA meeting Tuesday
INDIANAPOLIS — The NFL and the NFLPA will continue to try to drag an imperiled collective bargaining agreement across the finish line Tuesday when a group of players and owners meet here at the NFL combine to go over details of the deal.
The NFL's owners voted last week to approve the current CBA proposal, which is the result of 10 months of negotiating between players and owners. But enough players remain opposed to the idea of expanding the regular season from 16 to 17 games that they delayed their own scheduled vote Friday until after they had a chance to meet with the owners face to face.
"I'm looking forward to it," Packers president Mark Murphy said Monday on his way out of a competition committee meeting. "I remain optimistic. I think it should be a good discussion."
On Friday, the NFLPA's executive council voted 6-5 not to recommend the proposed CBA to its membership, and the conference call that ensued with the player reps did not result in a vote.
It remains to be seen what will come out of Tuesday's meeting, but the NFLPA said last week it planned to hold a vote of its 32 player representatives once Tuesday's meeting was over. That vote would be held Tuesday night or Wednesday morning, and if a majority of the player reps agree to approve the deal, it would then be sent to a vote of all NFL players. A majority vote to approve in that event would mean the two sides have agreed to a deal.
It's not likely to be as simple as that, however. Sources familiar with the NFLPA's Friday conference call said it was feisty and at times contentious and that it seemed as if the voices opposed to the deal were carrying the day. Star veterans such as Packers quarterback Aaron Rodgers and Seahawks linebacker Bobby Wagner were among the more vocal participants, those sources said, with Wagner challenging the five "yes" voters on the union's executive committee to explain why they liked the deal.
While some on the call spoke in support of the proposed deal, citing improvements in minimum salaries and benefits, an increased share of revenue for players from 47% to 48.5% and numerous benefits for former players, sources said the prevailing sentiment was that there was no rush to make a deal at this time. The current CBA expires in March of 2021.
People close to the talks said it was an encouraging sign that owners agreed to meet with the players at all this week after they voted last week to approve the current proposal and to play the 2020 season under the current CBA rules if the players didn't. But no one seems to have a confident prediction on how Tuesday will go, or how the players' vote that follows it will turn out.
Some players on Friday's call said they weren't satisfied with the minimum salary increases in the proposed deal, which would raise minimums by about 20% this year. The lowest-earning players would get a raise from their scheduled $510,000 to $600,000. But as has been the case throughout the talks, there are players who feel they should be insisting on a minimum of $1 million.
Another topic that was raised on Friday's call, and has been raised in conversations among the players before, was post-career health care. Currently, the NFL provides health care for players up to five years after they're out of the league, and players wanted to know why the current deal wouldn't extend that to 10 or even 15 years.
Overall, those opposed to playing 17 games in a season said they needed to be convinced owners were accurately estimating how much extra money they'd make from regular-season expansion and that there wasn't any more they could get from the owners' side in exchange for agreeing to 17 games. Tuesday's meeting offers the players a chance to talk directly to the owners, express their lingering concerns and potentially get answers to some of the questions they couldn't get answered on Friday's call.
While it's possible the owners are willing to offer more than is offered in the current proposal, it's worth noting that Thursday's owner vote to approve was not unanimous and that several owners — even some who voted to approve the deal — expressed concerns during Thursday's meeting that they were giving up too much. Significant changes to the deal as a result of Tuesday's meeting could result in the owners having to vote again, and it's difficult to predict which way that would go.
Owners would like to get the CBA done this offseason, even though it's got 13 months left on it, because they're interested in negotiating extensions to their TV network deals and would like to know they've secured 10 more years of labor peace as well as expansion of the regular season and playoffs before entering into those discussions. Some on the players' side believe that gives them more leverage than they feel they've exerted so far.
The league decided over the weekend to push back the window for applying franchise and transition tags by two days — it now runs from Feb. 27 to March 12 — to give teams time to figure out whether they'll be operating under new rules this offseason. If no new agreement is reached, 2020 will operate as the "Final League Year" under the current CBA and some rules will be different than they were in the previous nine years.
Teams would be allowed, for example, to use both the franchise and the transition tags this year, whereas in prior years they could use only one or the other. And teams would not be allowed to designate players as post-June 1 cuts for purposes of spreading dead-money cap hits out over two years.
The players' voting procedure seems to remain a bit of a moving target as well. After Friday's call, NFLPA sources said they planned to hold a vote of the full body of membership regardless of the outcome of the player representatives' vote. But on Monday, the NFLPA sent a memo to players saying a majority vote by the board of player reps would be necessary to move the process ahead to a full-membership vote.
Officially, according to the NFLPA's constitution, two-thirds of the board of player reps would need to vote to approve in order for it to be considered a recommendation of the deal. But the NFLPA believes it can move ahead with a full-membership vote without an official recommendation as long as the majority of player reps favor the deal.
Ex-Broncos DE Derek Wolfe, Ravens agree to 1-year deal, source says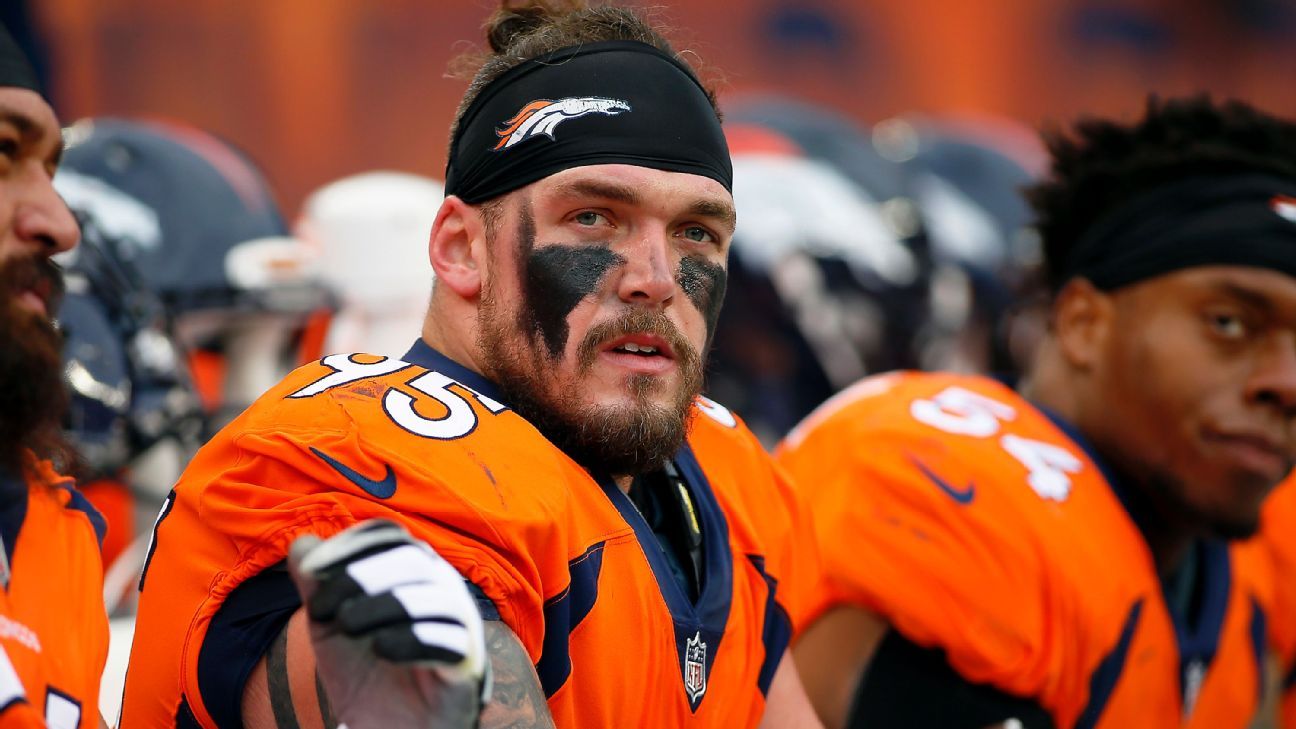 ‪Former Denver Broncos defensive end Derek Wolfe has reached agreement on a one-year deal worth up to $6 million with the Baltimore Ravens, a source told ESPN's Adam Schefter.
The addition of Wolfe comes one day after the Ravens were unable to finalize a deal with Michael Brockers. There was an issue with Brockers' injured ankle, and the sides couldn't agree on a revised deal, a source said.
Baltimore has made it a priority to reshape its defensive front. The Ravens acquired defensive end Calais Campbell from the Jacksonville Jaguars, traded defensive end Chris Wormley to the Pittsburgh Steelers and watched defensive tackle Michael Pierce sign with the Minnesota Vikings in free agency.
Wolfe should help improve the pass rush for the Ravens. Baltimore's defensive linemen totaled four sacks in 2019, the fewest by any team.
Wolfe finished his eighth season with the Broncos in 2019 and was one of the longest-tenured players on the team's defense; only cornerback Chris Harris Jr. and linebacker Von Miller have played on the defense longer.
Coach Vic Fangio's defensive scheme turned out to be perfect for Wolfe as he had one of his best all-around years in 2019 with 34 tackles and a career-best seven sacks. Wolfe has 33 sacks in his career.
Wolfe's high-motor play has been a key part of the defensive front, and Miller credits Wolfe for many of his sacks "because of what Wolfe does next to me. He's a beast."
That intensity has come at a physical price at times, as Wolfe has battled through some injuries throughout his career, including neck surgery. He has played 16 games three times and went to injured reserve this past season after 12 games with a dislocated left elbow.
Wolfe, who turned 30 in February, was a second-round pick by the Broncos in 2012 — the team had traded out of the first round that year — and he immediately started 16 games as a rookie for a team that won the AFC West. He has started every game he played in for the Broncos — 108 in all — and while he hoped to re-sign with the Broncos at season's end, he added "it's a business."
ESPN's Jamison Hensley and Jeff Legwold contributed to this report.
Bobby Hebert Sr., father of former Saint and Falcon Bobby Hebert Jr., dies from COVID-19
Bobby Hebert Sr. — the father of former New Orleans Saints and Atlanta Falcons quarterback Bobby Hebert — died Saturday at the age of 81 after testing positive for coronavirus.
Hebert Jr., a Southern Louisiana native, still works as an analyst for WWL Radio in New Orleans. He and his wife, Jojo, said in a statement that "our hearts are broken" and that Hebert Sr. was "the reason I made it" to the NFL.
Hebert Jr.'s son T-Bob, who played center at LSU, described his grandfather on Twitter as "the wisest, kindest, and most tactful person I have ever known."
This is my namesake Bobby Hebert Sr

He is the wisest, kindest, and most tactful person I have ever known

He passed this morning and I love him and I will miss him

He loved LSU to his core and instilled that love in me

"Jolie l'lait d'vivre" pic.twitter.com/g484pHIyYz

— T-Bob Hebert (@TBob53) March 28, 2020
Hebert Jr. broke down crying in a recent appearance on WWL while describing his father's battle with the virus. He described his father as a "fighter" who survived colon cancer, multiple strokes and a birth defect that required open heart surgery.
But, Hebert Jr. said, "You can be tough and the virus can still overwhelm you," before insisting that people heed the advice of health officials because "it's an unseen enemy."
Hebert Jr. also wrote in his statement about the "magic twinkle" in his father's eye and his lifelong passion for the LSU Tigers.
"I'm kinda numb and shocked," Hebert Jr. said in the WWL interview. "You get numb and then sometimes you don't want to accept reality and what you're dealing with."
Chiefs re-signing WR DeMarcus Robinson for one year, source says
The Kansas City Chiefs are re-signing wide receiver DeMarcus Robinson to a one-year contract, a source confirmed to ESPN.
Robinson's production increased each season after cracking the Chiefs' receiving rotation, going from 21 catches and 212 yards in 2017 to 32 and 449 in 2019. He started 23 games over three seasons, mostly when the Chiefs opened in three- or four-receiver formations.
Robinson, who turns 26 in September, was a fourth-round draft pick in 2016 and played mostly on special teams as a rookie.
His big game with the Chiefs came in Week 2 of last season. With Tyreek Hill out with an injury, Robinson made the most of the opportunity with six catches for 172 yards and two touchdowns in a win over the Raiders.
NFL Network first reported that Robinson was returning to the Chiefs.