Source — Redskins TE Jordan Reed cleared from protocol, released
ASHBURN, Va. — Washington Redskins tight end Jordan Reed was cleared from the concussion protocol, a source confirmed Wednesday, and was released Thursday, as expected, a source told ESPN's Field Yates.
Reed suffered the concussion on a helmet-to-helmet hit in August, during the third preseason game. His clearance from the protocol was first reported by The Athletic. Redskins coach Ron Rivera had said Saturday that Reed remained in the protocol.
With Reed's release, Washington will save $8.5 million against the salary cap, with $1.8 million in dead money. Reed had two years left on his contract.
Reed, 29, missed all of last season because of the concussion, his seventh documented one since he started playing college football. His career has been marked by multiple injuries, and Reed has never played more than 14 games in a season. A source close to Reed said the tight end wants to continue playing.
He had struggled for two seasons because of ligament damage to his big toes but looked good in training camp over the summer. But in the third preseason game, Reed suffered a concussion after Atlanta Falcons safety Keanu Neal delivered a helmet-to-helmet hit. Reed nearly returned in Week 2, getting cleared by the team, but after symptoms returned, an independent neurologist failed to clear him. He did not practice after Sept. 12 and was put on injured reserve Oct. 14.
Washington made Reed the focal point of its passing attack under former coach Jay Gruden. He responded with a big season in 2015, when he played a career-high 14 games. That season, Reed caught 87 passes for 952 yards and 11 touchdowns — all personal bests.
After that season, the Redskins signed Reed to a five-year extension worth up to $46.75 million, and he made his lone Pro Bowl after the 2016 season. But from 2016 to 2018, thanks to injuries, he averaged only 49 catches per season with a combined 10 touchdowns. He has 329 career receptions with 24 touchdowns.
Washington selected Reed in the third round out of Florida in the 2013 draft and he provided immediate help, catching 45 passes in nine games before injuries ended his rookie season. Reed proved to be a mismatch for linebackers or safeties, especially when aligned in the slot. The Redskins loved his ability to quickly win versus a defender, making him an ideal target.
The Redskins have a big need at tight end. Last year's starter, Vernon Davis, retired — though it was unlikely they would have re-signed him anyway. Washington visited with Greg Olsen, but he ended up signing with the Seattle Seahawks.
Washington already released two former starters this month: cornerback Josh Norman and wide receiver Paul Richardson. After those moves, the Redskins have approximately $54 million in salary-cap space.
Eli Apple remains free agent after deal with Raiders falls through
The Las Vegas Raiders and free-agent cornerback Eli Apple were unable to finalize a contract, sources told ESPN's Adam Schefter.
Apple, who played last season with the New Orleans Saints, remains a free agent.
Apple had agreed to a one-year contract with the Raiders on March 18, sources told Schefter, and he had posted to Instagram that he was "excited to start a new journey as a Raider."
Apple, 24, has shown both great potential and inconsistency while starting 51 games over his four-year career with the New York Giants and Saints. He has three interceptions and 33 passes defensed.
He immediately became a starter for the Saints, who acquired him in a 2018 trade with the Giants, and held the job throughout 2019 until his season ended early because of a Week 16 ankle injury. His size and length make him an asset in man coverage, and he helped steady the Saints defense as the team finished 13-3 in both 2018 and 2019.
He was a positive locker room fit in New Orleans, where he was reunited with former Ohio State teammates such as cornerback Marshon Lattimore, safety Vonn Bell and receiver Michael Thomas. But he did battle inconsistency on the field — particularly in a 48-46 loss to the San Francisco 49ers in December — and he led the team with 11 called penalties in 2019 and 10 called penalties in 2018 (after joining the team in Week 8). He was also flagged 11 times for pass interference over that span.
Bills' GM says Patriots are still the team to beat in AFC East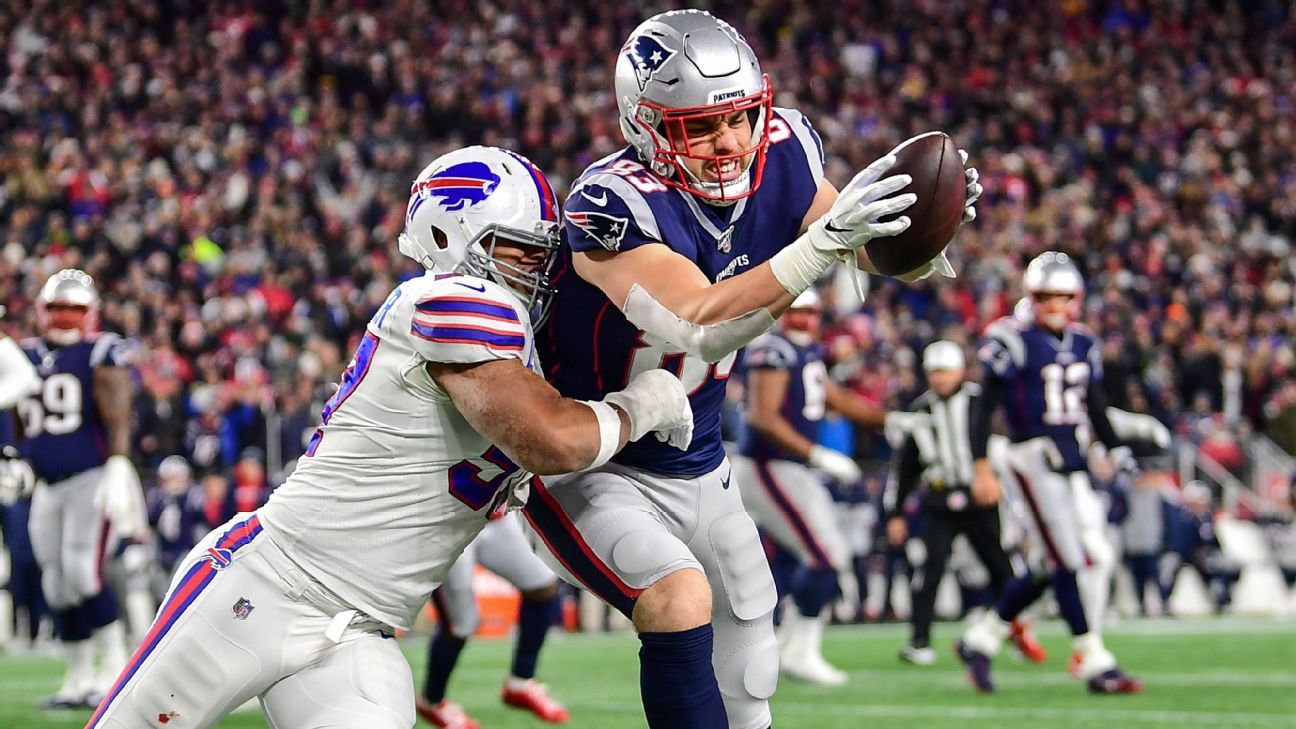 Many pundits are already willing to crown the Buffalo Bills as the presumptive champion of the AFC East for the 2020 season, given the arrival of Stefon Diggs and departure of Tom Brady from the New England Patriots.
Bills general manager Brandon Beane wants to pump the brakes on that.
"The team to beat in the East is the Patriots," Beane told local media during a videoconference Thursday. "And until somebody beats them, they are the team to beat. And as long as Bill Belichick's there, you're talking about probably the greatest head coach of all time that was paired with the greatest quarterback of all time.
"So until we beat them, we've done nothing, and we've got our work cut out for us."
The Patriots have won the division for 11 consecutive seasons, which includes Beane's three with the Bills.
After 20 years with New England, Brady signed a two-year contract with the Tampa Bay Buccaneers this offseason, ending a divisional reign that also resulted in 17 playoff appearances and six Super Bowl titles.
"I candidly did not expect Tom to leave," said Beane, who was 0-for-6 against Brady but is disappointed to no longer face him twice a year.
"Playing against him, I go back and forth. You know you always want to take down the best," Beane said. "And that's probably the disappointing thing as I sit here — in my time, we didn't beat Tom Brady. And so, we'll have to find another way to play Tampa to be able to maybe beat him before he hangs them up."
Beane also referenced the success Belichick had without Brady — notably, the team's 11-5 record in 2008 when Brady missed most of the season with a torn ACL. The Patriots also went 3-1 in the four games for which Brady was suspended in 2016.
Buffalo, which went 10-6 last season, traded with the Minnesota Vikings to acquire Diggs on March 16. With a majority of their playoff roster intact, the Bills have been picked by some as the favorites for their first AFC East title since 1995.
Beane said his team still needs to earn that accolade.
"New England is still going to be very good," Beane said. "You look at what Bill Belichick did in 2008; they got robbed of a playoff. They were 11-5 with Matt Cassel at the helm.
"So I think it's funny and comical that people are writing them off and labeling — whether it's us or another team — as the team to beat in the East."
Tua Tagovailoa undergoes medical recheck with 'positive' results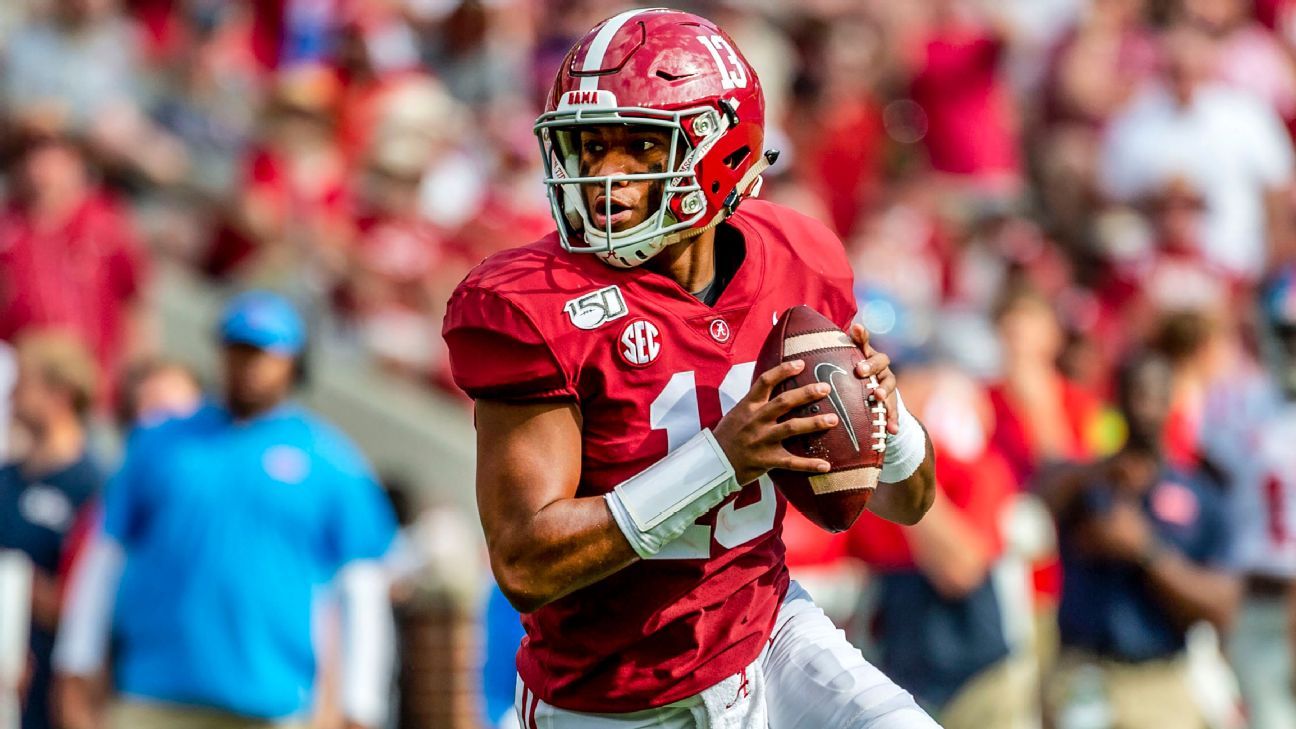 Tua Tagovailoa underwent a voluntary medical recheck Thursday that was facilitated by the NFL combine, and the results of the comprehensive exam "were overwhelmingly positive," the quarterback's representatives told ESPN's Laura Rutledge and NFL Network.
The recheck was performed by an independent doctor who was selected by NFL team physicians, and all 32 team doctors and trainers were allowed to give input on the type of exams they wanted done, the reps told ESPN.
The results were shared with all 32 teams, the reps said.
In an interview with ESPN's SportsCenter on Wednesday, Tagovailoa said, "I'm 100 percent right now" and that he was "ready to go."
He also said he believed he could play as a rookie if called to do so.
"I feel like if I had to go out there and perform the same way I did my sophomore year and my junior year, being 100 percent healthy, I feel like I'd be able to go out there and do that," he said.
Tagovailoa recently released on his social media page several clips of him practicing, giving a first recent glimpse at the former Alabama quarterback. He was a Heisman Trophy finalist as a sophomore and threw for 33 touchdowns and only three interceptions as a junior before suffering a season-ending injury on Nov. 16 against Mississippi State. He sustained a posterior wall fracture and dislocated hip and underwent surgery in November.
The surgery was the second last season for Tagovailoa. He had surgery on his right ankle Oct. 20, a day after he was injured in the Crimson Tide's 35-13 victory over Tennessee.