How much will free agency reshape Saints' defense? – New Orleans Saints Blog
METAIRIE, La. — The New Orleans Saints' defense doesn't need an overhaul.
It ranked 11th in the NFL in yards allowed in 2019 — its best finish in six years. And it had three players named to either the Pro Bowl or first-team All-Pro teams in end Cameron Jordan, linebacker Demario Davis and cornerback Marshon Lattimore.
But depending on how much the Saints choose to pony up in free agency, this unit could look significantly different in 2020.
Five of the nine guys who played the most snaps on defense last year are unrestricted free agents: safety Vonn Bell, cornerbacks Eli Apple and P.J. Williams, linebacker A.J. Klein and tackle David Onyemata.
Three other veterans are due lofty salaries in 2020 that could affect their roster status: cornerbacks Janoris Jenkins and Patrick Robinson and linebacker Kiko Alonso.
Here is a breakdown of their importance to the team — and how the Saints might replace them if needed:
Safety Vonn Bell
The 25-year-old should be a high priority to retain, but he might also command a high salary on the open market after he had such a strong 2019 season.
The Saints could potentially decide to let Bell go since they're slammed against the salary cap (they have about $10.8 million in cap space) — and they have an obvious replacement available in C.J. Gardner-Johnson, who was so impressive as a rookie in 2019. But the Saints have always done a good job of featuring three safeties on defense, and Bell has emerged as one of their better disruptors.
The 5-foot-11, 205-pound Bell led the NFL with five fumble recoveries last season in just 13 games played. Then he added a sixth in the playoff loss to Minnesota. Bell also tied a career high with 89 tackles despite missing the final three games of the regular season with a knee injury. He played all but one snap in those first 13 games. And he finally reeled in his first career interception.
Bell has steadily improved each year since New Orleans drafted him in the second round out of Ohio State in 2016. He has settled in as a strong safety, though he showed the versatility to play both spots early in his career. He has had at least 83 tackles in each of his four seasons. And he has nine career sacks and seven career forced fumbles, including the playoffs.
Cornerback Eli Apple
Apple's value is tough to peg, both in New Orleans and on the open market. The 24-year-old has shown a lot of potential, but also some inconsistency, ever since he was drafted by the New York Giants with the 10th overall pick in 2016.
Apple (6-foot-1, 203 pounds) settled in nicely as the Saints' No. 2 cornerback after they acquired him in the middle of the 2018 season in exchange for fourth- and seventh-round draft picks. And he played very well for most of the 2019 season. But then he struggled in losses to the Falcons and 49ers and suffered an ankle injury in Week 16 that wound up ending his season.
Complicating matters further, the Saints claimed Jenkins off waivers in December — and the 31-year-old former Pro Bowler played well at the end of the season. Jenkins is due $11.25 million in 2020. So it seems unlikely that the Saints will keep both of them.
Apple still has the talent to be a starting cornerback in the NFL — and, because of his youth, the potential to keep developing. His size and length make him an asset in man coverage. He has three interceptions and 33 passes defensed in his career. But penalties have been his most glaring issue. Apple led the Saints with 11 called penalties last year, including four pass-interference flags. He also led the Saints with 10 called penalties in 2018, including seven PI flags, despite not joining the team until Week 8.
Linebacker A.J. Klein
The 28-year-old has been a solid addition to the Saints over the past three years — both as a veteran leader and versatile linebacker — after he began his career with the rival Carolina Panthers. Klein (6-foot-1, 240 pounds) began his tenure in New Orleans as an every-down middle linebacker and defensive signal-caller in 2017. Then he spent the past two years on the strong side, where he played closer to 75% of the team's defensive snaps.
Klein's numbers have been remarkably consistent: 54 tackles and two sacks in 12 games played in 2017; 70 tackles and two sacks in 2018; 69 tackles and 2.5 sacks in 2019; and one interception in each of the past two years, including his first career TD return last season.
The Saints could absolutely make it a priority to bring Klein back, especially if his price tag is palatable. However, they might have to choose between Klein and Alonso — whom they acquired in a September trade with the Miami Dolphins last year. Alonso, 29, is due $7.85 million in salary and bonuses this year, and he is recovering from a torn ACL that he suffered in the playoff loss. So the Saints would certainly want to work out a pay cut if they plan to keep Alonso.
Defensive tackle David Onyemata
Quietly, Onyemata might be as important to the Saints as anyone on this list. The 27-year-old actually started all 16 games he played in last year, including the playoffs, while former first-round pick Sheldon Rankins rotated in off the bench. And the athletic, 6-foot-4, 300-pounder has been a huge reason the Saints led the NFL in rushing defense in the past two years (allowing an average of 85.8 rushing yards per game).
Looking ahead to the offseason:
• Ranking the top 50 free agents »
• Biggest looming free-agent decisions »
• Top offseason needs for all 32 teams »
• Free agency coverage » More NFL »
The Saints do a lot of rotating on their defensive line to keep the big men fresh, so Onyemata has steadily played 55-60% of their defensive snaps over the past three years. The Saints have other options, including Rankins (who is due $7.69 million in the final year of his contract), starting nose tackle Malcom Brown, promising 2019 rookie backup Shy Tuttle and veteran backup Mario Edwards Jr. But they will certainly make it a priority to try to keep Onyemata, who also has the versatility to aid in the pass rush with 9.5 sacks over the past three seasons.
Plus, Onyemata was one of the Saints' great scouting finds. Born in Nigeria, he didn't know anything about North American football until he started playing at the University of Manitoba in Canada. The Saints traded up to draft him in the fourth round in 2016.
Cornerback P.J. Williams
Another cornerback who has battled inconsistency and injuries throughout his five-year career, Williams has finally settled into the best groove of his career as a nickelback over the past season and a half.
The 6-foot, 196-pounder hasn't been perfect. But he has definitely played his best football inside the slot, where he plays about 80% of the team's defensive snaps. And the Saints liked him enough to give him the job last season over the more experienced and higher-priced Robinson. So they could definitely bring him back and keep him in the same role in 2020.
Williams, a third-round pick out of Florida State in 2015, has four interceptions and 22 passes defensed in the past three seasons.
The Saints could also choose to stick with the 32-year-old Robinson as their slot corner. But he would almost certainly need to agree to a pay cut to remain on the roster, as he is due $4.9 million this year.
Ex-Broncos DE Derek Wolfe, Ravens agree to 1-year deal, source says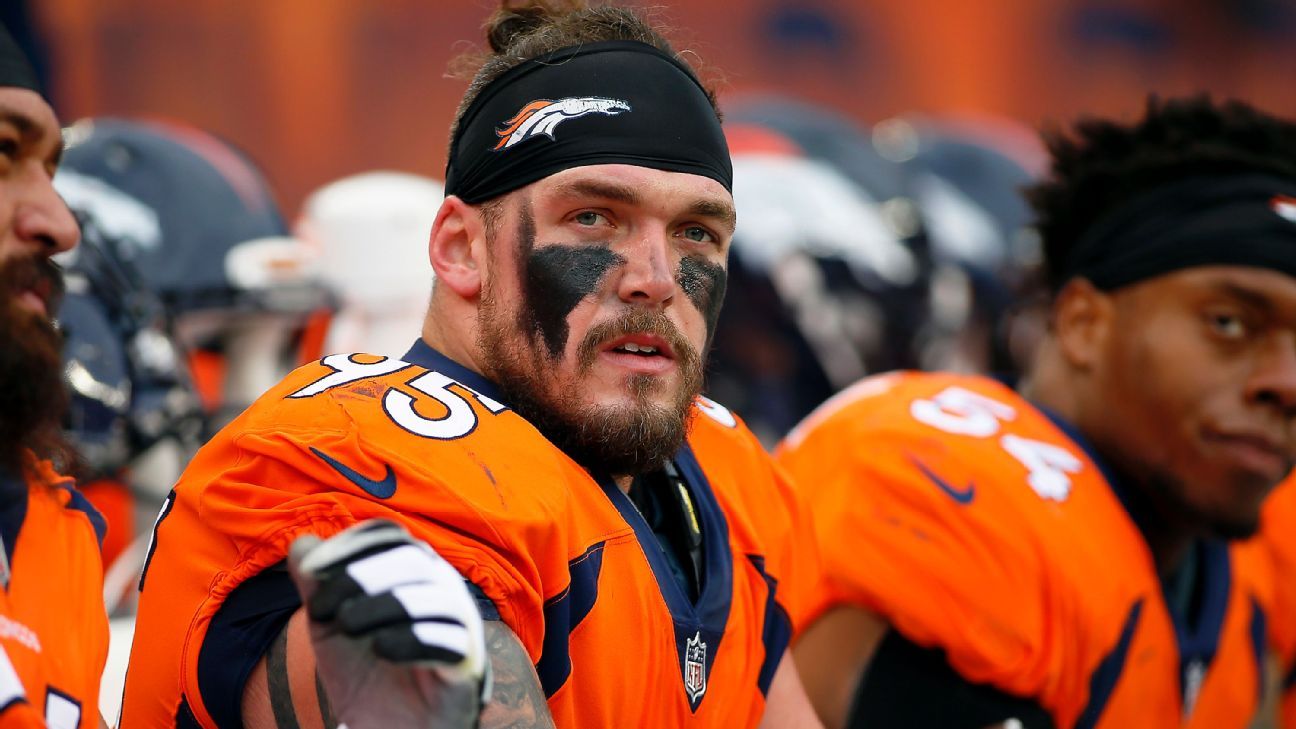 ‪Former Denver Broncos defensive end Derek Wolfe has reached agreement on a one-year deal worth up to $6 million with the Baltimore Ravens, a source told ESPN's Adam Schefter.
The addition of Wolfe comes one day after the Ravens were unable to finalize a deal with Michael Brockers. There was an issue with Brockers' injured ankle, and the sides couldn't agree on a revised deal, a source said.
Baltimore has made it a priority to reshape its defensive front. The Ravens acquired defensive end Calais Campbell from the Jacksonville Jaguars, traded defensive end Chris Wormley to the Pittsburgh Steelers and watched defensive tackle Michael Pierce sign with the Minnesota Vikings in free agency.
Wolfe should help improve the pass rush for the Ravens. Baltimore's defensive linemen totaled four sacks in 2019, the fewest by any team.
Wolfe finished his eighth season with the Broncos in 2019 and was one of the longest-tenured players on the team's defense; only cornerback Chris Harris Jr. and linebacker Von Miller have played on the defense longer.
Coach Vic Fangio's defensive scheme turned out to be perfect for Wolfe as he had one of his best all-around years in 2019 with 34 tackles and a career-best seven sacks. Wolfe has 33 sacks in his career.
Wolfe's high-motor play has been a key part of the defensive front, and Miller credits Wolfe for many of his sacks "because of what Wolfe does next to me. He's a beast."
That intensity has come at a physical price at times, as Wolfe has battled through some injuries throughout his career, including neck surgery. He has played 16 games three times and went to injured reserve this past season after 12 games with a dislocated left elbow.
Wolfe, who turned 30 in February, was a second-round pick by the Broncos in 2012 — the team had traded out of the first round that year — and he immediately started 16 games as a rookie for a team that won the AFC West. He has started every game he played in for the Broncos — 108 in all — and while he hoped to re-sign with the Broncos at season's end, he added "it's a business."
ESPN's Jamison Hensley and Jeff Legwold contributed to this report.
Bobby Hebert Sr., father of former Saint and Falcon Bobby Hebert Jr., dies from COVID-19
Bobby Hebert Sr. — the father of former New Orleans Saints and Atlanta Falcons quarterback Bobby Hebert — died Saturday at the age of 81 after testing positive for coronavirus.
Hebert Jr., a Southern Louisiana native, still works as an analyst for WWL Radio in New Orleans. He and his wife, Jojo, said in a statement that "our hearts are broken" and that Hebert Sr. was "the reason I made it" to the NFL.
Hebert Jr.'s son T-Bob, who played center at LSU, described his grandfather on Twitter as "the wisest, kindest, and most tactful person I have ever known."
This is my namesake Bobby Hebert Sr

He is the wisest, kindest, and most tactful person I have ever known

He passed this morning and I love him and I will miss him

He loved LSU to his core and instilled that love in me

"Jolie l'lait d'vivre" pic.twitter.com/g484pHIyYz

— T-Bob Hebert (@TBob53) March 28, 2020
Hebert Jr. broke down crying in a recent appearance on WWL while describing his father's battle with the virus. He described his father as a "fighter" who survived colon cancer, multiple strokes and a birth defect that required open heart surgery.
But, Hebert Jr. said, "You can be tough and the virus can still overwhelm you," before insisting that people heed the advice of health officials because "it's an unseen enemy."
Hebert Jr. also wrote in his statement about the "magic twinkle" in his father's eye and his lifelong passion for the LSU Tigers.
"I'm kinda numb and shocked," Hebert Jr. said in the WWL interview. "You get numb and then sometimes you don't want to accept reality and what you're dealing with."
Chiefs re-signing WR DeMarcus Robinson for one year, source says
The Kansas City Chiefs are re-signing wide receiver DeMarcus Robinson to a one-year contract, a source confirmed to ESPN.
Robinson's production increased each season after cracking the Chiefs' receiving rotation, going from 21 catches and 212 yards in 2017 to 32 and 449 in 2019. He started 23 games over three seasons, mostly when the Chiefs opened in three- or four-receiver formations.
Robinson, who turns 26 in September, was a fourth-round draft pick in 2016 and played mostly on special teams as a rookie.
His big game with the Chiefs came in Week 2 of last season. With Tyreek Hill out with an injury, Robinson made the most of the opportunity with six catches for 172 yards and two touchdowns in a win over the Raiders.
NFL Network first reported that Robinson was returning to the Chiefs.