What to make of Houston Astros owner Jim Crane's public (non-)apology
WEST PALM BEACH, Fla. — Houston Astros owner Jim Crane's latest attempt at damage control blew up in spectacular fashion Thursday. In the span of 27 minutes at a news conference, he claimed his team's routine cheating during its 2017 championship season didn't impact the game, declared he shouldn't be held accountable for the organization he runs, used commissioner Rob Manfred's report on the Astros' malfeasance as a binky and so often repeated talking points that the Apology.exe program he tried to install in his head looked like it was glitching. The entire charade devolved into a glorious conflagration, Crane's mouth a veritable fountain of lighter fluid.
It didn't have to go this way. It wouldn't with most other organizations. But these are the Astros, and they make Everests out of molehills. Their fall is so spectacular because their pride was always outsized, and the latest example unfolded at their spring training complex on a day that should have been more about healing than hubris.
Crane cannot help himself. He hired a crisis PR firm, according to sources, but seemed to forget the PR part. Amid his attempts at apologizing were clear signals that his contrition went only as far as his ability to absolve himself of wrongdoing. And the more Crane spoke, the more his words served as a spade, digging a hole from which he couldn't rescue himself.
It's best to begin with the most absurd moment of the day, in which Crane — endeavoring to explain away the Astros' illicit use of a center-field camera to decode catchers' signs that were then relayed via banging on a trash can to alert hitters as to the pitch type about to be thrown — said with a straight face: "Our opinion is that this didn't impact the game."
When pressed on what exactly he meant by that, Crane said: "I didn't say it didn't impact the game." He had, of course — 67 seconds earlier, for those curious about the capacity of Crane's short-term memory. And it did, clearly, as his team's shortstop, Carlos Correa, would later admit.
"It was definitely an advantage," Correa said, one of many honest decrees offered by Astros players to reporters after Crane spoke. Outfielder Josh Reddick, when asked about remorse, copped to not feeling it until The Athletic's November story that laid bare the Astros' scheme — a real sort of admission that follows the logical path of this scandal: Houston thought nothing of its cheating until it was caught. Redemption starts with an honest self-assessment of damage done by one's actions, and Astros players are not irredeemable people. They cheated at a game. It is wrong, and it is disappointing, and it is unfortunate. It is a transgression with clear casualties — those whose careers were ended, livelihoods altered and lives changed. It will chase them, and rightfully so. But it is no mortal sin.
Doug Glanville argues that the Astros' response on Thursday to the sign-stealing scandal wasn't enough and begs the question on how much they will actually reveal.
What's indefensible is asking for forgiveness while not abiding by its path. Crane zig-zagged around his Thursday. His ruminations on accountability were particularly rich. He mused that Major League Baseball's suspension and his firing of general manager Jeff Luhnow and manager AJ Hinch served as satisfactory pounds of flesh because, though neither was responsible for implementing the scheme, both were responsible for overseeing the team's baseball operations. Never mind that Crane, as the team's owner, was responsible for overseeing Luhnow and Hinch.
"No," Crane said, "I don't think I should be held accountable."
Such a bastion of accountability then suggested he was the one to keep the Astros on the straight and narrow going forward. Seven times he said: "This will never happen again." When asked why someone who wasn't taking responsibility for it happening on his watch the first time deserved the benefit of the doubt, Crane didn't outline a plan or offer the sort of transparent answer such a benefit demands. He did what the Astros always do, which is speak in platitudes, generalities, opacity.
ESPN Daily Newsletter: Sign up now!
"I'll make sure I have someone that's accountable moving forward and will be checking constantly," he said. "We'll have controls in place to make sure it doesn't happen again. And again, if I'd have known about it, I'd have done something about it. But I'm not in the locker room. I'm not down in the dugout. So it was very difficult, and I didn't know about it until November, just like you guys."
I happened to be one of those guys, and I knew about it long before November. I first heard players accuse the Astros of cheating in mid-2017. For the next year, I tried to find someone who would speak about it on the record. Nobody would. The code of silence in baseball buries countless secrets.
Then came the 2018 postseason. During the American League Division Series, a man named Kyle McLaughlin, whom Crane brought into the Astros organization, was caught pointing a cell phone toward the Cleveland Indians' dugout from an on-field camera well. He was removed from the area. The Indians warned the Astros' AL Championship Series opponent, the Boston Red Sox, about McLaughlin, and during Game 1 of the ALCS, he was again removed from a camera well next to the dugout.
I wrote a story about the McLaughlin incidents, and in it, I reported that the Oakland A's had accused the Astros of relaying pitch types to batters during an August series. Further, I reported, two major league players had said they witnessed the Astros hitting a trash can in the dugout as a way to alert hitters.
Again: This was in 2018, more than a year before Crane claims he learned of the issue. The day after the story ran, Crane told another reporter to leave McLaughlin's name out of his story. Clearly Crane knew that a story about McLaughlin had been written. Either he learned of the story's details or avoided them altogether. The former would make him a liar. The latter would make him an owner who ignores potentially injurious information about his billion-dollar business.
For someone with such a commitment to doing things right going forward, Crane's lack of curiosity is quite curious. When asked when the Astros' cheating stopped, he said: "I didn't do the investigation." When asked about the culpability of Carlos Beltran, the player who alongside former Astros bench coach Alex Cora implemented the trash-can-banging scheme, he said: "Again, I didn't do the investigation." If Crane can't be bothered during the worst cheating scandal in a century to look beyond Manfred's report — which he referenced nine times, as if it were some sacred scripture — how, exactly, does he expect to fix the institutional rot in his organization? Crane, after all, still denies there's a problem with the Astros' culture. Perhaps his mirror is just broken.
The gap between words and actions is cavernous, and the Astros' history is big on offering the former and skimping on the latter. They said they had a zero-tolerance policy on domestic violence. Then they traded for closer Roberto Osuna as he was serving a suspension for a domestic incident. They tried to smear a Sports Illustrated reporter who wrote that their assistant GM, Brandon Taubman, had punctuated a pennant-winning celebration by yelling toward a group of female reporters: "I'm so f—ing glad we got Osuna!" Then they doubled down on it before realizing what was obvious from the beginning: The report was accurate.
And here they are now, desperately clinging to this notion that they aren't a dysfunctional mess, that Crane is indeed the person to shepherd the Astros through a period that even for the most stable organization would prove trying. He sat at a table out in the Florida sun and said that because Manfred offered players who participated in the scheme immunity from punishment by the league in exchange for the truth, they were, in his mind, absolved of wrongdoing. Those same players, minutes after Crane finished talking, conceded just how wrong they were.
"I think I've done just about everything I can," Crane said.
On a day of damning words, of self-owns, of the Houston Astros doing what the Houston Astros do, this was perhaps the gravest admission of all. The burning, raging mess around him is indeed everything Jim Crane can do.
New OF Shogo Akiyama singles, tries steal in Reds debut
GOODYEAR, Ariz. — Shogo Akiyama gave Cincinnati Reds fans a small taste of what he can provide at the top of the batting order and in the outfield Sunday in his first spring training game with the team.
Akiyama, hitting leadoff and playing center field, lined the second pitch he saw from Chicago White Sox starter Dylan Cease into right field for a single. In the top of the third inning, he made a running catch going to his left on a sinking line drive from Nicky Delmonico.
The five-time Pacific League All-Star is the first player from Japan to sign a major league contract with the Reds. At least a dozen Japanese media members tracked his every move before and after his day at Goodyear Ballpark in the Reds' spring training opener.
The perception of Akiyama in Japan is that he isn't on the same level as Los Angeles Angels two-way player Shohei Ohtani or former Seattle Mariners outfielder Ichiro Suzuki, both of whom took the majors by storm when they arrived in the U.S. But Akiyama holds the Japanese league record for hits in a season with 216, set in 2015.
"I was very nervous, but definitely relieved that I got my first hit," the left-handed-hitting Akiyama said through a translator. "It was also good that I was able to see a lot of pitches."
After four innings in the field, he grounded into a fielder's choice in his third and final at-bat. But reaching first allowed him to try stealing a base, which he'd done 112 times in his nine-year career in Japan.
"It wasn't a goal, but I just wanted to see if I could do it," Akiyama said. "To see if I have a chance. It was good that I was able to run it out."
Akiyama was thrown out at second base to end the fourth inning and his day.
The Reds signed the 31-year-old Akiyama to a three-year, $21 million contract in the offseason, winning the bidding for his services as part of a roster makeover that the team hopes will help it contend in the National League Central.
While it's not a certainty that Akiyama will be the Reds' regular center fielder, his ability to get on base is something Cincinnati was seeking at the top of its order.
He's clearly still learning and adjusting both on the field and off. After his single, he was almost picked off when leaning too far off first base.
Reds fans are adjusting to Akiyama, too. He got light applause when introduced in the starting lineup, slapping hands with the Reds mascot as he took his place next to manager David Bell along the third-base line.
"He looked great. He looked comfortable," Bell said. "I know it's just spring training, but it's kind of nice to get a hit in your first at-bat to kind of take the pressure off. He said he was nervous before the game. I didn't really see that. There's some extra feelings there for him, I'm sure, but it was nice to get into the flow of the game really quick."
The Reds hope Akiyama can provide the kind of production — or close to it — that he put up in Japan. His career numbers include a .301 batting average, 116 home runs, 513 RBIs and 1,405 hits.
Madison Bumgarner reveals rodeo hobby
SCOTTSDALE, Ariz. — Arizona Diamondbacks left-hander Madison Bumgarner has been competing in rodeo events under the alias Mason Saunders and even won $26,560 in a team-roping competition in December, according to a story published Sunday by The Athletic.
Bumgarner told the website he has discretely competed in rodeos for a while, including in March of last year two days before pitching for the San Francisco Giants in a Cactus League spring training game. He has been roping since he was 15 or 16 years old and said he's been at it so long that "it's just part of who you are."
The 2014 World Series MVP agreed to an $85 million, five-year contract with the Diamondbacks in December, about two weeks after winning the rodeo competition in Wickenburg, Arizona.
Bumgarner infamously injured his shoulder in 2017 in a dirt bike accident and missed three months of San Francisco's season. He apologized at the time and called it a "stupid" decision that likely violated his contract, although the Giants are not believed to have pressed the issue with the four-time All-Star.
Diamondbacks general manager Mike Hazen told The Athletic he was "not going to get into discussing specific contract language" when asked about Bumgarner's hobby.
Photos of Bumgarner roping were posted to the Facebook page for Rancho Rio in Wickenburg. Bumgarner — a right-handed roper — said he's often recognized at rodeo events, but he's maintained the alias to keep his profile low. He formed the Mason Saunders moniker by shortening his first name and adopting his wife's maiden name as the surname.
"Something for my wife to call me when we were out in public to keep people from recognizing me," Bumgarner said. "But you're going to ruin that for me."
Bumgarner disputed a widespread narrative that he signed with Arizona "just to have my horses," but did acknowledge it was a benefit. He also said he may pursue roping more rigorously after his baseball playing days are done.
Phillies unveil revamped Phanatic amid legal wrangling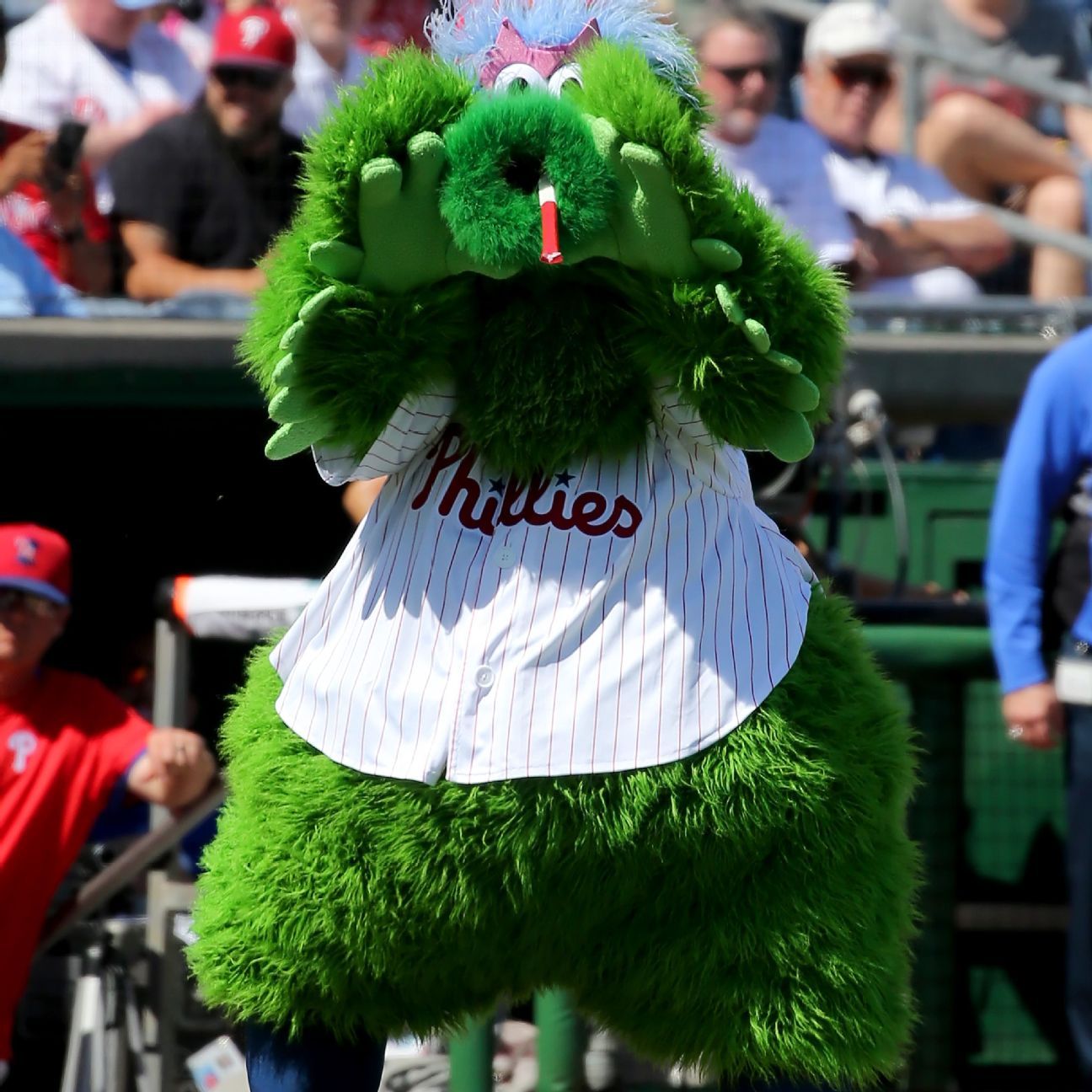 CLEARWATER, Fla. — He's 42 years old, a little out of shape and clearly no spring chicken. But clearly there's no one more popular on the field for the Philadelphia Phillies than the Phanatic.
Which is why all eyes at the ballpark were on the furry mascot Sunday for the big reveal: He has gotten a makeover this year amid a legal fight between the team and his creators.
The revamp, unveiled before the Phillies played the Pittsburgh Pirates in their spring training home opener, includes flightless feathers rather than fur-colored arms, stars outlining the eyes, a larger posterior and a powder-blue tail, blue socks with red shoes, plus scales under the arms.
Don't look for any change, though, in the Phanatic's prankster approach, a point the team reiterated with a tweet Sunday afternoon.
He has evolved, but clearly hasn't matured. pic.twitter.com/Tmo5jHNQOB

— Philadelphia Phillies (@Phillies) February 23, 2020
Tom Burgoyne, the man behind the mascot, told The Philadelphia Inquirer that "he's still the same old Phanatic, just with a little more sashay in him." He noted that the mascot's fur color, jersey, hat and overall look have "changed a little bit over the years."
Early reviews were mixed. Some eagle-eyed fans liked the old version more, others said the changes weren't that big of a deal.
The team and the mascot's creators have been sparring in court ahead of the June 15 expiration of a 35-year-old copyright agreement. Designers Bonnie Erickson and Wayde Harrison — who also created the famed Muppet Miss Piggy — say they alone made the Phanatic's character and backstory when they were contracted to create the costume in 1978.
The Phillies argue that the baseball franchise is just as responsible for the success of the mascot as the puppet-making pair.
Information from The Associated Press was used in this report.