Myles Garrett again alleges Mason Rudolph called him a racial slur, sparking brawl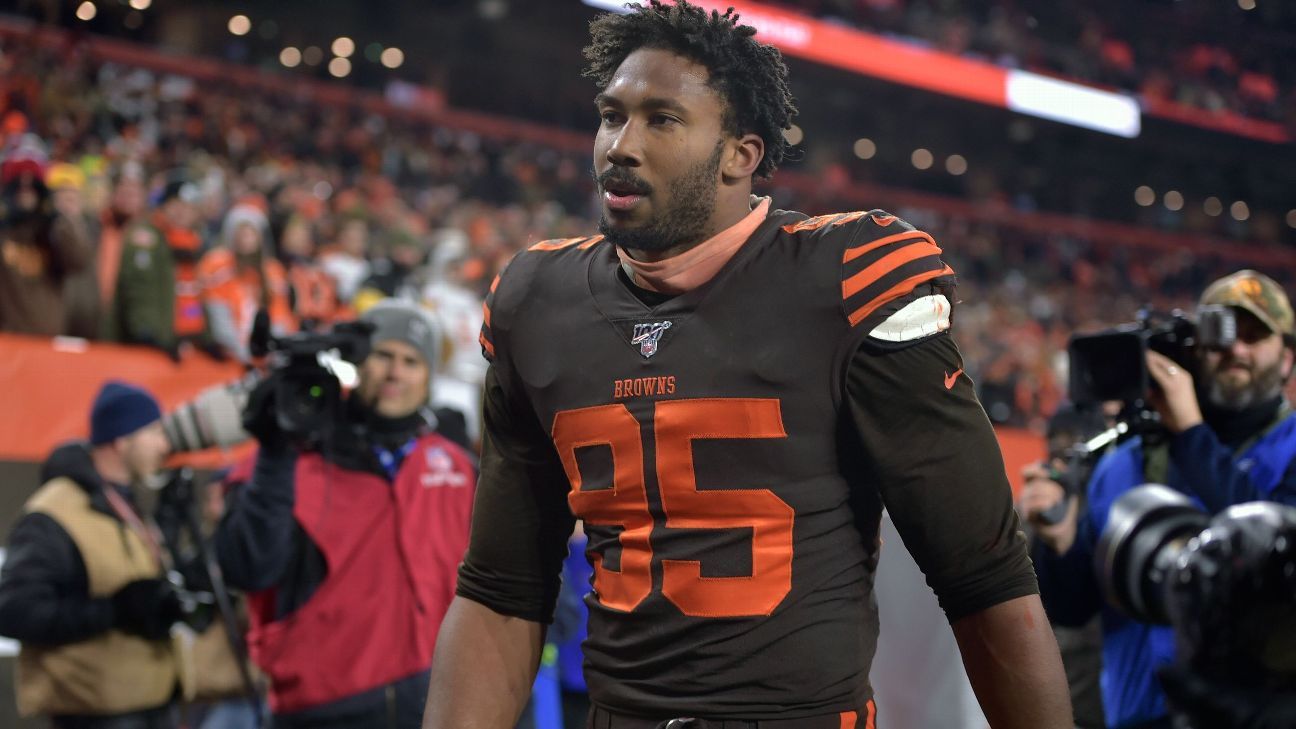 Cleveland Browns defensive end Myles Garrett again has alleged that Pittsburgh Steelers quarterback Mason Rudolph used a racial slur toward him just prior to the brawl at the end of their November game.
"He called me the N-word," Garrett told Outside The Lines' Mina Kimes during an interview that airs Thursday night on SportsCenter. "He called me a 'stupid N-word.'"
The NFL suspended Garrett indefinitely for ripping Rudolph's helmet off and hitting him in the head with it during the Browns' 21-7 win on Nov. 14. The incident ended up costing him the final six games of the regular season and roughly $1.2 million in pay, plus a fine of $45,623.
Garrett was reinstated by the league on Wednesday.
The star defensive player first asserted during his appeals hearing for the suspension that Rudolph incited him with a racial slur, ESPN reported previously. Garrett later said he never intended for the accusation to become public, but added: "I know what I heard."
An NFL spokesman said the league "found no such evidence" that Rudolph used the slur and upheld the suspension.
Rudolph has called the allegation "totally untrue."
"I couldn't believe it," the quarterback said Nov. 24. "I couldn't believe he would go that route after the fact."
In Thursday's interview with ESPN, Garrett recounted a different version of events and blamed Rudolph for starting the fight that led to the discipline of 33 total players and fines amounting to $732,422.
"When he said it, it kind of sparked something, but I still tried to let it go and still walk away," Garrett said. "But once he came back, it kind of reignited the situation. And not only have you escalated things past what they needed to be with such little time in the game left, now you're trying to re-engage and start a fight again. It's definitely not entirely his fault, it's definitely both parties doing something that we shouldn't have been doing.
"I don't say the N-word, whether it's with 'a' [or] 'er.' To me personally, just shouldn't be said, and whether it's by family, friends, anyone. I don't want to use it because I don't want [people to] find that appropriate around me for anyone to use."
The Steelers ran a final play with eight seconds left on the clock. Rudolph initially tussled with Garrett on the ground, then charged at him after Garrett forcibly removed Rudolph's helmet. At that point, Garrett slugged Rudolph over the head with it.
The league fined the Browns and the Steelers $250,000 each. Without Garrett, Cleveland's defense cratered down the stretch en route to a 6-10 finish.
Reached for comment, the Steelers on Thursday deferred to their November statement, which read in part, "Mason vehemently denies the report of being accused of using a racial slur during the incident."
Rudolph's agent and attorney, Tim Younger, was unavailable for comment Thursday.
ESPN's Brooke Pryor contributed to this report.
Young Buccaneers fan Kacey Reynolds, whose wish was granted, dies
TAMPA, Fla. — Kacey Reynolds, the 19-year-old Tampa Bay Buccaneers fan from Maysville, Georgia, whose wish was granted last year when he got to announce the Bucs' 2019 first-round draft pick, has died after a three-year battle with Hodgkin lymphoma, the team announced Sunday.
"We're saddened by the passing of Buccaneers fan Kacey Reynolds. Our hearts go out to his family," the Bucs tweeted, adding that he'll "forever be part of the Buccaneers family."
We're saddened by the passing of Buccaneers fan Kacey Reynolds. Our hearts go out to his family.

Kacey announced our first round pick at last year's draft as his Make-A-Wish experience, and will forever be a part of the Buccaneers family. pic.twitter.com/RXwUcTf91N

— Tampa Bay Buccaneers (@Buccaneers) February 23, 2020
In addition to having Reynolds announce the pick, coach Bruce Arians, a two-time cancer survivor, called Reynolds and invited him and his parents Kenneth and Kelly Reynolds to fly back to Tampa with fifth-overall draft selection Devin White.
Reynolds took part in White's introductory press conference, played pool with Pro Bowl wide receiver Mike Evans and got to meet Pro Football Hall of Fame coach Tony Dungy.
Evans was actually the one who delivered the message to Reynolds via video at his school that he'd be making the draft pick.
"This one hurts man," Evans tweeted. "You loved the squad regardless of the outcome. It was great getting to know you. RIP my friend."
After Ramsey tweets trade ideas, Lions CB Darius Slay says, "If it happens, it happens" – Detroit Lions Blog
Detroit Lions cornerback Darius Slay said he doesn't feel any different about possibly being traded — sticking with his stance he took back in October, when the Pro Bowler's name was first floated for a possible trade.
On Sunday, he told ESPN "whatever happens, happens. I'm here to play ball," when asked about the latest rumors about his future.
The 29-year-old said he figures there have been some discussions about his future and whether it would be in Detroit, but there haven't been any substantive talks with him. Mostly, he sees those conversations on the internet and that things seem open for anything.
"I mean, they open for it so [the Lions] probably are having some talks," Slay said. "Probably they just have to get the right, I'm guessing, whatever the right cost and then it can happen. That's the only thing I can get from it, really. If they can get the right price for it, they'll probably, most likely they do it."
On Saturday night, Los Angeles Rams cornerback Jalen Ramsey suggested, in a tweet, that Slay should join him in L.A. Slay responded:
That would be so unfair😂 2.0 an Bigplay!!!! #Clamps https://t.co/BsA9y6lMEx

— Darius Slay (@_bigplayslay23) February 23, 2020
On Sunday, Slay would only say "if it happens, it happens."
Slay has been the topic of trade conversations with the Lions since October, after Detroit dealt starting safety Quandre Diggs to Seattle at the deadline. He was outspoken about the trade then and said "nobody's safe" when it comes to potentially being moved.
His name resurfaced as a possible trade target again last week when ESPN Insider Adam Schefter reported that the Lions were speaking with multiple teams about Slay but wanted to make sure they would get appropriate value in return for Slay, who is entering the final year of his deal in 2020.
Slay declined to say what he was looking for in a new contract, but his agent knows his worth and what he believes his worth is. He had previously tweeted that $15-to-$16 million per year might be too low.
Slay also said that he and his wife, Jennifer, have talked with their children about the possibility he won't be playing for the Lions this year.
The three-time Pro Bowler also reiterated that he would like to play his entire career in Detroit, but understands the business side of the NFL as well.
"It's a business so it should be looked at as a business aspect of it. If it was up to me, I would love to be here my whole career," Slay said. "But one thing about a lot of stuff that comes, first is my family so I'll do what's best for my family, for them first and put my family in great position to never have to want for nothing.
"So that's my goal, and if that's being here, I'm here. If it ain't, then I ain't."
NFL player leadership remains divided over 17-game season
NFL player leadership is still majorly divided over the thought of a 17-game season.
Player reps fell into three categories when discussing the proposed new Collective Bargaining Agreement, sources told ESPN — those who never want 17 games, those who will accept it with tweaks to the deal, and those who accept it as is.
Those reps held a conference call Friday and were set to vote on the deal, but getting the two-thirds majority was far from a slam dunk, a source said. NFLPA decided to postpone voting, giving all parties involved a few days to sleep on the proposal and meet at the NFL combine in Indianapolis.
"Anything is possible at this point," a source said.
The players are set to meet with NFL officials on Tuesday and could vote as early as Wednesday but hope to go back to owners and continue negotiations, according to ESPN's Dan Graziano. The owners have no intentions to renegotiate the offer, according to ESPN NFL Insider Adam Schefter, who also reports the NFLPA and NFL Management Council have pushed back the start of the franchise tag designation period from Tuesday, Feb. 25 to Thursday, Feb. 27. Teams will now have until March 12 to decide whether to tag a player. NFL teams currently have the option to tag two players (using either the franchise or transition tag), but a new CBA would limit teams to one available tag.
Among the tweaks some players would like to see, according to sources: An increased revenue share, improved pension and further improvements to working conditions.
The NFLPA executive committee voted 6-5 against recommending the proposal, which offers a guaranteed revenue share of 48 percent in 2021, with a potential increase to 48.5 percent upon the start of a 17-game season, which is yet to be determined.
The proposed CBA also offers at least $90,000 increases on minimum salaries, increased pay for offseason activities, expanded pension eligibility, a limit of 16 days in pads at training camp and mandated improvements to visiting team locker rooms.
The current CBA expires March 2021.