Mariners' Mitch Haniger undergoes second core surgery
Mitch Haniger is recovering from a second surgery in three weeks on a core muscle injury, meaning the Seattle Mariners won't have the veteran outfielder for Opening Day and beyond.
"2nd surgery today in the last 3 weeks," Haniger wrote on Instagram on Thursday night. "Not how I imagined heading into the 2020 season but I'm really excited to start this recovery process and build myself back up. I'll do whatever it takes to come back even better than I've ever been!"
It wasn't immediately clear how long Haniger will be sidelined. General manager Jerry Dipoto had said last month that Haniger likely needed an initial surgery and wasn't expected to be ready for Opening Day — but that was before he had the additional procedure.
Haniger suffered the injury during one of his offseason workouts in January. Dipoto had said the setback was tied to Haniger's injury issues from last year, when he missed the final 3 1/2 months of the season after suffering a ruptured testicle and then experiencing back and core issues during his recovery. Haniger was limited to 63 games and batted .220 with 15 homers and 32 RBIs.
A year earlier, Haniger was an All-Star after hitting .285 with 26 homers and 93 RBIs and an OPS of .859.
Chicago White Sox slugger Eloy Jimenez has sprained foot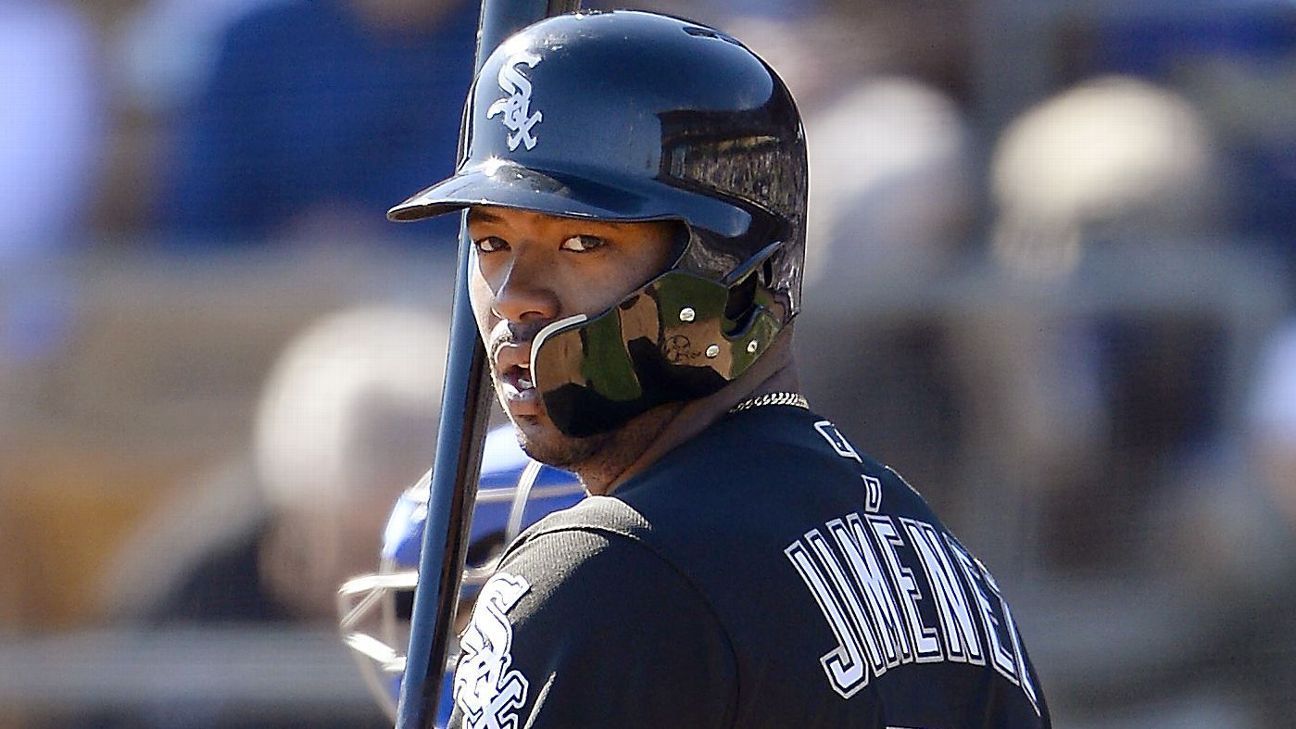 CHICAGO — Chicago White Sox outfielder Eloy Jimenez has a sprained right foot, likely sidelining the slugger for a pivotal season-ending series against the crosstown Cubs.
The White Sox had dropped a season-high five in a row heading into the weekend set, falling out of first place in the AL Central. They are hoping to get back on track heading into their playoff appearance since 2008, but the health of Jimenez is a concern.
Jimenez, who is batting .296 with 14 homers and 41 RBI, was injured sliding across home in the seventh inning of Chicago's 5-4 loss at Cleveland on Thursday. Manager Rick Renteria said the 23-year-old left fielder will need "to be off his feet" for a few days.
"There's inflammation in there, and they want to calm it down" Renteria said. "We'll know more in a few days."
The White Sox trailed the first-place Twins by a game heading into the series with the Cubs. They are just one game ahead of the third-place Indians. The AL postseason begins on Tuesday.
Nationals manager Dave Martinez gets new three-year contract
The Washington Nationals and manager Dave Martinez have agreed to a three-year extension, a source confirmed to ESPN. The deal is worth $7.5 million, according to USA Today.
Martinez had an option on his contract for next season, but this deal would replace that and keep the manager with the reigning World Series champs through the 2023 season.
MLB Network first reported on the two sides agreeing to an extension.
Nationals general manager Mike Rizzo, who signed his own new contract this season, stated that re-signing Martinez was a priority for him.
Brewers' Corbin Burnes on injured list with strained left oblique
ST. LOUIS — Milwaukee Brewers pitcher Corbin Burnes was placed on the injured list Friday with a strained left oblique, likely ending the right-hander's breakthrough season.
Brewers manager Craig Counsell said that if Milwaukee advances to the playoffs, Burnes would be unavailable for the first round and would be doubtful for the second round. The Brewers (27-29) are outside of playoff position but haven't been eliminated from contention heading into the final weekend of the regular season.
"Take the next couple of days off and then start slowly working back into it, and we'll see how quickly we can get things ramped up depending on how I'm recovering," Burnes said.
Burnes is 4-1 with a 2.11 ERA and 88 strikeouts in 59 2/3 innings, a dramatic improvement from a 2019 campaign in which he went 1-5 with an 8.82 ERA.
He suffered his first loss of the season Thursday by allowing three runs and six hits over 3 2/3 innings as the Brewers fell 4-2 to the St. Louis Cardinals. The injury, which was described Thursday night as lower back discomfort, appeared to bother Burnes throughout the fourth inning.
Burnes was placed on the injured list after undergoing an MRI.
"It didn't end the way you necessarily wanted it to," Counsell said. "He had a great season. We've talked about it many times — he should be happy with what he accomplished. One, you've got to heal up and see what happens. But regardless of what happens, he should be really pleased with what he's been able to accomplish in the regular season."
Burnes said the issue started bothering him during his previous start and cropped up periodically throughout the week, but that he felt fine before Thursday's game.
"Everyone asked me beforehand, 'Are you good to go?'" Burnes said. "[I replied], 'I'm good to go.' It was one of those things where there was just a little bit of tightness, but I thought it would be just fine. Everyone's asking me after, 'Do you still think you should have gone last night?' Absolutely. It's one of those things, I think I can go out there and get outs. For the most part, I was able to, up until the very end there. It's one of those things. Absolutely no regrets about going out there last night."