Mariners' Mitch Haniger undergoes second core surgery
Mitch Haniger is recovering from a second surgery in three weeks on a core muscle injury, meaning the Seattle Mariners won't have the veteran outfielder for Opening Day and beyond.
"2nd surgery today in the last 3 weeks," Haniger wrote on Instagram Thursday night. "Not how I imagined heading into the 2020 season but I'm really excited to start this recovery process and build myself back up. I'll do whatever it takes to come back even better than I've ever been!"
It wasn't immediately clear how long Haniger will be sidelined. General manager Jerry Dipoto had said last month that Haniger likely needed an initial surgery and wasn't expected to be ready for Opening Day — but that was before he had the additional procedure.
Haniger suffered the injury during an offseason workout in January. Dipoto had said the setback was tied to Haniger's injury issues from last year, when he missed the final 3½ months of the season after suffering a ruptured testicle and then experienced back and core issues during his recovery. Haniger was limited to 63 games and batted .220 with 15 homers and 32 RBIs.
A year earlier, Haniger was an All-Star after hitting .285 with 26 homers and 93 RBIs and an OPS of .859.
New OF Shogo Akiyama singles, tries steal in Reds debut
GOODYEAR, Ariz. — Shogo Akiyama gave Cincinnati Reds fans a small taste of what he can provide at the top of the batting order and in the outfield Sunday in his first spring training game with the team.
Akiyama, hitting leadoff and playing center field, lined the second pitch he saw from Chicago White Sox starter Dylan Cease into right field for a single. In the top of the third inning, he made a running catch going to his left on a sinking line drive from Nicky Delmonico.
The five-time Pacific League All-Star is the first player from Japan to sign a major league contract with the Reds. At least a dozen Japanese media members tracked his every move before and after his day at Goodyear Ballpark in the Reds' spring training opener.
The perception of Akiyama in Japan is that he isn't on the same level as Los Angeles Angels two-way player Shohei Ohtani or former Seattle Mariners outfielder Ichiro Suzuki, both of whom took the majors by storm when they arrived in the U.S. But Akiyama holds the Japanese league record for hits in a season with 216, set in 2015.
"I was very nervous, but definitely relieved that I got my first hit," the left-handed-hitting Akiyama said through a translator. "It was also good that I was able to see a lot of pitches."
After four innings in the field, he grounded into a fielder's choice in his third and final at-bat. But reaching first allowed him to try stealing a base, which he'd done 112 times in his nine-year career in Japan.
"It wasn't a goal, but I just wanted to see if I could do it," Akiyama said. "To see if I have a chance. It was good that I was able to run it out."
Akiyama was thrown out at second base to end the fourth inning and his day.
The Reds signed the 31-year-old Akiyama to a three-year, $21 million contract in the offseason, winning the bidding for his services as part of a roster makeover that the team hopes will help it contend in the National League Central.
While it's not a certainty that Akiyama will be the Reds' regular center fielder, his ability to get on base is something Cincinnati was seeking at the top of its order.
He's clearly still learning and adjusting both on the field and off. After his single, he was almost picked off when leaning too far off first base.
Reds fans are adjusting to Akiyama, too. He got light applause when introduced in the starting lineup, slapping hands with the Reds mascot as he took his place next to manager David Bell along the third-base line.
"He looked great. He looked comfortable," Bell said. "I know it's just spring training, but it's kind of nice to get a hit in your first at-bat to kind of take the pressure off. He said he was nervous before the game. I didn't really see that. There's some extra feelings there for him, I'm sure, but it was nice to get into the flow of the game really quick."
The Reds hope Akiyama can provide the kind of production — or close to it — that he put up in Japan. His career numbers include a .301 batting average, 116 home runs, 513 RBIs and 1,405 hits.
Madison Bumgarner reveals rodeo hobby
SCOTTSDALE, Ariz. — Arizona Diamondbacks left-hander Madison Bumgarner has been competing in rodeo events under the alias Mason Saunders and even won $26,560 in a team-roping competition in December, according to a story published Sunday by The Athletic.
Bumgarner told the website he has discretely competed in rodeos for a while, including in March of last year two days before pitching for the San Francisco Giants in a Cactus League spring training game. He has been roping since he was 15 or 16 years old and said he's been at it so long that "it's just part of who you are."
The 2014 World Series MVP agreed to an $85 million, five-year contract with the Diamondbacks in December, about two weeks after winning the rodeo competition in Wickenburg, Arizona.
Bumgarner infamously injured his shoulder in 2017 in a dirt bike accident and missed three months of San Francisco's season. He apologized at the time and called it a "stupid" decision that likely violated his contract, although the Giants are not believed to have pressed the issue with the four-time All-Star.
Diamondbacks general manager Mike Hazen told The Athletic he was "not going to get into discussing specific contract language" when asked about Bumgarner's hobby.
Photos of Bumgarner roping were posted to the Facebook page for Rancho Rio in Wickenburg. Bumgarner — a right-handed roper — said he's often recognized at rodeo events, but he's maintained the alias to keep his profile low. He formed the Mason Saunders moniker by shortening his first name and adopting his wife's maiden name as the surname.
"Something for my wife to call me when we were out in public to keep people from recognizing me," Bumgarner said. "But you're going to ruin that for me."
Bumgarner disputed a widespread narrative that he signed with Arizona "just to have my horses," but did acknowledge it was a benefit. He also said he may pursue roping more rigorously after his baseball playing days are done.
Phillies unveil revamped Phanatic amid legal wrangling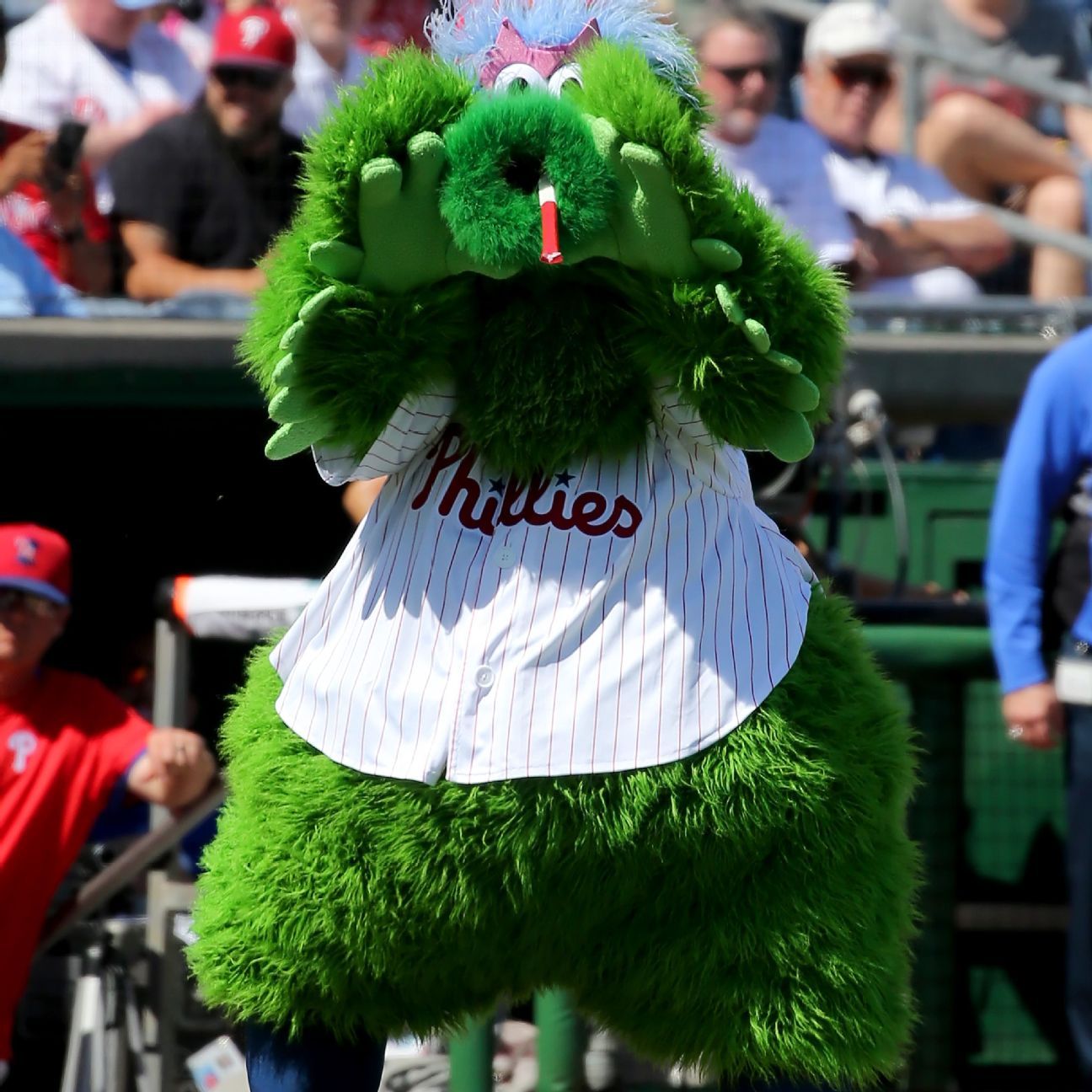 CLEARWATER, Fla. — He's 42 years old, a little out of shape and clearly no spring chicken. But clearly there's no one more popular on the field for the Philadelphia Phillies than the Phanatic.
Which is why all eyes at the ballpark were on the furry mascot Sunday for the big reveal: He has gotten a makeover this year amid a legal fight between the team and his creators.
The revamp, unveiled before the Phillies played the Pittsburgh Pirates in their spring training home opener, includes flightless feathers rather than fur-colored arms, stars outlining the eyes, a larger posterior and a powder-blue tail, blue socks with red shoes, plus scales under the arms.
Don't look for any change, though, in the Phanatic's prankster approach, a point the team reiterated with a tweet Sunday afternoon.
He has evolved, but clearly hasn't matured. pic.twitter.com/Tmo5jHNQOB

— Philadelphia Phillies (@Phillies) February 23, 2020
Tom Burgoyne, the man behind the mascot, told The Philadelphia Inquirer that "he's still the same old Phanatic, just with a little more sashay in him." He noted that the mascot's fur color, jersey, hat and overall look have "changed a little bit over the years."
Early reviews were mixed. Some eagle-eyed fans liked the old version more, others said the changes weren't that big of a deal.
The team and the mascot's creators have been sparring in court ahead of the June 15 expiration of a 35-year-old copyright agreement. Designers Bonnie Erickson and Wayde Harrison — who also created the famed Muppet Miss Piggy — say they alone made the Phanatic's character and backstory when they were contracted to create the costume in 1978.
The Phillies argue that the baseball franchise is just as responsible for the success of the mascot as the puppet-making pair.
Information from The Associated Press was used in this report.