Mariners' Mitch Haniger undergoes second core surgery
Mitch Haniger is recovering from a second surgery in three weeks on a core muscle injury, meaning the Seattle Mariners won't have the veteran outfielder for Opening Day and beyond.
"2nd surgery today in the last 3 weeks," Haniger wrote on Instagram Thursday night. "Not how I imagined heading into the 2020 season but I'm really excited to start this recovery process and build myself back up. I'll do whatever it takes to come back even better than I've ever been!"
It wasn't immediately clear how long Haniger will be sidelined. General manager Jerry Dipoto had said last month that Haniger likely needed an initial surgery and wasn't expected to be ready for Opening Day — but that was before he had the additional procedure.
Haniger suffered the injury during an offseason workout in January. Dipoto had said the setback was tied to Haniger's injury issues from last year, when he missed the final 3½ months of the season after suffering a ruptured testicle and then experienced back and core issues during his recovery. Haniger was limited to 63 games and batted .220 with 15 homers and 32 RBIs.
A year earlier, Haniger was an All-Star after hitting .285 with 26 homers and 93 RBIs and an OPS of .859.
San Diego Padres' Mike Clevinger (elbow) may miss wild-card round of MLB playoffs
San Diego Padres right-hander Mike Clevinger is uncertain to pitch in the wild-card round of the playoffs after being diagnosed with an elbow impingement in his throwing arm, according to the team.
Padres general manager A.J. Preller told reporters Friday that they would not rule Clevinger out, but the plan is to wait and see how he feels after receiving a cortisone shot.
Clevinger left his start Wednesday against the Los Angeles Angels after one inning and underwent an MRI.
Obtained in a blockbuster trade with the Cleveland Indians on Aug. 31, Clevinger is 2-1 with a 2.84 ERA in four starts since joining the Padres.
The Padres (34-22) already have clinched their first playoff berth since 2006.
Chicago White Sox slugger Eloy Jimenez has sprained foot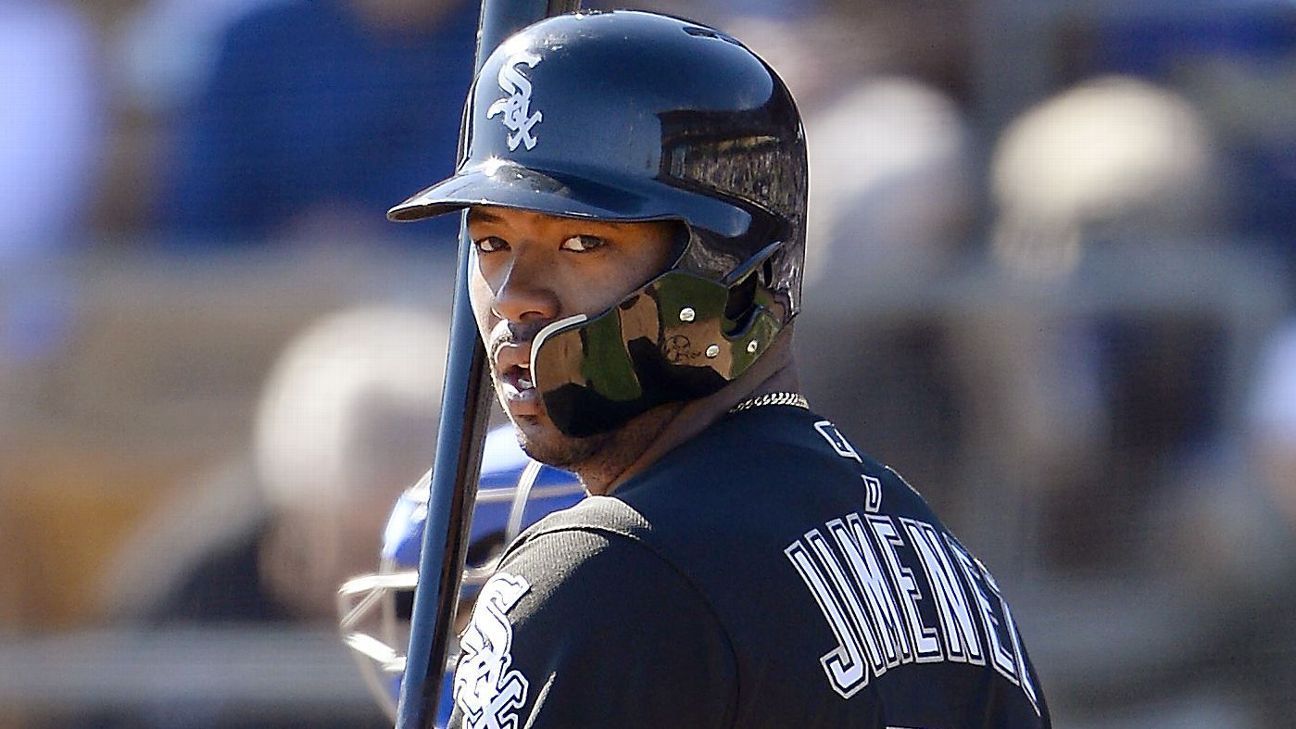 CHICAGO — Chicago White Sox outfielder Eloy Jimenez has a sprained right foot, likely sidelining the slugger for a pivotal season-ending series against the crosstown Cubs.
The White Sox had dropped a season-high five in a row heading into the weekend set, falling out of first place in the AL Central. They are hoping to get back on track heading into their playoff appearance since 2008, but the health of Jimenez is a concern.
Jimenez, who is batting .296 with 14 homers and 41 RBI, was injured sliding across home in the seventh inning of Chicago's 5-4 loss at Cleveland on Thursday. Manager Rick Renteria said the 23-year-old left fielder will need "to be off his feet" for a few days.
"There's inflammation in there, and they want to calm it down" Renteria said. "We'll know more in a few days."
The White Sox trailed the first-place Twins by a game heading into the series with the Cubs. They are just one game ahead of the third-place Indians. The AL postseason begins on Tuesday.
Nationals manager Dave Martinez gets new three-year contract
The Washington Nationals and manager Dave Martinez have agreed to a three-year extension, a source confirmed to ESPN. The deal is worth $7.5 million, according to USA Today.
Martinez had an option on his contract for next season, but this deal would replace that and keep the manager with the reigning World Series champs through the 2023 season.
MLB Network first reported on the two sides agreeing to an extension.
Nationals general manager Mike Rizzo, who signed his own new contract this season, stated that re-signing Martinez was a priority for him.