Tyrod Taylor could earn starting spot, Chargers coach Anthony Lynn says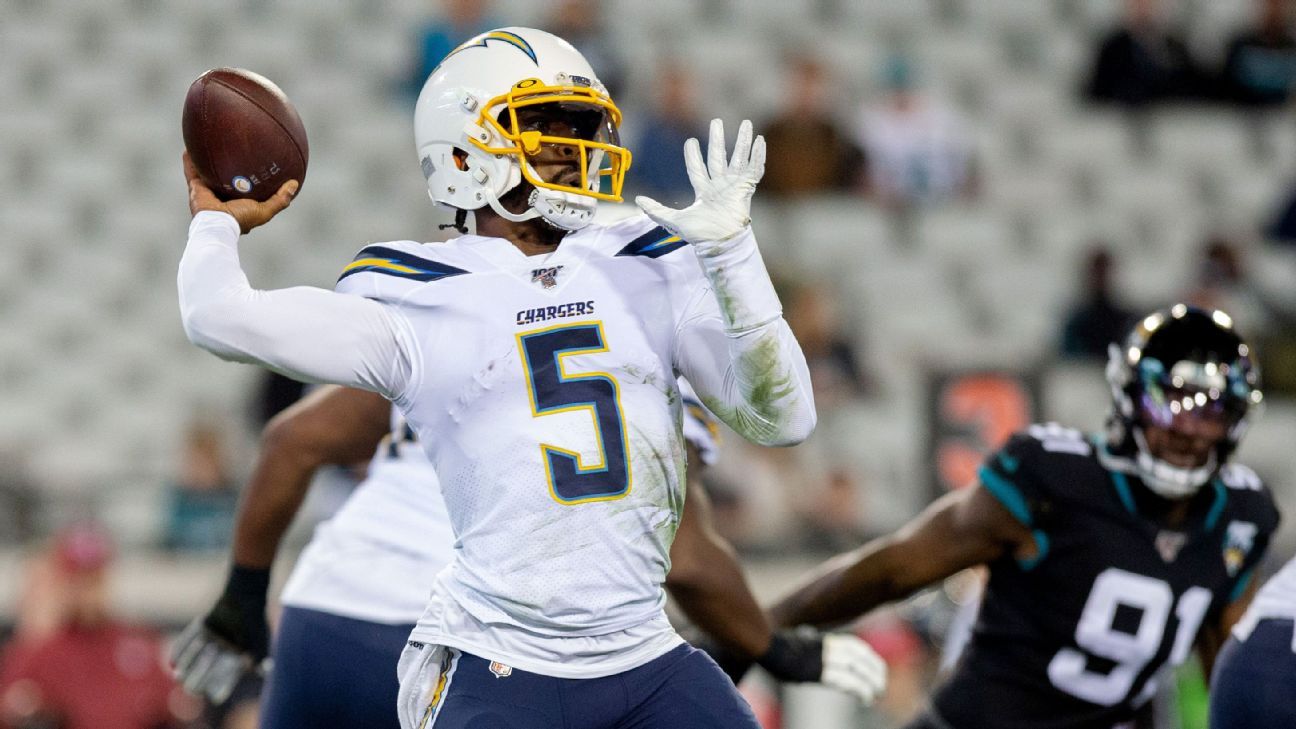 COSTA MESA, Calif. — In his first comments since the Los Angeles Chargers announced a mutual parting of ways between longtime quarterback Philip Rivers and the organization, head coach Anthony Lynn said Tyrod Taylor, last year's backup, could have an opportunity to earn the starting job in 2020.
Lynn recently signed a one-year contract extension that puts him with the Chargers through the 2021 season, according to a source.
"Tyrod Taylor is a heck of a quarterback," Lynn told AM 570 LA Sports in Los Angeles. "We couldn't have a better backup right now, and now he has an opportunity to maybe step up into a starting role. I've had Tyrod before, and I know what this young man brings to the table, in the passing game and the running game.
"One of the things he does very well is take care of the football. I believe every year he's started in this league he's been the No. 1 quarterback in taking care of the football. I believe more games are lost than won. So if we can just take care of the football and take it away, we'll be okay."
Rivers turned the ball over 23 times in last season's 5-11 campaign. Taking care of the football is a top priority for Lynn. The Chargers finished 2-9 in games decided by one score last year.
Taylor signed a two-year, $11 million deal last offseason and will make $5 million in total compensation in 2020. The Chargers also have another athletic quarterback on the roster in Easton Stick, a fifth-round selection from last year's draft.
In his last full season as a starter, Taylor turned it over just six times in 2017, leading the Buffalo Bills to the postseason for the first time in 18 years.
Taylor also helped the Bills lead the league in rushing during the 2016 season (2,630 rushing yards) in which Lynn, who prefers mobile quarterbacks, served as his offensive coordinator.
"There are some guys that can win from the pocket, but when you look around the league, most of these guys are mobile quarterbacks that can move," Lynn told 570 AM Radio, when asked what style of quarterback he prefers. "All you have to do is watch high school football on Friday nights. High school football told me 10 years ago the direction the NFL was headed.
"So that's just the world that we're in right now — you can do more things and be more cutting edge (with a mobile quarterback). But that guy that can stand back there, pick up all those protections, throw the ball from the pocket and use the quick passing game (instead of) his legs, you can still win with a classic pocket passer."
Lynn also talked about the process of moving on from Rivers after 16 impressive seasons as the face of the franchise.
"We looked at a lot of things with Phil and where he's at in his career," Lynn said. "And Phil had a say so in it as well. We agreed to split. And we couldn't have done it any classier or better. My conversation with Phil was one of the best I've had with him, I can tell you that.
"I'm a big fan of his. And if he decides to continue to play, I'm going to root for that young man and Tiffany, they are two special people. But it was just time. It happens. Brett Favre left Green Bay. Joe Montana left the 49ers. Peyton Manning left Indy. It happens."
Detroit Lions' Kenny Golladay (hamstring) hopes to make debut vs. Arizona Cardinals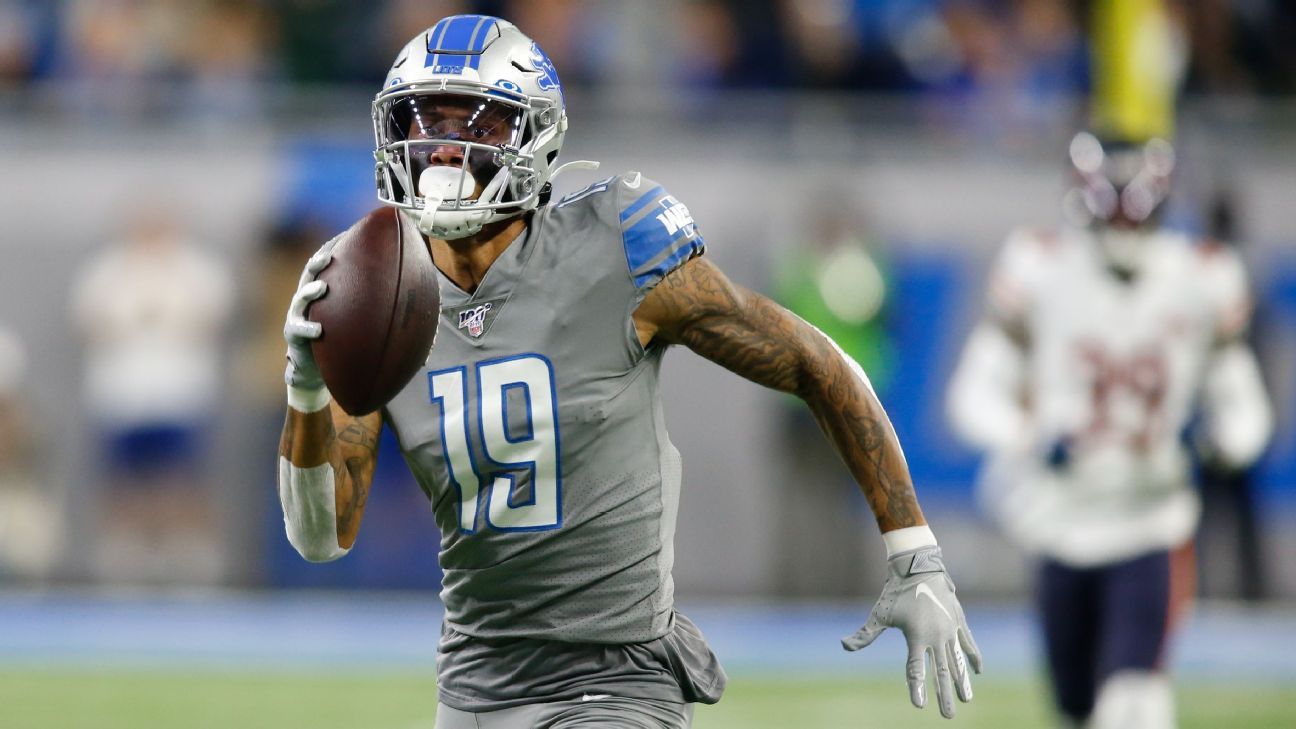 The Detroit Lions seem to be closer to getting back their top wide receiver.
Kenny Golladay said he hopes to make his season debut against the Arizona Cardinals on Sunday after missing the first two games with a hamstring injury. "God-willing, I'm going to try everything in my power to be out there with the guys," Golladay said.
The Pro Bowl wide receiver practiced on a limited basis Wednesday, Thursday and Friday and said while he doesn't feel 100 percent — he wouldn't put a percentage on how healthy he is — he's going to do everything he can and show enough to play against Arizona.
In three career games, Golladay has three touchdowns against Arizona.
Golladay, 26, said the injury has been frustrating, but that unlike his rookie year when he also had a hamstring injury, he listened to his body more this time around. He also said he understood his body more and wanted to make sure there wouldn't be any setbacks. So he listened to his trainers and didn't push anything.
"Me missing a couple of games to try and be back hopefully for Week 3," Golladay said. "That's better than me missing six games."
Detroit is getting healthier. In addition to Golladay, right tackle Halapoulivaati Vaitai (foot) is questionable but practiced all week. Cornerback Desmond Trufant (hamstring) is doubtful, safety C.J. Moore (calf) is questionable and tight end Hunter Bryant (hamstring) is out.
Tennessee Titans LB Vic Beasley finally set for season debut
NASHVILLE, Tenn. — Outside linebacker Vic Beasley will make his debut for the Tennessee Titans on Sunday when they travel to Minnesota to face the Vikings.
Beasley has been dealing with a knee injury that limited him in practice for most of the previous two weeks. After working on a separate field with head coach Mike Vrabel, Beasley has been a full participant at practice since Thursday of last week.
The sixth-year linebacker signed a one-year, $9.5 million deal with the Titans in March and took part in virtual meetings with the team during the offseason. But Beasley reported to camp 10 days late, an unexcused absence that resulted in a $500,000 fine.
"There was a little disagreement here and there, but those things are behind us. I have moved on and let bygones be bygones," Beasley said Friday. "That's something that we'll keep confidential between me and the other party. What's understood is understood. We came to an agreement, settled our differences and are both understanding of the situation. It's all smiles on both ends, and we are happy to work together."
Once Beasley got to camp he was placed on the non-football injury list. The Titans listed Beasley on the practice report with a knee injury. Beasley complimented the Titans' training staff, calling it "amazing" and saying "they have been nothing but good" for him.
As a member of the Atlanta Falcons, Beasley led the NFL with 15.5 sacks in 2015. He finished with 8.5 sacks for the Falcons last season. A questionable work ethic and passion for the game reportedly led to Beasley becoming a free agent. But he feels he's in the right place with the Titans.
"I'm excited getting to work with Vrabes, a guy who has the defensive perspective and actually played the same position that I did. That can only benefit me," Beasley said. "I love the game. I wouldn't waste nobody's time if I didn't love the game. I'm not going to give nobody half-hearted effort."
Now that he is on the field, the Titans hope to get a boost in their pass rush that can help them reach the ultimate goal. Said Beasley, "Here, we are all on the same mission — that's to win the Super Bowl."
Wide receiver A.J. Brown was ruled out for Sunday's game with a knee injury, while rookie running back Darrynton Evans is set to make his NFL debut.
Raiders rookie WR Henry Ruggs III ruled out vs. Patriots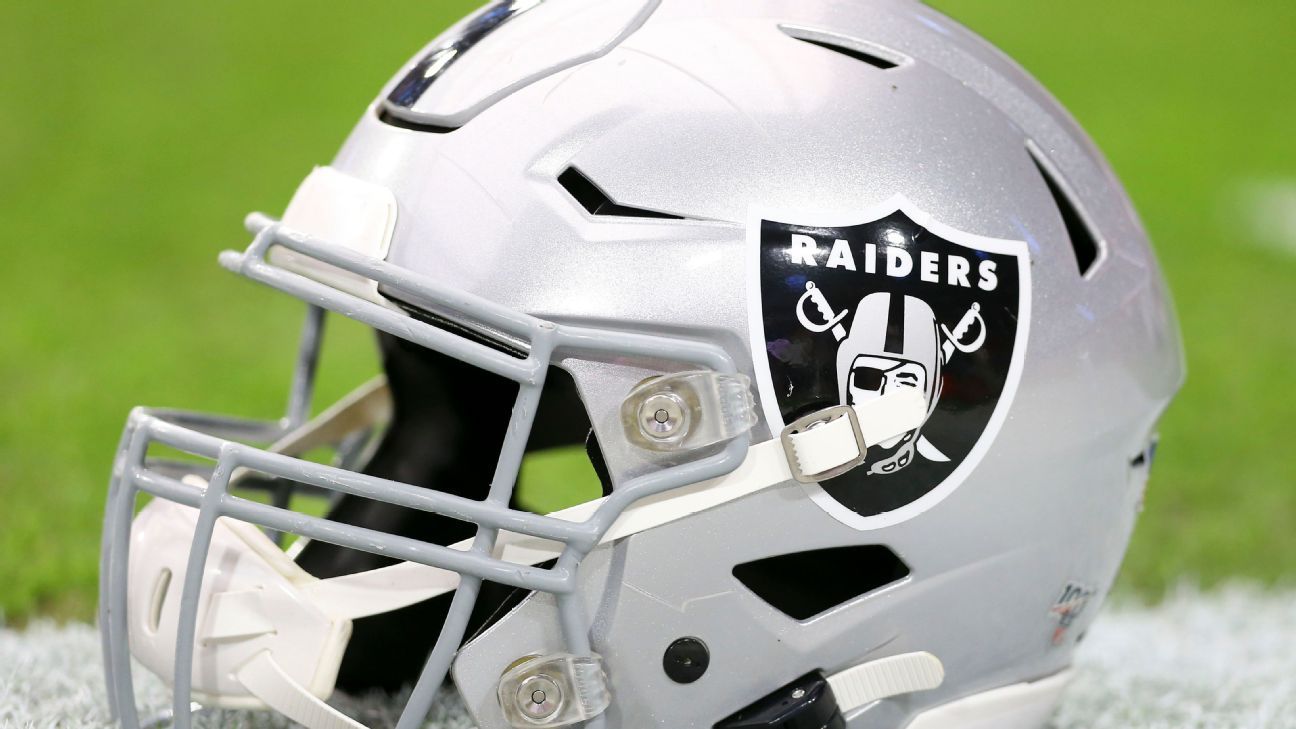 HENDERSON, Nev. — Las Vegas Raiders rookie receiver Henry Ruggs III, the fastest player in the 2020 draft, was ruled out Sunday against the New England Patriots with knee and hamstring injuries.
Ruggs injured his hamstring in practice on Thursday.
Ruggs, who caught three passes for 55 yards and carried the ball twice for 11 yards in the Raiders' season-opening win at Carolina, tweaked a knee in the first half of that game. He was mainly a decoy in Monday night's defeat of the New Orleans Saints, with one catch for 4 yards on three targets, though he did draw a crucial pass interference penalty in the fourth quarter on a deep pass from Derek Carr.
Two other Raiders starters were also ruled out in right tackle Trent Brown (calf) and middle linebacker Nick Kwiatkoski (pectoral). Both were injured at Carolina and neither played against the Saints.
Meanwhile, Raiders running back Josh Jacobs (hip) and tight end Darren Waller (knee) both practiced Friday for the first time since Monday night's home opener and were both listed as questionable to play in New England.
Also, left guard Richie Incognito went on IR earlier this week with an Achilles injury.