What are Chicago Cubs' trade options with Kris Bryant?
For anyone who has wondered if the Chicago Cubs could actually go through with trading a former league MVP and one-time face of the franchise in Kris Bryant, this week's Mookie Betts blockbuster served as an important reminder about the lengths a team is willing to go to make its payroll work.
Now they have proof that dealing a player of this caliber can — and most likely will — happen. If Betts can get traded, anyone can.
"This is as cutthroat as ever now," Bryant teammate Anthony Rizzo said of the business side of baseball. "We're talking about trading the MVP of the league a couple years ago, who's done a lot for this franchise."
As for when Bryant could move, that question has been unclear since the offseason began. With just days until spring training opens, the timing takes on additional importance.
"The activity of our offseason isn't indicative of how much we've been on the phone and have been working," general manager Jed Hoyer said recently of the Cubs' lack of moves. "The major free-agent market just wrapped up. There's been a lot of activity. I expect that up to and into spring training, that's going to continue. The trade market will continue to be an active place well into February."
Those comments were made before Betts was dealt, so Hoyer has already been proved right. But even after the Cubs won the service time grievance Bryant and the players' union filed against the team, there has been no movement with a Cubs roster that clearly needs a change. The front office has talked to just about every team in need of a hitter.
Here's a look at the Bryant trade market:
The (original) contenders
Are the Atlanta Braves done adding after signing Marcell Ozuna? Will the Washington Nationals go to camp with Asdrubal Cabrera taking over for Anthony Rendon? Are the Texas Rangers comfortable with their offense heading into their new stadium? The Los Angeles Dodgers are out of the Bryant market after landing Betts, but where do the Philadelphia Phillies stand in all this? All four of those contenders are potential fits and while this sort of thing typically is answered by now, this trade market has developed later than normal.
Seeing what the Red Sox got back for Betts — who, granted, has just one year under contract to Bryant's two — could help restart a conversation, with teams now having a better idea how to value the return for a superstar. A healthy Bryant, with two years of arbitration-controlled salary, landing on a contender, at this time of the winter, could be a difference-maker for his new team. But which team — if any — will step up to meet the Cubs' asking price?
The Rockies
It sounds like the craziest of scenarios, Bryant going to the Colorado Rockies for the disgruntled Nolan Arenado. But is it just crazy enough to work? Star third baseman for star third baseman?
The Rockies would have to pay a portion the $234 million due over the seven years remaining on Arenado's $260 million contract — assuming the third baseman opts into the rest of his deal to come to Chicago. And the Cubs would still have to figure out a way to get below the $208 million payroll threshold to avoid paying the luxury tax for a second consecutive year.
Colorado would get out from under a player who has expressed concerns about staying there — and could force the franchise's hand by opting out of his contract after the 2021 season — while acquiring a good player in return who gives them more flexibility. They could keep or trade Bryant at that point.
The Cubs would end up with a cornerstone, franchise player already under contract, with some of his salary paid for by his old team. Maybe it's not so crazy after all, and the teams have talked about such a deal, according to multiple league sources.
Bryant stays put … for now
With every passing day, this scenario is gaining steam. It would be the ultimate irony if the Cubs can't get any deals done, but end up competing for a title anyway.
Perhaps new manager David Ross will unlock what's held back the team the past couple of seasons. The front office knows this is a possibility, but what's good for now won't be for the future unless several players sign extensions and some young players emerge from a farm system that has produced nothing since the World Series win in 2016.
One thing certain, the Cubs aren't paying the luxury tax three years in a row (which would kick in more severe penalties), so finding a way to reset for 2020 is their best bet.
That's how a lot of this Bryant talk began, even though it's not all about the team's payroll. The Cubs knew exactly the position they were going to be in this offseason — two years away from a core group of players becoming free agents.
ESPN Daily Newsletter: Sign up now!
So their goals became threefold: Get under that tax, trade for some young players who could extend a window for winning, and shake up a stale lineup. Those factors — along with a belief that Bryant will go to free agency no matter what — are the reasons for him being in more trade discussions than any other Cub. A Bryant trade can kill three birds with one stone.
What has been left unstated is the question of just where Bryant ranks among baseball's elite. Until two injury-prone seasons, Bryant was on track with the best in the game. He still has produced at a near All-Star level, but not at an untradable level.
So where does that leave the Cubs? In the same place they've been all offseason: trying to get the most for a player who — after the arbiter's decision — has one more year of team control than Betts did. The Red Sox didn't exactly get a haul for one of the best players in the game, but two years of Bryant and no need to attach an expensive player like David Price to the deal should net the Cubs more than Boston got. Or perhaps it will be 1½ years of Bryant, if the Cubs wait until July to make a move. That might be their very best chance to shake things up, but doing some of that now would at least check something off their winter to-do list.
"This is obviously likely to be one of our less active offseasons," Hoyer said just before the Super Bowl. "We've had some incredibly active ones. That said, the offseason is not over. For the Cubs, things probably got pushed back a little bit. We're probably at a different place in the offseason, calendar-wise, than we normally would have been. We're not necessarily finished making moves going into spring training."
Nationals manager Dave Martinez gets new three-year contract
The Washington Nationals and manager Dave Martinez have agreed to a three-year extension, a source confirmed to ESPN. The deal is worth $7.5 million, according to USA Today.
Martinez had an option on his contract for next season, but this deal would replace that and keep the manager with the reigning World Series champs through the 2023 season.
MLB Network first reported on the two sides agreeing to an extension.
Nationals general manager Mike Rizzo, who signed his own new contract this season, stated that re-signing Martinez was a priority for him.
Brewers' Corbin Burnes on injured list with strained left oblique
ST. LOUIS — Milwaukee Brewers pitcher Corbin Burnes was placed on the injured list Friday with a strained left oblique, likely ending the right-hander's breakthrough season.
Brewers manager Craig Counsell said that if Milwaukee advances to the playoffs, Burnes would be unavailable for the first round and would be doubtful for the second round. The Brewers (27-29) are outside of playoff position but haven't been eliminated from contention heading into the final weekend of the regular season.
"Take the next couple of days off and then start slowly working back into it, and we'll see how quickly we can get things ramped up depending on how I'm recovering," Burnes said.
Burnes is 4-1 with a 2.11 ERA and 88 strikeouts in 59 2/3 innings, a dramatic improvement from a 2019 campaign in which he went 1-5 with an 8.82 ERA.
He suffered his first loss of the season Thursday by allowing three runs and six hits over 3 2/3 innings as the Brewers fell 4-2 to the St. Louis Cardinals. The injury, which was described Thursday night as lower back discomfort, appeared to bother Burnes throughout the fourth inning.
Burnes was placed on the injured list after undergoing an MRI.
"It didn't end the way you necessarily wanted it to," Counsell said. "He had a great season. We've talked about it many times — he should be happy with what he accomplished. One, you've got to heal up and see what happens. But regardless of what happens, he should be really pleased with what he's been able to accomplish in the regular season."
Burnes said the issue started bothering him during his previous start and cropped up periodically throughout the week, but that he felt fine before Thursday's game.
"Everyone asked me beforehand, 'Are you good to go?'" Burnes said. "[I replied], 'I'm good to go.' It was one of those things where there was just a little bit of tightness, but I thought it would be just fine. Everyone's asking me after, 'Do you still think you should have gone last night?' Absolutely. It's one of those things, I think I can go out there and get outs. For the most part, I was able to, up until the very end there. It's one of those things. Absolutely no regrets about going out there last night."
Thom Brennaman resigns from Cincinnati Reds games after slur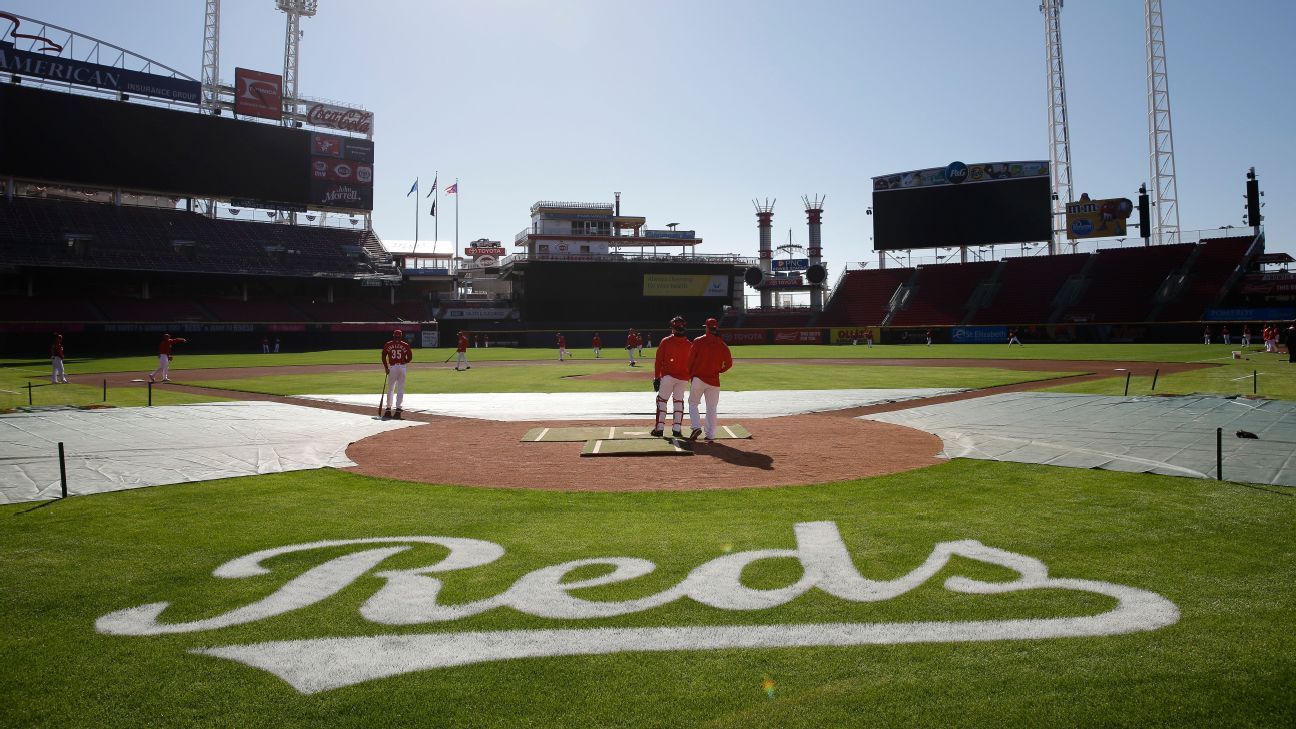 Thom Brennaman has resigned as a Cincinnati Reds broadcaster after he used an anti-gay slur on the air last month, he told WCPO on Friday.
"My family and I have decided that I am going to step away from my role as the television voice of the Cincinnati Reds," Brennaman said in a statement to the network. "I would like to thank the Reds, Reds fans and the LGBTQ community for the incredible support and grace they have shown my family and me."
On Aug. 19, Brennaman used the slur moments after the Fox Sports Ohio feed returned from a commercial break before the top of the seventh inning in the first game of a doubleheader at Kansas City. Brennaman did not seem to realize he was already on air. He later apologized.
The Reds took Brennaman off the broadcast in the fifth inning of the second game, handing his duties to alternate play-by-play man Jim Day.
On Friday, Brennaman said he "so very sorry" for his comment and hoped to continue as a broadcaster.
"And if I'm given that opportunity, I will be a better broadcaster and a much better person." Brennaman said in his statement.
In a statement at the time of Brennaman's comment, the Reds said they were "devastated by the horrific, homophobic remark."