Chris Taylor, Dodgers agree to two-year extension
LOS ANGELES — Utilityman Chris Taylor and the Los Angeles Dodgers have agreed to a two-year contract extension.
The sides avoided arbitration when they agreed to a $13.4 million contract that included salaries of $5.6 million this year, then $7.8 million in 2021, according to multiple reports.
Taylor hit .262 last year after overcoming a slow start to the season in which he missed over a month with a broken wrist. The 29-year-old plays many positions and his speed is valuable on the basepaths.
Taylor made $3.5 million last year. He had asked for $5.8 million in arbitration and the team offered $5,250,000. He is eligible for free agency after the 2021 season.
Infielder Max Muncy agreed to a $26 million, three-year contract Thursday and outfielder Joc Pederson lost his case Friday and will get $7.75 million instead of his request for $9.5 million. The Dodgers have agreed to trade Pederson to the Angels.
Reliever Pedro Baez ($4 million versus $3.5 million) remains on track for a hearing.
Information from The Associated Press was used in this report.
Nationals manager Dave Martinez gets new three-year contract
The Washington Nationals and manager Dave Martinez have agreed to a three-year extension, a source confirmed to ESPN. The deal is worth $7.5 million, according to USA Today.
Martinez had an option on his contract for next season, but this deal would replace that and keep the manager with the reigning World Series champs through the 2023 season.
MLB Network first reported on the two sides agreeing to an extension.
Nationals general manager Mike Rizzo, who signed his own new contract this season, stated that re-signing Martinez was a priority for him.
Brewers' Corbin Burnes on injured list with strained left oblique
ST. LOUIS — Milwaukee Brewers pitcher Corbin Burnes was placed on the injured list Friday with a strained left oblique, likely ending the right-hander's breakthrough season.
Brewers manager Craig Counsell said that if Milwaukee advances to the playoffs, Burnes would be unavailable for the first round and would be doubtful for the second round. The Brewers (27-29) are outside of playoff position but haven't been eliminated from contention heading into the final weekend of the regular season.
"Take the next couple of days off and then start slowly working back into it, and we'll see how quickly we can get things ramped up depending on how I'm recovering," Burnes said.
Burnes is 4-1 with a 2.11 ERA and 88 strikeouts in 59 2/3 innings, a dramatic improvement from a 2019 campaign in which he went 1-5 with an 8.82 ERA.
He suffered his first loss of the season Thursday by allowing three runs and six hits over 3 2/3 innings as the Brewers fell 4-2 to the St. Louis Cardinals. The injury, which was described Thursday night as lower back discomfort, appeared to bother Burnes throughout the fourth inning.
Burnes was placed on the injured list after undergoing an MRI.
"It didn't end the way you necessarily wanted it to," Counsell said. "He had a great season. We've talked about it many times — he should be happy with what he accomplished. One, you've got to heal up and see what happens. But regardless of what happens, he should be really pleased with what he's been able to accomplish in the regular season."
Burnes said the issue started bothering him during his previous start and cropped up periodically throughout the week, but that he felt fine before Thursday's game.
"Everyone asked me beforehand, 'Are you good to go?'" Burnes said. "[I replied], 'I'm good to go.' It was one of those things where there was just a little bit of tightness, but I thought it would be just fine. Everyone's asking me after, 'Do you still think you should have gone last night?' Absolutely. It's one of those things, I think I can go out there and get outs. For the most part, I was able to, up until the very end there. It's one of those things. Absolutely no regrets about going out there last night."
Thom Brennaman resigns from Cincinnati Reds games after slur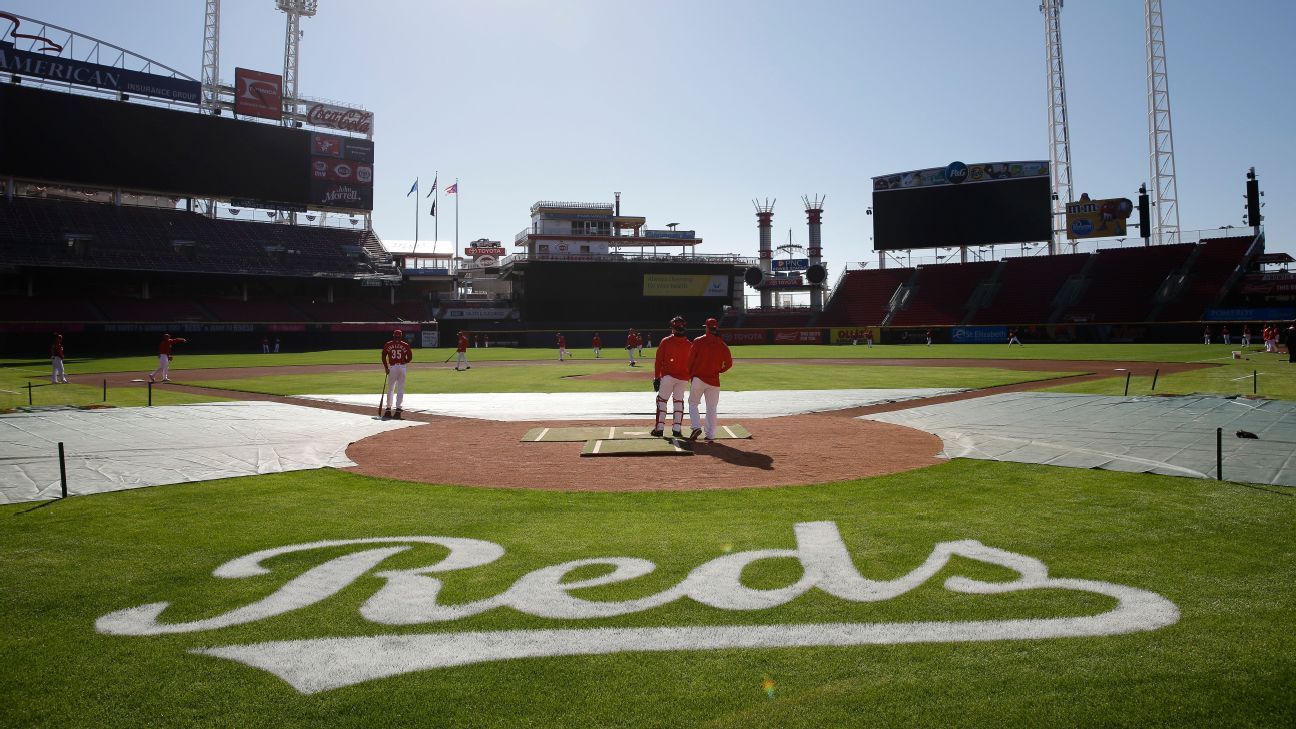 Thom Brennaman has resigned as a Cincinnati Reds broadcaster after he used an anti-gay slur on the air last month, he told WCPO on Friday.
"My family and I have decided that I am going to step away from my role as the television voice of the Cincinnati Reds," Brennaman said in a statement to the network. "I would like to thank the Reds, Reds fans and the LGBTQ community for the incredible support and grace they have shown my family and me."
On Aug. 19, Brennaman used the slur moments after the Fox Sports Ohio feed returned from a commercial break before the top of the seventh inning in the first game of a doubleheader at Kansas City. Brennaman did not seem to realize he was already on air. He later apologized.
The Reds took Brennaman off the broadcast in the fifth inning of the second game, handing his duties to alternate play-by-play man Jim Day.
On Friday, Brennaman said he "so very sorry" for his comment and hoped to continue as a broadcaster.
"And if I'm given that opportunity, I will be a better broadcaster and a much better person." Brennaman said in his statement.
In a statement at the time of Brennaman's comment, the Reds said they were "devastated by the horrific, homophobic remark."