Source — Ryan Zimmerman agrees to 1-year deal with Nationals
The Washington Nationals and Ryan Zimmerman have agreed to terms on a $2 million contract for 2020 that includes the possibility of earning $3 million more in incentives, a source confirmed to ESPN's Jeff Passan on Friday.
The agreement was first reported by The Washington Post.
When Zimmerman, 35, became a free agent, he figured he either would be back with the Nationals — or out of baseball.
"I think I've made my intentions pretty clear," Zimmerman said in December. "It's either play some more here or play more golf."
He was the first player drafted by the Nationals in 2005 after the club moved from Montreal to Washington, and he has played in every one of their 15 seasons. He holds franchise career records for hits, doubles, total bases, homers and RBI.
Zimmerman was around for the consecutive 100-loss seasons in 2008 and 2009, the frequent trips to — and early exits from — the playoffs from 2012 to 2017, and, of course, the World Series championship last year.
Injuries limited him to 52 games and a .257 average with six homers and 27 RBIs in 2019, although he was a key contributor in the postseason. He is expected to share time at first base in 2020 with newcomer Eric Thames and holdover Howie Kendrick.
"He's the classiest big leaguer I've ever been around. He's the culmination of a lot of hard work. The guy's been through some trials and tribulations. We all forget about the first six, seven years, when he played 160 games every year. I saw needles in his shoulder. I saw him play when he probably shouldn't have played earlier in his career," general manager Mike Rizzo said late last season. "That's the kind of man he is and the kind of player he is. You see when he's a healthy player, he's a pretty damn good one still."
Information from The Associated Press was used in this report.
MLB video reviews overturned 42% of checked calls in regular season
NEW YORK — Video reviews overturned 42.4% of calls checked during Major League Baseball's shortened regular season, down slightly from 44% in 2019.
The Boston Red Sox were the most successful team, gaining overturned calls on 10 of 13 challenges for 76.9%. The Chicago White Sox were second, successful on 8 of 11 challenges for 72.7%, followed by the Kansas City Royals at 7 of 10 (70%).
The Pittsburgh Pirates were the least successful at 2 of 11 (18.2%), and the Toronto Blue Jays were 7-for-25 (28%).
The Minnesota Twins had the most challenges with 28 and were successful on nine (32.1%). The New York Yankees and Milwaukee Brewers tied for the fewest with nine each; the Yankees were successful on five (55.6%) and the Brewers three (33.3%).
MLB said Tuesday there were 468 manager challenges and 58 crew chief reviews among 526 total reviews during 898 games. The average time of a review was 1 minute, 25 seconds, up from 1:16 the previous season, when there were 1,186 manager challenges and 170 crew chief reviews among 1,356 reviews during 2,429 games.
This year's replays saw 104 calls confirmed (19.8%), 181 that stood (34.4%) and 223 overturned. An additional 12 calls (2.3%) were for rules checks and six (1.1%) for recording-keeping.
In 2019, there were 277 calls confirmed (12.5%), 463 that stood (34.1%) and 597 overturned. An additional nine calls (0.7%) were for rules checks and 10 (0.7%) for record-keeping.
Expanded video review started in 2014.
Minnesota Twins' torture — Breaking down their record MLB playoffs losing streak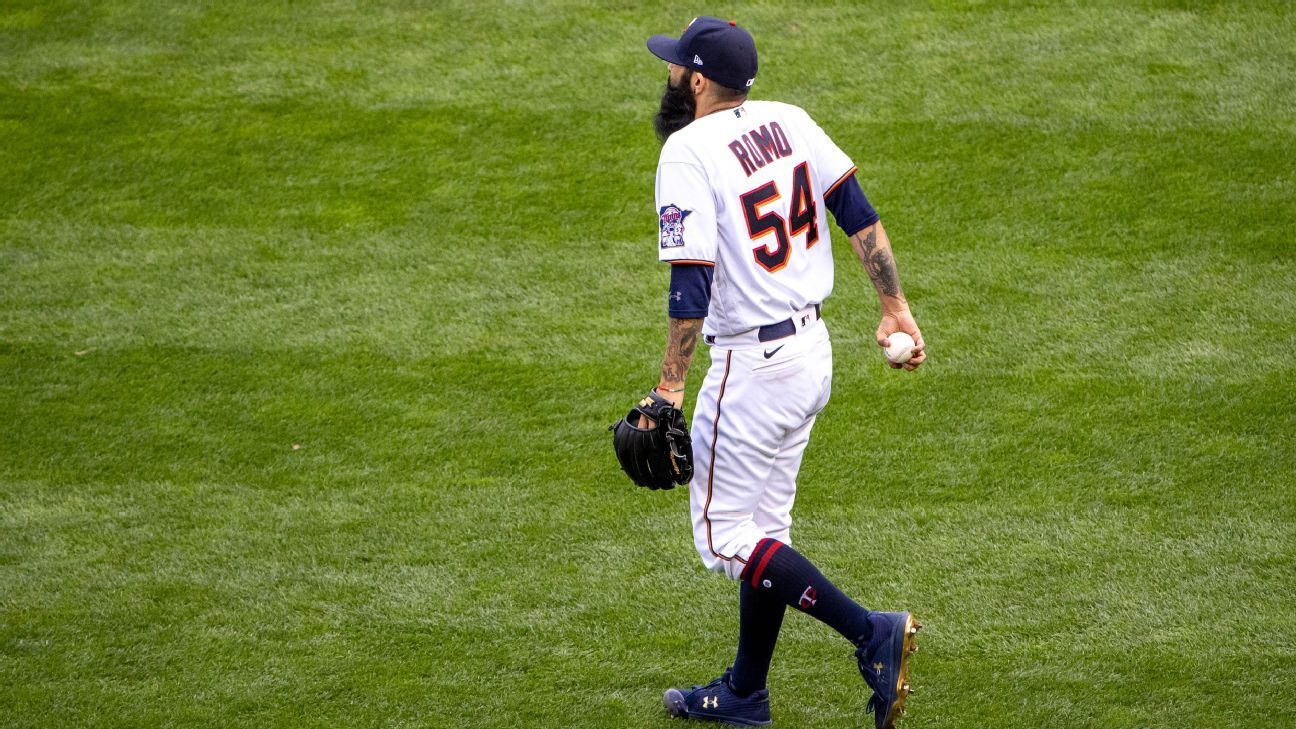 The playoff format changed, but the nightmare continues for Minnesota Twins fans.
After losing their 2020 postseason opener to the Houston Astros in heartbreaking fashion, the Twins extended their MLB playoffs losing streak to a record 17 games (and counting).
Here's a game-by-game walk-through of the Twins' tunnel of misery.
2020 AL Wild Card Series
Game 1 (Sept. 29 at Min.): Astros 4, Twins 1
A new year and another round added to the playoffs just added another dose of misery for the Twins with Sergio Romo walking in the go-ahead run in the ninth inning of a series-opening loss to the Houston Astros. The defeat runs Minnesota's record skid to 17 games with another chance to snap it Wednesday afternoon.
2019 AL Division Series
Game 3 (Oct. 7 at Min.): Yankees 5, Twins 1
The Yankees have been the Twins' particular nemesis during the painful stretch, handing Minnesota 13 of the 17 defeats, including the series-ender in Game 3 at Target Field.
The air was sucked out of Target Field early, as the Twins came up empty on a bases-loaded, nobody-out situation in the bottom of the second while already trailing 1-0 on a Gleyber Torres homer. Eddie Rosario provided a little life with a solo homer in the bottom of the eighth, but given the history, it had to be hard for even Minnesotans to get too excited. Aroldis Chapman kept them — and the Twins — in check.
Game 2 (Oct. 5 at N.Y.): Yankees 8, Twins 2
This one was over early. Didi Gregorius, whose three-run home run in the 2017 wild-card game erased the Twins' first-inning lead, hit a back-breaking grand slam during a seven-run third inning.
Game 1 (Oct. 4 at N.Y.): Yankees 10, Twins 4
The Twins' record-setting loss featured a franchise postseason-best three home runs, but Jose Berrios and a procession of relievers got pummeled by the Yankees. The big hit? A two-run, bases-loaded Gleyber Torres double in the fifth that broke a 3-3 tie.
2017 wild-card game
Oct. 3 at N.Y.: Yankees 8, Twins 4
The Twins carried the baggage of a nine-game postseason losing streak against the Yankees (and 12 games overall) into the Bronx. Things started well enough for Minnesota — three runs in the top of the first off Yankees starter Luis Severino, who recorded just one out — but that didn't last long. New York countered with three runs in the bottom of the first off Ervin Santana, then took the lead for good in the third on Greg Bird's two-out single off Jose Berrios.
2010 AL Division Series
Game 3 (Oct. 9 at N.Y.): Yankees 6, Twins 1
In his only season as an All-Star, New York's Phil Hughes made his first (and best) postseason start, shutting down his future team on four hits over seven innings to complete a three-game sweep. Swept out of the playoffs by the Yankees for the second straight year, the Twins wouldn't return to the postseason for seven years.
Game 2 (Oct. 7 at Min.): Yankees 5, Twins 2
In the eighth straight postseason meeting, the Twins took the lead over the Yankees, only to let it slip away. With the game tied at two in the bottom of the sixth, a tiring Carl Pavano gave up two runs and didn't record another out, as a Lance Berkman double and a Derek Jeter single put the Yankees on top for good. Minnesota went nine up, nine down in the last three innings.
Game 1 (Oct. 6 at Min.): Yankees 6, Twins 4
Coming off one of his best seasons with the Twins, Francisco Liriano cruised through five two-hit innings, then hit a wall, coughing up a 3-0 lead. Minnesota tied the score on a bases-loaded walk in the sixth, but the Yankees regained the lead in the seventh on a two-run homer by Mark Teixeira. The Twins stranded five runners in the last three innings.
2009 AL Division Series
Game 3 (Oct. 11 at Min.): Yankees 4, Twins 1
Andy Pettitte and Pavano were engaged in a solid pitchers' duel before the Twins broke through to take a 1-0 lead in the bottom of the sixth. But as has often been the case in these meetings, the Yankees answered quickly, with Alex Rodriguez and Jorge Posada hitting solo home runs in the seventh. New York tacked on two insurance runs in the ninth before Mariano Rivera sent Minnesota packing.
Game 2 (Oct. 9 at N.Y.): Yankees 4, Twins 3 (11 innings)
This was perhaps the most painful loss of the bunch. After Hughes got two quick outs in the top of the eighth of a 1-1 game, a walk and single set up Nick Punto to give the Twins the lead with a single, and a Denard Span single off Rivera made it 3-1. But in the bottom of the ninth, Twins closer Joe Nathan gave up a leadoff single to Teixeira, and Rodriguez followed with a two-run blast to right-center to tie the game. In the 11th, the Twins loaded the bases with nobody out but squandered the opportunity, then Teixeira put them out of their misery with a laser beam of a walk-off homer off Jose Mijares.
Game 1 (Oct. 7 at N.Y.): Yankees 7, Twins 2
The 103-win Yankees figured to roll over the 87-win Twins, but Minnesota struck first, with two third-inning runs off CC Sabathia. Jeter countered with a two-run homer to tie it in the bottom of the inning, and the Yankees were off and running. The big blow was a two-run homer by Hideki Matsui in the fifth off Liriano.
2006 AL Division Series
Game 3 (Oct. 6 at Oak.): A's 8, Twins 3
Facing elimination, the Twins didn't put up much of a fight, as Brad Radke, in his final big league appearance, gave up four runs — Eric Chavez and Milton Bradley went deep — in the first three innings. Minnesota never recovered.
Game 2 (Oct. 4 at Min.): A's 5, Twins 2
After Twins starter Boof Bonser held Oakland to two runs over six innings, Minnesota tied it on back-to-back homers by Michael Cuddyer and Justin Morneau. With two outs in the top of the seventh, the A's Mark Kotsay hit a sinking liner to center, and the usually reliable Torii Hunter made an ill-advised dive for the ball, which skipped past him and rolled to the wall. Kotsay, bad back and all, circled the bases for a two-run, inside-the-park home run — and that was that.
Game 1 (Oct. 3 at Min.): A's 3, Twins 2
To open the 2006 playoffs, the Twins' Johan Santana, at the height of his powers in his second Cy Young season, faced off against Oakland lefty Barry Zito, no slouch himself. Santana was touched for two runs in the second inning (Frank Thomas hit a solo homer, Marco Scutaro an RBI double), and Zito allowed only a seventh-inning solo shot to the Twins' Rondell White that made it 2-1. Both teams scored in the ninth (the A's on another Thomas homer), but Oakland's Huston Street got White on a fly out to end it.
2004 AL Division Series
Game 4 (Oct. 9 at Min.): Yankees 6, Twins 5 (11 innings)
This one stung. Facing elimination, Minnesota was cruising with a 5-1 lead (and 96% win expectancy) heading into the eighth inning. But things unraveled quickly for the Twins and reliever Juan Rincon. It went like this: single, wild pitch, walk, run-scoring single, strikeout, three-run homer by Ruben Sierra. Tie game. It stayed that way until the top of the 11th, when Rodriguez doubled, stole third and scored on a wild pitch by Kyle Lohse. Meanwhile, Tom Gordon and Rivera combined to retire the last 10 Twins batters in order, and the Yankees celebrated on the Metrodome carpet.
Game 3 (Oct. 8 at Min.): Yankees 8, Twins 4
Minnesota's Jacque Jones jumped on Yankees starter Kevin Brown with a solo homer in the bottom of the first. But New York answered with three in the second, then tacked on four more runs in the sixth to win.
Game 2 (Oct. 6 at N.Y.): Yankees 7, Twins 6 (12 innings)
The loss that started it all was a serious gut punch for the Twins. After a 2-0 win in Game 1 of the series, Minnesota staged a two-run rally in the eighth inning off Rivera to tie Game 2. In the 12th inning, a Torii Hunter homer off Tanyon Sturtze gave the Twins a 6-5 lead. But Joe Nathan, in his third inning of work, ran out of gas, issuing one-out walks to Miguel Cairo and Jeter before a ground-rule double by A-Rod tied it. J.C. Romero replaced Nathan, who threw 53 pitches, and on Romero's first pitch, Hideki Matsui hit a line drive to right that brought Jeter home for the winning run. Instead of leaving New York with a 2-0 series lead, the Twins were on a road to postseason ruin they wouldn't be able to exit for at least 15 years.
MLB Wild Card Tuesday Takeaways — Reaction to all four games as MLB playoffs begin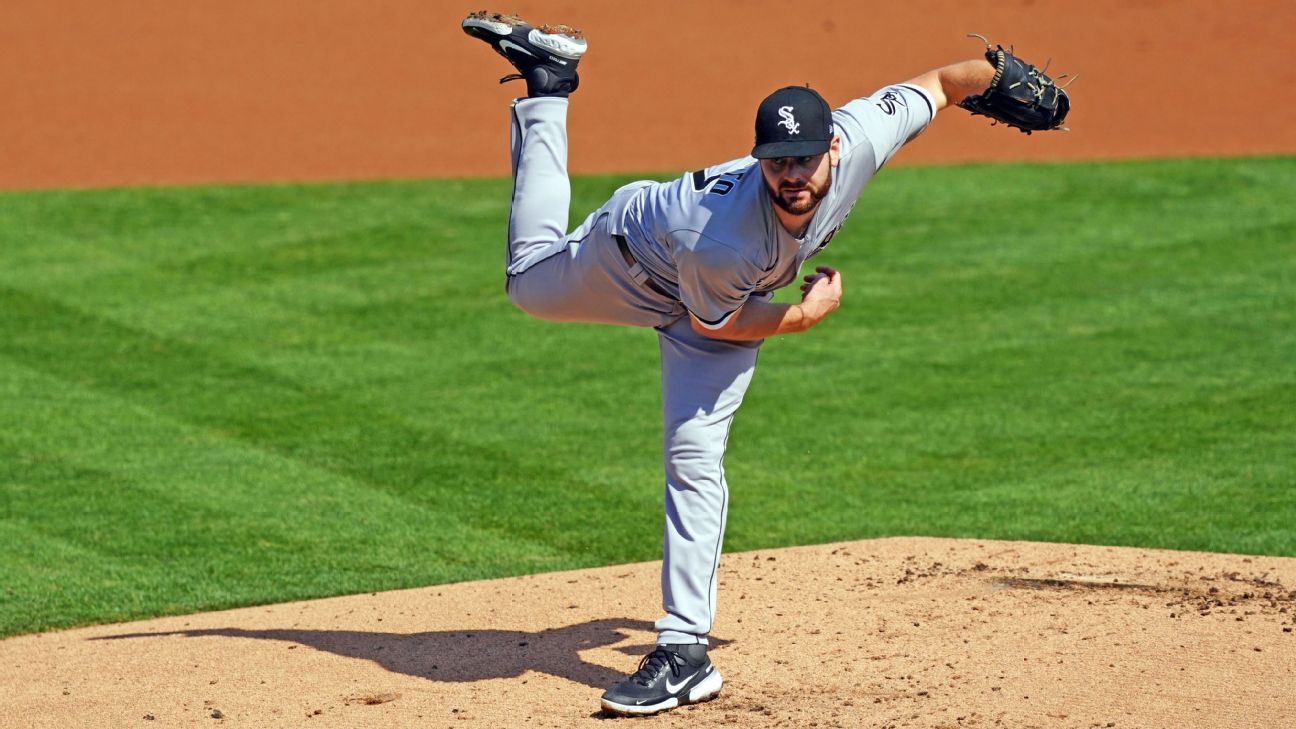 The 2020 MLB playoffs began Tuesday with four American League Wild Card Series.
The Chicago White Sox beat the Oakland A's as Lucas Giolito flirted with perfection. The Houston Astros, who finished the 2020 season with a losing record, topped the Minnesota Twins to extend Minnesota's record playoff losing streak to 17 games.
Here are the heroes, turning points and takeaways from the Game 1s as each opening matchup concludes.
Key links: Preview | Predictions | Schedule, bracket | Playoff Baseball Classic
Jump to … CHW at OAK | HOU at MIN
---
Chicago White Sox 4, Oakland A's 1

Game 1 hero: Lucas Giolito. The White Sox ace became the fifth player in MLB history to take a perfect game into the seventh inning of a postseason game and allowed just a run on two hits and a walk over 7-plus frames.
What it means for the White Sox: What does a bad finish tell us? Apparently, not much. The White Sox looked like a dispirited club as they dropped seven of eight to finish the season. In the first game of their first postseason game in 12 years, that changed. It didn't hurt that Chicago's No. 1 starter — Giolito — pitched like a championship-level No. 1 starter, taking a perfect game into the seventh. Just as important though was the lineup of bashers who swaggered their way through most of the short season was back. Adam Engel, Jose Abreu and Yasmani Grandal went deep, as the White Sox were characteristically aggressive at the plate and did damage when they made contact. That was the team we saw for most of the campaign. — Bradford Doolittle
What it means for the A's: The less said about this performance by the A's the better. Their lineup was the biggest question mark heading into the 2020 postseason, and Giolito validated those concerns. He was brilliant, the White Sox's relievers did enough to hold the lead and now the A's — who have bowed out of the playoffs five times in the last eight years without reaching the ALCS — need to beat Dallas Keuchel and his 1.99 ERA to remain alive. — Jeff Passan
Next up: Game 2, Wednesday at 3 p.m. ET on ESPN
---
The Twins surrender three runs in the ninth inning and lose 4-1 to the Astros, setting an American pro sports record with their 17th consecutive postseason loss.
Houston Astros 4, Minnesota Twins 1

Game 1 hero: Framber Valdez. Taking out a former Cy Young winner early is exactly the kind of move that can get you second-guessed in the postseason, but young Valdez made Dusty Baker look very smart when he came in and pitched beautifully in relief of Zack Greinke. The relief outing gave Houston's offense a chance to finally pounce and steal Game 1.
What it means for the Astros: Never did the Astros panic — not when they were stranding runners, not when their starter Greinke got chased after four innings and not when Jose Altuve, in the midst of a season-long struggle, took a full-count Sergio Romo fastball just above the strike zone for ball four to put them ahead in the ninth. Between him and Valdez going five brilliant innings in relief with just a fastball and curveball — and escaping a ninth-inning jam — the Astros did just what they needed to scrape by. And now they're in quite the enviable position: two cracks at a chance to face the winner of Chicago-Oakland in the division series. — Passan
What it means for the Twins: I'd argue that no team needed to win its first game more than the Twins, because now they're staring at that incredible, inconceivable mark of 17 consecutive losses in the postseason. Different teams, different years, sure, but that doesn't mean this streak doesn't feel like the weight of the Mall of America on their shoulders. Those 17 defeats have come in many ways, but this was one of the most painful. Shortstop Jorge Polanco made a lazy error with two outs in the ninth inning, casually flipping the ball wide of second base on what should have been an inning-ending force that would have kept the game tied at 1. Now they have to summon the mental fortitude to ignore those 16 years of history and hit the ball over the fence — or just get a hit with a runner in scoring position after going 0-for-7 in Game 1. — David Schoenfield
Next up: Game 2, Wednesday at 1 p.m. ET on ESPN2
---
More Tuesday games
Toronto Blue Jays at Tampa Bay Rays, live on TBS
New York Yankees at Cleveland Indians, 7 p.m. ET on ESPN