Raheem Mostert's two rushing TDs give 49ers commanding lead
SANTA CLARA, Calif. — It's safe to say third-and-8 isn't a normal running situation, but when you're the San Francisco 49ers with one of the best rushing attacks in the NFL, there might be no such thing.
Facing third-and-8 at the Green Bay Packers' 36 with 5:55 left in the first quarter, coach Kyle Shanahan dialed up a run for running back Raheem Mostert. Considering the field position, it was likely four-down territory for the Niners, allowing Shanahan to call a run in a spot normally reserved for a throw.
GOT HEEEEEM! @RMos_8Ball with the 36-yard TD 👏#GBvsSF pic.twitter.com/YBrTMGNEk6

— San Francisco 49ers (@49ers) January 19, 2020
Mostert and the offensive line rewarded Shanahan's faith as he darted off the left side and through Green Bay's secondary for a 36-yard touchdown and a 7-0 San Francisco lead.
According to ESPN Stats & Information research, Mostert's run was the third rushing touchdown this season on third-and-8 or longer with the first two belonging to the Miami Dolphins.
The most recent rushing touchdown on third-and-8 or longer in the playoffs came from 49ers quarterback Colin Kaepernick in the 2012 NFC divisional round against, coincidentally, the Packers.
Mostert hit 21.87 MPH on his run, the fastest rush by any NFL player in the past four postseasons.
Deebo's block. Mostert's second TD. @49ers lead 17-0! #NFLPlayoffs #GoNiners

📺: #GBvsSF on FOX
📱: NFL app // Yahoo Sports app
Watch free on mobile: https://t.co/jti8uZSrIn pic.twitter.com/LgqzoPwZzD

— NFL (@NFL) January 20, 2020
Adding to the 49ers' lead, Mostert chalked up a second touchdown, rushing from nine yards out with 9:12 left in the second quarter. Since Week 12 including playoffs, Mostert has nine rushing touchdowns, which is the second most in the NFL over that span after Derrick Henry (10).
Mostert's second TD put the Niners up 17-0.
Cleveland Browns have first winning record in six years
CLEVELAND — Finally, the Cleveland Browns have a winning record again.
With a 34-20 victory over Washington on Sunday, the Browns moved to 2-1, giving them a record above .500 for the first time in six years.
Cleveland had gone 90 consecutive weeks without a winning record, which was by far the longest active streak in the NFL. The Browns were last above .500 going into Week 15 of the 2014 season, when they were 7-6, then lost their final three games.
Over the next three seasons, Cleveland would win just four games combined.
"First and foremost, this is a football town," Baker Mayfield said. "They deserve to have a great franchise and a great team, but we are worried about right now. Like I said before the season started, it is about building that culture, bringing the right guys in and pushing this thing in the right direction, which is what we have been doing and we are trying to do. We have to build on this momentum and keep going one game at a time."
On Sunday, the Browns trailed Washington 20-17 in the fourth quarter until Mayfield found rookie tight end Harrison Bryant for a go-ahead 3-yard touchdown pass with 11:19 to play. Cleveland intercepted Dwayne Haskins for a third time on Washington's ensuing series, then running back Nick Chubb put the Browns back in command for good with a 20-yard touchdown run, his second score of the day.
The New York Giants now hold the longest streak without a winning record at 55 weeks.
Indianapolis Colts' Philip Rivers 6th QB with 400 TD throws, 60K passing yards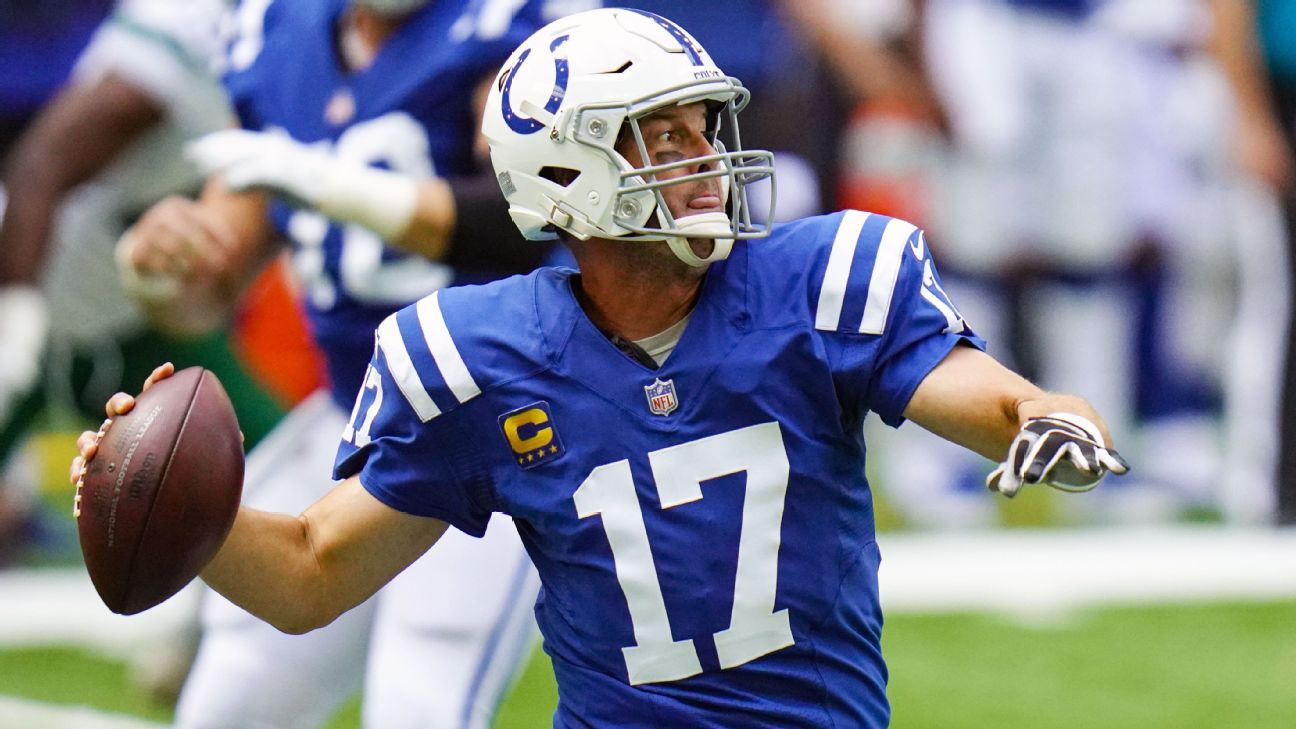 INDIANAPOLIS — Indianapolis Colts quarterback Philip Rivers joined elite company during Sunday's 36-7 win against the New York Jets, becoming the sixth quarterback in NFL history to throw 400 career touchdown passes and top 60,000 passing yards for a career.
"The milestones are meaningful. I'm not going to sit here and tell you they don't matter. I do care about them," said Rivers, who already had received a number of text messages about his feat. "They are meaningful. I dreamed of playing quarterback in this league since I was a little kid."
Rivers reached the career touchdown mark on the second play of the second quarter, when he completed a 1-yard pass to tight end Mo Alie-Cox. He joined Drew Brees (550), Tom Brady (544), Peyton Manning (539), Brett Favre (508) and Dan Marino (420) as the only quarterbacks to reach 400 TDs.
Favre and Marino are in the Pro Football Hall of Fame. Manning will be a first-ballot inductee in 2021, while Brees and Brady are also expected to be first-ballot picks once they retire.
Rivers threw the first 397 touchdown passes of his career during his 16 seasons with the Chargers. He threw at least 30 touchdown passes in six of those seasons.
He joined that same group of quarterbacks with at least 60,000 yards passing in the second half of a game the Colts never were really threatened in after the first quarter.
"There are still guys who are far, far and away on that list in yards and touchdowns," Rivers said. "Some of those guys when I grew up I was fans of, posters on the wall. Some of them I've been able to compete against. Certainly is special. Certainly thankful. There's always been a guy on the receiving ends of those passes. Always been five guys, backs and tight ends blocking like crazy to allow you to throw. All the guys have been a part of those."
Nobody knew what to expect from Rivers when the Colts signed him, at age 38, to a one-year, $25 million contract to replace Jacoby Brissett as the starter. He was coming off a 2019 season in which he committed 23 turnovers, including 20 interceptions.
But Colts coach Frank Reich had belief in Rivers after the two spent three seasons together with the Chargers. Reich has been on staff with Rivers for 95 of his 400 touchdown passes.
"We felt this (belief) from the start, in the offseason when (general manager) Chris (Ballard) and I were talking about bringing Philip here," Reich said. "The opportunity to bring him here, it was a very unique situation. We talked through that, and having been with the guy, I know what kind of guy he is, know the type of teammate he is, type of leader he is and he's an elite quarterback. He's so accurate, so smart, so tough and has a knack for making plays. So not surprised. He's made a lot of coaches look good with the way he plays. I'm sure glad he's a Colt. I'm just excited at how he's leading our offense, how he leads our team."
Rivers hasn't been flawless (two interceptions in a Week 1 loss at Jacksonville Jaguars), but Sunday was the type of performance the Colts expected out of him. He was an efficient 17-of-21 for 217 yards and the one touchdown. Indianapolis didn't need Rivers to lead the way because the defense accounted for 16 of its 36 points.
The Colts dominated the Jets so much that Rivers had a towel draped over his right shoulder on the sideline, as Brissett took over for the final nine minutes of the game.
"Philip played unreal football (Sunday)," Reich said. "I really think he's played good football for three games besides one or two mistakes. So accurate with the football, so many good decisions. The knack to make big plays to be able to hang in the pocket."
Tarik Cohen of Chicago Bears feared to have suffered torn ACL
The Chicago Bears fear running back Tarik Cohen suffered a torn right ACL in Sunday's 30-26 win over the Atlanta Falcons, coach Matt Nagy said after the game.
"Unfortunately, it looks like Tarik Cohen, after we get confirmation, looks like he did end up tearing his ACL," Nagy said on a video call. "So, that will be a big blow to us there with that, which is unfortunate."
Cohen suffered the injury on a punt return when Atlanta's Brian Hill got pushed into the back of his right leg, caused his knee to bend awkwardly. Cohen went to the ground and immediately clutched his right knee. The 5-foot-6 all-purpose threat was unable to put any pressure on his right leg when trainers help him off the field.
Cohen had two carries for 21 yards and three receptions for 20 yards before the injury.
"I love the guy, he's an important person on this team," Bears defensive lineman Akiem Hicks said. "Someone I have a lot of respect for, somebody that is dedicated to this team and that wants to be the best at what he does. He's all you can ask for in a teammate. He's the energy when we need it, he's the focus when you want it, he's just our guy."
The Bears signed Cohen to a three-year extension earlier this month. Cohen's agent, Drew Rosenhaus, told ESPN's Adam Schefter that the deal is worth $17.25 million in new money ($5.75 million per year) with the opportunity to be worth $18.25 million at $6.093 million per year. Cohen's extension includes $9.533 million fully guaranteed and a $12.033 million max guarantee.
Cohen, 25, is an all-purpose threat on offense who earned a trip to the 2018 Pro Bowl as a return man on special teams. A fourth-round pick out of North Carolina A&T, he rushed for 1,027 yards and five touchdowns and caught 203 passes for 1,534 yards and nine scores over his first three seasons in Chicago (2017 to '19).
Cohen became the shortest player (5-foot-6) since 1934 to throw an NFL touchdown pass when he fired a 21-yard scoring strike as a rookie in 2017. He has two career touchdown passes overall. Also in 2017, Cohen became the first NFL rookie to score a rushing, a receiving, a passing and a punt-return touchdown since Hall of Famer Gale Sayers in 1965.