What really happened during Deflategate? Five years later, the NFL's 'scandal' aged poorly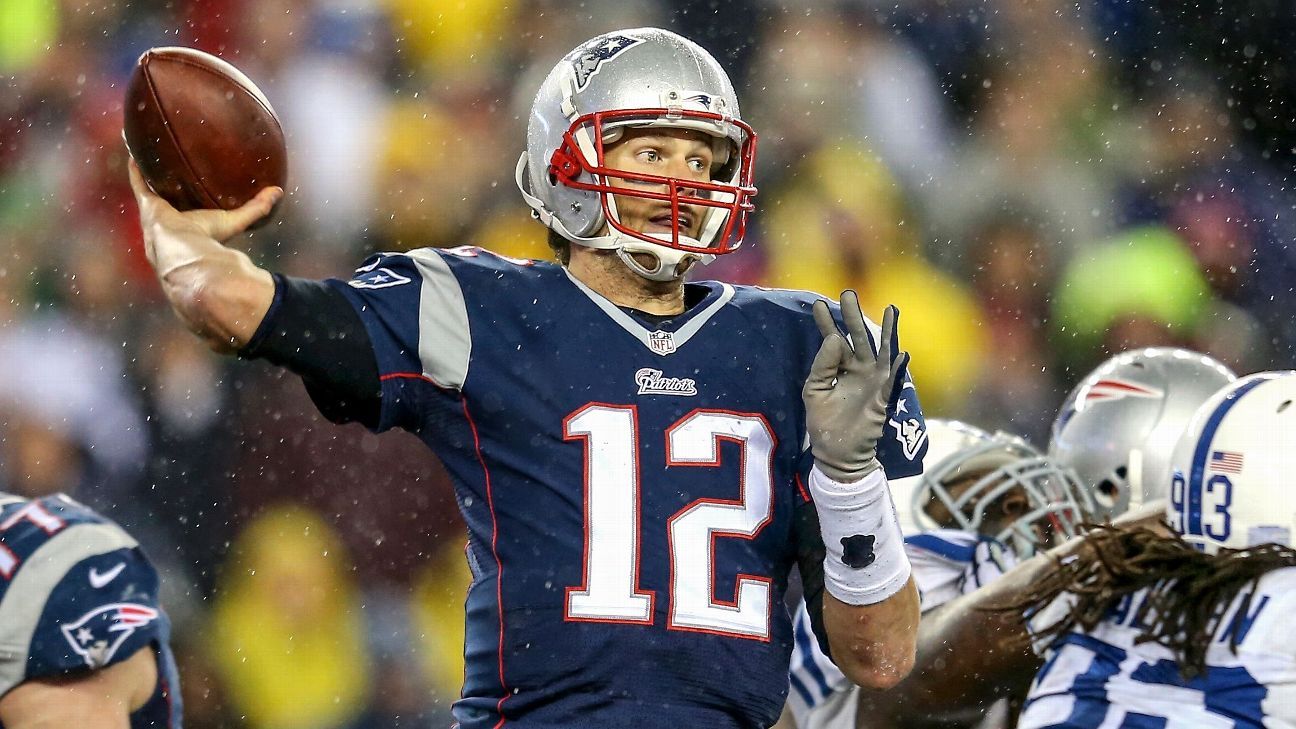 Hey, baseball world: We here on the NFL side are sorry to see your game engulfed in a cheating scandal. It's truly awful to know that the Houston Astros swindled their way to the 2017 World Series title. But I've got to laugh and remind you that five years ago today, the NFL produced a scandal that was chess to your checkers.
Deflategate was a Jedi mind trick to your multiplication tables. It was HD digital to your analog. In its zeal to preserve the perception of credible outcomes, the NFL scandalized itself with an investigation that produced far more suspicion, ill will and accusations of impropriety than the original allegations themselves.
At its core, Deflategate suggested that the New England Patriots used an illegal process for lowering the inflation of game footballs at the behest of quarterback Tom Brady, who preferred the grip of softer balls. The NFL thought it found proof during a surprise and unprecedented inflation check at halftime of the 2014 AFC Championship Game, a 45-7 drubbing of the Indianapolis Colts. It then spent upward of $22 million over the course of two years to investigate, litigate and discipline Brady and the organization.
At best, it was a relatively minor rules violation that no rational person would link to the Patriots' victory two weeks later in Super Bowl XLIX. At worst, Deflategate was a retroactive framing of the league's most successful franchise and a future Hall of Fame quarterback, a clumsy and forgettable endeavor and an unfortunate reminder that the NFL's standard for discipline demands only that an event was "more probable than not" to have occurred. Brady ultimately served a four-game suspension because the NFL believed he was "generally aware" of the scheme.
The Astros' cheating scandal has proved tidy by comparison. It began in November, when former Astros pitcher Mike Fiers explained how the team used video cameras to steal signs and communicate them to batters. In swift order, nearly everyone involved acknowledged, or at least accepted, the basic veracity of the story. Ten weeks later, baseball suspended Astros general manager Jeff Luhnow and manager AJ Hinch and fined the Astros $5 million, the maximum allowed under baseball's constitution. Astros owner Jim Crane accepted the discipline and promptly fired Luhnow and Hinch. Former Astros bench coach Alex Cora lost his job as manager of the Boston Red Sox, and former Astros player Carlos Beltran agreed to step away from his job as the New York Mets' manager.
Additional information could add to the fallout. But if anything, the Astros got off easy for measures that could have substantively contributed to a championship. Crane retained ownership, the franchise kept its World Series title and none of the players involved faced discipline.
The Patriots? They paid dearly for a far less consequential allegation, in part because the NFL considered them repeat cheaters after the 2007 Spygate affair.
In this case, however, the Patriots denied nearly every aspect of the NFL's allegations, including Brady's involvement, and took extraordinary steps to defend themselves. That effort included a website to dispute the NFL's Wells Report on the scandal, one that included multiple scientists pointing out that footballs can deflate naturally based on weather conditions.
The Patriots even submitted an amicus brief on behalf of Brady, who filed a federal lawsuit against the league to overturn his suspension, straddling the line between NFL stakeholder and whistleblower. (Brady got his suspension overturned in 2015 but ultimately lost on appeal and served the punishment in 2016.)
Yet when it was all over, no one could say for sure if Deflategate actually happened. A reasonable person could be left thinking that the investigation itself was the true scandal.
The Wells Report was based largely on a series of text messages from an equipment assistant who referred to himself as "The Deflator," and the unexplained pregame detour of a locker room attendant who brought the game balls into a bathroom with him before the game. There was no direct evidence that the equipment assistant removed air from the footballs, or that Brady asked him to do it. And the halftime inflation measurement was a rushed and haphazard effort, one that would never pass scientific scrutiny to confirm accuracy.
In the end, it is nothing more than an opinion to suggest that it was "more probable than not" that Deflategate happened. In the terms of advanced statistics, the NFL was saying there was a 51% probability that Deflategate occurred but a 100% necessity to issue discipline. It's not outlandish to think that someone connected with the Patriots might have tried to help Brady, or that Brady had tacitly accepted that help, but there's no direct evidence of it.
And when an MIT professor explained that weather conditions could do the same thing, based on the ideal gas law, who could argue? The NFL wouldn't have known either way, because it did not regularly record pounds-per-square-inch readings to that point. For all we know, football deflation occurred naturally every week.
The ensuing rule changes only further undermined the investigation and punishment. They brought structure to pregame measurements, game ball security and compliance, a tacit acknowledgment that there was little objective basis to the 2014 readings.
The shaky connections and the preposterous conclusions of Deflategate have allowed it to slip quietly from the NFL consciousness. The legacy of Deflategate is the complete and utter lack of one, other than the brief entrance of the ideal gas law into the football lexicon — and as grist to limit the benefit of the doubt in the ongoing investigation into the Patriots' illegal videotaping last month from the Cincinnati Bengals' press box.
The league has never released the results of tests on football air pressure, nor acknowledged a single violation in the years since. While Major League Baseball should be expected to institute major efforts to curb illegal sign-stealing, the NFL has left Deflategate to stand alone as an unintended example of what happens when you jump too soon into a rabbit's hole. If you're an angry baseball fan who thinks the game's leaders haven't been vigilant enough about potential cases of cheating, well, let us in the NFL world issue this warning: Be careful what you wish for.
Five mostly quiet years later, I'd like to say the NFL learned a lesson. But sometimes a larger scope is necessary. Five years before Deflategate, the NFL's championship weekend gave us another "gate." The accusation: New Orleans Saints players stood to gain financially if they could injure Minnesota Vikings quarterback Brett Favre during the 2009 NFC Championship Game. The two-year investigation into Bountygate contained so many holes that retired commissioner Paul Tagliabue, brought in to handle appeals and clean up the mess, vacated the discipline of four players and sharply criticized what he called a "contaminated" investigation.
So we'll reserve judgment on whether the NFL has moved past its phase of incendiary investigations. It could just be on the five-year plan, and if that's the case, keep your head on a swivel this weekend.
Detroit Lions to roll with veteran Adrian Peterson as lead running back
Adrian Peterson had more snaps, rushes and yards than the rest of the Detroit Lions running backs combined Sunday. And based on what his offensive coordinator Darrell Bevell said Tuesday, it looks like the 35-year-old future Hall of Famer might end up being the lead back for the club for the immediate future as well.
Peterson played 40 snaps in the Lions' 26-23 victory against Arizona on Sunday, getting 22 carries for 75 yards along with one catch for 10 yards. That followed two weeks of a committee approach between Peterson, Kerryon Johnson and D'Andre Swift.
"It's not anything that those guys are or aren't doing," Bevell said. "We're just trying to, again, accentuate their positives and put them in positions to be successful. You saw Swift. His plays were a little bit down. We want to keep those up and get him more involved. The one play he catches, he has a nice catch-and-run, looks fast, looks explosive.
"It's just continuing to manage those guys and putting them in the best situations."
Those situations come with Peterson atop the depth chart. Detroit signed Peterson after he was released by Washington on Sept. 4. He said he had a opportunities to go to a couple of teams in the league, but he chose the Lions because of an opportunity to play again with Bevell, who was his offensive coordinator at the start of his career in Minnesota.
So far, Peterson has averaged 4.9 yards per carry (43 attempts, 209 yards). Johnson has averaged 3.4 yards (18 attempts, 62 yards), while rookie Swift is averaging 2.5 yards (8 attempts, 20 yards).
Bevell did praise Johnson on Sunday, calling him the "player of the game" due to his pass protection pickup and the small nuances that led to Jesse James' touchdown reception. But it appears Johnson, who has been Detroit's lead back when healthy the past two seasons, might not touch the ball as much as he has in the past.
The question now might be whether or not the Lions have to manage Peterson's workload. He's already played in 167 career games, carried the ball 3,079 times for 14,425 rushing yards. Plus, he's at an age where most running backs are retired or playing a much less significant role.
"I've told you, this guy is a freak of nature now. I don't know where that wall is or where he's going to hit it. The guy is always asking for more," Bevell said. "He is in great shape. He takes care of his body. He does all those little things to set himself up for that success.
"I don't know when it's going to happen, but he wants [the ball], we want him to have it and we'll just keep continuing to go there and spell him with Kerryon, spell him with Swift and kind of go from there."
Running backs coach Kyle Caskey said he and Peterson have an open line of communication about his reps and if he needs rest. Caskey said any management, for now, is "a during the week thing," and on game day they are going to play the game.
"He'll tell me," Caskey said. "That's your answer right there. He'll tell me when he's had enough or when he needs a break. He's communicated well with me since he's been here. I don't think it's anything that I personally need to do to watch him.
"He will tell when he's feeling whatever you want to call it. He is that way. He's not scared to tell me anything, so it's really good. It's a really good coach-player relationship we have with everything."
Eagles' Doug Pederson must 'unclutter' Carson Wentz's mind, and his own – Philadelphia Eagles Blog
Philadelphia Eagles coach Doug Pederson thinks he has found a way to get quarterback Carson Wentz out of his funk, one that has the team sitting at 0-2-1.
To "unclutter" his QB's mind, Pederson signaled he will simplify the game plan so Wentz, who has been one of the worst quarterbacks in the NFL statistically through three games, has less to wade through pre-snap. The Eagles will also run more up-tempo offense as part of a greater effort to get Wentz to play quicker and more freely by leaning on methods that "have been successful in the past."
But, Pederson needs to apply that same back-to-basics logic when it comes to his own performance, too.
» News: Pederson backs Carson Wentz
» Column: Eagles played to not lose, or win
» Graziano: How bad is the NFC East?
» More: Eagles' depth chart, schedule
He has strayed off course and away from some of his guiding tenets early in the season. That fact was crystallized late in overtime against the Cincinnati Bengals Sunday when he elected to punt on fourth-and-12 from the opponent's 46-yard line with 19 seconds remaining, settling for a 23-23 tie rather than giving his offense a chance to go for the win.
There was confusion between plays, as the Eagles' punt team ran on the field, then started running off before a delay of game was called. If that wasn't proof enough Pederson wasn't sold on the decision, his postgame comments hinted at immediate regret, which he confirmed Monday morning.
"Looking back, you probably put it in your quarterback's hands to win the game," he said.
How did we get here? How does the same coach who dialed up the Philly Special in Super Bowl LII against the New England Patriots — a coach who has finished either first or second in fourth-down attempts every season since becoming Philadelphia's leader — wave a white flag in a regular-season game against the stinkin' Bengals (0-2-1)?
One could point to the situation or a lack of confidence in Wentz and the Eagles' offense to get the job done, but however it is framed, the move by Pederson remains out of character. And Pederson, more generally, just hasn't seemed himself.
It's likely one of the coach's greatest strengths — the ability to put ego aside in the name of collaboration — is working against him. There were a lot of cooks added to the kitchen this offseason as Eagles owner Jeffrey Lurie looked to spice up an offense that had become too plodding and predictable. The front office influenced Pederson to part with offensive coordinator Mike Groh and receivers coach Carson Walch. A number of newcomers were added, including senior offensive assistant Rich Scangarello, pass game analyst Andrew Breiner and senior offensive consultant Marty Mornhinweg. Quarterbacks coach Press Taylor got a title bump to pass game coordinator and took over many of Groh's responsibilities.
Pederson was at his best when he had former offensive coordinator Frank Reich as the primary voice in his ear. The coaches who have come on board in Philly all have solid reputations, but when you have that many people speaking, it's a lot of opinions to sift through and fuse together, with an increased chance of being pulled in multiple directions.
Not to mention the opinions of Wentz, who has had a growing influence over how this offense is shaped. A lot of that is for good reason: Wentz has a bright football mind by all accounts, he has gained experience, and you naturally want your quarterback to be comfortable with the plays he is running.
But it feels like Pederson has let things float a little too far away from him. The offense needs to be tailored to the QB and built out to fend off predictability, yes, but it also needs a core identity, and the Eagles' identity is very hard to detect at the moment.
Pederson is the only coach in the history of this franchise to lead the Eagles to a Super Bowl title. And yet there has been no whiff of a power grab. He continues to foster collaboration and allow others to put their fingerprints on things, even when those hands are arguably overreaching. That tactic has generally served this franchise well.
There is also a point where some pushback is needed to preserve what has been built and to get all boats pointed in the same direction. That time has arrived for Pederson. If that means reducing Wentz's creative control and coaching him tougher, so be it. If that means identifying the voices he trusts and tuning out the ones that don't sync up, fine.
The time is now to reestablish his reputation as a "freakin' phenomenal playcaller" and reassert himself as the league's gutsiest coach — the guy who would scoff at the notion of punting for a tie.
All of that is going to happen only if he reclaims the space he has rightfully earned.
Hot start for Cardinals' DeAndre Hopkins coincides with decline for Larry Fitzgerald – Arizona Cardinals Blog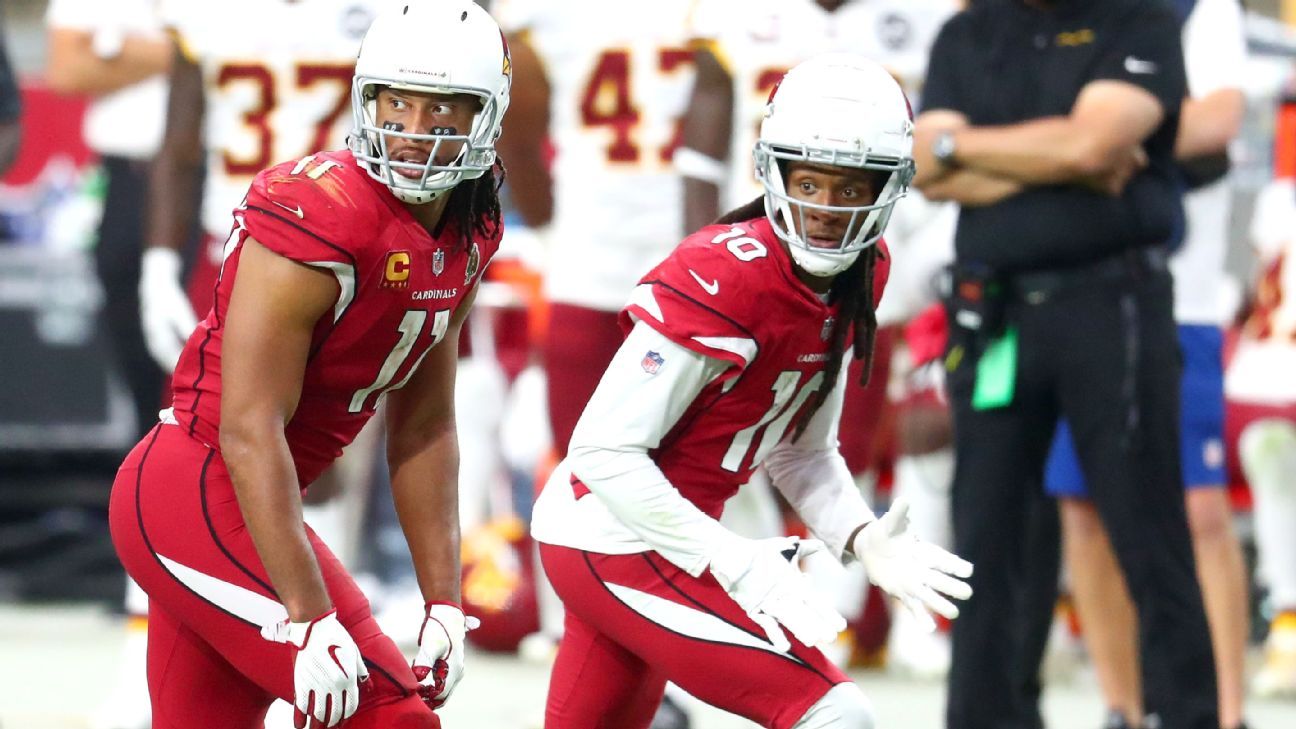 TEMPE, Ariz. — DeAndre Hopkins seems to be settling in quite well with his new team, while teammate and future Hall of Famer Larry Fitzgerald had his lowest receiving output since 2004 on Sunday.
By halftime of the Arizona Cardinals' 26-23 loss to the Detroit Lions, Hopkins had set a personal record for the most receiving yards in his first three games of a season.
And then he continued to build on it in the second half.
When the final horn sounded at State Farm Stadium, Hopkins had 137 yards, giving him 358 through three games, trampling his previous best start of 274 set in 2018 — when he reached 1,500 yards for the second time in his career. The first time Hopkins hit 1,500 yards was in 2015, when he had 252 yards through three games, his second highest mark before this season.
And now there's 2020. Hopkins is averaging 119 yards per game thus far, which puts him on pace for 1,909 yards this season. Only one receiver has surpassed the 1,900 yards mark, and that was former Lions receiver Calvin Johnson in 2012.
• Fantasy fallout: Buy breakout rookie WRs?
• Pederson must 'unclutter' Wentz's mind
• It's Foles' show now as Bears starting QB
• Bengals try to find balance for Burrow
• Hot start for Hopkins, decline for Fitz
"He's doing a great job," Cardinals coach Kliff Kingsbury said of Hopkins. "I thought he played within the offense this week, and the ball came his way. He's just a guy who finds a way to get open. When he has the ball in his hands, he really makes plays with it. You can see him in the open field making people miss, doing things to get the YAC (yards after catch) and that's kind of his specialty."
In his seven seasons since getting drafted in the first round out of Clemson in 2013, Hopkins has five 1,000-yard seasons. Heading into this season, Hopkins had the third-most receiving yards and catches, second-most touchdowns and most targets of any NFL receiver since 2013.
Arguably the league's best receiver, Hopkins has wasted no time in getting acclimated with quarterback Kyler Murray and his first year with the Cardinals.
Through three games, he has caught a career-high 32 passes, which is tied for the third-most in NFL history through games. His 37 targets in three games are the second most of his career.
"Everybody knows his name, who he is on the field," Murray said. "He's one of the best players in the NFL. Obviously having him is a huge deal.
"He's been playing great and hopefully we can keep that going."
A byproduct of Hopkins' emergence has been a reduction of Fitzgerald's role.
The future first ballot Hall of Famer has 84 yards on 12 catches through three games, the fewest of his 17-year career. Before this season, Fitzgerald never had less than 107 yards in the first three games of a season.
A large part of this season's decline was due to Sunday, when he had no yards on one catch, the second time in his career he didn't have a receiving yard in a game. The last time was Oct. 31, 2004 — a stretch of 245 games.
Kingsbury took the blame for Fitzgerald not having any yards, saying he should've done a better job of getting him the ball.
"He's the heart and soul of this team," Kingsbury said. "And when he's getting the football, good things happen. So, that's completely on me."
However, Kingsbury disputed the idea Fitzgerald's decreasing stats are a product of his age — 37 — or Murray having other options.
"No, I don't think it's anything like that, honestly," Kingsbury said. "He had one of the best camps of anybody on the team, and he played great in the first two games. He was getting open. I just did a poor job of getting him the ball."