CC Sabathia says Yankees were 'cheated' out of title in 2017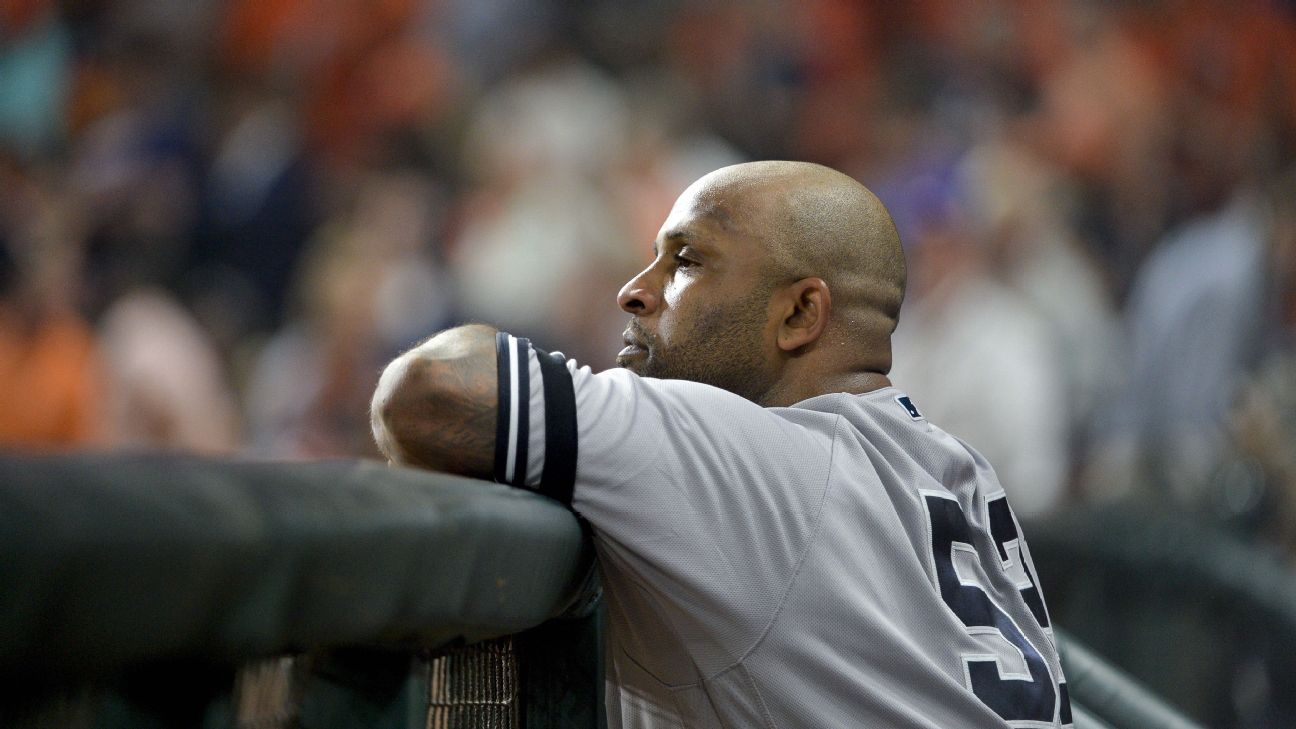 Among the notable victims of the Astros' cheating scandal in 2017 were the New York Yankees, who lost to Houston in a thrilling American League Championship Series that year.
New York went 0-4 at Minute Maid Park, where the Astros were found to have used a monitor displaying the center-field camera feed throughout the 2017 season.
CC Sabathia, the longtime Yankees pitcher who started Game 7 of that series, isn't taking what the Astros did lightly.
"It's weird, like it changes all the time," Sabathia said during an appearance on Showtime's "Inside the NFL" on Tuesday night. "When I first heard it, I was upset, and then as investigations went on … I was like, well, we can't go back and play the games. … But as more information started to come out, I'm like, we played a seven-game series in 2017, ALCS, and we lost really on kind of like one pitch.
"As everything's been coming out and the more facts that we get, it's getting frustrating, man, to sit here and know that late in my career I could've had a title, maybe '17 or maybe '18. But we got cheated out of a team kind of doing something that's not within the rules of the game."
Sabathia, 39, retired after this past season, his 19th in the majors and 11th with the Yankees. He has since taken a job as a special adviser to the team, according to the New York Post.
Sabathia's comments came a day after Major League Baseball suspended Astros general manager Jeff Luhnow and manager AJ Hinch for the 2020 season for their roles in the scandal, which the league said involved the team using a camera-based, sign-stealing system in 2017 and part of 2018. Luhnow and Hinch were later fired by Houston owner Jim Crane.
As part of its penalties, MLB also said the Astros would lose first- and second-round draft picks in 2020 and 2021, and the organization was fined a record $5 million.
Sabathia, though, wishes commissioner Rob Manfred had taken it a step further.
"Vacate it," he told Showtime, referencing the Astros' World Series title that year. "I wouldn't be mad at that."
Major League Baseball still is investigating the Boston Red Sox over allegations they illegally stole signs in 2018. The team on Tuesday night parted ways with manager Alex Cora, who was bench coach for the Astros during that 2017 season.
Boston hired Cora the following offseason, and he led the Red Sox to a World Series title in 2018, getting past Sabathia and the Yankees in the AL Division Series that postseason.
Why MLB players are speaking up about sign stealing like nothing else ever
TEMPE, Ariz. — Mike Trout — exemplary athlete, polished face of baseball, as uncontroversial as they come — stood in front of an Angels-themed backdrop Monday morning and joined the swelling list of star players taking pointed shots at the Houston Astros. Trout stated that he "lost respect" for peers he once considered friends, called all of this "sad for baseball" and cracked jokes about how "fun" it would be to know which pitch was coming. Twenty-five miles west, at Dodgers camp in Glendale, Arizona, Justin Turner, among the game's most respected veterans, went out of his way to torch Major League Baseball's commissioner, Rob Manfred, for the way he seemed to minimize the World Series trophy.
Players everywhere, from Arizona to Florida, in spring training camps dotted throughout both states, have been outspoken in ways a buttoned-up sport like this has never seen. The scathing remarks, aimed at both their peers and the man who oversees their sport, have come from household names and fringe major leaguers, each new voice empowering the other, every day producing new triggers. By the time Los Angeles Angels manager Joe Maddon held court Monday, Trout's comments had already gone viral, adding more fuel to a fire that seemingly won't stop burning.
Maddon called for a moratorium.
"At some point," he said, "we have to stop talking about it. I mean, it's been hashed, rehashed and triple-rehashed. If you watch TV, which I don't do a lot of but they put it on in my office — my goodness, how many different ways can you dissect this? Wounds have to heal. They have to scab over. But if you keep picking at it, it never heals. We have to get to that point where you allow the healing process to begin."
This, perhaps, is part of the healing process. Probably the initial stage of it. Some of the players' comments have been flawed and reckless and hyperbolic, which merely provides a snapshot into the way most of us process anger — emotionally, not rationally. Today's baseball players are displaying a transparency and honesty rarely seen by athletes of their stature. It's humanizing them in ways that fans should appreciate.
"I figured they would get backlash," Angels third baseman Anthony Rendon said of the Astros, "but the anger that's been coming out is definitely surprising."
Rendon was born and raised in Houston and grew up rooting for Astros teams featuring Jeff Bagwell and Craig Biggio. He spoke less than five months after his Washington Nationals defeated the Astros in seven World Series games and sounded more sympathetic than most.
"None of us are perfect people," Rendon said. "We've all made mistakes, we've all fallen short."
That same morning, Boston Red Sox designated hitter J.D. Martinez struck a similar tone.
"I understand players' frustration and stuff like that, but I think, in my opinion, it's already getting a little bit too much," he said. "We have to move past it at some point."
A mere 24 hours later, Atlanta Braves right fielder Nick Markakis stated that every Astros player "deserves a beating" and New York Yankees right fielder Aaron Judge said their 2017 title doesn't "hold any value." Before them, Trout vouched for stronger punishment. Before Trout, Dodgers closer Kenley Jansen called the cheating scandal "worse than steroids." Before Jansen, Chicago Cubs third baseman Kris Bryant deemed the Astros' apologies "a disgrace." Before Bryant, Cincinnati Reds starter Trevor Bauer provided a 1,500-word soliloquy disparaging his sport. And before all of them, reigning NL MVP Cody Bellinger talked about how Jose Altuve "stole" the 2017 AL MVP Award and how his entire team "stole" the championship.
Aaron Judge speaks about the Astros sign-stealing scandal and believes Houston should be stripped of its 2017 title.
The opinions have been diverse but have mostly followed these common themes:
1. Stealing signs the way the Astros did, and knowing which pitch was coming, is a big deal and should not be diminished.
2. Astros players should have been punished.
3. The Astros — particularly owner Jim Crane — have not shown enough contrition.
4. The Astros' illegal sign-stealing practices extended into the 2019 season, even though MLB's investigation stated otherwise.
5. Manfred, entering his sixth season as the sport's commissioner, didn't act quickly enough, wasn't firm enough and hasn't been forthright enough.
Before fielding questions from the assembled media at a ballroom in Scottsdale, Arizona, on Tuesday afternoon, Manfred apologized profusely for referring to the World Series trophy as "a piece of metal," a choice of words that drew the ire of Turner and Jon Lester. Later, Manfred was asked if he had ever experienced such vitriol within his sport.
"I've been around a long time," Manfred said, "and I've never seen this kind of commentary from players about other players in the entire time that I've been involved."
Most of the anger is rooted in self-interest, as is typically the case. It stems from a belief that nothing in sports is more difficult than hitting major league pitching. More specifically: that nothing is more difficult than deciphering spin coming out of a pitcher's hand and reacting quickly enough to meet the barrel with the baseball, particularly in an era of unprecedented movement and velocity. Hitters dedicate their lives to shortening that reaction time; pitchers obsess over ways to keep them guessing.
"You see guys who maybe got kicked out of the league because they got beat by Houston in 2017, you got guys who maybe should've won an MVP, or whatever it may be, or stats that are changed," Dodgers starter Clayton Kershaw said. "It's just a bad feeling because you feel kind of helpless about it. I think guys don't really know how to feel just because it's never really happened before, so you're seeing a lot of different responses from a lot of different people."
There's a lingering fear, amid all the noise, that all of this anger has disjointed the players' union at a time when it must come together for a brewing labor fight. One player rep made a counterpoint — most of the players are actually together, both in their anger toward Manfred and in their anger toward the Astros, whose members make up only 3% of their union. But what if the criticism continues, and suddenly other teams are outed for similar crimes, and the distrust among players escalates?
"Yeah," the player rep said, "that would be bad.
It illustrates a predominant fear, one represented by the question several coaches, managers and front-office executives have posed in recent days: When, and how, will this end?
Fantasy baseball – Everything old is new again
I've got nothing against Luis Robert, Gavin Lux, Jo Adell or any other top prospect on the verge of blossoming onto the big-league baseball scene in 2020. Perhaps it is simply assumed they will be fine but Minnesota Twins DH Nelson Cruz actually hit 41 home runs in 2019. OK, everyone homered a lot, but Cruz also hit .311 with a career-best 1.031 OPS (fourth in baseball). Yet, there is no shortage of high-profile young hitters going ahead of Cruz in most drafts (Gleyber Torres and Yoan Moncada among them) all of whom he bested on the final 2019 Player Rater.
Cubs, Giants to raise minor league pay early
The Chicago Cubs and San Francisco Giants are pushing ahead with pay raises for minor league players this season, days after Major League Baseball mandated salary bumps beginning in 2021.
Cubs general manager Jed Hoyer and Giants baseball executive Farhan Zaidi confirmed the wage hikes Tuesday.
MLB informed teams on Friday that it would be raising minimum salaries for minor leaguers in 2021, according to a memo obtained by The Associated Press. Those increases, ranging from 38% to 72% depending on the level, mean players will earn between $4,800 in rookie ball to $14,000 at Triple-A.
Hoyer said the Cubs' pay bumps will take effect this season and will mirror those made by the Blue Jays in 2019, when Toronto became the first club to boost pay by giving all minor leaguers 50% raises. Hoyer said the idea was pushed by the Ricketts family, which owns the franchise.
"They obviously had read about all the teams talking about changing it," Hoyer said. "They read about the Blue Jays and they're like, 'We need to do this.' We put a tremendous emphasis on player development. We put a tremendous emphasis on our minor league talent, and the Ricketts family were pretty adamant that we treat them as well as anybody.
"So that's the move we're going to make, and we're proud to do it. I'm really happy and proud that they wanted to do it and they just sort of took it on as kind of an ownership project, which is great."
According to the San Francisco Chronicle, the Giants' pay bumps will be slightly more aggressive than the MLB-mandated minimums, with Triple-A players earning $15,000 for the five-month season. By comparison, the major league minimum is $563,500 this year, and the top players make over $30 million annually.
A group of minor leaguers filed a lawsuit against major league teams in February 2014 claiming their meager salaries violated minimum wage laws. While the case has not yet gone to trial, Congress passed legislation in 2018 stripping minor league players from protection under federal minimum wage laws.
San Francisco, which already had a reputation among minor leaguers as being relatively player-friendly after eliminating clubhouse dues and providing nutritious food, is also giving players a hand with housing. Rookie-ball, short-season and low-Class A players will be provided free housing. Class A Advanced players will be placed with host families, and Double-A and Triple-A players will be given $500 housing allowances each month.
Zaidi, entering his second season as president of baseball operations with the Giants, said the club would take feedback from players and could make further adjustments in 2021.
"There was really some momentum behind it before I came into the organization, but just from a personal standpoint, I'm excited that we were able to do it," he said. "I think that it does a lot of good for the organization. I think it's the right thing to do, and we're kind of looking forward to having it in place.
"It's a quality of life issue," he added. "It's a convenience issue. It's a time issue, and just getting a better sense of all that, something we'll continue to evaluate."
MLB's mandated raises come as the league is negotiating with the National Association of Professional Baseball Leagues, the governing body of the minors, to replace the Professional Baseball Agreement that expires after the 2020 seasons. MLB proposed cutting 42 of the 160 required affiliated teams during those negotiations, a plan criticized by small-town fans and politicians at the local and national level.
MLB also has sought assistance from minor league teams in paying salaries and for facility upgrades in those negotiations.