Buster Olney's top 10 teams — Yankees, Dodgers have some competition
Mike Trout, the player with the most significant contract in baseball, does not play for the Dodgers. Neither does Bryce Harper, who has the second-biggest contract, nor Giancarlo Stanton, Gerrit Cole, Manny Machado, Nolan Arenado, Albert Pujols, Stephen Strasburg, Anthony Rendon, etc., etc. In fact, the biggest financial obligation that the Dodgers have with any individual player is $46.6 million, owed to Clayton Kershaw for 2020 and 2021.
The Dodgers haven't and won't announce the details of Andrew Friedman's newly signed contract, but based on his last deal and industry precedent, it's likely that the Dodgers owe more money, as of this morning, to their head of baseball operations than to anybody in uniform.
But it would be misleading to say the Dodgers haven't spent big money, or aren't going to spend. Since Frank McCourt agreed to sell the franchise to the group headed by Guggenheim, L.A. has consistently had one of the largest — if not the largest — payrolls in the majors.
2013: $220 million (2nd)
2014: $209 million (1st)
2015: $272 million (1st)
2016: $254 million (1st)
2017: $226 million (1st)
2018: $191 million (3rd)
2019: $197 million (4th)
The Dodgers' investments have paid off, with seven consecutive National League West championships and an average of about 96 wins — over 1,000 games of dominance. Their average margin in winning the West has been about nine games, and if you ask a lot of evaluators with other teams, they will tell you that the Dodgers have the best players, by far, and the most efficient organization.
But as every Dodgers fan and every Dodgers player is well aware, the team still hangs on the memory of Kirk Gibson's miracle home run in 1988 because L.A. hasn't won the World Series since. Just one championship would change the perception of what the Dodgers have accomplished since Friedman took over, and they've come so very close — falling in Game 7 of the 2017 World Series to the Astros, who will soon be hammered with penalties for illicit sign stealing, and losing to the Red Sox in '18. They began the NL playoffs last fall as the favorites, but were beaten by the eventual champion Nationals in the divisional round.
They've worked to find the finishing pieces, whether it be the addition of the best available starting pitcher in the 2017 summer market (Yu Darvish) or the best position player before the 2018 trade deadline (Manny Machado).
The perception of a lot of Dodgers fans is that they haven't gone all-in. Bill Plaschke wrote about this the other day, and spoke with club president Stan Kasten about it, and the biggest reason for that feeling is that under Friedman, they haven't grabbed one of the mega-contract players. The most expensive players have landed elsewhere.
And you know what? That's been a good thing for the Dodgers.
Chicago White Sox slugger Eloy Jimenez has sprained foot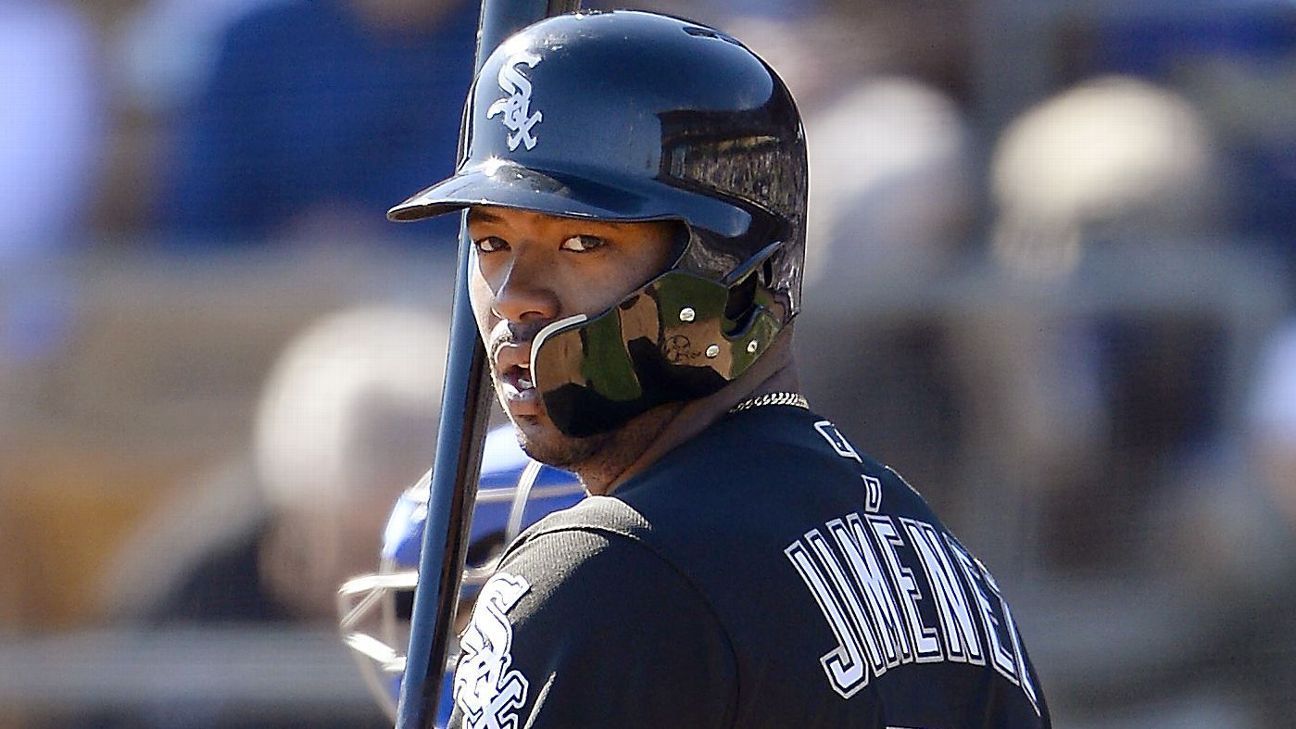 CHICAGO — Chicago White Sox outfielder Eloy Jimenez has a sprained right foot, likely sidelining the slugger for a pivotal season-ending series against the crosstown Cubs.
The White Sox had dropped a season-high five in a row heading into the weekend set, falling out of first place in the AL Central. They are hoping to get back on track heading into their playoff appearance since 2008, but the health of Jimenez is a concern.
Jimenez, who is batting .296 with 14 homers and 41 RBI, was injured sliding across home in the seventh inning of Chicago's 5-4 loss at Cleveland on Thursday. Manager Rick Renteria said the 23-year-old left fielder will need "to be off his feet" for a few days.
"There's inflammation in there, and they want to calm it down" Renteria said. "We'll know more in a few days."
The White Sox trailed the first-place Twins by a game heading into the series with the Cubs. They are just one game ahead of the third-place Indians. The AL postseason begins on Tuesday.
Nationals manager Dave Martinez gets new three-year contract
The Washington Nationals and manager Dave Martinez have agreed to a three-year extension, a source confirmed to ESPN. The deal is worth $7.5 million, according to USA Today.
Martinez had an option on his contract for next season, but this deal would replace that and keep the manager with the reigning World Series champs through the 2023 season.
MLB Network first reported on the two sides agreeing to an extension.
Nationals general manager Mike Rizzo, who signed his own new contract this season, stated that re-signing Martinez was a priority for him.
Brewers' Corbin Burnes on injured list with strained left oblique
ST. LOUIS — Milwaukee Brewers pitcher Corbin Burnes was placed on the injured list Friday with a strained left oblique, likely ending the right-hander's breakthrough season.
Brewers manager Craig Counsell said that if Milwaukee advances to the playoffs, Burnes would be unavailable for the first round and would be doubtful for the second round. The Brewers (27-29) are outside of playoff position but haven't been eliminated from contention heading into the final weekend of the regular season.
"Take the next couple of days off and then start slowly working back into it, and we'll see how quickly we can get things ramped up depending on how I'm recovering," Burnes said.
Burnes is 4-1 with a 2.11 ERA and 88 strikeouts in 59 2/3 innings, a dramatic improvement from a 2019 campaign in which he went 1-5 with an 8.82 ERA.
He suffered his first loss of the season Thursday by allowing three runs and six hits over 3 2/3 innings as the Brewers fell 4-2 to the St. Louis Cardinals. The injury, which was described Thursday night as lower back discomfort, appeared to bother Burnes throughout the fourth inning.
Burnes was placed on the injured list after undergoing an MRI.
"It didn't end the way you necessarily wanted it to," Counsell said. "He had a great season. We've talked about it many times — he should be happy with what he accomplished. One, you've got to heal up and see what happens. But regardless of what happens, he should be really pleased with what he's been able to accomplish in the regular season."
Burnes said the issue started bothering him during his previous start and cropped up periodically throughout the week, but that he felt fine before Thursday's game.
"Everyone asked me beforehand, 'Are you good to go?'" Burnes said. "[I replied], 'I'm good to go.' It was one of those things where there was just a little bit of tightness, but I thought it would be just fine. Everyone's asking me after, 'Do you still think you should have gone last night?' Absolutely. It's one of those things, I think I can go out there and get outs. For the most part, I was able to, up until the very end there. It's one of those things. Absolutely no regrets about going out there last night."