Tennessee Titans get two quick touchdowns after Baltimore Ravens turnovers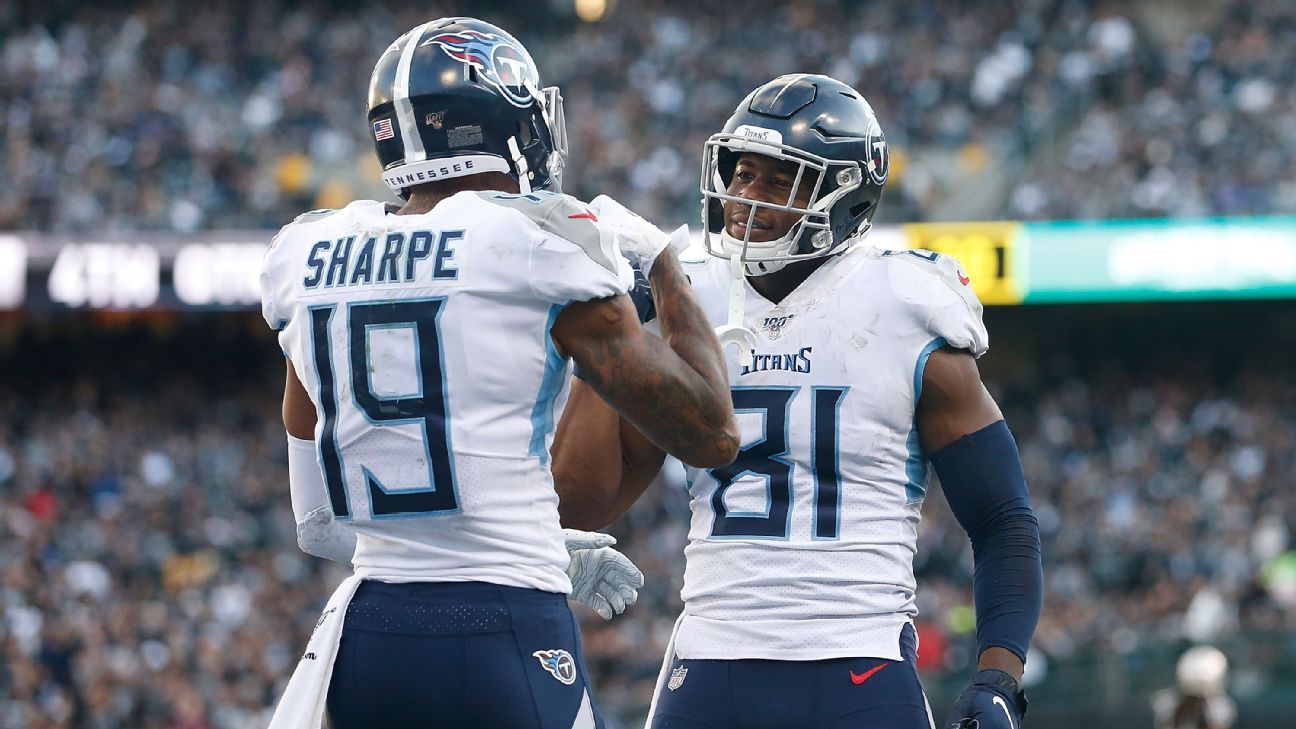 BALTIMORE — Tennessee Titans tight end Jonnu Smith made an acrobatic catch in the end zone to open the scoring in the AFC divisional playoffs against the Baltimore Ravens. Smith's catch came as he jumped and tipped the ball to himself only to gather it against his body before landing in bounds.
EASY MONEY 💰@Easymoney_81 | #TENvsBAL pic.twitter.com/uVwvrC3Omi

— Tennessee Titans (@Titans) January 12, 2020
Titans quarterback Ryan Tannehill laid the ball up perfectly and showed trust in Smith to make the play. The score was set up by Kevin Byard's interception of Ravens quarterback Lamar Jackson. The ball bounced off Baltimore tight end Mark Andrews and Byard returned it 31 yards and drew a personal foul to add 15 more yards.
According to ESPN Stats & Information research, Tannehill is now 6-for-6 with three touchdowns when targeting Smith in the red zone.
Then, after stopping the Ravens' offense on fourth down, Tannehill went deep, hitting receiver Kalif Raymond for a 45-yard score.
KALIF HAS A NEED FOR SPEED! ⚡ #TENvsBAL pic.twitter.com/C78CbGjSh1

— Tennessee Titans (@Titans) January 12, 2020
Ron Rivera's yard sale of Panthers items raises over $30K for charity
CHARLOTTE, N.C. — Twenty-four hours after new Washington Redskins coach Ron Rivera unloaded Pro Bowl cornerback Josh Norman from his roster, he unloaded more than 1,000 items he accumulated in nine seasons with the Carolina Panthers.
Only this time it was for charity.
Rivera and his wife, Stephanie, held a yard sale on Saturday at the Humane Society of Charlotte with the entire $30,237 raised going toward a new campus and research facility for one of their favorite charities during their time in the Queen City.
Approximately 3,000 people stood in line for the opportunity to purchase everything from one of the countless T-shirts Rivera had made with inspirational and promotional slogans to the military paraphernalia he acquired working with the USO of North Carolina to the shoes he wore on the sidelines.
Former players Luke Kuechly, Greg Olsen and Cam Newton also contributed items to help the Humane Society reach their goal of $15 million needed to build what vice president of philanthropy Dona Stucker called a facility in a "real bad state of disrepair."
Even Rivera's dogs, a full-blooded golden retriever named Tahoe and Sierra, a mixed-breed adopted from this shelter, contributed to the fundraiser with leashes, collars, dog beds and even a dog crate.
It was reminiscent of the annual garage sale former Minnesota Vikings coach Bud Grant held for years.
"I didn't realize how much stuff we actually had," Stephanie Rivera said while holding onto Sierra's leash.
Neither did Ron Rivera, who admitted it was tough deciding what items to keep and what to sale. Among those were items from his first win in 2011, first playoff win in 2014 and win in London this past season.
"This is kind of our swan song, our last opportunity to really say thank you one more time," Rivera said.
Rivera was fired with four games left in the 2019 season. He left with two NFL Coach of the Year Awards, a 76-63-1 record that made him the winningest coach in Carolina history and what he called "a lot of stuff."
Fans began lining up for that stuff hours before the noon start. Steve Osment and his family drove five hours from Richmond, Virginia, to participate in the sale.
They didn't leave disappointed, buying three hats, a toboggan, a sweatshirt, a jacket, a dog bed, a cat bed, tennis shoes, dress shoes and a belt Osment said "I've been needing for the past year."
"We've always loved Ron," Osment said. "We just adopted a dog from a shelter. We like what he's doing. For everything he's been to the community and team, we love him and always will love him."
Rivera talked a little football before the gates opened. Regarding the release of the 32-year-old Norman, who also released under him at Carolina in 2016, the 58-year-old coach said that was made in an effort to get younger.
Regarding whether quarterback Cam Newton, rehabbing from Lisfranc surgery, will remain with the Panthers in 2020, be traded or released, Rivera said, "I just know a healthy Cam, I would never bet against him."
Regarding the retirement of middle linebacker Luke Kuechly at 28, the release of Pro Bowl tight end Greg Olsen and other roster moves by new Carolina coach Matt Rhule, Rivera said: "It's kind of the turn of the era. Now it's a time for the new regime to come in and build it their own way."
Rivera's focus this day was on raising money with a sale that was spawned by a conversation between Stephanie and Tammy Reid, the wife of Kansas City Chiefs coach Andy Reid, while they all were in Philadelphia from 1999-2003.
"They had 13 years of stuff with the Eagles," Stephanie said. "She said don't throw it away. They made almost $30,000."
Stucker for one is thankful for that conversation.
"We had no idea what to expect," she said. "It's a testament to Coach and Stephanie and how much they are loved in this community and how much they are going to be missed."
Steelers' Mason Rudolph calls Browns' Myles Garrett's claim a 'bold-faced lie'
PITTSBURGH – Steelers quarterback Mason Rudolph is calling Myles Garrett's assertion that he used a racial slur a "bold-faced lie," and Steelers coach Mike Tomlin is supporting his quarterback.
"1000% False," Rudolph tweeted after Outside the Lines aired a new interview with Garrett after the Browns' defensive end's re-instatement. "Bold-Faced Lie. I did not, have not, and would not utter a racial-slur. This is a disgusting and reckless attempt to assassinate my character."
1000% False.

Bold-Faced Lie.

I did not, have not, and would not utter a racial-slur.

This is a disgusting and reckless attempt to assassinate my character. https://t.co/mZcEcC0tCl

— Mason Rudolph (@Rudolph2Mason) February 15, 2020
In the interview with ESPN's Mina Kimes, Garrett said Rudolph used the slur as he was being sacked with eight seconds left in the Thursday night game on Nov. 14.
Tomlin, though, strongly supported his quarterback in a statement issued Saturday morning — an unusual move for a coach that rarely speaks in the offseason.
"I support Mason Rudolph not only because I know him, but also because I was on that field immediately following the altercation with Myles Garrett, and subsequently after the game. I interacted with a lot of people in the Cleveland Browns organization — players and coaches," Tomlin said in the statement.
"If Mason said what Myles claimed, it would have come out during the many interactions I had with those in the Browns' organization. In my conversations, I had a lot of expressions of sorrow for what transpired. I received no indication of anything racial or anything of that nature in those interactions."
Rudolph's agent and attorney, Tim Younger, also said the "defamatory" statements by Garrett exposed him to "legal liability."
"We waited to hear the entire interview," Younger said. "Garrett, after originally apologizing to Mason Rudolph, has made the ill advised choice of publishing the belated and false accusation that Mr. Rudolph uttered a racial slur on the night in question."
Garrett, who was re-instated by the league Wednesday after a six-game suspension, accused Rudolph of using a slur in the interview with Kimes that aired Thursday night during SportsCenter.
"He called me the N-word," Garrett told Kimes. "He called me a 'stupid N-word.'"
In the interview, Garrett blamed Rudolph for starting the fight that led to $732,422 in fines and the discipline of 33 players, and said Rudolph used the slur as he was being sacked by Garrett with eight seconds left in the Thursday night game.
Rudolph initially engaged with Garrett on the ground, and then charged at him after Garrett forcibly removed Rudolph's helmet. Then, Garrett hit Rudolph over the head with it.
"I don't say the N-word, whether it's with 'a' [or] 'er.' To me, personally, [it] just shouldn't be said, whether it's by family, friends, anyone," Garrett told Kimes. "I don't want to use it because I don't want [people to] find that appropriate around me for anyone to use.
"When he said it, it kind of sparked something, but I still tried to let it go and still walk away. But once he came back, it kind of reignited the situation. And not only have you escalated things past what they needed to be with such little time in the game left, now you're trying to reengage and start a fight again. It's definitely not entirely his fault; it's definitely both parties doing something that we shouldn't have been doing."
Rudolph was fined $50,000 for his role in the incident. He appealed the fine, but it was recently upheld, a source told ESPN.
The Steelers and the Browns were also each fined $250,000. Garrett first alleged Rudolph used the slur in an appeals hearing with the NFL in an effort to get his suspension reduced, ESPN previously reported. Garrett later said he never intended for the accusation to become public, but said, "I know what I heard." At the time, an NFL spokesman said the league "found no such evidence" that Rudolph used the slur.
Rudolph strongly denied the allegation in November and called it, "totally untrue." "I couldn't believe it," the quarterback said Nov. 24. "I couldn't believe he would go that route after the fact."
Texans cut veteran cornerback Vernon Hargreaves III
HOUSTON — The Texans have cut veteran cornerback Vernon Hargreaves III, the team said Friday.
Hargreaves III signed with the Texans in November after he was cut by the Tampa Bay Buccaneers after he was benched in a game. After that game, Buccaneers head coach Bruce Arians said Hargreaves "didn't look like he was hustling to go in for a tackle."
Hargreaves III could have stayed in Houston under his fifth-year option worth $9.6 million, but there was no dead money on the contract because the option is guaranteed for injury only before the start of the new league year in March.
In his end of season press conference, Texans head coach Bill O'Brien said he thought Hargreaves "made the best of" his opportunity to join Houston during the season.
"I don't think that's easy to be able to come in, in the middle of a season, and really later than that, and play that nickel position is not easy," O'Brien said. "So, I give a lot of credit to Vernon. There's a lot of things that he's going to work hard to improve upon. We're going to help them with that, but I think Vernon stepped into a tough situation and really made the best of it."
Hargreaves III, 24, was drafted by Tampa Bay with the No. 11 pick in 2016. In 41 career games, Hargreaves III has two interceptions, two forced fumbles, a fumble recovery and 186 tackles.