Rams set to hire Brandon Staley and Kevin O'Connell as coordinators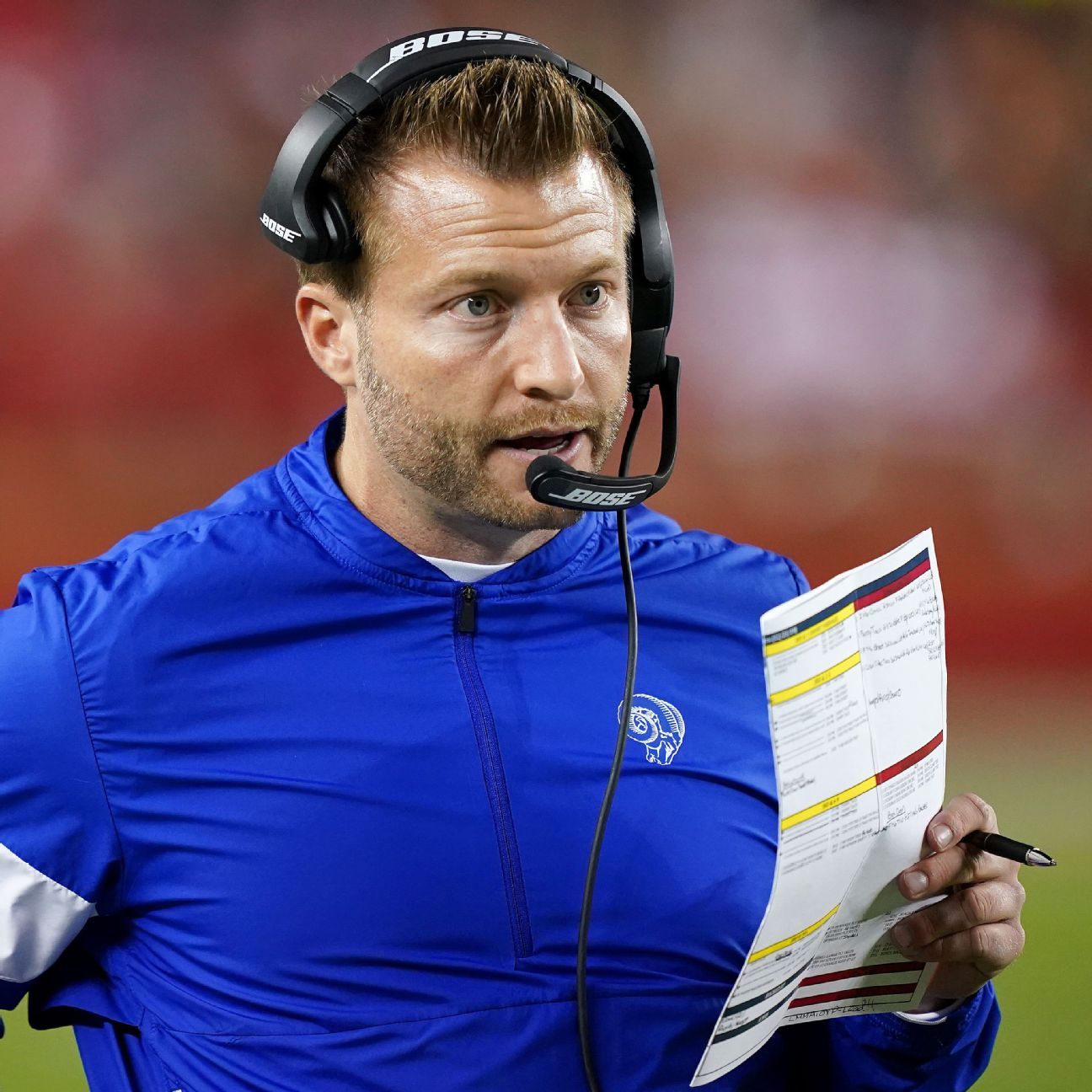 THOUSAND OAKS, Calif. — The Los Angeles Rams are finalizing deals to hire Brandon Staley as defensive coordinator and Kevin O'Connell as offensive coordinator, sources tell ESPN's Adam Schefter.
Staley, who served last season as the Denver Broncos' outside linebackers coach, replaces Wade Phillips, who earlier this week was informed that his contract would not be renewed.
O'Connell spent the past three seasons as an offensive assistant with the Washington Redskins and last season was promoted to offensive coordinator.
O'Connell, 34, fills a role that was vacated by Matt LaFleur after the 2017 season. Head coach Sean McVay has not employed a full-time offensive coordinator the past two seasons.
The Rams' coaching staff has undergone significant changes since the end of an underwhelming season in which they finished 9-7 and missed the playoffs, less than a year after appearing in Super Bowl LIII.
Along with not renewing Phillips, McVay fired running backs coach Skip Peete. Special teams coordinator John Fassel, whose contract also was expiring, departed for the same post with the Dallas Cowboys.
The Rams have not yet named a new running backs coach or special teams coordinator.
Staley, 37, inherits a defense that last season ranked ninth in defensive efficiency and returns star defensive tackle Aaron Donald and cornerback Jalen Ramsey.
It is expected that McVay will maintain his role as playcaller, but O'Connell will play a significant role in helping the Rams' offense rebound from a lackluster season that saw a significant decline in its run-game efficiency.
O'Connell spent three years with the Redskins, with his role increasing each of the past two years. He went from quarterbacks coach in 2017 to passing game coordinator in 2018 and then to offensive coordinator this past season. But he was not the main playcaller until after Jay Gruden was fired following an 0-5 start.
Under interim coach Bill Callahan, the Redskins wanted to be a run-heavy team, which limited their ability to be diverse, especially on early downs. O'Connell also was tasked with trying to develop rookie quarterback Dwayne Haskins. O'Connell spent extra time with Haskins and the two developed a strong bond. It paid off late as Haskins improved. In his last two starts Haskins completed a combined 31 of 43 passes for 394 yards, four touchdowns and no interceptions. And an offense that had sputtered most of the season scored a combined 62 points.
O'Connell had hoped to return as Washington's offensive coordinator. He interviewed twice with new coach Ron Rivera but O'Connell wanted more say in his staff, a source said. Rivera ended up hiring Scott Turner as the offensive coordinator.
Information from ESPN's John Keim was used in this report.
Deion Sanders announces he'll be Jackson State's next head football coach
Deion Sanders will be the next head football coach at Jackson State, he announced on his new podcast, 21st & Prime, on Sunday.
"God called me to Jackson State," Sanders said on the first episode of the podcast according to a transcription by the Clarion Ledger.
Sanders, a member of the Pro Football Hall of Fame after a stellar NFL career during which he also played Major League Baseball, is a first-time head coach at the collegiate level.
"It's very big for Jackson State University," athletic director Ashley Robinson said, according to the Clarion Ledger's transcription. "Not only for Jackson State University, this is very big for the country right now. Very big for the state of Mississippi. To Coach Prime, Jackson State University — a blue blood program full of Hall of Famers — it's just a great time."
Currently serving as the offensive coordinator at Trinity Christian in Cedar Hill, Texas, Sanders, who starred as a defensive back in the NFL, will finish out the season there before beginning preparations for Jackson State's season, which has been pushed to the spring by the coronavirus pandemic.
Thomas Hudson, Jackson State's acting president, said on the podcast that the move was a result of the "grace of God" and history of Jackson State football according to the Clarion Ledger.
Sanders backed Hudson's comments on the podcast when asked why he was taking the job.
"Why not? Isn't this the time?" Sanders said. "Isn't this the moment? Isn't this what's needed? To match what our President eloquently said, it's a match made in heaven. This is a God move."
Sanders replaces John Hendrick, who went 6-9 overall and 5-5 in the SWAC East. Jackson State's last winning season came in 2013.
While Hudson and Robinson appeared on Sanders' podcast, the school has yet to officially announce his hiring, saying it will have an announcement about the program on Monday.
QB Cam Newton nearly leads New England Patriots to fourth-quarter comeback win
Quarterback Cam Newton nearly led the visiting New England Patriots on a vintage fourth-quarter comeback Sunday night against the Seattle Seahawks, but he was stopped on a designed run at the 1-yard line on the final play of a 35-30 loss at CenturyLink Field.
Newton was remarkable, finishing 30-of-44 for 397 yards with one touchdown and one interception. He added 47 yards rushing on 11 carries and two touchdowns.
His performance kept the Patriots in the game until the final play, in which he took a direct snap and attempted to power over the left side of the line of scrimmage but was stopped for a loss of 1 yard by defensive end L.J. Collier.
"That was favored in the game plan. We ran it a couple times and figured it was something we probably went to the well too many times. But at the end of the day, we felt confident about it and you just have to execute," Newton said.
"I could have bounced it [outside], looking at the clip. I just have to be better at the end. We put ourselves in a position to win. When you do that, you just have to finish."
In his career, Newton had been 16-of-20 scoring on rushing from the 1-yard line, according to research by ESPN Stats & Information. That included his two rushing touchdowns earlier in Sunday's game.
"We had one play to score and we tried to go with what we thought was our best play," coach Bill Belichick said. "Seattle made a good play."
The Patriots didn't disguise their intentions that Newton would likely run on the final play, as they didn't have any receivers or running backs on the field. Instead, they added two extra offensive linemen, along with two tight ends and a fullback.
Asked if he sensed the Seahawks knew what was coming, Newton said, "No, I just didn't make everybody right. That's the only thing I regret. That type of situation, it's humbling to be able to have the respect of a team to have the ball in my hands. I just have to deliver.
"I saw a clip of it. I could have made it right by just bouncing it. I was just trying to be patient. Just thinking too much, man. Or even just diving over the top. There are so many different things that flashed over me. Playing a fast defense like that, as soon as you guess, you're wrong. So I definitely learned from this.
"The play was there. The play had been there all game. Moving forward, we just have to scheme up things, and me being put in that situation again, hopefully we can have a better outcome."
That a Patriots-Seahawks game was decided at the 1-yard line is no surprise, as it has happened that way the past three times the teams have met.
In Super Bowl XLIX, Seahawks quarterback Russell Wilson was intercepted at the 1-yard line by Malcolm Butler to clinch a victory.
In 2016, the Patriots trailed by seven points and drove to the 1-yard line when Tom Brady threw incomplete to tight end Rob Gronkowski in the end zone with 11 seconds remaining.
On Sunday night, the Seahawks appeared to be in command, leading 35-23 with 4:32 remaining in the fourth quarter. But Newton heated up, leading a seven-play, 75-yard touchdown drive in just two minutes, 16 seconds. Newton capped off that drive with a 1-yard touchdown run, helping the Patriots close to 35-30.
With 2:16 to play, and with all three of their timeouts, the Patriots then elected to kick off instead of attempt an onside kick.
The strategy paid off when the Seahawks, on third-and-1, had Russell Wilson attempt a deep pass to Tyler Lockett — a curious playcall that sparked memories of their decision to throw at the goal line in Super Bowl XLIX.
That ultimately gave the ball back to the Patriots at their own 19 with 1:42 remaining, with Newton leading a ferocious charge down the field.
His favorite target overall was receiver Julian Edelman, who finished with eight receptions for a career-high 179 yards.
"Make no mistake about it, the Seattle Seahawks are a good football team. We are a great football team as well. It was great to kind of see where we [measured] up. We just fell short," Newton said.
"The reason why you play this game is for one stat and one stat only. We didn't get that statistic, that's the win. For us, this is a disgusting taste in my mouth. I have to grow and get better in this offense, and hopefully have a better result next week."
Justin Herbert impresses in NFL debut, but Tyrod Taylor still Chargers' starter if healthy
INGLEWOOD, Calif. — It was after the coin toss, a few minutes before the opening kickoff, when Anthony Lynn was hit with the news he could not possibly anticipate.
Tyrod Taylor, the Los Angeles Chargers' starting quarterback, was experiencing chest pain that necessitated a trip to the hospital, meaning Justin Herbert, the 22-year-old who was drafted sixth overall only five months earlier, would be pressed into action against the defending Super Bowl champions.
It took Lynn about 30 seconds just to process the information.
Then he found Herbert.
"I think he thought I was joking," Lynn, the Chargers' fourth-year coach, said. "I had to tell him a couple times, 'No, seriously, you're the starting quarterback.' Once he realized he was the guy, he was fine."
Herbert — possibly helped by having no time to think about the most important game of his life — impressed in his surprising NFL debut, throwing for 311 yards and accounting for two touchdowns in his team's first game at SoFi Stadium. But he could only watch, with his helmet off and his hands on his hips, as Kansas City Chiefs kicker Harrison Butker delivered an improbable 58-yard field goal to hand the Chargers a crushing 23-20 loss in overtime on Sunday.
Lynn said he was impressed by Herbert — but apparently not enough to consider a change at quarterback just yet.
"I'm gonna wait and see what type of health Tyrod is in," Lynn said. "He was our starter for a reason, and if he's 100 percent, ready to go, he's our starter. But I know that Justin can pick up the slack if he can't."
Hours after the game, the Chargers announced that Taylor "experienced difficulty breathing," was taken to a local hospital for further evaluation and, as of 8:20 p.m. PT, had been discharged.
Herbert joined Andrew Luck (2012) and Cam Newton (2011) as the only top-10 quarterbacks to throw for more than 300 yards in their first start and still lose since 2001. And he joined a man named Bobby Clatterbuck (1954) as the only players to accumulate a rushing touchdown and a passing touchdown in the first half of their NFL debuts. At one point, Herbert led a 10-minute, 21-second drive that stood as the Chargers' longest in four years. And before that, in the game's first possession, he scored on a 4-yard scramble, snapping a Chargers streak of 137 consecutive regular-season games without a rushing touchdown from their quarterback.
But it was one mistake and one missed opportunity that spoiled Herbert's debut.
The mistake came in the final seconds of the third quarter, when Herbert scrambled to his left, ignored several yards of open space in front of him and instead threw deep to wide receiver Keenan Allen, across his body and into double coverage, getting picked off by Chiefs cornerback L'Jarius Sneed.
"It would've been great had I just took off and run and got what I could have," Herbert said. "Unfortunately, I threw it and it was a big turnover, and we can't turn the ball over to a team like that and expect to get away with it."
The Chiefs proceeded to tie the game on a miraculous 54-yard connection between Mahomes and Tyreek Hill on which Mahomes unleashed a pinpoint deep ball while rolling right and throwing off one foot. But Herbert came back to lead the Chargers up the field, then faked a pitch and picked up 11 yards on the ground to make it first-and-goal from the Chiefs' 4-yard line — setting up the missed opportunity.
The Chargers failed in their three consecutive chances near the goal line, a result, Lynn said, of Herbert not getting as many red zone opportunities in practice because he wasn't running with the first time. The field goal made it a lot easier for the Chiefs to drive the ball up field and tie the game as time expired, prompting an overtime period that began with a Chargers three-and-out and ended with Butker's field goal — the second longest made in overtime since regular-season overtime began in 1974.
"It's adversity," Herbert said of the loss, which extended the Chiefs' winning streak to 11 games dating back to last season and left the Chargers 1-1 to begin 2020. "I know we'll learn from it. In the long run, it's gonna help us."
Herbert had some misses, particularly when he saw wide receiver Mike Williams late over the top and gave Chiefs safety Tyrann Mathieu enough time to make up ground and bat the football away in the end zone. But he also made some impressive throws, most notably a 25-yard third-down strike to Allen that was perfectly placed between two defenders.
"It sucks what happened to Tyrod; I can't believe that," Chargers defensive end Joey Bosa said. "I've never heard of anything like that before in my life. But it was great to see Herbie out there. I've been liking what I've been seeing from him. I think he's gonna be a good player, and I think he showed out today. Obviously, he made some mistakes with the pick, but we all made mistakes. And for it being his first game, I thought he showed a lot of great stuff."