Rams set to hire Brandon Staley and Kevin O'Connell as coordinators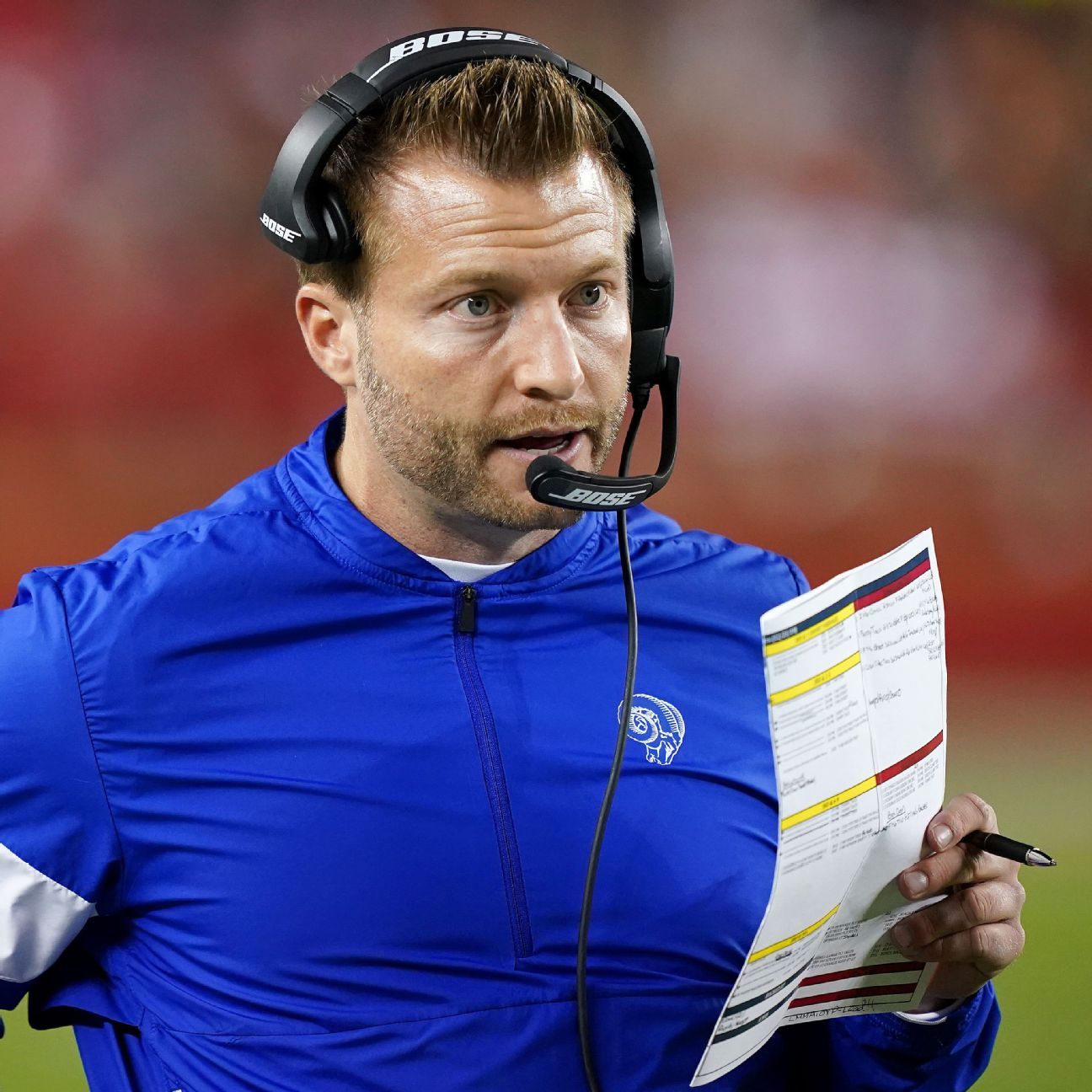 THOUSAND OAKS, Calif. — The Los Angeles Rams are finalizing deals to hire Brandon Staley as defensive coordinator and Kevin O'Connell as offensive coordinator, sources tell ESPN's Adam Schefter.
Staley, who served last season as the Denver Broncos' outside linebackers coach, replaces Wade Phillips, who earlier this week was informed that his contract would not be renewed.
O'Connell spent the past three seasons as an offensive assistant with the Washington Redskins and last season was promoted to offensive coordinator.
O'Connell, 34, fills a role that was vacated by Matt LaFleur after the 2017 season. Head coach Sean McVay has not employed a full-time offensive coordinator the past two seasons.
The Rams' coaching staff has undergone significant changes since the end of an underwhelming season in which they finished 9-7 and missed the playoffs, less than a year after appearing in Super Bowl LIII.
Along with not renewing Phillips, McVay fired running backs coach Skip Peete. Special teams coordinator John Fassel, whose contract also was expiring, departed for the same post with the Dallas Cowboys.
The Rams have not yet named a new running backs coach or special teams coordinator.
Staley, 37, inherits a defense that last season ranked ninth in defensive efficiency and returns star defensive tackle Aaron Donald and cornerback Jalen Ramsey.
It is expected that McVay will maintain his role as playcaller, but O'Connell will play a significant role in helping the Rams' offense rebound from a lackluster season that saw a significant decline in its run-game efficiency.
O'Connell spent three years with the Redskins, with his role increasing each of the past two years. He went from quarterbacks coach in 2017 to passing game coordinator in 2018 and then to offensive coordinator this past season. But he was not the main playcaller until after Jay Gruden was fired following an 0-5 start.
Under interim coach Bill Callahan, the Redskins wanted to be a run-heavy team, which limited their ability to be diverse, especially on early downs. O'Connell also was tasked with trying to develop rookie quarterback Dwayne Haskins. O'Connell spent extra time with Haskins and the two developed a strong bond. It paid off late as Haskins improved. In his last two starts Haskins completed a combined 31 of 43 passes for 394 yards, four touchdowns and no interceptions. And an offense that had sputtered most of the season scored a combined 62 points.
O'Connell had hoped to return as Washington's offensive coordinator. He interviewed twice with new coach Ron Rivera but O'Connell wanted more say in his staff, a source said. Rivera ended up hiring Scott Turner as the offensive coordinator.
Information from ESPN's John Keim was used in this report.
Redskins exercise '20 option for RB Adrian Peterson
The Washington Redskins have exercised their 2020 club option on Adrian Peterson's contract, it was announced Wednesday.
Peterson, who turns 35 next month, will make $2.25 million in base salary in 2020.
Peterson has been Washington's leading rusher each of the last two seasons. The seven-time Pro Bowler rushed for 898 yards and five touchdowns in 15 games this past season.
"Adrian Peterson is the epitome of what it means to be a pro in this league," new Redskins coach Ron Rivera said in a statement. "Adrian's leadership and passion towards the game of football will set an example of what is expected of the players in this program moving forward."
Peterson is the fifth-leading rusher in NFL history with 14,216 career yards on the ground.
The stories behind famous sports miracles
As Al Michaels called the remaining seconds of the United States' 4-3 victory over the Soviet Union in the 1980 Olympics, he turned a phrase that set a new bar for how improbable, iconic sports moments are remembered.
"Eleven seconds, you've got 10 seconds, the countdown going on right now," Michaels bellowed. "Morrow, up to Silk. Five seconds left in the game. Do you believe in miracles? Yes!"
Michaels' call still, 40 years later, causes feelings to stir inside the pit of Ken Morrow's stomach.
"I hear my name called every time they show that, and what a great call," Morrow said. "What makes that a miracle? Al Michaels' call is what makes it a miracle. It's probably not remembered that way without it."
Few sporting events in history have greater relevance and impact than the Miracle on Ice, but other sports moments have been dubbed "miracles," as well. These moments share underlying characteristics to varying degrees — a suspenseful build-up, an unlikely athletic feat that defies circumstance and a certain relevance that follows the aftermath — but they also have their own unique identities, which come to life through the memories of the people who lived them.
---
Miracle on Ice
When: February 22, 1980
Where: Olympiad Center (now Herb Brooks Arena), in Lake Placid, New York
What you know: A collection of the best U.S. college hockey players stunned the Soviet Union's group of grizzled, world-class pros in the 1980 Olympics with a 4-3 victory in a medal-round game. Team USA advanced to win the gold medal against Finland, while the Soviet Union settled for silver after beating Sweden.
What you may not know: The victory had a profound impact on the nation's morale during a turbulent period in the 1980s that was shaped by lingering Cold War tensions, the 1979 oil crisis and the 1979 Iran hostage crisis.
Defenseman Ken Morrow, now the New York Islanders director of pro scouting, was on the ice for a grueling, final 90 seconds as the U.S. held off the Soviets' late push for a win. Six days after the tournament ended, Morrow played his first game with the Islanders and won the Stanley Cup that spring. He went on to win three more Cups, but still considers Team USA's victory one of his greatest achievements, because of its global impact.
Related: Why the Miracle on Ice worked
"In my lifetime, I remember where I was when JFK was assassinated, when Neil Armstrong walked on the moon," Morrow said. "And that's what this was to most people. They tell me where they were when they watched the game. … I've had military people tell me they were on Navy ships and following Russians and sending signals that we beat them. How do you account for that? It really makes you humble. I don't know if there's ever been a sporting event that encapsulates so much."
---
Minneapolis Miracle
When: January 14, 2018
Where: U.S. Bank Stadium in Minneapolis, Minnesota
What you know: Wide receiver Stefon Diggs hauled in Case Keenum's pass near the sideline, stumbled and stayed in bounds to score a 61-yard touchdown. The Vikings beat the Saints, 29-24, and advanced to the NFC Championship. It was the first playoff game in NFL history to end on a touchdown as time expired.
What you may not know: Longtime Vikings play-by-play announcer Paul Allen, who said he has never scripted a call, turned to Pete Bercich as the Vikings headed into their final drive and said, "We're going to need a Minneapolis Miracle."
From Allen's view in the press box, he first noticed the Saints' best cornerback, Marshon Lattimore, was on Adam Thielen, pitting Diggs against rookie safety Marcus Williams.
"Keenum lofts it up … and Stefon started running to the east end of the stadium. That's when I realized it was a 61-yard Minneapolis Miracle … There is nobody that can ever take that moment away and Vikings fans will remember it forever."
The pandemonium that ensued still resonates so deeply with Allen.
"For the first time in my career, fans were trying to jump in the booth to high-five and hug us," Allen said. "And I had the Vikings assistant coaches to the right of me, banging on the glass. People were standing on tables, and all I saw was people with hands on their heads. It's almost like it was such a miracle moment that everybody was waiting for somebody to parachute in and say it's not real."
---
Monday Night Miracle
When: October 23, 2000
Where: Giants Stadium, East Rutherford, New Jersey
What you know: John Hall kicked a 40-yard field goal in overtime to give the Jets a 40-37 victory against the Dolphins to complete the biggest comeback in franchise history. The Jets scored 30 points in the fourth quarter — 23 unanswered — to rally from a 30-7 deficit, the largest fourth-quarter comeback in NFL history.
What you may not know: Arnold Schwarzenegger called for the Jets to "terminate" the Dolphins, which is just about as New York as it gets. Hollywood's favorite android assassin was in the booth before the start of the fourth quarter and lofted this prediction: "Wayne Chrebet is going to pull it off. I think as usual the Jets are going to come from behind, you will see … I think the Dolphins have to be terminated."
Chrebet finished the game six catches for 104 yards and two touchdowns. His second touchdown tied the score, 30-30, with 3:55 to play, but Miami scored on the next drive. With 42 seconds remaining, tackle Jumbo Elliott reported as an eligible receiver and caught a touchdown from Vinny Testaverde in epic fashion. Elliott bobbled the ball before he caught it with a diving snag. It was the only touchdown of Elliott's career and sent the game to overtime. Al Michaels was also on the broadcast for this game, making it the second miracle game he called, along with Miracle on Ice.
---
Music City Miracle
When: January 8, 2000
Where: Adelphia Coliseum (now Nissan Stadium) in Nashville, Tennessee
What you know: The Buffalo Bills rallied from a two-score deficit to take a 16-15 lead over the Tennessee Titans with 16 seconds left in the wild-card round of the NFL playoffs. On the ensuing kickoff, Lorenzo Neal, a player who would normally block on a kick return, scooped up a squib kick and handed it to Frank Wychek, who tossed a lateral pass to the deep man, Kevin Dyson, who ran for a 75-yard touchdown.
What you may not know: The call came in before the kickoff for Dyson to run "Home Run Throwback," which he had never practiced. The guys who had, Derrick Mason and Anthony Dorsett, were injured.
"We all were as nervous as we could be," Dyson said. "[Neal] should be in the Hall of Fame, but man, there was less than a 50% chance he was going to catch the ball. He had hands of bricks. But he caught it. He's a gamer."
More Music City Miracle: Where are the players now, 20 years later?
"I was in utter disbelief the game was over," recalled Antowain Smith, who scored Buffalo's only two touchdowns of the day. "We got back into the locker room and we had some guys crying, some guys just there like, 'Man, I know that didn't just happen.' That was just a sickening feeling."
Wychek's lateral was one of the first game-changing maneuvers tested and upheld by the current replay system that debuted in 1999.
"It seemed like with them reviewing the play, it was taking an eternity," Smith said. "And when they said the play on the field stands, it was just like, you've never been up so high in one moment and then down all in a matter of minutes."
---
Bluegrass Miracle
When: November 9, 2002
Where: Commonwealth Stadium (now Kroger Field), in Lexington, Kentucky
What you know: LSU quarterback Marcus Randall stood on his own 16-yard line and heaved a Hail Mary pass that was tipped into the air by a Kentucky defender and caught by LSU's Devery Henderson at the 15-yard line. He eluded a tackle and scored the 74-yard touchdown to give LSU a 33-30 win against Kentucky as time expired.
What you may not know: As Randall released the ball, Kentucky players stormed the field. Fans climbed the goalpost. Fireworks blasted above Commonwealth Stadium. Kentucky coach Guy Morriss was soaked on the sideline, courtesy of Jared Lorenzen's celebratory Gatorade cooler bath.
The only hangup was the Wildcats lost the game on a can-you-believe-it Hail Mary from Randall to Henderson.
The play that made the desperation attempt even possible occurred seconds earlier when Randall completed a pass to Michael Clayton. Pinned at the 9 yard line, Randall hit Clayton for a 17-yard gain to get LSU to the 26. LSU called a timeout to set up the game-winning play — "Dash Right 93 Berlin" — with two seconds left.
---
Miracle at the Meadowlands
When: November 19, 1978
Where: Giants Stadium, East Rutherford, New Jersey
What you know: Joe Pisarcik fumbled the game's final handoff to Larry Csonka as the Giants attempted to run out the clock against the Eagles, who had no timeouts left. Herm Edwards picked up the ball on the first bounce and scored a 26-yard touchdown to give Philadelphia a 19-17 victory.
What you may not know: Two plays before the infamous fumble, Pisarcik rolled to the ground, a common way to keep the clock running before kneeling was introduced in 1987, but a skirmish ensued after a hard hit. Offensive coordinator Bob Gibson ordered another run on the final play.
When the Eagles signed Pisarcik as a backup quarterback two years later, he shared with Edwards the chaos that preceded the play.
"When they broke the huddle, there was a conversation of, 'Well, we don't need to run the ball,' but the call from the side was to huddle one more time," Edwards recalled. "Joe was looking at Jim Clack, the center, and he hiked it a little bit too soon. Joe isn't ready for the snap."
Coach Dick Vermeil had his back turned as he prepared a play, in the event the Eagles could get the ball back. He never saw the fumble, according to Edwards.
"It's almost surreal in the fact that you're part of a play that, at that point in time … you don't know the magnitude of it," Edwards said. "I mean, this thing happened in 1978 and people still talk about it."
---
Memorial Day Miracle
When: May 31, 1999
Where: Alamodome in San Antonio, Texas
What you know: Sean Elliott hit a corner 3-pointer with nine seconds left to give the Spurs an 86-85 victory against the Trail Blazers in Game 2 of the Western Conference finals. The Spurs had been down 18 points in the third quarter. Stacey Augmon almost stole the pass, Rasheed Wallace almost blocked the shot, and Elliot balanced on the sideline not to step out of bounds.
What you may not know: On July 22, less than a month after the Spurs defeated the Knicks in five games to win their first championship, Elliott held a news conference to disclose he needed a kidney transplant. Elliott had a kidney disease called focal segmental glomerular sclerosis and found out he needed a transplant in April of the 1998-99 season, but quietly played on. The fact that he even played in that game, let alone delivered the game-winning shot, is remarkable in itself. "I just felt I had a responsibility to the team," Elliott said during the news conference. "It's been something I've been living with for a while, so I really didn't let it creep into my mind that much." Elliott's brother, Noel, donated his kidney in August and Sean played two more seasons until he was 32.
---
Miracle on Grass
When: June 29, 1950
Where: Estádio Independência in Belo Horizonte, Brazil
What you may know: The United States men's soccer team shocked England with a 1-0 victory in the 1950 FIFA World Cup. Despite being heavily attacked in the opening minutes of the group match, Joe Gaetjens scored in the 37th minute to shock England, which at the time was largely considered to have the best team in the world.
What you may not know: The U.S. team was comprised mostly of amateur, part-time soccer players set to rival England's team of seasoned professionals. Five of the US players were from St. Louis, including goaltender Frank Borghi, who had previously played as a minor league baseball catcher and drove a hearse for his family's funeral home. The win was so unlikely that only one American journalist, Dent McSkimming, made the trip to cover the game for the St. Louis Post-Dispatch and according to multiple reports, he paid his own way overseas. The audience of mostly Brazilian fans were raucously cheering on the Americans to defeat England so Brazil would not have to play the powerhouse in its final game. It was also the United States' last appearance in World Cup play until 1990.
---
Photographs by Getty, Illustrations by Joel Holland
Who is Patriots' next TE? Scouting draft prospects who could fill void – New England Patriots Blog
FOXBOROUGH, Mass. — The New England Patriots knew it would be a challenge to fill the void created by Rob Gronkowski's retirement in 2019, but they couldn't have envisioned it would be this hard.
Patriots tight ends ranked last in the NFL in receptions and targets, according to research by ESPN's Stats & Information, and New England was tied with the Chicago Bears for the fewest receiving touchdowns from tight ends (two).
Limited production from the position was one factor in the Patriots' season ending earlier than it had in a decade, with a home loss in the AFC wild-card playoff round to the Tennessee Titans on Jan. 4. It highlights how tight end is a major priority for the team in 2020, which could mean anything from a run at potential free agents such as Hunter Henry (Los Angeles Chargers) and Austin Hooper (Atlanta Falcons) to targeting the position in the NFL draft.
If there was a silver lining to the abrupt end to the season, it's that coach Bill Belichick and offensive coordinator Josh McDaniels had open dates to attend this year's Senior Bowl. While there isn't a tight end currently projected to be a first-round pick, Belichick and McDaniels had an up-close look at some of this year's best prospects.
What did they see?
Senior Bowl executive director Jim Nagy, a former Patriots scout, breaks down the Senior Bowl tight ends, with some crossover at the fullback spot as well:
Jared Pinkney (Vanderbilt, 6-foot-4, 260 pounds): "If you go back and look at his numbers in 2018 [with 50 receptions, 774 receiving yards, a 15.5-yard average and seven TDs], he was a top producer in the SEC. But they lost [quarterback] Kyle Shurmur and consistent quarterback play, and his numbers suffered [20 catches for 233 yards and two TDs in 2019]. I told him coming into the week that I thought his situation was very similar to O.J. Howard when he was coming out of Alabama [in 2017]. O.J. … went back to Bama and [quarterbacks] didn't target him much [in 2018]. With Jared, this is a talented guy with size to play on the line of scrimmage, he can be an effective in-line blocker, and he's shown what he can do in the pass game. He's not a super athlete, and I wouldn't expect him to be a combine star, but he's really fluid and he knows how to get open. Going into this process, over the summer, he was our No. 1-rated tight end."
Stephen Sullivan (LSU, 6-5, 229 pounds): "They listed him as a tight end, and also as a wideout. But really, he's a mismatch player. He is really, really fluid. For a guy his size, he can really run routes. He has a really generous catch radius; he can go up and get the football. I've equated him all along to [the Raiders'] Darren Waller … coming out [of college], they are very similar prospects. He's a Day 3 player [Rounds 4-7], but with a creative coaching staff that can get guys mismatched, he's that type of player. He only had 12 catches [in 2019], but the benefit now is you can cut these [clips] up and sort it. When you looked at that cut-up, that's when you really got more excited about him."
Josiah Deguara (Cincinnati, 6-2⅜, 239 pounds): "We brought him in to play fullback as he has the right frame to line up in the backfield. He can get through the hole and strike people with good pad level. He's a good bender. He is similar to [West Virginia's] Trevon Wesco from last year's game. More athletic than Trevon, but not quite the same in-line blocker as an attached 'Y' [lined up next to a tackle] that Trevon was. But really similar in the sense that they are both scrappy, highly competitive, tough guys. They are the kind of guys you want on your team at some point — Wesco went in the fourth last year — because they play on special teams. [Deguara] can really, really run. He's going to be someone's starting fullback and you can do a lot with him in the pass game. He's a good route runner who has a really nice skill for setting up routes and getting open."
Harrison Bryant (Florida Atlantic, 6-4⅜, 240 pounds): "He was the Mackey Award winner [as the nation's top tight end], and is a really athletic guy. He's a little undersized, so he isn't the 6-5/6-6 on-the-line guy but he's athletic in space, so you can get him on the move and do things. He's scrappy. He's willing to block and … he did a nice job Senior Bowl week in the run game — better than people probably expected. But he won the Mackey because of his production as a receiver. Where you really get excited about him is after the catch. Even though he didn't run a lot of different routes at FAU, you knew he could do it because of his change-of-direction with the ball in his hands. He's going to be a playmaker in the pass game and he has a good enough feel."
Adam Trautman (Dayton, 6-4⅞, 256 pounds): "He's done nothing but climb and climb. He had a great week at the Senior Bowl. He went [to Dayton] as a quarterback and just kept growing. He has the measurables, is a crisp route runner, has good quickness. He has a basketball background, he can catch the ball over people. Adam was truly a man among boys at that level this year [70 catches for 916 yards and 14 TDs]. Then to come down to the Senior Bowl and show out like he did, he might be the first tight end taken. He's going to test well and he's a great kid. He's hungry. What he really showed [at the Senior Bowl] was what he can be as a blocker. Everyone knew what an athlete he was and what kind of player he was in the pass game, but here he is going against SEC-level guys, some really good ones in the game this year, and he just fought his tail off and got into people and showed a level of physicality and competitiveness. Someone is going to draft this guy to be their starter."
Brycen Hopkins (Purdue, 6-3¾, 238 pounds): "He's the son of [longtime Titans offensive lineman] Brad [Hopkins], NFL bloodlines. He's a phenomenal kid. Really bright. He had a big senior year statistically [61 catches, 830 yards, seven TDs]. He was going down to the wire with Harrison Bryant for being the most productive tight end in the country this year at the FBS level; Trautman was the most productive at the FCS level. Hopkins is a really good route runner. Hands were a little inconsistent on tape during the fall, but I thought he caught it really well Senior Bowl week and answered some of those questions. He's going to do a really nice job at the combine. He probably will be the best tester at the position. They didn't ask him to do a ton as a blocker at Purdue, so the physicality, that will be where he needs to make his biggest [jump]. But I think he will play on special teams and will have a role in sub packages early, because he can really run and is a mismatch."
Charlie Taumoepeau (Portland State, 6-2¾, 248 pounds): "We used him at fullback. He was kind of the favorite small-school guy of the West Coast area scouts in the fall. He really got our attention last year as a junior, in the two games they played up in competition against Oregon and Nevada. He really went off. He is a really fluid athlete who can run. A really natural catcher. He [shined] down here in Senior Bowl week and did a really nice job blocking — even in pass pro. Charlie is another guy you can get production from in the pass game. He's a really smooth route runner and has quickness at the top of the break, so he can get open."
Sean McKeon (Michigan, 6-5, 248 pounds): "He was injured early in the week and didn't play in the game. Sean is a legit 'Y'-sized guy, which makes him a little different from some of the others. He has a nice, big frame. Good blocker. He can come in and be functional on the line of scrimmage pretty quickly. He's a really solid kid whose ceiling is probably as a really good No. 2. He's not the pass-game player that some of the others are. Hands were a little inconsistent at times, but he's a big target who runs well. He's tough, competitive. I don't know if McKeon will get drafted higher than the fifth [round], but … it shouldn't be any lower than that for him."