Bears fear linebacker Roquan Smith has significant pectoral injury
CHICAGO — The rest of Bears linebacker Roquan Smith's season is in jeopardy.
Smith, Chicago's leading tackler, suffered what is believed to be a significant pectoral injury in the first quarter of the Bears' 31-24 victory over the Dallas Cowboys on Thursday night.
"We'll get more details in the next couple of days, [but] it doesn't look real good for him," Bears coach Matt Nagy said after the game.
Smith made contact with Cowboys running back Ezekiel Elliott as he crossed the goal line to cap Dallas' opening 17-play, 75-yard touchdown drive. Kevin Pierre-Louis replaced Smith on defense for the remainder of the game.
Chicago's first-round pick in 2018 (eighth overall), Smith had a career-best 15 total tackles last week. The Bears are already without another starting inside linebacker, Danny Trevathan (elbow), who was replaced in the starting lineup by Nick Kwiatkoski.
Smith entered Thursday's game with 99 tackles, two sacks and one interception on the season. As a rookie last season, he played in all 16 games and posted 122 tackles, five sacks and an interception.
"It could be a big loss," Nagy said. "The way that Roquan has been playing the last couple of weeks, he's been flying around and making plays. You just love that confidence that he's bringing to the defense.
"The depth that [the front office] has created on their roster allows guys like Kevin Pierre-Louis to step up and make plays. You feel bad for Roquan but we know we have guys that can fill in. It's a good thing to have that depth."
Pierre-Louis finished the Cowboys game with five tackles, two pass breakups and one tackle for loss.
The Bears (7-6) next travel to Green Bay for an important showdown with the Packers in Week 15.
2020 NFL analytics survey – Which teams are most, least analytically inclined?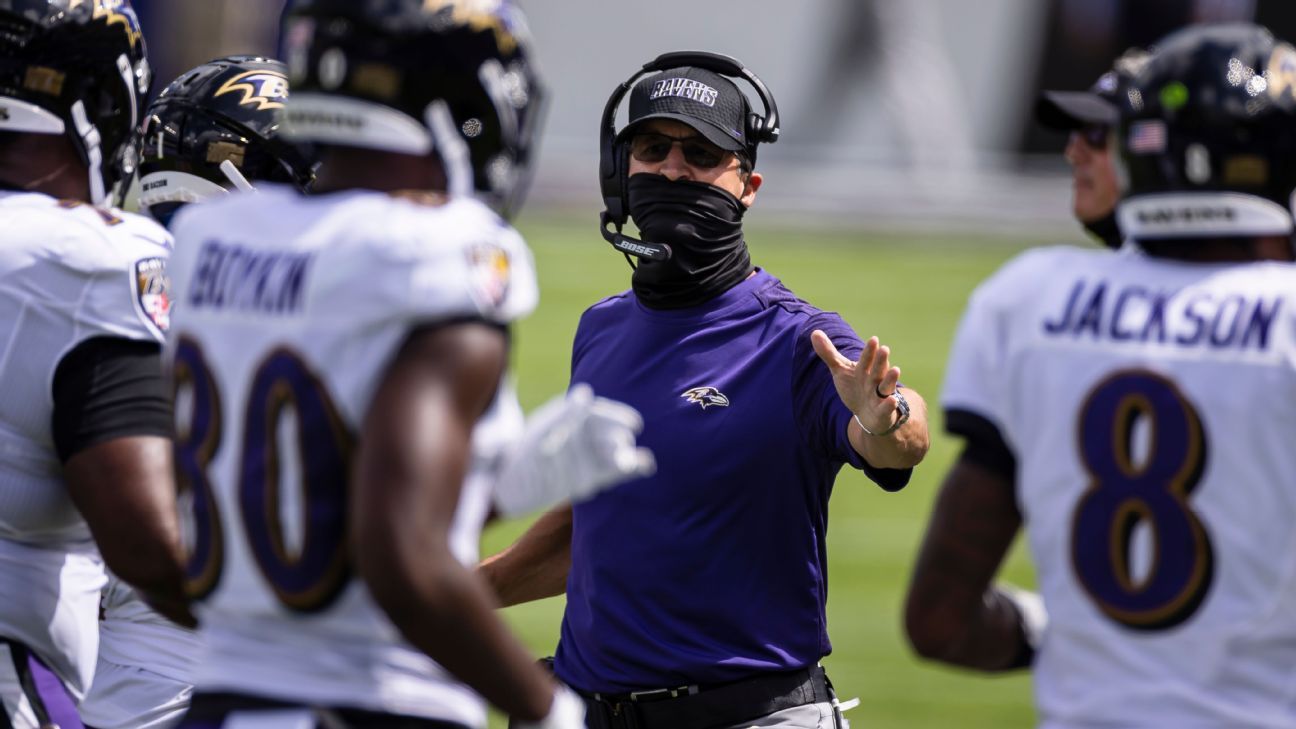 When it comes to analytics in the NFL, the Baltimore Ravens are No. 1.
That's the take of analytics staffers around the league, as polled by ESPN in our first NFL analytics survey. Of course, it's a tricky question. There's some visible evidence of analytics work — on fourth-down decisions or draft-day trades, for example — but there's even more that's invisible to those outside each organization. There's secrecy and competitive advantage involved, so no one knows exactly what everyone else is doing. Which is why we ask, because if anyone has a good sense of how analytics are playing a role, it's the analytics staffers themselves.
So we surveyed 26 people who are current NFL analytics staffers or have been in the past year on a variety of topics during this past offseason — including the most and least analytically inclined teams — in what is no longer a niche area of football. (My list of analytics staffers around the league currently includes 85 people.) Some staffers left additional comments, and others were called by ESPN for contextual follow-ups. And all were granted anonymity so they could speak freely.
Note: 26 people were surveyed, though a few abstained from some questions. Participants were allowed to select their own team where applicable.
Jump to:
Most advanced | Least advanced
Player tracking | Most affected area

Which NFL team is the most analytically advanced?
1. Baltimore Ravens (15 votes)
2. Cleveland Browns (7)
T3. Philadelphia Eagles (1)
T3. Houston Texans (1)
Two voters abstained.
Which team most incorporates analytics into its decision-making?
1. Baltimore Ravens (14)
2. Cleveland Browns (6)
3. Philadelphia Eagles (2)
T4. Houston Texans (1)
T4. Indianapolis Colts (1)
Two voters abstained.
I grouped these two questions into one category because the Ravens won both and the runners-up were pretty similar. And given their fourth-down and 2-point aggressiveness — longtime staples of the analytics playbook — this was probably the chalk result.
"You saw how aggressive the Ravens were on fourth down last year. It's because [head coach John] Harbaugh trusts the numbers, he trusts the analytics there. What Harbaugh has done is truly amazing. He has changed the culture of the team to believe in this stuff," one staffer said, pointing out the video of a fired-up Lamar Jackson encouraging his coach to go for it on fourth-and-2 against the Seahawks last season and Harbaugh listening.
Getting Harbaugh's buy-in was huge. Because as many staffers pointed out, quantitative analysis only works when the decision-makers are willing to use it.
The ratio of Ravens win probability gains to win probability losses stemming from fourth-down decision-making was substantially higher than that of any other team in the league last season, according to ESPN's model. The abridged version: They made better fourth-down decisions than anyone else. Houston and Philadelphia, which each received a single vote for most analytically advanced team, ranked second and fourth in the category, respectively (the Panthers were third).
Baltimore last season also ran play-action at the highest rate, another offensive choice that data analysis has revealed to be a significant advantage for the offense. Yes, the team's style of offense leaves it less clear that the choice can truly be attributed to analytics, but it's still something that we can look to as further evidence. The 49ers and Rams, two teams viewed as being on the upper end of the analytics spectrum (see below), ran play-action on the second- and third-highest percentage of plays, respectively.
Then there is the fact that the Ravens have one of the largest known analytics staffs in the league. They were early adopters, hiring their first director of analytics in 2012. A large staff can mean more specialization, and a longer history of analytics in the organization often leads to better work and better integration of data analysis into decision-making.
"It's very rare for teams to start with analytics and move backwards," said one high-level team staffer.
"For those teams in particular, there's a commitment at the highest levels of the organization," another NFL analytics veteran, lumping Baltimore in with the two other teams regularly considered to be in the top tier of NFL analytics, the Browns and Eagles. "Cleveland with Paul DePodesta, Philly with Jeffrey Lurie … and then in Baltimore with Eric DeCosta. Those guys are publicly advocating for analytics, and then they back that up with head count."
But Baltimore was not a unanimous selection for either of these categories.
"I think most places, analytics acts like the 10th scout," said one staffer, referring specifically to personnel decisions. "You'll go around the room, and there's nine scouts, and analytics will act like the 10th scout. Whereas I think the only two places where the analytics are the process instead of being just a cog in the wheel of the process are Cleveland and the Eagles. Maybe the Vikings."
To that end, Minnesota pulled off the best draft pick-for-draft pick trade in the 2020 draft, according to our model, and cumulatively accrued the value of an additional second-round pick through its draft pick trades this year.
---
Which NFL analytics team produces the highest level of work?
1. Cleveland Browns (8)
2. Baltimore Ravens (5)
3. Philadelphia Eagles (4)
4. Buffalo Bills (3)
T5. Dallas Cowboys (1)
T5. Atlanta Falcons (1)
T5. Houston Texans (1)
T5. Indianapolis Colts (1)
Two voters abstained.
This is where the Browns stood out, beating out the Ravens, Eagles and Bills. Though the general belief is that analytics usage was dormant during the John Dorsey regime from 2017 to '19, the Browns largely maintained the analytics group they grew under Sashi Brown, who was the team's executive vice president from 2013 to '17. And now many believe that group will play a larger role under new general manager Andrew Berry.
"I think that Cleveland is probably positioned to be the most analytically advanced in 2020 and beyond," one staffer wrote. "They have a robust infrastructure in this area that survived multiple regime changes and is now aligned philosophically with their head coach and general manager."
"Andrew Berry, he's a true believer," said another. "He's one of these rare guys you'll come across … in life where you think to yourself, 'Man, this guy thinks at a different level. Just pure genius.' He's one of them."
---
Which teams are among the top five most analytically advanced?
1. Baltimore Ravens (23)
2. Cleveland Browns (20)
3. Philadelphia Eagles (18)
T4. Buffalo Bills (7)
T4. San Francisco 49ers (7)
T6. Minnesota Vikings (6)
T6. Seattle Seahawks (6)
T8. Indianapolis Colts (5)
T8. Los Angeles Rams (5)
T8. New England Patriots (5)
T11. Dallas Cowboys (4)
T11. Miami Dolphins (4)
T11. New York Giants (4)
T14. Houston Texans (3)
T14. Jacksonville Jaguars (3)
T16. Atlanta Falcons (2)
T16. Kansas City Chiefs (2)
T18. Carolina Panthers (1)
T18. Denver Broncos (1)
T18. Green Bay Packers (1)
T18. New York Jets (1)
We asked voters to give their No. 1 choice and then pick the next four in any order. Two voters selected only four teams.
The goal here was to push past the generally agreed upon first tier of Baltimore, Cleveland and Philadelphia. Who's next?
The answers were far more spread out, but some consensus did emerge, with the Bills, 49ers, Vikings and Seahawks earning the most votes among the others. What became clear is that there are so many aspects of a football team that data analysis can affect, and that different teams rely on analytics in different ways. One staffer surmised that the Rams were particularly analytically inclined in the draft because they have selected several players that their own team's projection model has been high on. Some additional nuggets from survey-takers on other teams:
"I think the 49ers have sneakily put together one of the top analytics teams in the league."

"The Seahawks … their sports performance is I think possibly the best in the league. I know people think they couldn't be bought in to analytics because of some of their strategies, but their sports performance is phenomenal."

"The Cardinals are not known for analytics but have shown more commitment of late with some recent hires and an analytically inclined head coach."

"The New England one is interesting to me. I think they get credit from people that don't actually know what it is they do. They have a lot of extremely intelligent people on staff. They're able to come up with things similar to what analytics would produce, without actually doing what we'd call formal analytics."
---
Which team is the least analytically advanced?
1. Washington Football Team (6)
2. Tennessee Titans (5)
T3. Cincinnati Bengals (3)
T3. New York Giants (3)
5. Pittsburgh Steelers (2)
T6. Houston Texans (1)
T6. Kansas City Chiefs (1)
T6. Las Vegas Raiders (1)
T6. Los Angeles Chargers (1)
T6. New Orleans Saints (1)
T6. Tampa Bay Buccaneers (1)
One voter abstained.
Many staffers said this was a more difficult question to answer than identifying the most analytically advanced teams.
"There's a handful of teams, probably about 10, that I know essentially nothing about their analytics. Which leads me to believe they're not doing a whole lot," one experienced analytics staffer said. "So it could have been any of those 10 teams."
Washington, which received the most votes, has one staffer listed in a hybrid analytics/scouting assistant role. The team ranked second worst behind the Packers in fourth-down decision-making in 2019, though that may change with new coach Ron Rivera, who is famous for his aggressive fourth-down choices. Carolina, his former team, had the third-best ratio of win probability gained to win probability lost on fourth downs last season.
Tennessee garnered the second-most votes, and it lists zero full-time analytics staffers on its website (though, to be fair, the Titans do run play-action at a high rate). The Giants were maybe the most stratified team in the survey, receiving four votes as one of the five most analytically advanced teams in the NFL and three votes as the least advanced.
While it may not be particularly clear who the least analytically inclined team might be, multiple staffers expressed the opinion that the difference between teams in consideration for the bottom of the list and those in the top tier (Baltimore, Cleveland and Philadelphia) or even the second tier (Buffalo and San Francisco, among others) was vast.
"There is a large spectrum of analytics work being done. You've got [a staffer on another team] with a Ph.D. And then you've got folks with analytics titles and they're … not Ph.D.s," said one person. "There really is such a disparity in technical capabilities."
One further note: The Buccaneers, who received one vote in this category, recently hired Jacqueline Davidson as director of football research, and some surveys were taken before that.
---
If you had to guess, how many teams are building and using metrics based on player-tracking data?
9-16 (14)
0-8 (9)
17-24 (2)
25-32 (1)
Does your team build and use metrics based on player-tracking data?
Yes (24)
No (1)
One voter abstained.
Nearly 90% of respondents said 16 or fewer teams built and used metrics for player-tracking data, yet all but one staffer said their own team did. That's quite the disconnect!
"Sounds like some bias there," said one amused survey-taker upon hearing the results.
"We all think we're better than everyone else," added another. "I think it also shows people don't want to say they're not doing it. I wish I could know how much all those teams actually are utilizing them."
Some important context has to be given to these numbers, however. This was most certainly not a random sample. A team without any known analytics staffers, for example, cannot have had anyone take the survey. And teams with more analytics staffers were more likely to participate in this survey — in some cases, multiple staffers from the same team took the survey. (That being said, the survey-takers did span more than half the teams in the NFL.)
Another caveat: The degree of usage matters. For example, a team might isolate speed measurements to similar situations in order to get apples-to-apples comparisons between players. Some might count that as building and using player tracking, while others may have felt that something more advanced — say, quantifying a cornerback's ability to stick with his receiver in man coverage — was necessary to qualify.
The person who noted the bias earlier said they did not buy that other teams' player-tracking usage was that significant. "There's a difference between building and using it," said the skeptic. "So we can build it, but is anyone using it? So the teams that answered yes, they're partially telling the truth, I think, maybe?"
Either way, these numbers are a pretty clear indication that leaguewide adoption of player-tracking metrics is a little further along than many previously thought.
---
Which area of the game is most affected by analytics across the league?
Game management (10)
Coaching and opponent scouting (8)
College personnel evaluation (5)
Performance/strength and conditioning (1)
Pro personnel evaluation (0)
Salary-cap and contract analysis (0)
Two voters abstained.
Game management is the most visible usage of data analysis in the NFL, so it's not too surprising that it took this category — though coaching/opponent scouting and college personnel evaluation did garner plenty of votes.
"In terms of points added, the most points you can add in terms of unit of time invested is probably like fourth-down decision-making or first-and-10 decision-making or something like that. But getting that from a meeting room in the facility onto the field is a pretty difficult task," said one staffer, who noted that influencing front-office decisions maybe had less of an effect but was easier to achieve.
"They're all valuable to different degrees based on the decision-makers," said a second survey-taker. "You can have the best game-management person, but if the head coach isn't listening, engaged, responsive … that's not going to do your organization any good. Ultimately, the game-management decisions impact your product on the field on game day, which should be high organizational impact."
That respondent also shared some insight on why staffers voted for college personnel as the most impacted area, but not a single person voted for pro personnel. He noted that a list of 1,200 yard-receivers in the NFL in a given season would all be pretty good players. But a list of 1,200-yard receivers would be much more of a mixed bag when thinking about how they translated to the pros.
Data analysis lends itself to adjusting for the talent disparity in college, which is less necessary in the more even playing field of the NFL.
---
If you had to guess, what do you think will happen to the number of analytics staffers employed by NFL teams over the next three years?
Increase by 10-50% (19)
Increase by greater than 50% (6)
Either increase or decrease by less than 10% (1)
Decrease by 10-50% (0)
Decrease by more than 50% (0)
Staffers were relatively bullish on growth in their field over the next few seasons, with most believing there would be a 10% to 50% increase — substantial. But since all of the people surveyed are in analytics, they to some extent have a vested interest in that growth.
Multiple people wondered if COVID-19 and the anticipated hit to NFL finances could slow down hiring in the short term. But ultimately, most figured teams would make more hires because it's just worth it.
"In a salary-cap league, anything you can do outside of the salary cap is kind of a force multiplier," said one survey-taker. "It's not affecting your limited resources. And then even beyond that, if you look at what's the marginal cost of a win in the NFL, it's in the millions and millions of dollars. If you can bring in a team that can help you add even a small portion of that, they're probably paying for themselves."
Fantasy football Week 3 picks, sleepers, busts and rankings
Injury bug? No, Week 2 of the 2020 NFL season was not bitten by the injury bug. This was injury Godzilla, laying waste to the dreams of fantasy football managers everywhere. The carnage stretched from New York to San Francisco, from top overall picks to sleepers, from running backs to defensive ends. Matthew Berry's Week 3 Love/Hate column is here, though, to assure you all is not lost.
"These are the times that try men's souls."
When Thomas Paine wrote those famous words in 1776, he was, I am almost positive, referring to his 12-team non-PPR keeper league with his buddies from Valley Forge.
But the more things change, the more they stay the same. Despite being over 200 years old, Paine's words ring truer than ever.
We've had to piece together teams these first two weeks as the pass-catchers of our teams — Chris Godwin, George Kittle, A.J. Brown, Kenny Golladay, Jamison Crowder, Sterling Shepard, Deebo Samuel, Jalen Reagor and Jack Doyle — all have missed at least one of the first two games or will miss this week.
We've stared in horror as viable running backs sift through our fingers like we tried to pick up sand with our fingers spread apart, as Miles Sanders, Raheem Mostert, Le'Veon Bell, James Conner, Phillip Lindsay, James White and Tevin Coleman all missed at least one of the first two games or they will not play this weekend. And it's not looking good for Cam Akers and Malcolm Brown, either.
We gasped in shock as Courtland Sutton and Marlon Mack were lost for the year, their seasons over before they even started. And it's not looking good for Parris Campbell.
We pounded the table and screamed at the sky when first-rounders starting going down. It started with Michael Thomas and then, this past week, the consensus No. 1 pick in fantasy, in many ways the face of fantasy football for so many of us, Christian McCaffrey, hurts his ankle and is expected to miss four to six weeks with a high ankle sprain.
These are the times that try men's and women's souls, indeed. And as I knelt there on the floor, staring at the tatters of my teams, trying to make sense of what the cruel mistress named fantasy football has put me through in just the first two weeks, the bottom fell out to a depth I never imagined.
Saquon Barkley.
Out for the year.
A consensus top-four pick in fantasy football this year, Barkley was drafted either first or second overall in a whopping 55% of the millions upon millions of ESPN leagues this season. More than half of our leagues have seen one of their top two picks lost for the season, with only a game and a half to show for it. Add in that the other top pick, McCaffrey, is gone for potentially half the regular season of fantasy and it's enough to make even the toughest fantasy player think about calling it a day. What's the point, you think? Am I really going to sift through the ruins of waivers and try to talk myself into Frank Gore? Hey, he's a starter, right?
I was despondent. Depressed. Could I go on, I wondered? Did I have it in me?
And while I pondered that, I emailed Dan Bohm, ESPN Fantasy's director of product management. This has happened once before, you see. In 2017, David Johnson was the consensus No. 1 pick. And he played one game before he was lost for the season.
One game.
The No. 1 overall pick.
And people got one game out of him.
So I had Dan go back and look through the records of the millions of leagues we had in 2017.
And in 2017, 6.78% of the users who drafted David Johnson No. 1 overall …. WON THEIR LEAGUE.
If you think about it, in an ESPN standard 10-team league, you start with a 10% chance of winning it all. So you're telling me people who lost their No. 1 pick in the very first week of the season were able to pull it out 6.78% of the time? That's not ideal, but you know what? It's not nothing.
6.78%.
So I started watching. And listening. I spent days on YouTube, watching every motivational speech from the movies I could find. Looking for inspiration. Looking for something to speak to me, to give me the strength to go on.
And I found it. I found it once in 2017, and I have found it again.
So today, brothers and sisters, I want to share it with you.
With apologies to the cast, crew and especially the screenwriters of "Guardians of the Galaxy," "Miracle" and "We Are Marshall," I'd like you to listen up.
Because when I look around at all of you, you know what I see? Losers. I mean, like, people who have lost players. And we have, man, we have. All of us. Our running backs, our wide receivers, our early draft picks and our late-round sleepers. Sometimes fantasy football takes more than it gives. But not today.
Today, fantasy football has given us a chance.
A chance at greatness.
Great moments are born from great opportunity.
And that's what you have here, gang.
Anyone can win when they luck into Lamar Jackson late. When they have the lowest points against the whole season. When they play the person who loses Dalvin Cook in the final last year. Any player can do that.
But the person who can win his or her league after losing a No. 1 or No. 2 overall pick in Week 2? That person?
That person is a legend.
Now, you look at the waiver wire and that is the final resting place for your players.
This is our past, friends. This is where we have been. This is how we got here. This is who we are. Today, I want to talk about your opponents. They're healthier, deeper, have better matchups and in the projections, they're just better. And they know it, too.
But I wanna tell you something that they don't know. They don't know your heart. I do. I've seen it. I have heard it. I have read it. You have shown it to me. You have shown your leaguemates, by still researching, still reading, watching, listening. You have shown yourself just exactly who you are in your heart.
So when you take that virtual field this week you've gotta lay everything on the line. You will be checking your phone at dinner, in the shower, you'll sleep with it, ready to jump at the first alert. You'll wake up at 4 a.m. to make a free-agent claim so you don't lose your waiver priority. You will work every trade angle until the wee hours, exhausting every possibility. You will research from the souls of your feet, with every ounce of blood you've got in your body, laying it on the line until the final whistle blows.
And when you do that, you cannot lose. If you play like that you cannot be defeated. You understand me? How you play this year, from this moment on, is how you will be remembered.
This is your opportunity to rise from these ashes and grab glory.
This is your chance at greatness.
This is your chance to be a legend.
And those don't come along very often.
So what are you waiting for?
6.78%.
LET'S GO!

Quarterbacks I love in Week 3
ESPN projected points: 22.0
You won't worry with Murray! I'm getting highler on Kyler! If it's fantasy points you curry, time to start Kyler Murray! Yeah, the only thing missing from Kyler Murray's season so far is a great catchphrase. Clearly we are still in workshopping mode. He's an obvious name, of course, but he makes the love list this week because I have him as top-two play overall, the highest I have ever had him and ahead of, yes, Patrick Mahomes. The fourth-best QB in fantasy so far this season, Murray has at least 25 completions and eight rush attempts in each game this season. He also leads all quarterbacks in rushing yards and is second in rushing touchdowns behind only Cam Newton. Numbers, eye test, everything is trending to the positive for the second-year quarterback. And now for the Detroit Lions, for whom everything is trending to the … well, where Lions football always trends. Matt Patricia's defense has given up five touchdown passes in its past five quarters of play and 38 total since the start of last season — third most in the league. Detroit vs. Everybody? In fantasy, it's Every QB vs. Detroit.
ESPN projected points: 20.2
Two weeks into the season, Allen is QB2. "So what, he's played two bad teams!" you say. That he has, I say. And stop yelling at your screen. I can't hear you. But he has been on the love list for two consecutive weeks and he stays on, even facing a good team where he'll get chased around by Aaron Donald. Here's why you need to get on board that Allen is legit and not just a guy dominating weaklings who will then hear an inspiration speech and come back to beat him.
2019: 28.8 attempts/game, 58.8% completion, 6.7 YPA

2020: 40.5 attempts/game, 70.4% completion, 9.0 YPA
We know all about Allen's high fantasy floor due to his legs, but the increase in passing volume — and efficiency — gives him a massive fantasy ceiling, too. He's more accurate, and the addition of wide receiver Stefon Diggs has been a hit. Even if Allen doesn't keep throwing 40-plus times a game, even a modest increase over his 2019 passing numbers makes him a top-10 fantasy QB every week, regardless of opponent.
ESPN projected points: 19.9
Minshew is apparently taking his beer campaign about deserving to be the No. 1 pick in fantasy this season very seriously. He posted 20-plus fantasy points and three passing TDs in each of his first two games. Currently a top-12 QB on the season, he has all the ingredients to continue to be a fantasy star. Pass-happy offense, nice rushing floor (sixth in rush attempts and yards among all quarterbacks since the start of last season), a terrible defense, and he leads the league in Big Mustache Energy, which absolutely should be a thing. Even if wide receiver DJ Chark misses this game (he's questionable as of this writing), I love the matchup with a Dolphins squad that has given up the most fantasy points to quarterbacks and just ruled out starting corner Byron Jones. I love Minshew to keep his fantasy managers — and Bud Light brand managers — feeling good on Thursday night.
Matthew Berry explains that Gardner Minshew going up against the Dolphins' defense gives fantasy managers a better shot at winning than Deshaun Watson, who will be facing the Steelers.
Others receiving votes
Remember back when teams were extra protective of rookie quarterbacks and limited their throwing? Joe Burrow and the Bengals are top five in the NFL in both overall and red zone pass percentage. Cincinnati's line should be able to protect him on Sunday against an Eagles defense that is 19th in pressure percentage so far this season. When not pressured, Burrow has completed 66.2% of his passes with two touchdowns and no interceptions. … Refuse to believe that Ryan Tannehill is a real thing at your own peril. Nine straight games with two-plus passing touchdowns and now he gets 11 players Minnesota generously describes as a "defense." Tannehill is a great streaming option for Week 3. … Atlanta allowed the top-scoring quarterback in fantasy in both Weeks 1 and 2. That means those in deeper leagues, two-QB leagues or the QB-desperate might wanna hold your nose and play the Falcons' Week 3 opponent, Mitchell Trubisky. He's actually been decent this season; don't look now but the Bears are 2-0 and Trubisky is averaging 18 fantasy points a game. … I was mean to the Lions' defense, so let's be nice to their quarterback. Matthew Stafford had big numbers against the Cardinals last season — 385 yards, three scores — and he should have nice numbers assuming wide receiver Kenny Golladay returns in what should be a high-scoring game versus an Arizona defense that has yielded a whopping 41 passing TDs since the start of last season.
---
Quarterbacks I hate in Week 3
Long story short: No one.
Short story long: Do I love Houston's Deshaun Watson on the road against a Steelers defense that brings a ton of pressure and has held opposing quarterbacks to a league-low completion rate? I don't. But come on, it's Deshaun Watson. He can explode against anyone. Same with Matt Ryan against a Bears pass defense that has been outstanding so far this season. But every Falcons game has been a shootout and this game is in Atlanta, where Ryan has traditionally excelled. Ryan could easily toss multiple touchdowns. As could the Rams' Jared Goff against the Bills. Not running out to put him in my lineups considering he struggles with pressure and Buffalo is eighth in pressure rate (30.2%) since the start of 2019, but it's also unlikely Goff gets completely shut down. And I'm obviously not going to put Kansas City's Patrick Mahomes on the Hate list this week — or any week ever — but he has maybe his toughest matchup of the season on Monday night in Baltimore. The point is, the candidates for this week's "QB Hate" aren't guys where I hate their matchup but rather guys where I don't love them as much as I normally do. Maybe that's a cop-out, but I'd rather be honest with guys and just own it rather than try to force a few "QB Hates" that I don't really believe in just because that's the column name. Mahomes, Watson and Ryan are lower than they normally are this week, but assuming they are your only QB I'd probably still start them all depending on your league settings, etc. As always, check my ranks, which are updated all the way up until kickoff at 1 p.m. ET on Sunday.
Field Yates advises fantasy managers who drafted Deshaun Watson to hang tight for one more week because the Texans' schedule gets easier.
---
Running backs I love in Week 3
ESPN projected points: 19.2
Sanders' managers have been through it so far this season. They risked an early-round draft pick in the preseason on a guy with a limited NFL track record in a crowded backfield … and then he missed Week 1 to injury. PANIC TIME! But then Week 2 came along, Sanders was healthy, and he got more than 75% of snaps, 23 touches — including four in the red zone and two goal-to-go carries — and 20.1 fantasy points. I'm not ready to call my preseason call of him as more of an RB2 for season long a total "L" just yet, but this weekend won't help my cause as I expect him to crush once again against a Cincinnati defense allowing 32.5 running back carries per game this season and a whopping 5.5 yards per carry. One way to stop Carson Wentz's interception problems? Just have him hand off to Sanders. Expect a lot of that on Sunday.
ESPN projected points: 15.7
So Drake recently tweeted, "Lol if you're mad about my fantasy output the first couple of games, drop me and bless someone else in your league." Waving bye emoji, laughing emoji. And this concludes my presentation on why Drake and I should never do one of those job-swap things. As an NFL running back, I have the speed of a rock and could take exactly one hit before I was out for the season. Meanwhile, Drake should not be a fantasy analyst, as dropping himself this week would be a huge mistake. RB22 on the season isn't the start people were hoping for, but with at least 18 touches per game, things will get better against a Detroit squad that just got gashed by Aaron Jones (18-168-2 on just the ground last week) and is coughing up a league-worst 6.9 yards per carry this season. I do like Drake's ideas of blessing someone else in your league. You know, uh … candlesticks always make a nice gift, and uh … maybe a place setting or a silverware pattern. OK, let's get two!
ESPN projected points: 10.9
By itself, 35 is just a number. It has no meaning, no context, it's just two digits on a page. But what if I tell you that Kelley has 35 carries through two games and that those 35 carries is tied for sixth in the NFL … and he also leads the Bolts in red zone touches with eight. You're already starting Austin Ekeler, but Kelley, who somehow is still available in 48% of ESPN leagues, is part of the rare NFL backfield in which both guys are fantasy-viable, especially against a Panthers defense that has surrendered an NFL-worst six rushing scores so far this season.
ESPN projected points: 12.6
Is Davis Christian McCaffrey? He is not. But does he know McCaffrey? Yes. Does he spend time with him in the running backs room in Carolina? Yes. Does he often shower with CMC, with droplets of McCaffrey's magical fantasy sweat occasionally splattering onto him? Maybe. The point here is that I went too far with that joke and that Davis is very much a worthy flex in PPR until McCaffrey returns. In essentially one quarter of play last week, Davis had eight receptions and 74 yards on eight targets. That means Davis projects to an NFL-record 32 receptions and 296 yards this week in a full game. Wow! Thanks, basic math! OK, fine, I might have gone too far with the projection as well. But on an offense that is pass-heavy due to both its offensive identity and terrible defense, with a QB who likes to throw short, Davis WILL get a ton of targets. And when he gets work, he produces: 15.7 FPPG in eight career games with 13-plus touches.
ESPN projected points: 10.0
The 49ers lead the NFL in running back target share so far this season and, with Raheem Mostert and Tevin Coleman down to injury, McKinnon is likely to be the biggest beneficiary of those targets (while Jeff Wilson handles the short-yardage role). McKinnon was already bordering on fantasy relevance with Mostert in the lineup — 13-plus fantasy points in each game despite getting nine total touches — so expect him to take a nice jump in Week 3 vs. a Giants squad that gave up 113 rushing yards to Benny Snell Jr. in Week 1 and 127 total yards and a score to David Montgomery last week.
Stephania Bell expects Jerick McKinnon to get more work than the 49ers anticipated solely out of necessity.
Others receiving votes
Heavy Giovani Bernard usage worried Joe Mixon managers on Thursday night. But that was two games in five days to open the season for Cincinnati. I suspect Thursday was about not running Mixon into the ground right out of the gate. Expect his role to return to normal Sunday. … Speaking of usage, look for Devin Singletary's to rise in Buffalo. Zack Moss has been dreadful out of the gate — just 2.8 yards per carry and a long run of 8 yards. Singletary might move back into fantasy relevance thanks to his backfield mate moving out of it. … It's a brutal matchup, but Darrell Henderson ran well last Sunday and as of this writing (Wednesday night) both Cam Akers and Malcolm Brown missed practice. If even one of them is out for the game, I like Henderson here to provide very viable flex numbers. … You're not gonna use him this week but deeper league players in need of a RB should stash La'Mical Perine of the Jets. Gut call he's their starter sooner than later.
---
Running backs I hate in Week 3
ESPN projected points: 12.2
I thought Bill O'Brien would try to justify the DeAndre Hopkins trade by giving Johnson heavy usage. Instead, Johnson has just 27 touches through two weeks. Meanwhile, Hopkins has 22 receptions so far with the Cardinals. You know, I'm starting to think the Texans might not win this trade. They definitely won't win the line of scrimmage on Sunday against a Steelers team allowing a league-low 2.55 yards per carry to running backs this season and that has given up just one RB rushing touchdown in its past 13 games. Facing the No. 1 run defense in the NFL is never ideal, and when you add in Duke Johnson's return to action, David Johnson is outside my top 20 for Week 3.
Field Yates and Matthew Berry agree that David Johnson has plenty of potential, but neither like his matchup against the Steelers defense in Week 3.
ESPN projected points: 13.0
The hope for those of you who spent an early-round pick on Gurley was that he would do well … well, early. His knees might be wearing down, but he'd at least have some jump at the start of the season, right? Wrong. Gurley has only 3.3 yards per carry this season and if you take away his touchdown in Week 1 he has just 13.7 fantasy points TOTAL through two games. Possibly even worse: He has played just 52% of snaps so far, and Ito Smith saw both Atlanta goal-line carries in Week 2. The Falcons score a ton of points; they just don't seem to like to do it with Gurley on the field. Here's the craziest stat: Matt Ryan is second in the NFL in passing attempts and passing yards. Gurley has 1 receiving yard. ONE. As in, one more than you or me. That is … (checks notes) … not good.
I hope you didn't blow your FAAB budget on Devonta Freeman, Dion Lewis and/or Wayne Gallman. The Giants rank dead last in yards per rush before first contact this season (0.90). And that was with a superstar running back. Here's what they have now:
Dion Lewis: Just 8.7 FPPG in his past five games with eight-plus touches.

Wayne Gallman: 3.6 yards per carry since the start of 2018.

Devonta Freeman: In 2019, ranked last among qualified RBs in yards per rush after first contact.
One of them might wind up with fantasy value this season. I'd say Freeman has the best chance to eventually be "The Guy," but that's no sure thing. The only sure thing is it won't be this weekend, when Freeman is likely to play only limited snaps if he's even active. This feels like a three-headed committee for the near future, and even with a really banged-up 49ers defense coming to town, I'd rather wait and see than start and cry.
---
Pass-catchers I love in Week 3
ESPN projected points: 14.5
Evans was targeted on 34.5% of his routes in Week 2. In Week 3, he might be targeted on 134.5% of his routes because the Broncos allow the most receptions and yards to perimeter wide receivers this season. Chris Godwin being back doesn't worry me, and clearly Evans' hammys don't bother him. The only bother this week is from your opponent when he realizes this is the week he has to face Evans, not Week 1. Easy top-10 guy for me this weekend.
ESPN projected points: 14.8
While Denver might have the worst perimeter defense in the NFL, how 'bout them Cowboys? A league-high three touchdowns to perimeter receivers this season, and they've also allowed a receiver to go over 100 yards in each game so far. Can he change his name to TD Metcalf? No? Fine. Two of the hottest offenses in the NFL face off against two defenses that are struggling. I've got Metcalf here as the most likely bet to be the guy who gets to 100 yards and a touchdown for the third straight game against the should-be 0-2 Cowboys. But Tyler Lockett, Amari Cooper, CeeDee Lamb and yes, Michael Gallup should all be in lineups.

ESPN projected points: 15.0 (Schuster), 14.2 (Johnson)
Smith-Schuster has seen 50% of Ben Roethlisberger's slot targets this season, and there should be plenty of slot targets against a Houston defense that has allowed opponents to go 15-of-19 for 164 yards and two touchdowns to the slot so far this season. Meanwhile among wide receivers in the NFL, only DeAndre Hopkins has more targets than Johnson. I absolutely love Johnson (this weekend and for the year — he was on the preseason "Love" list) and please ignore any incorrect headlines that say different. By the way, did I have to use Hopkins here? Couldn't I have just said Johnson was second among WRs in the NFL in targets? Yes, I could have. So was the choice to use him just another way to take a subtle shot at the Texans for trading Hopkins? Hmm. Hard to say. I'll get back to you.
Matthew Berry isn't sold on Diontae Johnson, unlike Field Yates, who claims, "The Steelers find wide receivers like they are shopping for a sweater at Old Navy."
ESPN projected points: 14.6
Through two weeks, McLaurin leads all players on fantasy points from passes thrown between the numbers. That bodes well for huge fantasy numbers against the Browns: On passes between the numbers so far this season, Cleveland has allowed opponents to go 34-of-46 for 323 yards and five TDs. In related news, he's all Washington has at wide receiver. Terry McScorin made everyone who faded him last week (raises hand sheepishly) look dumb, and he will once again get a ton of looks in a game in which Washington is a touchdown underdog.
ESPN projected points: 12.4
I know I mentioned him briefly above but bringing him up here to suggest we call him A.B. Lamb, because he's already the A or B option in that Dallas passing game, not the C or D option as we expected. Was that a tortured play on words? It was! And it's about to continue, as I expect Lamb to torture that seedy (get it?) Seattle defense that is dead last this season on receptions and yards to the slot, which is where Lamb does his damage. I mean … LAMBage. OK, now I'll stop.
Field Yates and Matthew Berry discuss CeeDee Lamb's fantasy value and whether he's a weekly starter right now.
ESPN projected points: 10.1
I talked up Smith all offseason as a potential late-round TE with upside and, well, please address your thank-you mail to: Matthew Berry, c/o ESPN, Bristol, CT 06010. Gift cards accepted. As I wait for my fan mail to arrive, let me tell you that Smith is TE2 so far this season, has scored three times in two weeks, and all of that is without getting to play the Vikings yet. You know, the team that just let Mo Alie-Cox go for 111 yards on six targets? With A.J. Brown either out or not 100 percent healthy once again this weekend, Smith will be one of the focal points of the Titans' offense.
ESPN projected points: 9.3
Fant looked to have an early connection with quarterback Drew Lock, but even after Jeff Driskel took over last week, Fant still led all Denver pass-catchers in routes run. I don't expect his production to drop with Driskel under center, especially not after Courtland Sutton is out for the season, especially not against a Tampa D that allows the seventh-most yards to opposing tight ends and especially not when you realize he is FANT-astic. That's not an actual stat but it drives Field Yates nuts when I use that pun so I am absolutely making it a thing.
Others receiving votes
If you didn't snag Dalton Schultz on the waiver wire, it's probably too late now. In Week 2 he was top eight at the TE position in targets, receptions, yards, fantasy points and red zone targets. … Drew Sample got nine targets last Thursday after C.J. Uzomah left with an injury. Sure, that's a small Sample size (sorry again!), but Joe Burrow does like to throw to the tight end and Sample will get looks. … Always dangerous to suggest guys on Thursday night because lots of people read this Friday and then when you have a prediction not work out people get mean and then you have to rewatch a bunch of motivational movie scenes on YouTube again. But for those in deeper leagues, I like Keelan Cole and Laviska Shenault for the Jaguars and Isaiah Ford for the Dolphins facing each other in what should be a bit of a shootout. DJ Chark being banged up helps Cole and Shenault (Cole has a score in two in a row and leads the Jags in targets; Shenault has seven carries already this season and has caught 75% of his targets), while Ford led his team in targets last weekend on his way to a 7-for-76 day, and more important, I play against him this week in the ESPN War Room league so you KNOW he's going off. It's science.
---
Pass-catchers I hate in Week 3
ESPN projected points: 12.7
It's not illegal to get old. If it were, I would be writing this column from a prison cell. But Green does look like he has lost a step, with just 80 yards on 22 total targets so far this season. I do believe better days are ahead for Green. Even if you've lost a step, massive target share can make up for that. And he is certainly getting looks from quarterback Joe Burrow. Soon, they will be on the same page. But those better days ahead probably don't include Sunday, as Green will be shadowed by Darius Slay, the guy who just held Rams wide receiver Robert Woods to two catches for 14 yards on 16 perimeter routes last week. He's merely a shaky, TD-dependent flex for me in Week 3.

ESPN projected points: 13.8
Revenge game! The anger, the passion, the trash talk, it's … uh … (looks around) nonexistent. Yes, Woods used to play for Buffalo, but that feels like a million years ago and no one remembers or cares. Possibly the most "boring" revenge game ever. Woods will be shadowed by Tre'Davious White for much of Sunday, as Mike Clay notes in his always excellent WR/CB matchup column. White has allowed just five receptions all season. With Jared Goff's struggles when pressured (among qualified QBs, Goff had the third-largest dip in pass TD% when pressured compared to when not pressured) and given how well Buffalo brings pressure, I expect this to be more of a Cooper Kupp and Tyler Higbee game. Woods is outside my top 20 for the week.
ESPN projected points: 12.5
Speaking of pressure, when Texans quarterback DeShaun Watson is pressured this season, Fuller has zero catches on one target. Considering Pittsburgh is blitzing a league-high 63.8% of the time through two weeks and is creating pressure a league-high 44.7% of the time, Fuller is unlikely to get enough targets to have much Week 3 value. Add in a potentially problematic hamstring (stop me if you've heard this one before) and Fuller is once again a high risk/reward WR in Week 3.
ESPN projected points: 7.8
I don't think Chris Herndon is going to happen. We hoped it would eventually, but it's just not. Not while Adam Gase is still there. Through two weeks, Herndon is 26th in the NFL among tight ends on routes run and, despite the Jets' injuries at wide receiver, Herndon still has only a 16.9% target share. He dropped a touchdown last weekend, which certainly doesn't help him get more opportunities, either. The Colts have allowed just three receptions for 11 yards so far this season to tight ends. There are too many other higher-floor and higher-ceiling tight ends this week to risk Herndon in a 10- or 12-team league.
Matthew Berry, The Talented Mr. Roto, can finally admit that yes, that was another shot at the Texans for trading away DeAndre Hopkins.
The real Gardner Minshew? An 'accountant' and 'ultimate competitor' for Jaguars
JACKSONVILLE, Fla. — A year ago this week, Minshew Mania took flight.
Rookie quarterback Gardner Minshew threw a pair of first-quarter touchdown passes to lead the Jacksonville Jaguars to a 20-7 victory over the Tennessee Titans on Thursday Night Football. He did a postgame interview on the NFL Network and joined Scott Van Pelt live on SportsCenter.
Minshew was a revelation for the NFL world. But at Washington State, he already had plenty of fans who had gone crazy over his mustache, jorts and his locker room workouts with resistance bands wearing only his aviators and a jockstrap — and sometimes just the aviators.
Minshew is a quirky, funny and eminently likable person who loves to have a good time and doesn't take himself too seriously. (For proof of the latter, check out the clip of Minshew lip-synching Celine Dion's 1996 hit "It's All Coming Back to Me Now," done for ESPN's Football is Back promo. He really gets into Dion's lyrics.)
In exactly 1 week, it's all coming back…@GardnerMinshew5 | @ESPN pic.twitter.com/w9QARWvd3P

— #DUUUVAL (@Jaguars) September 6, 2020
That is the way everyone outside the organization views him. Those on the inside, however, see a different version of Minshew Mania. While he still jokes around and laughs with his teammates in the locker room, he's all business when it comes to football.
And that's why, despite not having the strongest arm or being the biggest guy (6-foot-1, 225 pounds), he ranks in the top five in completion percentage (75.4%) and passing TDs (six) among NFL quarterbacks and is in the top 10 in passer rating (115.4) entering another Week 3 Thursday night home matchup, this time against the Miami Dolphins (8 p.m. ET, NFL Network).
"I see him as a guy who comes in here every day and prepares like he's an accountant," coach Doug Marrone said. "Which is probably the exact opposite of what you feel because you see him in a different light. And that's a light that I keep turned off, the light that goes outside.
"I have children at home, and they see the same things you guys do and I'm just like, 'Ugh.' They ask me the same questions, I tell them the same answer I give to you, I give to them: I don't know that person. I know the accountant that comes in and works his butt off and tries to get the team and all that stuff. That's what I focus on."
After that Thursday night game, people couldn't get enough of the kid from Brandon, Mississippi. There was a meeting with Uncle Rico of the movie "Napoleon Dynamite" for a piece on ESPN's NFL Countdown. There have been numerous endorsement and sponsorship opportunities, including one by an adult entertainment company that he turned down.
This offseason, he embarked on a partnership with Snickers and Travelcamp RV, which loaned him an RV for a cross-country trip in January. The latest is a partnership with Bud Light that would reward fantasy football players that drafted him in the first round and if he is in the starting lineup of their league's title game.
Inside the building, though, it's tax season.
The accountant ended up in the black after his rookie season. Minshew, a sixth-round pick in the 2019 draft, outplayed first-round rookie quarterbacks Kyler Murray and Daniel Jones — Minshew had a better passer rating and threw the fewest interceptions — and went 6-6 as a starter in 2019. The Jaguars had so much confidence in Minshew heading into the 2020 season that they traded Nick Foles — the quarterback they had guaranteed a franchise-record $50 million a year earlier — to Chicago in March and turned the team over Minshew.
This season is his chance to prove he can be the long-term starter so the Jaguars don't need to draft a quarterback (such as Clemson's Trevor Lawrence) in the first round in 2021. Minshew got off to a great start in the season opener, completing 19-of-20 passes for 173 yards and three touchdowns in an upset of Indianapolis. He provided a glimpse of the no-nonsense guy he is in the facility with a short postgame talk in the locker room about not being satisfied with 1-0.
Offensive coordinator Jay Gruden wasn't sure what to expect out of Minshew when the offseason began. All he knew was Minshew had a good senior year at Washington State, played at two other schools and started 12 games for the Jaguars in 2019.
He didn't know about the jorts or the leisure suit he wore for a WSU bowl trip or the time he tried to break his hand with a hammer to try to earn an additional year of eligibility. Or the RV trip, or the flight with the U.S. Air Force Thunderbirds, or that he kind of sounds a bit like Sean Penn's Jeff Spicoli in"Fast Times at Ridgemont High."
Gruden said he found out pretty quickly that Minshew is very serious about football.
"I don't hang out with him outside the building, so I really don't know [what he's like away from the facility]," Gruden said. "I don't care. I know that inside the building, when he's here, he's [a] focused individual now. He's got a lot to learn. He knows he has a lot to learn. He works extremely hard with his fundamentals [and] with what we're putting in front of him from a playbook standpoint.
"When he wants to let his hair down, which he has a lot of it, I'm sure he can do that off the field but I've been very impressed with Gardner as a professional quarterback."
After training camp practices, Minshew took time to talk to tight end Tyler Eifert, who played in Gruden's offense for one year in Cincinnati, to make sure they were in agreement on what they were seeing on the field, and if not, why. If they wanted to do something differently on a play or make a tweak, they'd discuss that, too.
And if he made a bad throw, was uncertain about why a defender acted in a certain way, or threw an interception, he'd talk to players on the defense. He did that with middle linebacker Joe Schobert several times.
"If there's a look that we're giving him and he doesn't quite understand what we're looking for, he'll come up and ask what our thought process was in that certain look versus what they were doing," Schobert said. "He tries to learn from it and turn it into a positive."
Quarterbacks coach Ben McAdoo said he liked that Minshew organized virtual walkthroughs with the players when parts of the country were dealing with coronavirus lockdowns. They'd essentially run plays: Minshew would give a play call and then he'd ask where everyone is lining up, what their assignment was, and any adjustments they had to make.
"I will call out a play and like whoever is in for that play will just draw their assignment and we just kind of go around and talk about it," Minshew said. "What are you thinking here? What do you like against Cover 2? How are you running this? I think it is a good way, it is one thing to learn it on paper but to hear the call and then know what to do right there, I think it has been a good way to make the best of a bad situation."
In 2019, Minshew was a rookie trying to figure out what he was doing and make the transition from college to the NFL. This summer, tight end James O'Shaughnessy saw the difference pretty quickly.
"I have stories about how he in the offseason when we're learning plays and doing our own little walk-throughs at random outdoor fields to get some type of work in, simulate OTAs, and he's having to refrain from cussing me out because I messed up the play we installed earlier, or him correcting me for complaining about one thing or the other," O'Shaughnessy said.
"He's fun and he likes to joke around with [the media], but when it comes to ball and about the severity of the seriousness of what we do, he doesn't take that lightly and that's a sign of an ultimate competitor.
"I can't say enough about the kid. I love him."
He's apparently not the only one. Defensive end Josh Allen, the team's first-round pick last year, had to force himself to stop raving about Minshew. He said everyone knows there's much more to him than headbands, cut-off shirts and a laid-back attitude.
"In my eyes, I do believe Gardner is a superstar," Allen said."He's a great quarterback. I feel like he's shown that many times and he's going to continue to show that. He has the whole team, the whole organization behind him.
"He has the look, he has the swag, he has the arm and he has the plays to make — to be who I consider a great quarterback in the NFL. That's my guy."
"I see him as a guy who comes in here every day and prepares like he's an accountant. Which is probably the exact opposite of what you feel because you see him in a different light. … I don't know that person. I know the accountant that comes in and works his butt off and tries to get the team and all that stuff."

Jaguars coach Doug Marrone, on Gardner Minshew's public image
Mike Leach coached Minshew for one season at Washington State and was impressed with how easily Minshew flipped the switch from the fun-loving guy that taped a mustache to Leach's lip during an interview to 100% focused on football when practice began.
He said he's also seen that from a couple of guys that ended up in the Pro Football Hall of Fame.
"He [Minshew] was bigger than life, then all of a sudden, he hit the field — now he's going to still have fun — but it was business," said Leach, now the coach at Mississippi State. "I had the opportunity to watch the Cowboys at some of their practices and stuff like that and I don't know Michael Irvin at all. I know Deion [Sanders] a little. Both of those guys were bigger than life. At least the practices I was at, it was business. When they were on the field until it was over, it was intense, how hard they practiced."
That's how Minshew wants to be viewed. The public sees a frat boy off the field, but he's a graduate student on it.
"It's where your feet are," Minshew said. "If I am here in the building, it's all I can do until they tell me I have to leave, and I'm going to give it all I have here. And if I can't be in here, then I am going to figure out how I can get better at home and how I can participate from home."