Cubs don't offer contract to infielder Addison Russell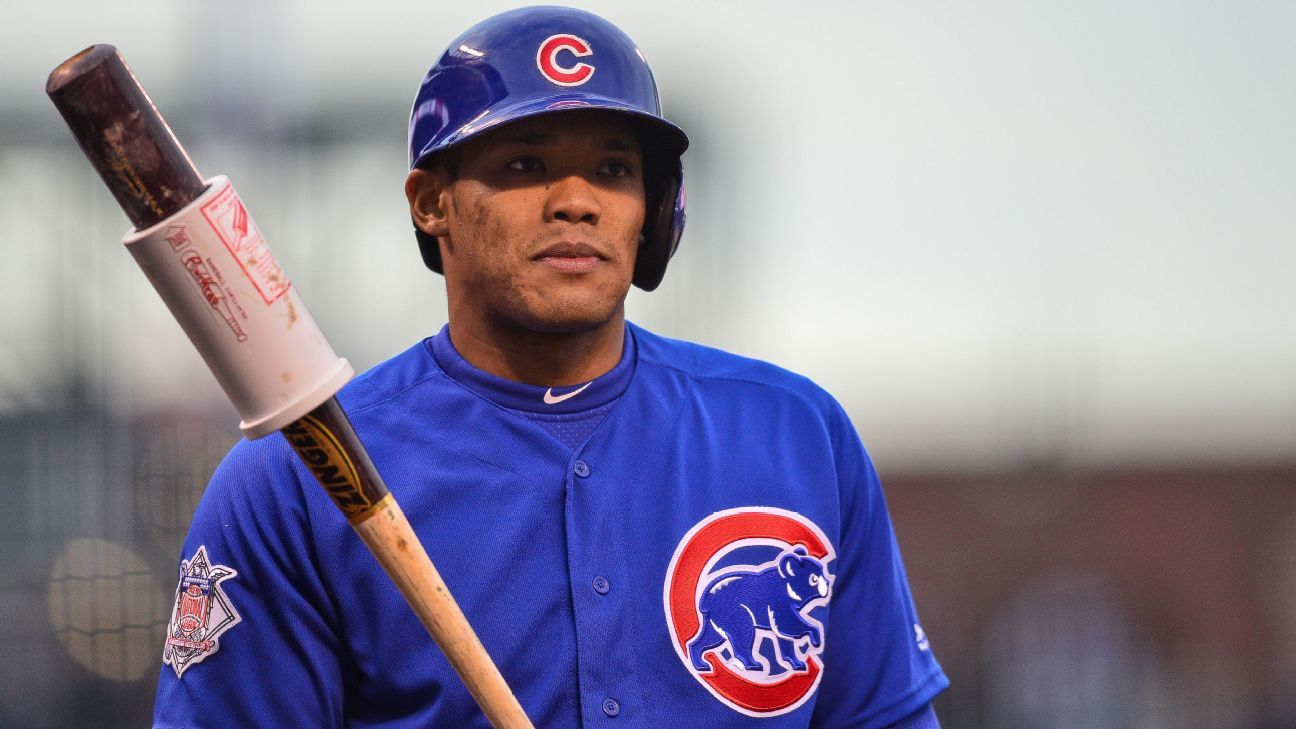 CHICAGO — The Chicago Cubs tendered contracts for the 2020 season to six arbitration-eligible players but non-tendered infielder Addison Russell. Russell, 25, becomes a free agent after five years with the team, his final two seasons marked by controversy.
The second baseman/shortstop was suspended for 40 games near the end of the 2018 season for violating the league's domestic abuse policies. Despite that suspension, the Cubs tendered him a contract for 2019, and he sat out the first 28 games of last season to complete his suspension.
He was demoted to the minors last summer not long after telling ESPN he needed to be "more familiar" with the team's signs. Russell's OPS dipped below .700 in 2018 and 2019 after several promising years to begin his career.
Cubs president Theo Epstein issued a statement regarding Russell.
"We decided to non-tender Addison Russell today simply because the role we expected him to play for the 2020 Cubs was inconsistent with how he would have been treated in the salary arbitration process," he said. "In the year since we decided to tender Addison a contract last November, he has lived up to his promise to put in the important self-improvement work necessary off the field and has shown growth, as a person, as a partner, as a parent and as a citizen. We hope and believe that Addison's work will continue, and we have offered our continued support of him and his family, including [ex-wife] Melisa [Reidy].
"In the last year, the organization has also put in the important work necessary to bolster our domestic violence prevention training for all employees, all major league players, all minor league players and all staff. We also offered healthy relationship workshops for the players' partners and provided intensive, expert domestic violence prevention training for player-facing staff. This heightened training and our increased community involvement on the urgent issue of domestic violence prevention will continue indefinitely. We wish Addison and his family well."
Russell was the National League All-Star Game starter at shortstop in 2016, the same year he helped the Cubs to a World Series title for the first time in 108 years. He hit a Game 6 grand slam, which essentially won the contest for the Cubs, who trailed 3-2 in the series at the time.
The next season, Russell compiled a .722 OPS while playing solid defense, though issues in his marriage began to surface. The league's investigation concluded late in 2018 when he was suspended in September, but not for any one incident.
Russell was acquired from Oakland for Jeff Samardzija and Jason Hammel on July 4, 2014, in a trade for which Chicago was widely praised.
Cubs who were tendered contracts for 2020 include shortstop Javier Baez, third baseman Kris Bryant, outfielders Kyle Schwarber and Albert Almora Jr., catcher Willson Contreras and pitcher Kyle Ryan. The Cubs also came to terms with righty Jharel Cotton, whom they acquired from Oakland last week, for $640,000. The team also tendered contracts to 19 other players who are not yet arbitration-eligible.
Tim Kurkjian's Baseball Fix – Randy Johnson brought fear, real fear, to every hitter who stepped into the batter's box
You love baseball. Tim Kurkjian loves baseball. So while we await its return, every day we'll provide you with a story or two tied to this date in baseball history.
ON THIS DATE IN 1990, Randy Johnson threw his first no-hitter.
At the Hall of Fame induction ceremony in 1999 featuring, among others, Nolan Ryan, I interviewed Ted Williams about what it would be like to face Ryan. Instead, for five minutes, Williams went in another direction, saying, "The guy I'd really like to face is Randy Johnson. Left-hander. That slider. Man, I'd love to try to hit that slider. And I would love to face someone that big. He'd be my biggest challenge. That's why I'd love it."
The full "On this date …" archive
That's how good Randy Johnson was. His second no-hitter was a perfect game: He was the oldest pitcher (40) ever to throw a perfect game. He won five Cy Young Awards, including four in a row with the Arizona Diamondbacks; he finished second three times and third once. He won 303 games with a .646 winning percentage, he won four ERA titles and finished second to Ryan in career strikeouts. He was as dominant as any pitcher of his or of any era. He is at least in the conversation as the greatest left-handed pitcher of all time.
"A left-handed hitter could see his slider better than a right-handed hitter," Tony Gwynn said.
"No left-handed hitter other than Tony wanted any part of that slider," Adam Dunn said, laughing.
Johnson was legendary, all 6-foot-10 of him.
"He is so tall," veteran coach Rich Donnelly once said, "he doesn't have a pickoff move to second, he just reaches out and touches the runner."
Johnson accidentally killed a dove with a pitch in a spring training game. He purposely threw over the head of John Kruk in the 1993 All-Star Game; Kruk patted his heart as if to keep it from beating out of his chest. In the 1997 All-Star Game, Larry Walker put his helmet on backward and got into the right-handed batter's box. In the 2001 World Series against the Yankees, Johnson started Game 6, won it, then pitched in relief the next day in Game 7; from then on, the toughness in a pitcher would be measured by the Unit.
So many hitters, when listing their least favorite at-bats or their worst at-bats, mention Johnson. He might be the scariest and the most intimidating pitcher the game has ever seen. Jeff Huson, a former infielder and a left-handed hitter, once said, "What's the worst thing that Michael Jordan can do to you? He can dunk on you. So what? What's the worst thing Randy Johnson can do to you? He can kill you."
Other baseball notes for June 2
In 1891, Old Hoss Radbourn won his 300th game. He made 502 starts in his career and completed 488 of them. It makes you wonder about the other 14.

In 1940, second baseman Horace Clarke was born. I heard Hall of Fame broadcaster Curt Gowdy say it a million times: Clarke became a switch-hitter because on the field where he played as a kid, when he hit from right side, he hit the ball into the ocean.

In 1938, Gene Michael was born. The master of the hidden-ball trick as a shortstop. I haven't met many more astute baseball men than him.

In 1972, Raul Ibanez was born. He hit the most career homers (305) of anyone whose last name begins with I. He, Davey Lopes and Hank Sauer are the only non-pitchers to hit more home runs in their 40s than in their 20s. In order to make a major league roster in the mid-1990s, Ibanez took up catching so he could improve his value as an emergency catcher. He went to the minor leagues to learn the position. His first game behind the plate, he whiffed on the first pitch, a fastball. The ball hit the umpire directly in the chest protector. "What the hell are you doing?!" the umpire yelled at him. Ibanez told the umpire, "Sorry, I've never caught before."
Updated 2020 MLB draft rankings — The latest on the top 150 players
It's just about a week from MLB draft day, and that means the picture on how this year's prospects stack up is really starting to come into focus. Below you'll find my ranking of the top 150 players for the shortened five-round MLB draft starting June 10.
This is not a prediction of where I think players will go, you can find that in my latest mock draft, and I expand on some of the factors involved in this list in my initial ranking of this year's draft class. Lastly, I've included Future Value grades (FV) for each prospect so you can see where he would rank on a Top 100 or on a team prospect list.
Fewer games? Salary deferrals? Where MLB players and owners could find middle ground on 2020 season
Is all of the recent acrimony between MLB players and owners real or the byproduct of the early stages of the 2020 season's negotiations playing out in the public spotlight? When recently asked that question, one baseball official's reply was, "Yes."
Yes, as in both things are true.
It's with that backdrop the sport continues to navigate a return to the field. Now that both sides have presented the other with offers, perhaps the real negotiation can start, though the sides remain several miles apart at the moment.
The league's first offer of a sliding pay scale based on an 82-game season was met with a response sticking to full prorated salaries but with 114 games played. The players' assumption in offering more games is that owners make more money if more games are played. But the league disagrees, with so many of those games likely to take place in front of empty stadiums. Their position is that playing fewer games means losing fewer dollars. It's hard to argue against ownership on this point because if playing more meant making more, then why wouldn't they look to do so?
The owners backed that theory up by bringing another potential option into the dialogue as a last resort: Let's play 40-50 games but at the players' full prorated salary. Can it work?
Not likely, at least according to two players contacted by ESPN on Monday who couldn't speak publicly due to the sensitive nature of the negotiations.
Players might simply feel the risk isn't worth the smaller reward a shorter season would bring — and not just because of COVID-19.
At 25% of their full salary for 25% of a full-length season, risking an arm injury that could linger into future seasons becomes a risky gamble. And what if a player hits .180 in 40-50 games? Cold stretches like that happen all the time, even to very good players. What does his contract via arbitration or free agency look like in 2021?
Player compensation in baseball is built for large sample sizes. It's why something that would resemble a normal baseball season, such as the 82-game proposal, seemed like a more desirable number, but ownership can't — or doesn't want to — pay full freight for that amount. Then again, with the sport hanging from the side of a cliff, would a player's concern over potential stats really prevent him from approving the plan? And the guy that hits .400 could be rewarded as much as the one punished for hitting .180.
So if signaling a willingness to move on games is the first step in both sides offering an olive branch that they could work together, what else could help get a deal done?
Salary deferrals
The players first mentioned the idea of deferrals in their Sunday proposal to the league but with some major caveats: They'll accept deferrals only if the postseason is canceled due to a second wave of COVID-19, and only if they get the full value of their contracts at that later date.
The deferral, to be used only under the worst case possible, isn't likely to sit well with owners. But numerous agents and players have indicated throughout the process that they would listen on any proposal that included them, so perhaps a version of the deferral suggestion that helps get to middle ground is out there. Maybe the players get a smaller percentage of their full prorated salaries now and then the rest when revenue streams return.
One sticking point for owners in deferring money is that 2021 has no guarantees for revenues right now, either, and believe it or not, teams say they work on small margins from year to year anyway. Furloughs and the inability to pay minor league players are indications of such issues — even though team owners are worth billions. In any case, those deferrals would come due soon enough and most likely after at least two awful years economically for baseball. It doesn't mean it can't help be a solution though.
Additional revenue
Another advantage that a potential shorter season opens up for both sides is potential to bring in some additional money through options that might not be available under a plan that requires cramming as many games in as possible to fill out a schedule.
Things that could generate more revenue in a hurry include an end-of-year Home Run Derby, a skills competition and an All-Star Game. And, of course, an even more expanded postseason — something both sides already agree on — could help make the financial picture more palatable.
Perhaps the final answer falls somewhere between 50 and 82 games, or perhaps it comes between the two original proposals in the 82-114 range. If the two sides can keep talking, they're bound to close the gap because the alternative simply isn't acceptable.
Forget a hard deadline date to motivate the sides. Ignoring a country starving for something positive and uplifting would be a mistake the league can't afford — and perhaps not recover from for years.
For now, the big takeaway is that the sides are finally engaging in this kind of meaningful dialogue. Now they need a breakthrough.