Cubs don't offer Addison Russell contract after two years of controversy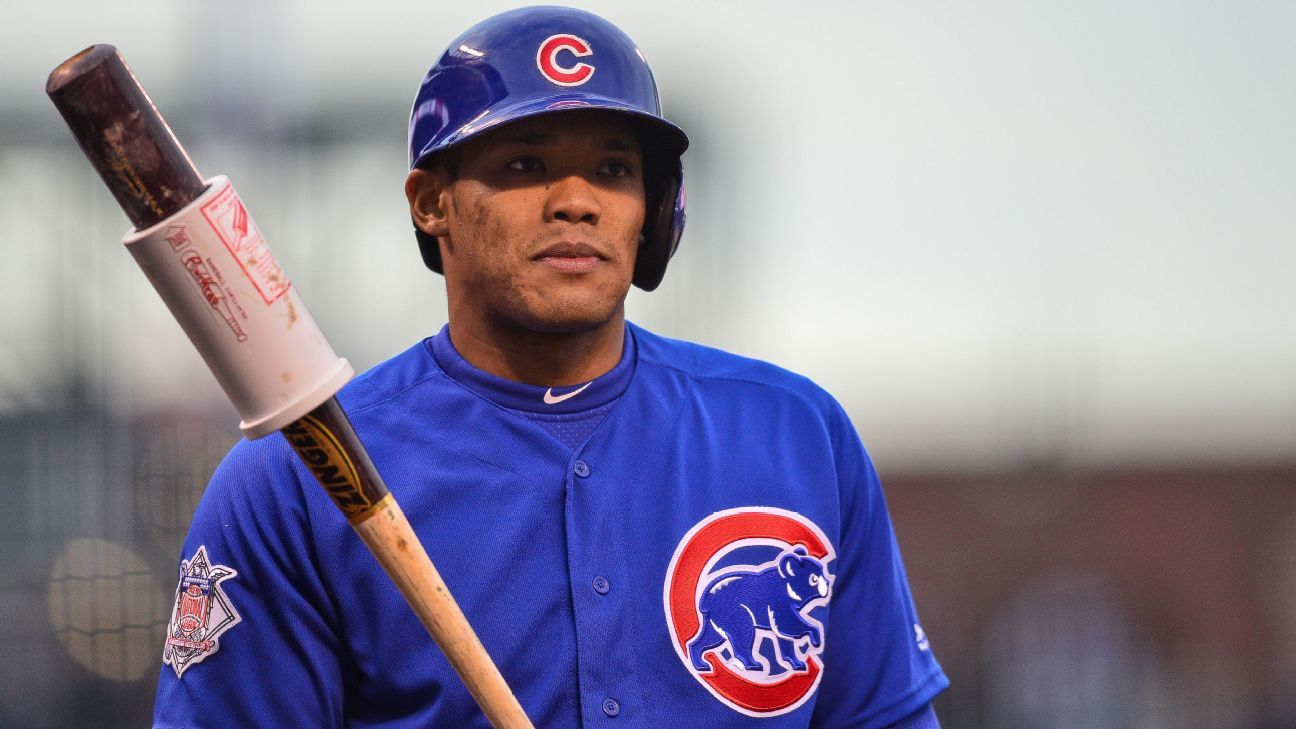 CHICAGO — The Chicago Cubs tendered contracts for the 2020 season to six arbitration-eligible players but non-tendered infielder Addison Russell on Monday.
Russell, 25, becomes a free agent after five years with the team, his final two seasons marked by controversy.
The second baseman/shortstop was suspended for 40 games near the end of the 2018 season for violating the league's domestic abuse policies. Despite that suspension, the Cubs tendered him a contract for 2019, and he sat out the first 28 games of last season to complete his suspension.
He was demoted to the minors last summer not long after telling ESPN he needed to be "more familiar" with the team's signs. Russell's OPS dipped below .700 in 2018 and 2019 after several promising years to begin his career.
"We decided to non-tender Addison Russell today simply because the role we expected him to play for the 2020 Cubs was inconsistent with how he would have been treated in the salary arbitration process," Cubs president Theo Epstein said in a statement. "In the year since we decided to tender Addison a contract last November, he has lived up to his promise to put in the important self-improvement work necessary off the field and has shown growth, as a person, as a partner, as a parent and as a citizen. We hope and believe that Addison's work will continue, and we have offered our continued support of him and his family, including [ex-wife] Melisa [Reidy].
"In the last year, the organization has also put in the important work necessary to bolster our domestic violence prevention training for all employees, all major league players, all minor league players and all staff. We also offered healthy relationship workshops for the players' partners and provided intensive, expert domestic violence prevention training for player-facing staff. This heightened training and our increased community involvement on the urgent issue of domestic violence prevention will continue indefinitely. We wish Addison and his family well."
Russell was the National League All-Star Game starter at shortstop in 2016, the same year he helped the Cubs to a World Series title for the first time in 108 years. He hit a Game 6 grand slam, which essentially won the contest for the Cubs, who trailed 3-2 in the series at the time.
The next season, Russell compiled a .722 OPS while playing solid defense, though issues in his marriage began to surface. The league's investigation concluded late in 2018 when he was suspended in September, but not for any one incident.
Russell was acquired from Oakland for Jeff Samardzija and Jason Hammel on July 4, 2014, in a trade for which Chicago was widely praised.
Cubs who were tendered contracts for 2020 include shortstop Javier Baez, third baseman Kris Bryant, outfielders Kyle Schwarber and Albert Almora Jr., catcher Willson Contreras and pitcher Kyle Ryan. The Cubs also came to terms with righty Jharel Cotton, whom they acquired from Oakland last week, for $640,000. The team also tendered contracts to 19 other players who are not yet arbitration-eligible.
Dave Dombrowski joins group trying to bring Major League Baseball to Nashville
Former Boston Red Sox general manager Dave Dombrowski has joined Music City Baseball LLC, a Nashville-based group intent on bringing Major League Baseball back to the city.
The group lists Dombrowski as a baseball adviser on its website.
"It's clear to me that Nashville is ready for Major League Baseball, and Music City Baseball is making smart and exciting decisions as it works to bringing a team here," Dombrowski said in a statement. "From its relationship with the Negro Leagues Baseball Museum to its community support, Music City Baseball has built a strong foundation."
Dombrowski, 63, won a ring as the architect of Boston's 2018 World Series championship team but was fired just a year later amid a disappointing 2019 campaign. After beginning his career with the Chicago White Sox in 1978, Dombrowksi spent time with the Expos, Marlins and Tigers. He won another World Series ring as a member of the Marlins' front office in 1997.
Music City Baseball was formed in 2019 with the goal of bringing an expansion franchise to Nashville in the next few years. Their advisory board includes other MLB luminaries like Dave Stewart and Tony La Russa,
"Nashville is a city with deep baseball roots, and as we emerge from the uncertainty surrounding COVID-19, I believe baseball, and more specifically Music City Baseball, can play an important role in bringing the city back together," Dombrowski said. "My wife Karie and I are looking forward to becoming part of the Nashville community."
Aaron Nola clears virus protocol, reports to Phillies camp
PHILADELPHIA — Phillies ace Aaron Nola reported to camp on Monday after waiting a few extra days because he was in contact with someone who tested positive for the coronavirus.
"All my tests came back negative," Nola said. "If you don't have symptoms and you come in contact with somebody who ends up testing positive, you're out for probably at least seven days. That could possibly be two starts. It's obviously going to be a hard part of it. And sometimes it's out of our control. We just have to try to do our part every day."
The Phillies have had seven players and five staff members test positive for the virus. None has been identified.
Infielder Scott Kingery and pitchers Hector Neris, Ranger Suarez and Tommy Hunter were placed on the 10-day injured list with no specified injuries last week. Outfielder Adam Haseley and catcher Christian Bethancourt still haven't reported to camp.
Nola threw a bullpen upon arriving and would likely start Philadelphia's season opener later this month if he's ready. Nola finished third in NL Cy Young Award voting in 2018 when he was 17-6 with a 2.37 ERA. He was 12-7 with a 3.87 ERA last year.
"I was impressed by his bullpen [Monday] considering he hadn't done a lot for a week," manager Joe Girardi said. "It's too early to tell where he'll fit in. He would've been our Opening Day starter. I have to see where he's at. I'm not saying he won't be. I'm not ready to say."
Nola said he is committed to playing this season amid the pandemic.
"Nothing has crossed my mind about opting out," Nola said. "I want to play as bad as everyone else does. The guys who opted out, it's understandable."
The Phillies are scheduled to open the 60-game season at home against Miami on July 24.
Zack Wheeler, the No. 2 starter behind Nola, is in camp but uncertain about staying because his wife is due to deliver the couple's first child later this month.
"It's a very difficult decision. It's something that is still playing in my head. I have to be very careful here at the field, outside of the field, wherever I go," Wheeler said. "The baby's and Dominique's health are most important to me. So whatever I can do to make sure they are safe, that is the No. 1 goal for me. Baseball comes after that."
2020 MLB schedule release winners and losers — Which teams face biggest challenges?
The annual release of the Major League Baseball schedule is usually a pretty fun night. You get to see what's lined up for Opening Day. You see how specialty games — like the one in Williamsport, Penn. or the once-planned series this year in London — fit onto the calendar. Most of all, it's the unfurling of 2,430 glorious games of baseball that will play out over six months. The original version of the 2020 schedule was released way back in August of last year. It feels like a different epoch.
Monday's release of the shortened version of the 2020 schedule didn't quite stack up to the usual flurry of excitement. Of the 2,430 games we usually get, this time there will be 900, or at least we hope there will be. Sixty games per team, the fewest in the major leagues since the 1870s, will determine who squeezes into the usual playoff format. Of the many things we could say about such a state of things, we can at least say this: We've never seen a big-league schedule like this one.
Strength of schedule isn't usually a big factor in deciding the final standings. Teams competing for the same division titles usually play nearly identical schedules. There is a bit of variation for the teams competing for wild-card slots, but it's not typically a deciding factor. This time, however, relative schedule strength has a wider range than any season we've had.
That's because of the unprecedented formula for this year's slate. Teams will play 40 of their 60 games within their own division (67 percent). That number is significantly higher than a typical season, when teams face division opponents 76 times (47 percent). The other 20 games will be intraleague matchups — the exact same number in which teams usually face the opposite circuit. However, those 20 matchups now comprise a third of each team's schedule (33 percent) rather than having them spread across 162 games (12 percent).