Athletics non-tender reliever Blake Treinen after down 2019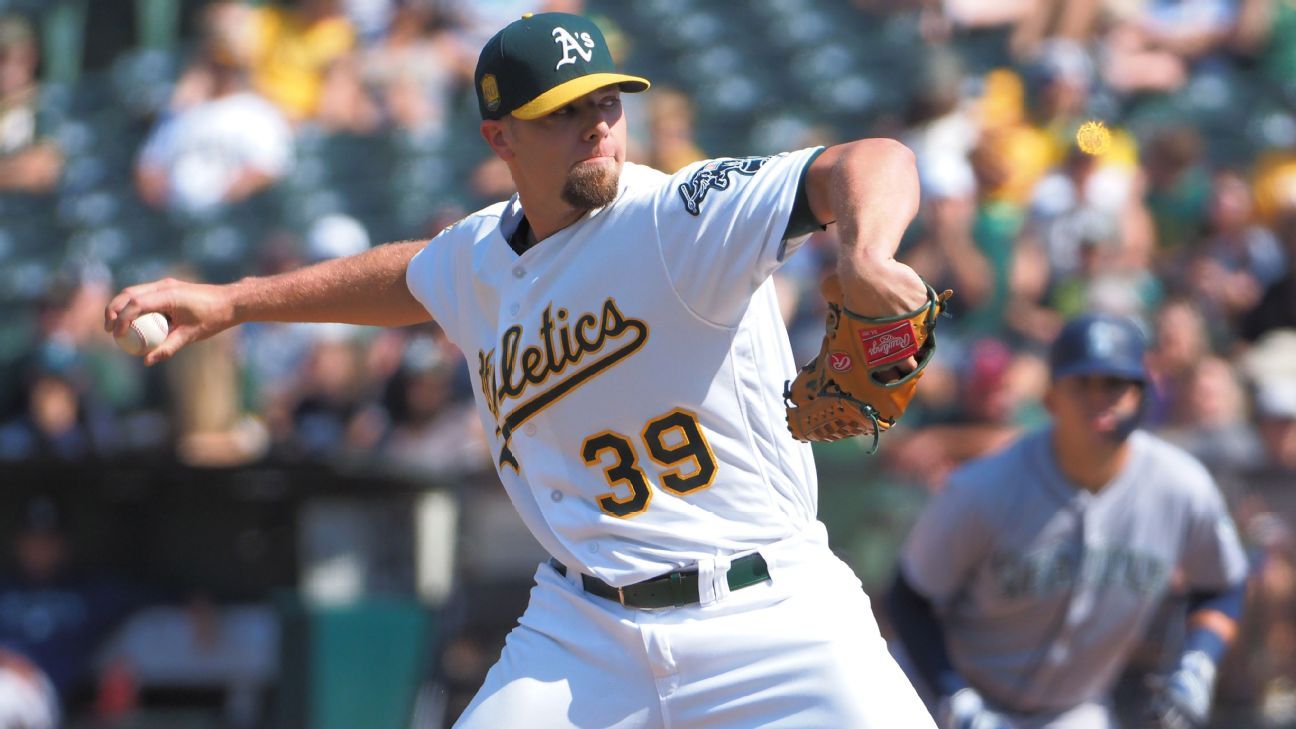 Reliever Blake Treinen has been non-tendered by the Oakland A's, making him a free agent.
Treinen, 31, struggled in 2019 after a strong 2018 campaign that ended with him tied for sixth in AL Cy Young award voting.
Treinen had a 4.91 ERA in 58.2 innings pitched last season. He was 9-2 with a 0.78 ERA in 2018.
Dodger Stadium now largest coronavirus testing site in California
LOS ANGELES — Dodger Stadium, which has hosted nearly 20 million fans over the past five seasons, opened as a coronavirus testing facility that is considered to be the largest in the state of California.
The drive-through testing site has the capacity to test 6,000 people daily, Los Angeles Mayor Eric Garcetti said Tuesday from a lectern. Tests will be conducted from the stadium parking lot, with large video monitors explaining the process in hopes of maximizing efficiency.
Garcetti worked in collaboration with Dodgers president Stan Kasten and will also partner with the L.A. Fire Department and the nonprofit Community Organized Relief Effort to operate the site.
Roughly 60 staff members will be on hand to help, Garcetti said, adding that Los Angeles is now testing an average of 15,000 people a day. Dodger Stadium's testing capacity is three times greater than any other site in Los Angeles County.
The ballpark is also open to injured Dodgers players for treatment, as is the team's spring training facility in Phoenix.
Dodgers to implement salary cuts to avoid furloughs or layoffs
The Los Angeles Dodgers have informed their full-time employees that they will not impose furloughs or layoffs due to the coronavirus pandemic, but instead will begin a system of tiered salary cuts beginning on June 1, sources told ESPN.
The Associated Press has previously reported that the Dodgers are projected to lose $232 million this year, making them the second-hardest-hit team in the league behind the New York Yankees, who are projected to lose $312 million, due to the pandemic.
The Dodgers informed hundreds of their employees in a Zoom call Tuesday afternoon that the salary cuts — which will range from 0 to 35% or more for top executives — are being made to save jobs and prevent furloughs, sources said. Employees were told salary reductions will affect only full-time employees making over $75,000 a year.
Most of baseball's 30 teams have pledged to pay their full-time employees through the end of May. But that commitment has softened as the shutdown has continued.
ESPN's Alden Gonzalez reported Tuesday that the Oakland Athletics will furlough almost all of their amateur and professional scouts and about three-quarters of their player development employees. That's on par with the furloughs announced by Los Angeles Angels of Anaheim on May 19, in their player development and scouting departments, as well as minor league staff beginning in June.
The Miami Marlins, Cincinnati Reds, Tampa Bay Rays and A's had previously announced they would implement furloughs and/or layoffs.
MLB commissioner Rob Manfred has said baseball will lose $4 billion in revenue this season, and he has given the teams permission to cut payroll.
Sources — Athletics to have furloughs, salary cuts
The Oakland Athletics, feeling the financial crunch of a 2020 season that has yet to get off the ground, have implemented a system of furloughs and salary reductions that will impact the majority of their baseball-operations department, sources told ESPN on Tuesday.
Professional scouts will be furloughed next week and amateur scouts will be furloughed shortly after the June 10-11 draft. In addition, about three-quarters of the A's player-development staff is believed to be bracing for furloughs, which typically run through the end of October, industry sources said. Layoffs have not been implemented, but baseball-operations employees who were not furloughed will face pay reductions.
The A's, who are reportedly past due on the annual $1.2 million rent payment for their stadium, joined the Los Angeles Angels and the Miami Marlins among teams that have instituted wide-ranging furloughs as a cost-cutting measure amid the financial difficulties caused by the coronavirus pandemic.
The Los Angeles Dodgers, however, will instead implement a system of tiered salary cuts for those making more than $75,000, sources told ESPN's Ramona Shelburne.
Major League Baseball presented its first economic proposal to the MLB Players Association on Tuesday, marking the beginning of what is expected to be a prolonged, contentious negotiation. The hope is that both sides can come to an agreement so that the regular season can begin in early July, though games will be played without fans.