Broncos' Derek Wolfe expected to miss rest of season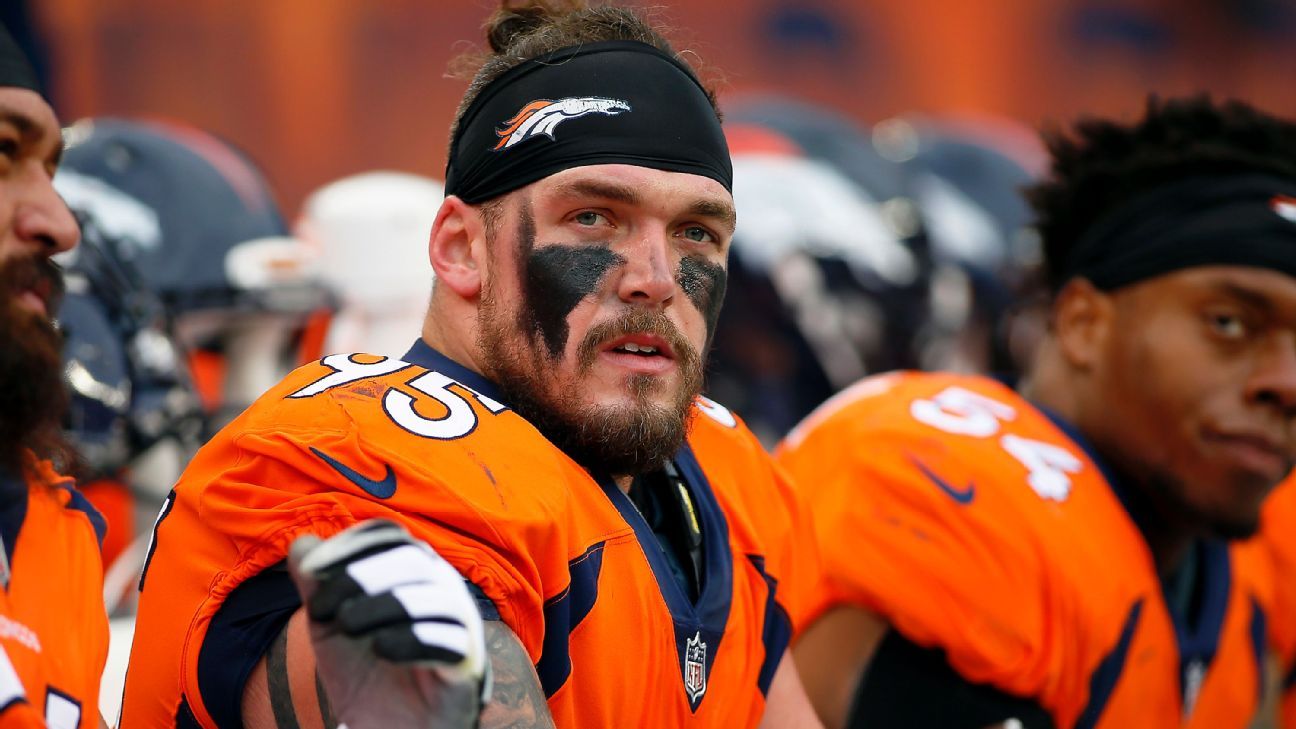 ENGLEWOOD, Colo. — Denver Broncos defensive end Derek Wolfe is expected to miss the remainder of the season after he dislocated his left elbow Sunday in the closing minutes of the Broncos' 23-20 victory over the Los Angeles Chargers.
Wolfe suffered the injury with 2 minutes, 22 seconds remaining in the game, on a play that was blown dead because of a false start by Chargers guard Dan Feeney. Broncos defensive tackle Mike Purcell collided with Wolfe as the two moved just after the snap to defend a Chargers running play on a fourth-and-1.
Wolfe, who had two sacks in the game, leads the Broncos with seven sacks.
"Right now, it's not official, but I don't know if he'll be able to play again this year," said Broncos coach Vic Fangio. "I don't think it needs surgery, but he did dislocate his elbow. The time involved with that healing and where we are in the season probably precludes him from playing any more."
Asked whether Wolfe was headed to injured reserve in the coming days, Fangio said: "That's a good possibility."
With Bradley Chubb already on injured reserve — he tore his ACL in Week 4 against the Jacksonville Jaguars — and Von Miller dealing with a left knee injury, it's possible the Broncos will face the Houston Texans and quarterback Deshaun Watson this Sunday without the team's three top pass-rushers. Miller, who injured his knee in the loss to the Buffalo Bills, did not play in the win over the Chargers.
It was the first time Miller had missed a game since 2013, when he suffered a torn ACL in the second-to-last game of the regular season and then missed the regular-season finale and the Broncos' three playoff games, including Super Bowl XLVIII.
Miller, wearing a brace on his left knee, went through a workout before Sunday's game with Denver head trainer Vince Garcia looking on, and the decision was made to keep Miller out of the lineup against the Chargers. As far as whether Miller would play this week against the Texans, Fangio said this Monday: "I do think there is a good chance he will be able to go this week."
For 29-year-old Wolfe, the injury comes as he is having what might be his best overall season in his eighth year with the team. He has called the Fangio's defensive scheme "perfect for what I can do," as he had all seven of his sacks over the past seven games, with two-sack games against the Titans, Colts and Chargers.
"I feel like he's a bit more healthy this year. … He's just a beast. This defense is perfect for Derek Wolfe and everything he's doing," Miller said recently.
DeMarcus Walker will likely get most of the snaps in the defensive sets Wolfe has played. With Chubb already on injured reserve, two cornerbacks on injured reserve (Bryce Callahan and De'Vante Bausby) and Wolfe headed to injured reserve, the Broncos are still the league's No. 10 scoring defense.
"[Wolfe] was where he was supposed to be, with the right mindset, and he played physical," Fangio said. " … I think he had a career high in sacks, which for a guy at this stage in his career speaks to his resiliency and the work that he's put in and the effort that he was playing with."
Giants waive CB Janoris Jenkins after 'offensive' tweet to fan
The New York Giants waived cornerback Janoris Jenkins on Friday, two days after he made an inappropriate remark to a fan on Twitter.
On Wednesday, Jenkins called a critical fan a "retard" when taking exception to questioning about why the stats Jenkins was using to showcase his effectiveness weren't contributing to victories.
Jenkins said Thursday that the usage of the word was "slang" that is "just part of my culture."
Giants coach Pat Shurmur met with Jenkins on Wednesday and said in a statement Friday that Jenkins' refusal to admit what we did was wrong led to his dismissal.
"This was an organizational decision," Shurmur said. "From ownership to management to our football operations, we felt it was in the best interests of the franchise and the player. Obviously, what happened this week, and the refusal to acknowledge the inappropriate and offensive language, was the determining factor."
Jenkins appeared to react to the news in a tweet Friday morning.
Best news ever.. Thank you

— JackRabbit2.0 (@JjenkzLockdown) December 13, 2019
Jenkins, 31, had one year and $11.25 million remaining on his contract. He has 54 tackles this season and is tied for fourth in the NFL with four interceptions.
He was officially listed as being waived/injured, as he had been recovering from an ankle injury suffered Monday night against the Philadelphia Eagles.
'Vintage' Todd Gurley has showed up for Rams, but can it last? – Los Angeles Rams Blog
THOUSAND OAKS, Calif. — Todd Gurley tucked the football into his left arm, then defended himself to his right.
The Los Angeles Rams running back delivered a posterizing stiff arm to the helmet of Tre Flowers, keeping the Seattle Seahawks cornerback at arms length as Gurley muscled his way across the goal line.
"I had to go Derrick Henry style with the stiff arm," said Gurley, referring to the Tennessee Titans running back. "I thought [Flowers] would try to punch out the ball."
Relive the NFL's greatest games, original series and more. Watch on ESPN+
Gurley's 7-yard touchdown run gave the Rams a commanding lead in a win over the Seahawks last Sunday, and provided notice Gurley hasn't gone away.
"He's a bad man," Rams quarterback Jared Goff said. "It was vintage Todd."
Gurley's run was powerful. It was assertive. It was game changing.
"It's just like, 'WOW,'" defensive tackle Aaron Donald said. "For you to be able to stiff arm a grown man and throw him down and score a touchdown, that's pretty crazy."
"I loved it," Rams coach Sean McVay said. "We needed it."
But more than anything, as Goff so deftly pointed out, it was vintage Gurley. If only for a moment.
Signature plays from Gurley, the kind that highlighted his last two seasons under Rams coach Sean McVay and earned him 2017 NFL Offensive Player of the Year, have been few-and-far between throughout the Rams' 8-5 season.
In fact, the stiff-arm delivery last Sunday was the only vintage Gurley move seen in 2019.
Dating to the NFC Championship Game last January, the Rams $60 million running back hasn't delivered a single 100-rushing yard game. He hasn't broken for a long touchdown score. He hasn't hurdled a single defender.
As McVay's offense has sputtered and struggled to find an identity a season after powering the Rams to the Super Bowl, Gurley — who rushed for more than 1,200 yards in each of the last two seasons — has 721 yards rushing in 13 games (inactive in Week 6, left thigh bruise).
He had been relegated to a role player, a running back who made record money, but was expected to share carries with Malcolm Brown and rookie Darrell Henderson.
But something has changed recently. In three of the Rams last four games, McVay's playcalling has returned to Gurley, who signed a four-year extension that included a then NFL-record $45 million in guarantees, before last season.
The Rams face an uphill battle to reach the postseason and Sunday enter their latest must-win contest against the NFC East-leading Dallas Cowboys (6-7) at AT&T Stadium (4:25 p.m. ET, Fox).
The last time the Rams traveled to play the Cowboys, Week 4 of the 2017 season, Gurley was the best player on the field. Gurley hurdled Cowboys' defenders and raced through their secondary on his way to 215 total yards.
In the third quarter, Gurley caught a seam pass as he cut through the middle of the field, blowing past four defenders on his way to a 53-yard touchdown to jump-start the Rams' come-from-behind 35-30 victory.
"I just remember thinking, 'Wow,' I mean it was like he was shot out of a cannon," McVay said Thursday. "When you sit back as a coach, and you're thinking, 'Damn, I'm glad he's on our team' that was a really good play and at the moment, too, we really needed that."
Gurley was the Rams leading rusher and pass-catcher that day, delivering a signature performance that helped the McVay-led Rams serve notice to the NFL that they had arrived.
The last time Gurley rushed for 100 yards was against the Cowboys in the divisional round of last season's playoffs, when he shared carries with C.J. Anderson, but still managed to break off 115 rushing yards in a 30-22 win.
Indications are Gurley will again play a prominent role against the Cowboys Sunday.
"The approach for us is that Todd is a big-time player," McVay said. "He's shown that he's feeling good and when he's doing those kind of things — whether it be through the pass game, through the run game — good things seem to happen for the Rams."
Gurley has averaged 21 touches over the last four games, compared to 14.9 touches in his previous eight. He had a season-high 28 touches in a win over the Chicago Bears, 20 in a rout of the Arizona Cardinals and 27 in a victory over the Seahawks.
The reason for getting Gurley more involved recently, if you believe McVay, is quite simple.
"Me not being an idiot," explained McVay, the 33-year-old old coach, who never seemed to lack for good judgement when utilizing Gurley before.
"He said it, I didn't," Gurley said. "That's all I got to say. I don't have anything else to say."
However, it's not as straightforward as it seems. After all, a day after McVay provided such a self-inflicting explanation, he admitted that he doesn't really believe himself to be an idiot.
"I was saying in jest," McVay said, grinning.
The Rams and Gurley have not confirmed reports the All-Pro back is suffering from arthritis or a degenerative condition in his left knee and McVay has flat-out denied Gurley has been placed on a load management program to prolong his season or career.
"No, no. It has nothing to do with that," McVay said. "Shoot, we're just trying to win a game. So, certainly it wasn't ever with the mindset of looking ahead before anything was accomplished."
It's no coincidence, nor should it come as a surprise, that the recent three games when Gurley has played a prominent role, the Rams won by comfortable margins.
"Opens everything, it opens everything," said Goff, whose play has improved sharply over the last two games. "It starts with him and when he's rolling and we're rolling in the run game, it opens up everything."
Since 2017, including playoff games, the Rams have experienced resounding success when their game plan utilizes Gurley.
According to ESPN Stats & Information, when Gurley has received 20 or more touches, the Rams are 20-1. They're 12-0 when he gets 25 or more touches.
When the Rams win, Gurley averages 22.2 touches and 127.7 scrimmage yards per game. When the Rams lose, Gurley's averages drop to 15.7 touches and 77.1 scrimmage yards per game.
Throughout the ups and downs, Gurley, who has scored 10 touchdowns, down from his NFL-best 21 in 2018, has maintained his cool, at least publicly. He's provided reminders that he's not the playcaller. When asked about his knee, he's said it's fine.
If there's anything Gurley has outwardly taken exception to, it's any notion that the stiff arm he delivered last Sunday was vintage.
"Sounds like I suck and then I made a good play," said Gurley, with a straight face and a shoulder shrug. "So, yeah, I guess so."
Adrian Peterson has a half-million reasons to reach 1,000 yards – Washington Redskins Blog
ASHBURN, Va. — There's all sorts of reasons for Washington Redskins running back Adrian Peterson to want to surpass 1,000 yards rushing once again. It would further etch his name in history. It would prove what he can still do on the field as he approaches 35 years old.
And it would also allow him to make another half-million dollars.
With Derrius Guice sidelined because of another knee injury, the Redskins will lean even more on Peterson, which could be good for his pocketbook. If he rushes for 1,000 yards this season, Peterson will collect a $500,000 bonus. He needs 282 yards with three games remaining.
"It'll happen," he said.
Monday through Friday, host Mina Kimes brings you an inside look at the most interesting stories at ESPN, as told by the top reporters and insiders on the planet. Listen
Peterson rushed for 1,072 yards last season at age 33 — making him the oldest player since John Riggins cracked that mark in 1984 at age 35. But there was no bonus for Peterson last season. Instead, it earned him another two-year deal with Washington. And this season has fueled his desire to stick around a while.
His future will be determined, in part, by Washington's next coach. Regardless, Peterson remains motivated.
"I'm going to keep going," said Peterson, whose base salary is $1.03 million. "My body is feeling good. I'm still loving the game. Obviously I can still play and perform at a high level. Why walk away from it now? So, I'm going to keep going."
Interim coach Bill Callahan said: "If you talk with him, he'll play until he's 40 years old. As long as he keeps producing, I don't see why he can't continue to play."
Peterson, whose base salary is $2.25 million next season, signed a deal worth up to $8 million last offseason, loaded with incentives. But the most lucrative was rushing for 1,000 yards, which would be hard to do with a healthy Guice. But Guice tore his meniscus in the season opener, paving the way for Peterson to resume his role as a No. 1 back.
When Guice returned in Week 11, he and Peterson split the work. That could have ended his pursuit for 1,000 yards, but Peterson has another shot. His line let him know they wanted him to hit 1,000.
"Those guys up front were talking about it, '282.' I heard another guy say, '282.' I said, OK and I put it together," Peterson said. "They definitely want me to get there, so it'll happen."
They also have taken notice of the potential payoff.
"That's another reason," center Chase Roullier said. "You're always trying to help your teammates out with that, too."
Peterson likely will need one big game. In the eight games under Callahan, Washington ranks 10th in rushing yards per game and fourth in yards per carry. And in the six games under Callahan in which Peterson has received at least 13 carries, he's averaged 93 yards per game. That would leave him just short.
The hard part will be getting a lot of yards against the Eagles, though the Redskins do have confidence it can happen. Recent history doesn't favor them: In the past five games against Philadelphia, all losses, the Redskins have averaged just 58.4 rushing yards per game. Peterson had a 90-yard touchdown run against the Eagles last season, but gained just eight yards on his other 12 carries against them.
He was inactive against them in Week 1, despite being healthy.
Regardless, barring injury he'll soon move up the NFL's all-time rushing list. He trails Curtis Martin by 65 yards for fifth place. It would take another season of 1,000 yards for him to move into fourth or possibly third.
"The ageless one," Eagles coach Doug Pederson said. "Just the way he prepares. I think that's one of the things that has kept Adrian on the field and kept him plugged in. As much as they've tried to maybe go with other players, he keeps coming right back."
It's why he topped 1,000 yards last season despite a banged-up line that featured at least 35 different combinations during the season. And it's why he's done it in 2019 while playing with a passing game that ranks last in passing yards with rookies at quarterback (Dwayne Haskins) and at the starting receivers (Terry McLaurin, Steven Sims and Kelvin Harmon).
"It's the mentality I have," Peterson said. "I've had it my entire career."