Sunday's fantasy football inactives watch
To help you set your lineups and avoid starting a player who won't take the field, we will post fantasy-relevant updates and analysis here as NFL teams release their inactives lists, typically about 90 minutes before kickoff. Any rankings cited in this column come from our ESPN Fantasy staff ranks.
Refresh often for the latest information.
---
1 p.m. ET games
Offense
Miles Boykin, WR, BAL: Ankle — Questionable
Impact: Willie Snead IV gets a slight uptick in value.
Nick Boyle, TE, BAL: Ankle — Questionable
Impact: Mark Andrews/Hayden Hurst have less competition for TE targets.
A.J. Green, WR, CIN: Ankle — OUT
Impact: Again, it's looking unlikely he'll play at all in 2019.
Marlon Mack, RB, IND: Hand — OUT
Impact: Potential return set for Week 14. Jonathan Williams/Nyheim Hines will split carries.
T.Y. Hilton, WR, IND: Calf — OUT
Impact: Marcus Johnson will see more action as a result.
Parris Campbell, WR, IND: Hand — Questionable
Impact: Looking promising for a return. Chester Rogers would gain traction if he can't go.
Seth DeValve, TE, JAX: Oblique — OUT
Impact: Look elsewhere for TE points as Ben Koyack has done nothing of late.
Golden Tate, WR, NYG: Concussion — OUT
Impact: Cody Latimer/Darius Slayton are your long-shot flex options.
Rhett Ellison, TE, NYG: Concussion — OUT
Impact: Kaden Smith did well in Week 12 filling in for this flailing team.
Evan Engram, TE, NYG: Foot — OUT
Impact: Scott Simonson had only one target last week in his relief effort.
Demaryius Thomas, WR, NYJ: Hamstring — OUT
Impact: Should play and could excel with an emerging Sam Darnold.
Jordan Howard, RB, PHI: Shoulder — OUT
Impact: Miles Sanders expected to start and get most of the backfield work.
Zach Ertz, TE, PHI: Hamstring — Questionable
Impact: Josh Perkins was promoted to the active roster. Not a great sign for Ertz, but he still may give it a go.
James Conner, RB, PIT: Shoulder — Doubtful
Impact: Benny Snell Jr. likely to lead a committee for the Steelers.
JuJu Smith-Schuster, WR, PIT: Knee — OUT
Impact: James Washington may end up as the go-to guy for Devlin Hodges.
Matt Breida, RB, SF: Ankle — Questionable
Impact: Expected to sit. Tevin Coleman will lead in carries, with Raheem Mostert used sparingly.
Dante Pettis, WR, SF: Knee — OUT
Impact: Deebo Samuel and Emmanuel Sanders both appear to be healthy.
Scotty Miller, WR, TB: Hamstring — OUT
Impact: Breshad Perriman becomes a dart-throw flex flier.
Chris Thompson, RB, WAS: Toe — Questionable
Impact: Expected to play, but Derrius Guice remains the better fantasy option.
Paul Richardson Jr., WR, WAS: Hamstring — OUT
Impact: Trey Quinn is the biggest beneficiary, for whatever it's worth.
Defense
Michael Pierce, DT, BAL: Ankle — Questionable
Matthew Judon, LB, BAL: Ankle — Questionable
Eric Reid, S, CAR: Ankle — Questionable
Nick Vigil, LB, CIN: Ankle — Questionable
Olivier Vernon, DE, CLE: Knee — Questionable
Rock Ya-Sin, CB, IND: Ankle — Questionable
Myles Jack, LB, JAX: Knee — Questionable
Ronnie Harrison, S, JAX: Concussion — OUT
Tre Herndon, CB, JAX: Shoulder — Questionable
Ken Crawley, CB, MIA: Shoulder — Questionable
Ryan Lewis, CB, MIA: Chest — Questionable
Jabrill Peppers, S, NYG: Back — OUT
Steve McLendon, DT, NYJ: Neck — Questionable
Henry Anderson, DE, NYJ: Shoulder — Questionable
C.J. Mosley, LB, NYJ: Groin — OUT
Darryl Roberts, CB, NYJ: Calf — Questionable
Dee Ford, DE, SF: Hamstring — OUT
Carl Nassib, DE, TB: Illness — Questionable
LeShaun Sims, CB, TEN: Ankle — OUT
Daron Payne, DT, WAS: Ankle — Questionable
Ryan Kerrigan, LB, WAS: Concussion — OUT
4 p.m. ET games
Offense
Kyler Murray, QB, ARI: Hamstring — Questionable
Impact: Breathe. He's expected to start. Brett Hundley would not be an apt replacement, by any means.
Damien Williams, RB, KC: Ribs — OUT
Impact: LeSean McCoy/Darrel Williams to split carries.
Geremy Davis, WR, LAC: Hamstring — OUT/IR
Impact: Mike Williams is back from a knee injury, making Davis expendable.
Gerald Everett, TE, LAR: Knee — OUT
Impact: Erratic Tyler Higbee takes over TE duties.
Hunter Renfrow, WR, OAK: Ribs — OUT
Impact: Trevor Davis may get a chance to take over his workload.
Defense
Jonathan Bullard, DE, ARI: Foot — Questionable
Shelby Harris, DT, DEN: Ankle — Questionable
Von Miller, LB, DEN: Knee — Questionable
Alexander Johnson, LB, DEN: Knee — Questionable
Official Sunday inactives should begin coming in at approximately 11:30 a.m. ET for the early games and 2:30 p.m. ET for the late games.
Jim Caldwell leaves Dolphins having never coached team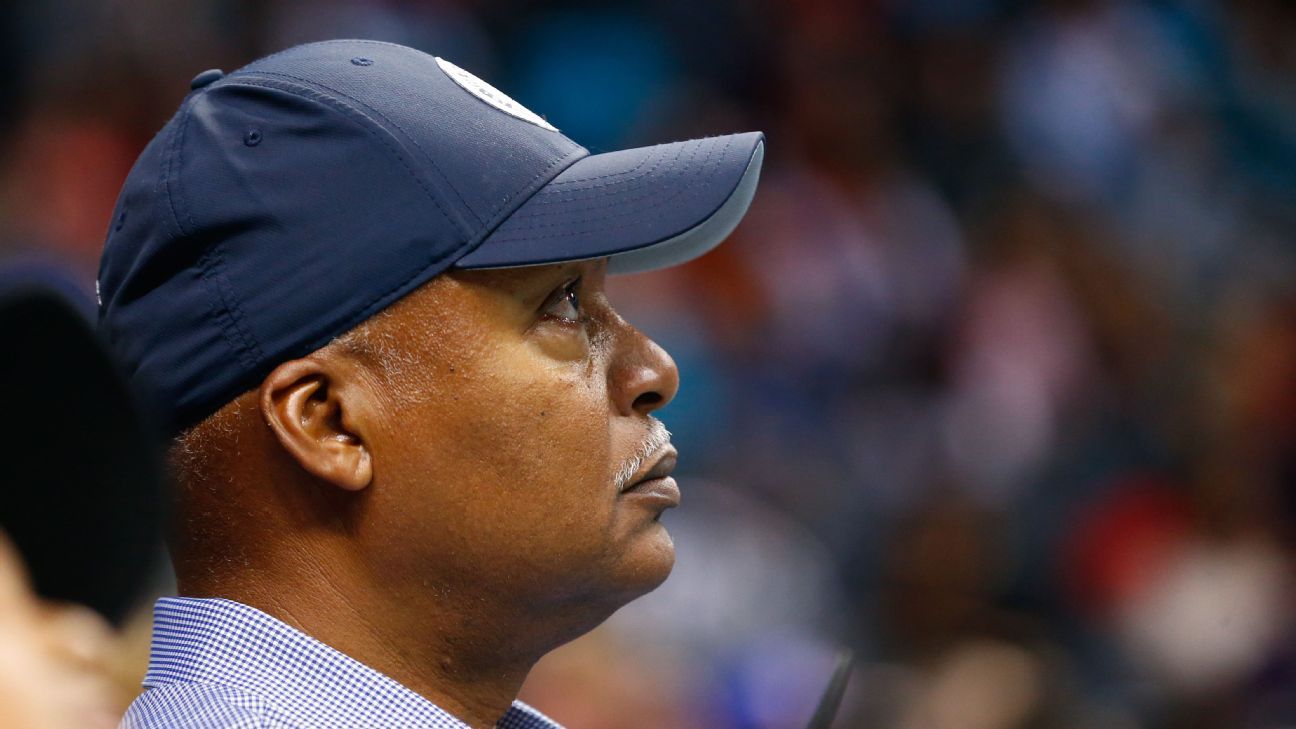 Veteran coach Jim Caldwell won't return to the Miami Dolphins' staff in 2020.
Caldwell, who was hired by Brian Flores in February as assistant head coach and quarterbacks coach, never coached a game for the Dolphins. He took an indefinite leave in July due to an undisclosed health issue and did not return to his on-field role.
Caldwell is ready to resume coaching again. The two-time former head coach, who led the Colts to the Super Bowl in 2009, has been mentioned as a candidate for multiple vacant roles this offseason including the Philadelphia Eagles' offensive coordinator gig.
The Dolphins hired West Virginia senior offensive analyst Robby Brown to be the quarterbacks coach. Miami's assistant quarterbacks coach Jerry Schuplinski was hired as the New York Giants quarterback coach earlier this month.
Caldwell is a highly respected coach throughout the NFL with a history of developing quarterbacks and running strong offenses. He was on Fritz Pollard Alliance's recommendation list for teams looking to hire a new head coach. The Alliance is an independent organization that works with the NFL to champion diversity.
Flores has undergone a dramatic overhaul of his coaching staff as he leads the Dolphins into a very important 2020 offseason.
The Dolphins are in the market for a franchise quarterback and could find that player high in the 2020 draft. They have the No. 5, No. 18 and No. 26 selections in the first round.
The Dolphins also officially hired Chan Gailey as offensive coordinator, replacing Chad O'Shea, who was fired after one season. Josh Boyer was promoted to defensive coordinator after Patrick Graham left that role to take the same gig with the Giants earlier this month.
With lessons learned from SB LI collapse, Kyle Shanahan 'glad' to get another title chance
SANTA CLARA, Calif. — In heading back to the Super Bowl for the first time as head coach of the San Francisco 49ers, Kyle Shanahan knows he will get plenty of questions about what happened the last time he was coaching in the biggest game of the year.
But the memories and lessons Shanahan has from that game might not be the ones that most expect. Instead of concepts like "just run the ball," Shanahan will lead the Niners to Miami to play in Super Bowl LIV thinking more about "no lead is ever safe" and "best practices in backpack protection."
Shanahan, of course, was the Atlanta Falcons' offensive coordinator for Super Bowl LI against the New England Patriots. That was the game the Falcons led 28-3 entering the fourth quarter but eventually lost 34-28 in overtime.
Afterward, Shanahan took plenty of criticism for his late-game playcalling. On Monday, he was asked how often he still thinks about that game.
"Not much at all anymore, to tell you the truth," Shanahan said. "You do it every second in the days after; they were real tough. Losing the Super Bowl is extremely tough for everybody, especially when you have a 28-3 lead going into the fourth.
"But the way it came down on me personally, I didn't react to that the way people would expect because there were definitely parts of that Super Bowl I would love to have back and I was very hard on myself. But the whole narrative of 'if I just would have run it, we would have won,' I know that wasn't the case. I know what went into that game and all the stuff that happened, so that stuff didn't bother me. You've got to deal with that and listen to other people, but it was nice to be able to move on and move out here and just keep working. I'm glad I'm going to get the chance to go back."
Although the criticism didn't faze him, Shanahan does acknowledge there are some things he would have liked to do over.
Specifically, the one call that still bothers Shanahan came at New England's 23 with just under four minutes to go and Atlanta leading 28-20. Facing second-and-11, Shanahan thought back to a late third-quarter drive in which the Falcons had a second-and-1 at New England's 32 and the run play he called was stuffed for a 1-yard loss and Atlanta was flagged for holding. That sequence forced the Falcons to throw on third down, quarterback Matt Ryan took a sack and they were knocked out of field goal range.
Determined to do better the second time, Shanahan called for a pass, but Patriots defensive lineman Trey Flowers dropped Ryan for a sack and a 12-yard loss. The next play was another holding penalty and the Falcons had to punt again.
"That put us way back and (we) had to throw again to get back into it and we missed it," Shanahan said. "But yeah, I wish I didn't call that play on second-and-11 that led to that sack."
That isn't to say Shanahan didn't take any other lessons from his previous trip to the Super Bowl. If nothing else, that experience only reinforced to him the importance of keeping his foot on the gas, which is why he actually called a couple of passes for quarterback Jimmy Garoppolo in the fourth quarter of Sunday's win against Green Bay to ensure the Packers didn't get a chance to claw back into the game.
"That's why, I promise you when we're way up in the fourth quarter on Green Bay and stuff, I know what 28 minus 3 is and I know a 25-point lead in the fourth quarter isn't enough," Shanahan said. "So, when we have a 14-point lead with eight minutes to go versus Green Bay, I can promise you that I think I feel from experience like the game is tied and that we don't have a two-score lead.
"I think that's the stuff that helps you. Sometimes I think people can tend to relax. I won't say that I ever relaxed in that Super Bowl, especially with Tom Brady having that ball, but that's something that keeps you humble in every single moment until the game is over."
Off the field, Shanahan even walked away from that trip with a crash course on backpack protection. At Super Bowl media night, Shanahan's backpack went missing.
Inside, Shanahan had what he estimates to be about 48 Super Bowl tickets and "a lot" of cash from those who had given him money for those tickets. His iPad, which had the Falcons' game plan on it, was also inside, but he wasn't as concerned about that knowing that everything on it was protected by passcodes.
"I had almost a panic attack," Shanahan said. "It was gone for about an hour and a half. The whole team left me. The Patriots came in. I was walking around there looking for my backpack, running into more media people and still doing interviews past my deal and I was trying not to come off as a jerk blowing them off. I was panicked trying to find my backpack."
Shanahan spent about 90 minutes looking for the backpack before realizing that Art Spander, a longtime Bay Area sportswriter, had left his own backpack behind. After checking to see who it belonged to, Shanahan was able to track down Spander and exchange the backpacks.
"He had it and they tried to take it off of him and he wouldn't give it to me at first until I showed him it was mine," Shanahan said, laughing. "I forgave him fast but I was stressed for a while."
Still 'early in the process,' Bengals brass refutes ESPN report saying they don't intend to deal top pick
Bengals director of player personnel Duke Tobin disputed ESPN's report that Cincinnati would not trade the No. 1 pick in the draft, telling the team website on Monday that the report was "news to him."
"I don't know that any decision has been made for what we're going to do in April," Tobin told Bengals.com. "We're early in the process. We certainly haven't had any meetings to determine that at this point. Those will be meetings we'll have as we go through the process."
On Sunday, ESPN's Adam Schefter reported that the Bengals have no intention of trading the top draft position, citing league sources. Cincinnati, which went a league-worst 2-14 in 2019, holds the right to the top draft slot for the first time since 2003.
Most of the discussion has centered on one player: Joe Burrow. The quarterback and Heisman Trophy winner led LSU to an undefeated season and a national championship in his second and final season with the Tigers.
ESPN's Mel Kiper has Burrow ranked as the No. 2 overall prospect in April's draft, and ESPN's Todd McShay projects that he will go to Cincinnati with the No. 1 pick.
With the Bengals coaching this week's Senior Bowl, the franchise was hopeful that the quarterback would make the trip to Mobile, Alabama. However, Burrow informed Senior Bowl executive director Jim Nagy that he will not attend the event that started less than a week after LSU won the national title.
Tobin, who is considered the team's de facto general manager, told the team website that he respects Burrow's decision and understand the thought process, considering the long season.
"We'll have a lot of opportunity to get to know him through the process," Tobin told Bengals.com. "We feel very comfortable by the time we have to make a decision in the draft on him and the other players as well."