Dolphins' Vince Biegel learned 'strong work ethic' as fifth-generation cranberry farmer – Miami Dolphins Blog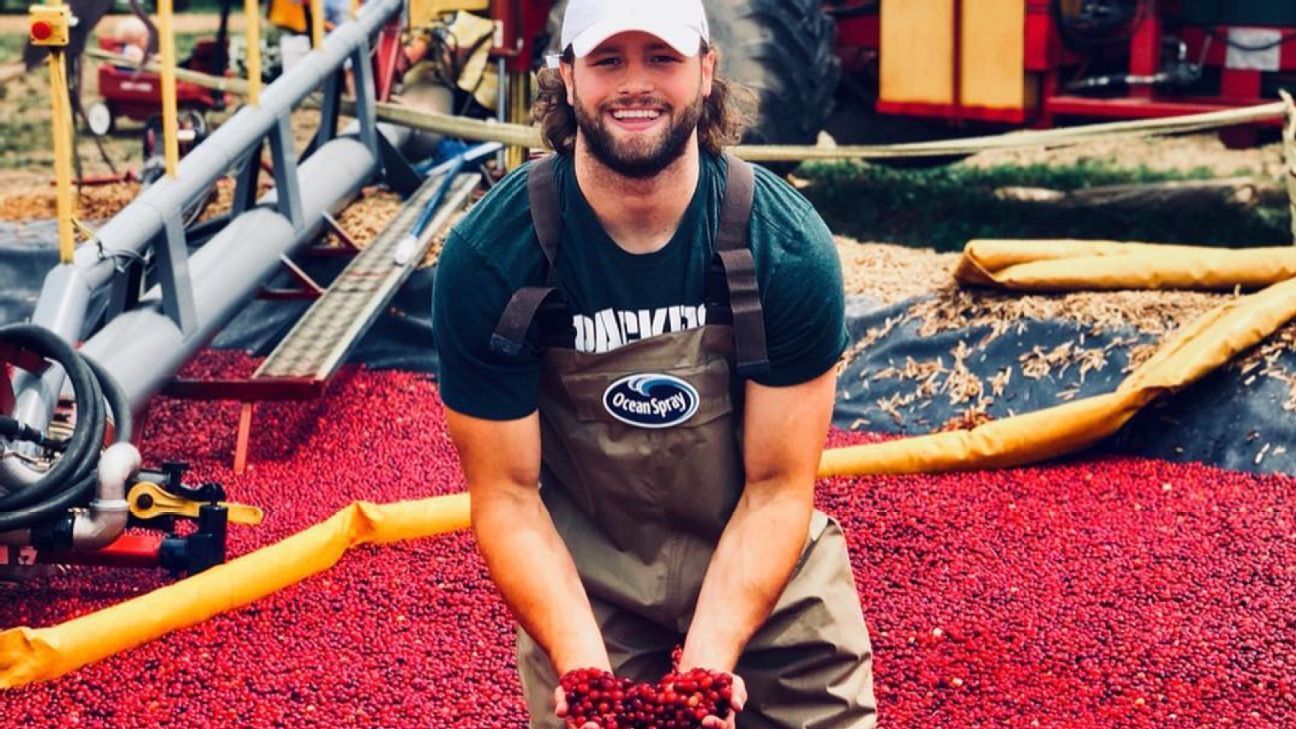 DAVIE, Fla. — When you drink a glass of dark Ocean Spray cranberry juice, there's a chance the cranberries were harvested by Miami Dolphins linebacker Vince Biegel and his family from their cranberry marsh in Wisconsin Rapids, Wisconsin.
A small-town fifth-generation farmer who spent 10-hour summer days knee-deep in cranberry beds, Biegel took a unique journey to the NFL.
"The cranberry marsh was my only job growing up. It's a hard job. It's not a spotlight job. There's not a lot of glory," Biegel said. "I learned to take responsibility, have a strong work ethic and take advantage of your opportunities. Those qualities have taken me a long way."
Relive the NFL's greatest games, original series and more. Watch on ESPN+
The 26-year-old is now a starting pass-rusher and spirited leader for a 2-9 Dolphins team that will host the Philadelphia Eagles (5-6) at 1 p.m. ET on Sunday (Fox).
Miami traded veteran linebacker Kiko Alonso to the New Orleans Saints for Biegel on Sept. 1, and while Alonso was the big name in the deal, Biegel was viewed by some as a special-teams throw-in. But in an extreme rebuilding season, the Dolphins searched for low-cost, diamond-in-the-rough keepers. They saw potential in Biegel beyond special teams.
Three months later, it's clear the Dolphins won the trade. Biegel represents exactly what Dolphins coach Brian Flores is trying to build in Miami.
The cranberry man
Approximately 50% of cranberries harvested in the United States come from Wisconsin — primarily because of the sandy soil. Some of that originates from Wisconsin Rapids' Dempze Co. cranberry marsh — a family business that celebrated its 100th anniversary this summer and helped shape Biegel into the man he is today.
Biegel started working on the marsh when he was 7 years old. The Dempze farm comes from his mom's side of the family. His dad's side of the family was all about football. His dad, Rocky, played linebacker at BYU. Biegel's grandfather, Ken, played football at Wisconsin-Eau Claire and is in the National High School Athletic Coaches Association Hall of Fame.
Life was a steady mix of cranberries and football. Vince Biegel chose his preferred life path early on.
"Growing up, football was my main passion. I pursued it relentlessly. My dad was unique in that he pushed school first, football second and working on the marsh third," Biegel said. "But I never considered working at the marsh as a fallback like a bad thing. Our family takes great pride in that. Honestly, it's still in the cards. I could see myself running my own marsh one day."
Even as an accomplished Wisconsin Badgers defender, Biegel spent some of each summer working at the marsh.
"Harvest was my favorite. Harvest is when you see the fruits of your labor come to fruition," Biegel said. "It's sort of like when you get a sack."
A couple of his teammates' eyes widen when he discusses the Dempze cranberry sauce and cranberry apple crisp family recipes. Cranberries are his favorite fruit and Thanksgiving dish. His favorite drink? Half-cranberry juice, half 7UP. The cranberry man has taught his locker mates more about his favorite fruit than they could have ever dreamed.
As Biegel explains the cranberry farming process, Dolphins linebackers Jerome Baker and Deon Lacey chuckle to themselves. They have heard this story plenty. Biegel proudly continues, "Cranberries grow on vines in a cranberry bed, which is about the size of a football field. In our marsh, we have about 70 to 80 cranberry beds, so that's 70 to 80 fields' worth of cranberries."
The cranberry man always planned to leave the marsh to pursue his NFL dreams, but when it's all over, there's a good chance he'll return to cultivating a bed of berries.
Wisconsin LB Vince Biegel will be the first to tell you Wisconsin is the No. 1 producer of cranberries in the U.S. As a child who grew up on a cranberry marsh, Biegel shares how his experience shaped who he is on and off the field.
'I love being' in Miami
A week before the 2019 NFL season began, Biegel went from a championship contender with the Saints to one of the worst teams in football — a team that started the season 0-7. Surprisingly, he was ecstatic to join the Dolphins because of the "opportunity."
Biegel was primarily a special-teams player with New Orleans; he played only two defensive snaps in 2018. He yearned for more. And then the trade happened.
"I really do love being here. When Miami traded for me, I knew it was going to be a great opportunity because this is a young team. It's been all that and more," Biegel said. "This is the opportunity that I've been able to grow the most from in my career from a football and leader perspective. I'm excited to hopefully stick around here for a long time."
Biegel says being released by the Green Bay Packers — the team that selected him in the fourth round of the 2017 draft — was the best thing for his career. As a kid who was from Wisconsin and who attended the University of Wisconsin, Biegel put too much pressure on himself playing for his hometown NFL team.
"A weight was lifted off my shoulder," Biegel said about being cut by Green Bay in September 2018 and then signed by New Orleans. "I got back to the purity of playing football."
Dolphins linebackers coach Rob Leonard says Biegel's strengths are his motor and his physicality: "You don't have to say anything to Vince to get him going, so I can coach that. I can tame you down. I can't tame you up. He lights a fire to the whole defense. I just try to channel it to get that motor pointed in the right direction. Like, scout team: Don't kill the quarterback."
The Biegel buzz is real in Miami. He has become a favorite of the fans, coaches and teammates in a short time.
"Biegel consistently brings the energy. He's the main one. Sometimes it seems annoying, but he brings it every day," Baker said. "It's definitely important. It's a team. Some days it can't just be him. Some days it has to be other guys. But for Biegel, no matter what is going on, he brings positive light out of it."
'The wins will come'
Biegel's pass-rush ability, success setting the edge, high motor and infectious vibe have sealed his starting linebacker role. He leads the Dolphins in quarterback hits (11), and he's second on the team in sacks (two). The first sack of his career came in Week 2 against New England Patriots quarterback Tom Brady.
"Brady was the guy I wanted to sack most when I entered the NFL. That was a great experience and now I want more. I want to be the guy out there to provide that spark for us," Biegel said. "One thing my dad always taught me was effort. There's a lot of things you can't control, but there's one thing you can control and it's your effort. For me, it's a compliment when people say, 'Hey, you're a high-motor guy.'"
It doesn't appear Biegel is leaving the Dolphins anytime soon.
"Pre-snap stuff is big for him and he can't get enough reps. He's only going to get better in my opinion because any guy that has a motor that burns hot like that is — you've just got to get it pointed in the right direction," Leonard said. "He can definitely help us. I like Vince a lot. Guys like that are fun to be around, and they bring a lot of energy to the room, so it makes it fun to coach. There's never a dull moment."
Flores calls Biegel the team's best edge-setter and stout in the run game. Defensive coordinator Patrick Graham raves about his arm extension. Even if his role decreases when the team gets better, there should be a place for a guy like Biegel.
Plus, the locker room needs its cranberry man.
"I know there haven't been a lot of wins this year. But the wins will come," Biegel said. "I hope the fans know we have a lot of good things to look forward to in the future, and I'm hopeful I can continue to be a part of it."
Browns WR Odell Beckham Jr. has core surgery to repair hip and groin injury
Cleveland Browns wide receiver Odell Beckham Jr. underwent surgery Tuesday to repair a hip and groin injury that hampered him throughout this season.
Dr. Bill Meyers performed the surgery in Philadelphia.
Beckham's recovery timeline figures to be similar to that of Browns running back Kareem Hunt, who underwent sports hernia surgery in training camp but was ready to play after serving an eight-game suspension.
Beckham had 74 receptions, 1,035 receiving yards and four touchdowns this season playing through the injury.
NFL to experiment with alternative to onside kick at Pro Bowl
The NFL will experiment with an alternative to the onside kick during Sunday's Pro Bowl, an indication that the league is still considering the option despite owners rejecting it last year.
As in past years, there will be no kickoffs at all in the Pro Bowl. The twist this year is that teams will have two options after scoring.
The first is to give the ball back to their opponents, who would start their drive at their 25-yard line. The new, second option for the scoring team would serve as a substitute for an onside kick. It would allow it to run one additional play from its own 25-yard line.
If the scoring team gains 15 or more yards, it would retain possession. If it falls short, their opponents would take over at the dead ball spot. Essentially, it will be a 4th-and-15 play.
Here's a look at the two rule changes we'll be testing at #ProBowl 2020: https://t.co/agnWbdi5bA pic.twitter.com/lS6jAqEeL8

— NFL Officiating (@NFLOfficiating) January 21, 2020
Onside kicks have been more difficult to recover since the NFL's 2018 overhaul of the kickoff. Among other changes, the new rule prevented the kickoff team from getting a running start before the kick. Onside kick recoveries dropped from its historic rate of about 21% through the 2017 season to 7.7% in 2018 and 12.9% in 2019.
The Denver Broncos proposed a similar change last winter, but owners voted it down in March. The NFL does not always adopt Pro Bowl rule changes, but the presence of the onside kick alternative means that at least some league decision-makers would like to see it in action.
Also this year, Pro Bowl officials will be instructed to use a different standard for false start penalties on receivers who are flexed from the line of scrimmage. It will not be a false start if a receiver flinches or lifts one foot off the ground, provided he re-sets for one second and/or keeps one foot on the ground.
NFL Rookie Rankings – Nick Bosa beats out four offensive first-year stars for the top spot
The 2019 rookie class had a lot of intrigue, and with the NFL's regular season well behind us, we ranked the best of the best in the year's group.
We asked six writers and analysts — Matt Bowen, Mike Clay, Jeff Legwold, Cam Mellor, Kevin Seifert and Field Yates — to rank the top 10 rookies throughout the season, then tabulated the results using Heisman-type scaling for each set. The product features nine players taken in the first 51 picks last April, and although it didn't contribute to his ranking — this is regular season only — the top seed served as a defensive force in helping power his team to the Super Bowl.
We also looked at two first-year players who closed the season well and saw their stock rise and two more whose stock declined in the final month. But first, here is our final ranking of the top 10 rookies of the 2019 regular season, starting with that Super Bowl-bound pass-rusher.


Stats: 47 tackles, 9.0 sacks, 1 interception, 1 forced fumble
Drafted: No. 2 overall
Previous rank: 1
Bosa was second in sacks and No. 1 in quarterback hits for the top pass defense in the league during the regular season. He was an especially fierce presence in the pass rush down the stretch, with nine QB hits over the last four games. Football fans will get another look at the top rookie in the Super Bowl, when his Niners face the Chiefs.
---

Stats: 242 carries, 1,150 rushing yards, 7 rushing touchdowns
Drafted: No. 24 overall
Previous rank: 2
Jacobs missed the last three games of the season with a shoulder injury and a skin infection. But he still finished eighth in the league in rushing overall and led all rookies in yards on the ground, consistently breaking tackles and providing yards after contact.
---

Stats: 3,722 passing yards, 544 rushing yards, 24 total touchdowns, 12 interceptions
Drafted: No. 1 overall
Previous rank: 3
He threw four of his 12 interceptions on the season in back-to-back games in Weeks 13 and 14, but the body of work over the course of the season at the most difficult position for a rookie puts him at No. 3. Murray and Cam Newton are the only rookie quarterbacks in league history to have passed for at least 3,500 yards and rushed for at least 500.
Cardinals WR Larry Fitzgerald gives high praise to QB Kyler Murray on his rookie season.
Stats: 52 receptions, 1,051 receiving yards, 8 touchdowns
Drafted: No. 51 overall
Previous rank: NR
In the 11 games that Ryan Tannehill started at quarterback for the Titans, Brown had four 100-yard games, caught six of his eight touchdowns and averaged at least 15 yards per catch seven times. And he topped 20 yards per catch four times in that stretch. Some in the league believe Brown was actually the NFL's best rookie by the time Week 17 rolled around.
---
Stats: 58 receptions, 919 receiving yards, 7 touchdowns
Drafted: No. 76 overall
Previous rank: 6
McLaurin made many cornerbacks pay the price for trying to press him at the line of scrimmage. And while his production dipped some in the weeks immediately following fellow rookie Dwayne Haskins Jr. being named starting quarterback, McLaurin eventually had at least seven targets and averaged at least 14 yards per reception in three of the last five games.
---
Stats: 44 tackles, 10.5 sacks, 2 forced fumbles
Drafted: No. 7 overall
Previous rank: 5
He has some work to do in the run game, but Allen was drafted to impact the pass rush and was the league's only rookie to nudge his way past 10 sacks this season (the Raiders' Maxx Crosby finished right at 10). Allen should get more snaps overall moving forward — he played 58% or fewer of Jacksonville's defensive snaps in its last seven games — when he improves his work on early downs.
---
Stats: 109 tackles, 1.0 sack, 2 interceptions, 1 forced fumble
Drafted: No. 10 overall
Previous rank: 4
After playing at least 90% of the defensive snaps in four of the first seven games (and 89% in another), Bush lost some coverage snaps in the season's second half as Mark Barron saw more time in down-and-distance situations. But this is a player with dynamic closing speed who will flourish over the long haul in the Steelers' scheme.
---
Stats: 16 starts, 93.3% pass block win rate
Drafted: No. 48 overall
Previous rank: 8
McCoy played all but six snaps this season — he briefly left a Week 8 win over Arizona just before halftime — for the league's No. 3 scoring offense. The Saints also tied for the third-fewest sacks allowed in the league and averaged 4.6 yards per rush in run plays over the center.
---
Stats: 14 starts, 95.0% pass block win rate
Drafted: No. 44 overall
Previous rank: 9
Jenkins took over as the Packers' starting left guard in Week 3 and didn't miss a snap the rest of the way. He did not allow a sack all season in one-on-one situations, and the Packers averaged at least 5.2 yards per carry in run plays over the left guard or behind the left guard and center. Jenkins' 95% pass block win rate — the percentage of blocks sustained for at least 2.5 seconds, an ESPN metric powered by NFL Next Gen Stats — was the best of any rookie.
---

Stats: 38 tackles, 2.5 sacks, 1 forced fumble
Drafted: No. 17 overall
Previous rank: 10
After playing at least 70% of the defensive snaps in a five-game stretch from Week 10 to Week 14, Lawrence was on the field less down the stretch and had just four tackles combined in the last three games. But he was an early-down force for much of the season and his potential was easy to see.

Just missed

Miles Sanders, RB, Philadelphia Eagles: Sanders, who played through an MCL sprain in the Eagles' playoff loss to the Seahawks, flashed lead-back potential throughout the season. He averaged at least 5.7 yards per carry in four games, and his 50 receptions made him the only rookie running back to reach that total this season. He finished with 1,327 yards from scrimmage and six touchdowns.
Gardner Minshew II, QB, Jacksonville Jaguars: Minshew responded to his benching well and rebounded with seven touchdown passes and only one interception in his final four starts of the season. He consistently showed premium deep-ball accuracy throughout the season. Minshew closed the season with 3,271 passing yards, 21 touchdowns and six interceptions.
Also received top 10 votes: Juan Thornhill, Jamel Dean, Marquise Brown, Maxx Crosby, DK Metcalf, C.J. Gardner-Johnson, Dalton Risner, Mecole Hardman, Deebo Samuel

STOCK UP

DK Metcalf, WR, Seattle Seahawks: Metcalf had six games this season with two or fewer catches, but you could see his comfort level rise more and more as the season wore on. He consistently wins contested catches, and as his route tree grows, so will his touchdown totals. And if the postseason were factored in here, Metcalf might have made the top-10 list — he posted 219 receiving yards on 11 catches for the Seahawks.
Chase Winovich, OLB, New England Patriots: Winovich didn't start a game this season for the Patriots, but New England also led the league in total defense and scoring defense, with plenty of veteran depth. Winovich was still one of the most efficient defenders in the league in terms of production per snap. Four times this season he had a sack in a game where he played 17 or fewer snaps.

STOCK DOWN

Daniel Jones, QB, New York Giants: Look, everyone understands it was no picnic playing behind the Giants' offensive line this season and that the team won just two games after September. But the ball was simply not Jones' friend, as he led the league in fumbles (17) and lost 11 of them. Put 12 interceptions in 12 starts on the pile, and his offseason should include a lot more emphasis on ball security.

Brian Burns, OLB, Carolina Panthers: Everything changed after Burns underwent a surgical procedure on his wrist during the team's bye week in October. Before the surgery, he had 4.5 sacks in six games, including four starts. After the surgery? Burns started just once, and he had four games in which he didn't record a tackle and four in which he played 16 or fewer snaps. And he had three sacks over the final 10 games. One of new coach Matt Rhule's biggest tasks on defense is to reintegrate Burns.