Seahawks DE Jadeveon Clowney questionable with sore hip
RENTON, Wash. — Seattle Seahawks head coach Pete Carroll said defensive end Jadeveon Clowney was away from the team Friday getting "treatment" on a sore hip that has him questionable for Sunday's game at Philadelphia.
Clowney will meet the team in Philadelphia and will be a game-time decision, according to Carroll. He didn't specify the nature or extent of Clowney's hip injury nor where he was receiving treatment, only saying it was off-site. The injury stems from the Seahawks' win over the 49ers two weeks ago, which preceded Seattle's bye.
"Something he felt in the game, came out of the game with a little something," Carroll said. "Just checking him out, making sure he's OK."
Clowney missed practice Wednesday, Thursday and Friday. The Seahawks weren't required to detail player participation in their "bonus Monday" practice.
Clowney has been the Seahawks' best pass-rusher this season — he's fifth in the NFL in ESPN's Pass Rush Win Rate at 26.6% — and arguably their most impactful defender. His dominant performance against the 49ers included a sack, five quarterback hits and his second defensive touchdown of the season.
Tyler Lockett, the Seahawks' No. 1 receiver, is expected to play Sunday after being limited in practice the last three days. He spent two nights at Stanford Hospital as a precautionary measure last week after suffering a lower leg contusion against the 49ers, which sidelined him for overtime.
"At this point it's not a dangerous injury now," Carroll said. "He had a real contusion in his lower leg that just needed some time. There was enough time fortunately. We had the week off. I don't know if he would have made it now if we had played last week. That would have been hard to see that happening. But he's ready to go now. He's fine."
The Seahawks on Friday placed veteran tight end Ed Dickson back on injured reserve, officially ending his season two days after he was activated off IR. The Seahawks had to activate Dickson this week in order to make him eligible to play this season. They promoted Tyrone Swoops from their practice squad while putting Dickson back on IR.
Tight end Luke Willson (hamstring) is listed as doubtful for Sunday, though Carroll came up with his own designation, calling him "probable-doubtful" in reference to Willson's history of being a quick healer. Jacob Hollister and Swoops are the only healthy tight ends on Seattle's roster, though backup tackle George Fant also plays a de facto tight end role.
The 32-year-old Dickson will have missed 22 of 32 regular-season games over his first two years with the Seahawks. He's set to count almost $4.3 million against the cap next season in the final year of his deal.
"Eddy, he's just not ready and it's unfortunate and I feel bad for him and all," Carroll said. "It's just the right thing to do. He's not ready to play yet. He was ready to get back to practice. He did that. When we pushed it up, we could tell. So we had to move him back to IR. We had to activate him on Wednesday to make him available. He had a good day's work and you could tell. I sat with him .. talked through it and he understood. He could tell he doesn't quite feel as ready as he needs to be."
Chiefs regroup after starters Damien Williams, Laurent Duvernay-Tardif opt out – Kansas City Chiefs Blog
The Kansas City Chiefs thought they had two advantages over most of their competition heading into training camp, one being startling continuity for the salary-cap era and the other a high-scoring offense led by quarterback Patrick Mahomes.
Those advantages might still be there, though not in the abundance they were before the calendar turned to August. Two offensive starters, running back Damien Williams and guard Laurent Duvernay-Tardif, opted out of playing this season amid the coronavirus pandemic, dealing the Chiefs a blow.
"It hurts," tight end Travis Kelce said. "The guys that we have in that locker room can fill that void. I honestly believe that. We have an unbelievable roster, and I'm excited to see how this group molds together."
• Top bounce-back candidates for every team
• Will your team have fans in stands in 2020?
• Chiefs regrouping after losing two starters
• Inside Dolphins' coronavirus pandemic plan
• Judge enters ultimate honeymoon season
• Jets' Adams replacement in familiar role
There's no reason to believe the two player losses will unravel everything the Chiefs have going for them. Eighteen starters still return from the Super Bowl LIV win over the San Francisco 49ers. That familiarity could provide an edge in a season without offseason practice and preseason games and with an abbreviated training camp.
But Williams was the Chiefs' leading rusher last season and a Super Bowl star. He ran for 104 yards against the 49ers and scored the final two touchdowns in the fourth quarter of the 31-20 victory.
The Chiefs also lost their second-leading rusher, LeSean McCoy, who left as a free agent. They did draft LSU's Clyde Edwards-Helaire in the first round, but their veteran running backs have a total of five NFL starts among them.
The Chiefs already had big expectations for Edwards-Helaire as a rookie. Now he must deliver.
In an illustration of just how important he is to the Chiefs this season, a defensive player, linebacker Anthony Hitchens, said, "Our job [on defense] is to get him ready for Week 1: show him different looks, practice hard, try to strip the ball out, playing tight coverage on him."
The Chiefs also lost Stefen Wisniewski to free agency, so they need starters at both guard positions. They had to mix and match along the offensive line last year. Injuries forced them to start five different line combinations.
So between free-agent additions Kelechi Osemele and Mike Remmers, part-time 2019 starters Andrew Wylie and Martinas Rankin and young players in Nick Allegretti and Lucas Niang, the Chiefs have plenty of candidates.
The Chiefs won't have as much time to sort through the possibilities as they usually do.
"The older guys, the more they play, the easier it is to mesh them together," tackle Mitchell Schwartz said. "Obviously, [Osemele] has had an awesome career and Remmers has had a really good career too. Those are guys who understand fits and understand how to play with people, next to people. So that's not something I'm too worried about."
Giants lose third opt-out player with CB Sam Beal's decision
The New York Giants took another hit at a position of concern when cornerback Sam Beal decided to opt out of the 2020 NFL season.
According to the NFL's daily transaction wire, linebacker Josiah Tauaefa was also removed from the reserve/COVID-19 list one day after being placed on it.
Beal becomes the third Giants player to take the opt-out route, joining offensive tackle Nate Solder and wide receiver/kick returner D'Mari Scott. Under the agreement reached between the NFL and NFLPA, players had the option of opting out of the upcoming season without penalty by 4 p.m. on Thursday. The opt out is irrevocable.
The Giants already had question marks at cornerback prior to Beal's decision. Cornerback DeAndre Baker is on the commissioner's exempt list and faces charges of armed robbery and aggravated assault with a firearm. He is unlikely to play another snap with the Giants.
Baker was a first-round pick last year. Beal was a third-round supplemental pick out of Central Michigan in 2018 who missed his entire rookie season with a shoulder injury. He played in six games with three starts last season and finished with 25 tackles and one pass defended. He missed the season finale with a shoulder injury.
Beal, 23, was expected to be in the mix, along with second-year cornerback Corey Ballentine, for a starting spot opposite offseason acquisition James Bradberry. Rookie fourth-round pick Darnay Holmes also appears to be in serious contention for the job.
Beal's absence now leaves the Giants with an obvious void and a lack of depth. A source indicated recently — even before Beal's opt out — that the team was searching for cornerback help on the waiver wire or via free agency. Among the options on the open market are veterans Logan Ryan, Aqib Talib and Dre Kirkpatrick.
New coach Joe Judge has firsthand experience with Ryan and Talib from their time in New England. Ryan appears to be the most likely option, especially since the Giants will gain $13.55 million in salary-cap space from Solder's decision to sit out the 2020 NFL season.
Growing frustrated by suspension, Cowboys' Randy Gregory lashes out, says he's 'doing everything right' as he aims for reinstatement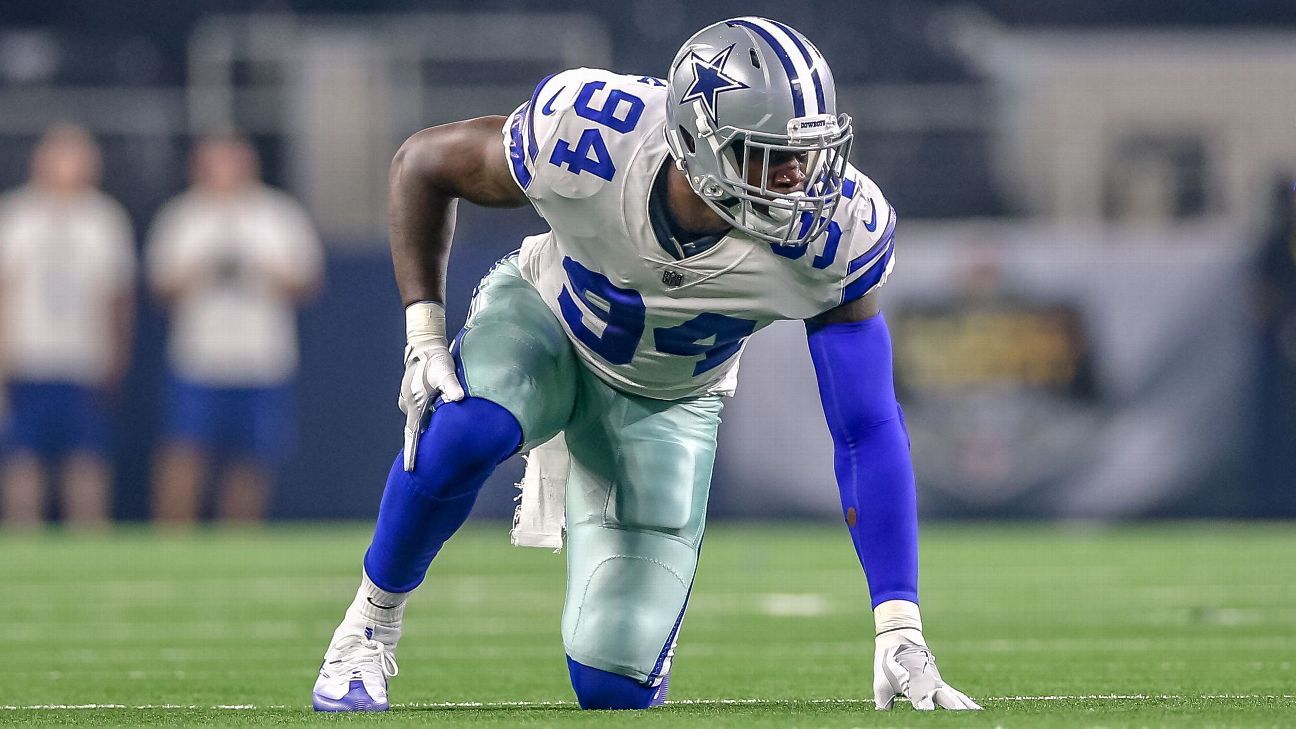 Dallas Cowboys defensive end Randy Gregory took to social media Wednesday to say he is being treated unfairly by the NFL as he attempts to be reinstated from an indefinite suspension.
"I really miss playing football and being a player in the NFL," Gregory wrote. "I'm doing everything that is asked of me and I'm in great shape physically, mentally and emotionally but I'm being held back from furthering my career because of Covid and testing. I've been ready to play and test for months but still have gotten little to no help to resolve my reinstatement. I'm asking more questions than I'm getting answered. It's amazing that the powers that can keep passing the buck and also use this pandemic as a way to prevent me from joining my team. Telling me to just sit and wait in limbo over things I can't control, all the while doing everything right off the field is unfair and flat out wrong!!!"
A request for comment from the NFL regarding Gregory's status has been made.
For all of you that's wondering… pic.twitter.com/gj7nWJpw5e

— Randy Gregory (@RandyGregory_4) August 5, 2020
Gregory applied for reinstatement in March, according to sources. Last month ESPN reported his attempt to return had not been denied but he was not cleared to return either and sources said there was some optimism he would be allowed around the team in some fashion even if he could not practice.
Gregory is on an indefinite suspension for multiple violations of the league's substance-abuse policy dating to his rookie year in 2015.
Under terms of the new collective bargaining agreement, players can no longer be suspended for a positive test for marijuana, but because he was penalized under the old system he would still need to be welcomed back by commissioner Roger Goodell. A player can continue to be suspended for missing tests or not taking part in a care plan.
Gregory missed all of last season after playing in 14 games in 2018 and finishing with six sacks, which was second on the team. He missed 30 of 32 regular-season games in 2016 and '17 because of suspensions. He has played in only 28 of a possible 80 regular-season games in his career.
The Cowboys selected Gregory in the second round in 2015 and have stood by him, including agreeing to an extension with him last year that was ultimately blocked by the league. The team had a short-term extension for Gregory blocked last year by the league because of the suspension.
Earlier this offseason, pass-rusher Aldon Smith was conditionally reinstated by the NFL after multiple suspensions that have kept him off the playing field since 2015. Smith has passed numerous tests within the last year and has agreed to a strict after-care program.