Kenny Golladay's quiet rise has been what the Lions have needed – Detroit Lions Blog
ALLEN PARK, Mich. — Kenny Golladay isn't the loud one. Not in the locker room, where he'll often speak softly while sitting at his locker during media sessions. Not in the meeting room, either, where fellow Detroit Lions receivers Marvin Jones and Danny Amendola will be more vocal.
Golladay prefers to be the quiet devastator. In meetings, he prefers to sit and ingest all of the notes receivers coach Robert Prince will give him, sitting in the front row asking questions when he needs to.
On the field, he'll talk by ripping a ball out of a defensive back's hands for either a reception or a broken-up interception, happening so often it's almost expected. He'll talk by the way he plays, the aggressiveness he shows.
Last week, before he played his hometown Chicago Bears, he was asked what he thought about not being drafted by the Bears in 2017. "A lot of teams passed on me." But Chicago is home. "It's all right," Golladay said, with a pause. "I'm with [Lions QB] Matthew Stafford." When he was asked if that was a shot at Bears quarterback Mitchell Trubisky, he laughed: "Hey, I ain't saying nothing." Then he went out with backup quarterback Jeff Driskel and scored Detroit's only touchdown.
His eight receiving touchdowns lead the NFL and equal his touchdown total in his first two seasons combined. His four 100-yard receiving games are tied for third in the league. He's No. 10 in receiving yards this season with 697. Of the players in the top 20 in yards per reception, where he's ranked 20th at 18.34 yards per catch, only he, Minnesota's Stefon Diggs and the Chargers' Mike Williams have more than 30 catches.
He'll make plays in the red zone, where he has four of his eight touchdowns. He'll make plays deep — his other four scores are all of 30 yards or more. Wherever the Lions need him, he'll deliver — 84.2 percent of his catches end up being first downs.
"I don't think he's gotten more physical," receiver Jones said. "He's always had that from the start. … You know, once you get into a lot of games, he's a vet now. You start to know how people play you."
Part of that is routine. Golladay isn't superstitious, but he believes in his preparation. Each week, he and former South Carolina quarterback Dylan Thompson, now the Lions' character coach, will go through a pregame workout they started together last year.
Thompson will throw balls at Golladay in every type of direction — between 8 and 10 reps in each spot — to warm up his hands. Almost every angle is covered — just his way of making sure everything is taken care of.
Golladay's ability to time his contested catches at the highest point and expand his radius seems to come naturally. It's what attracted the Lions to him in the first place.
"No matter who is around or where the ball is thrown at," practice squad receiver Chris Lacy said, "he makes a play."
It's been like that from the first game of Golladay's career. He scored two touchdowns — including a 45-yard diving catch that caught the attention of almost everyone. It was his 'Hey, I'm here!' moment, even though he might not have recognized it yet.
His teammates had seen those plays throughout training camp. It was his public introduction, considering he played at Northern Illinois.
"You make a big shock or a wave or anything like that, people will come to expect it from you," said Jones, who experienced it himself with a four-touchdown game his second NFL season. "As a receiver, you want that. As a player you want that. You want people to expect highly of you so you can deliver.
"You definitely feed off that because you know what you can do and everyone knows what you can do and just keep being consistent with it, because obviously people are going to pay more attention to you. And if you can keep that success when everybody expects it to happen, then it's like, 'Yeah.'"
Golladay is reaching that 'Yeah' point. Not that he says it. He doesn't say much. Ask about his personal goals? "Those are personal." Ask if he's on pace to achieve them? "That's kind of revealing a little bit."
He's appreciated the internal competition with Jones, who has 35 catches for 508 yards and five touchdowns this year, and said that has pushed him. They both know the other receiver can make plays, whether it's going deep or making the contested catch. It is what makes the two of them devastating for opposing secondaries. It's tough to plan for them because they can do similar things.
For Jones, that's been known for a half-decade now. For Golladay, every game it's learned a bit more. He won't change, though. He'll stay in the front of the room not saying much, not revealing much, just continuing to go out there to make play after play, day after day.
Radio analyst Tim Ryan apologizes to 49ers players for Lamar Jackson comments
BRADENTON, Fla. — After the San Francisco 49ers suspended radio color analyst Tim Ryan for a game for saying Ravens quarterback Lamar Jackson's dark skin helps him disguise a dark football when running fake handoffs in Baltimore's zone-read-heavy offense, he apologized to players and members of the organization at the team's hotel here in Bradenton.
Those apologies were apparently well-received by Niners players who spoke to the media on Thursday afternoon for the first time since Ryan's comments came to public light.
"I know Tim personally and I have listened to the dialogue and saw it written and honestly I wasn't as outraged as everybody else," cornerback Richard Sherman said. "I understand how it can be taken under a certain context and be offensive to some but if you're saying 'Hey, this is a brown ball, they're wearing dark colors and he has a brown arm, honestly sometimes we were having trouble seeing it on film. He's making a play fake and sometimes he's swinging his arm really fast and you're like 'OK, does he have the ball on that play?' And then you look up and (Mark) Ingram is running it. So, it was technically a valid point but you can always phrase things better. You can always phrase things and not say his black skin."
Sherman said he has had a relationship with Ryan since he signed with the Niners in 2018 and noted that Ryan has "never been anything but a great guy and a professional and a guy who takes his job seriously."
Asked if it was difficult to find the ball when the Ravens ran zone read plays against the 49ers, Sherman said it was as Jackson rushed 16 times for 101 yards and a touchdown with a career-high 70 of those rushing yards coming via zone read plays.
"It 100 percent is an issue," Sherman said. "That's why it wasn't that offensive because what he was saying was a great point. It's been that way in any zone read scheme, the mesh point is always a tough point of contention so if you add a dark jersey to it, it's gonna make it even harder. Obviously, you can always phrase it better but I think it's one of those things where he could have used better words but it may have been made bigger than what it really was."
Ryan made the comments in a phone interview Monday morning while appearing on the "Murph and Mac" show on KNBR radio in San Francisco. Ryan called into the show from the team's hotel in Bradenton, where the Niners are spending this week preparing for Sunday's game against the New Orleans Saints.
After Ryan's comments became known to those who didn't listen to the interview on the radio, the Niners moved swiftly to suspend him from his duties for this week's game. The team released a statement noting the suspension and apologizing to the Ravens for the comments with an assurance that Ryan's comments wouldn't be taken lightly.
Ryan also issued a statement apologizing for what he said as he also personally apologized to players, coaches and members of the organization in person.
"He walked up to me earlier and before he even said anything, I told him 'I got your back,'" defensive end Dee Ford said. "I already knew the story. The words kind of got taken out of context. Of course, I think he knows now that he could have used a better judgment with his words but we've got his back. I knew what he was trying to say. This era we live in, that's just what it is. But I know him personally. I speak to him a lot. He loves to watch the D-line and there's not one type of bone — you know what type of bone I'm talking about in his body. I've got his back. So, put that to bed really fast."
Ryan is a former Chicago Bears defensive lineman who appeared in 58 games over four seasons for that team. After 12 seasons as a color analyst for FOX television, he moved to the Niners' radio booth in 2014.
Dennis Brown, a former Niners defensive lineman, will replace Ryan in the booth on Sunday. KNBR is the Niners' radio partner and broadcasts all of the team's games.
As part of his analyst role, Ryan is often around the team, watching practice and interacting with players and coaches.
"With Tim, I have always as a human being tried to judge people on how I interact with them and I love the man," defensive coordinator Robert Saleh said. "He's a very genuine human being and I know he knows he made a mistake. And he's just trying to move this on as quickly as possible."
Adrian Peterson among 8 finalists named for Art Rooney Sportsmanship Award
NEW YORK — Veterans Adrian Peterson, Calais Campbell and Thomas Davis Sr. are among the eight finalists for the NFL's Art Rooney Sportsmanship Award.
The league revealed the finalists Thursday. Along with the Washington running back, Jacksonville defensive end and Los Angeles Chargers linebacker, they include Indianapolis wide receiver T.Y. Hilton; New England special teams ace Matthew Slater; Detroit quarterback Matthew Stafford; San Francisco offensive tackle Joe Staley; and Los Angeles Rams safety Eric Weddle.
Staley is a finalist for the fifth consecutive season, while Campbell and Weddle are finalists for the second straight year.
Each NFL team nominates one man for the award, which recognizes players who exemplify outstanding sportsmanship on the field. The award was created in 2014 in honor of the late founding owner of the Pittsburgh Steelers and a Pro Football Hall of Famer.
A panel of former players select the eight finalists from the 32 nominees. The panel is comprised of Hall of Famer Curtis Martin, Warrick Dunn, Karl Mecklenberg and Leonard Wheeler. The eight finalists will be listed on the Pro Bowl ballot under the NFL Sportsmanship Award category.
Past recipients have been Drew Brees, Luke Kuechly, Frank Gore, Charles Woodson and Larry Fitzgerald.
The winner, selected by the vote of the players, will be announced during the NFL Honors show Feb. 1 , when The Associated Press NFL individual award winners are revealed.
Steelers RB James Conner (shoulder) out vs. Cardinals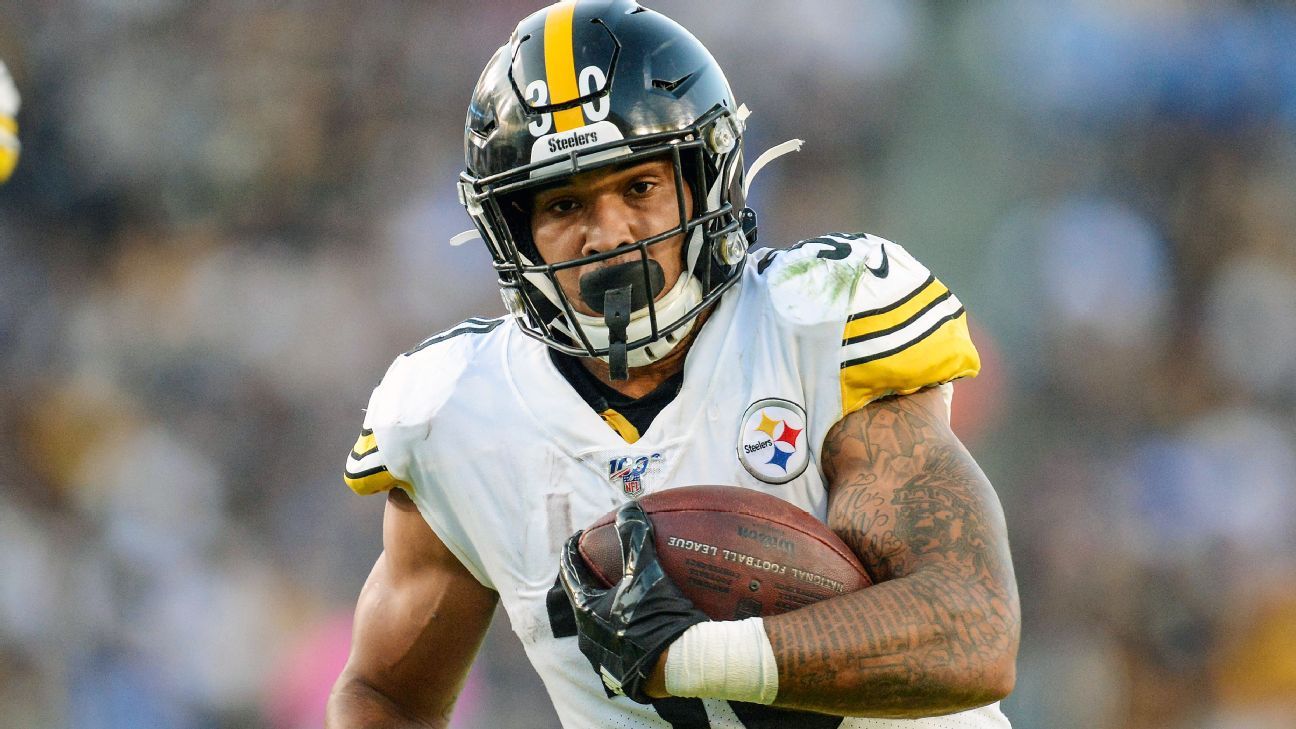 PITTSBURGH — Despite returning to practice as a limited participant a week ago, Pittsburgh Steelers running back James Conner said he will be out Sunday against the Arizona Cardinals. He isn't speculating on his availability after that, either.
"I don't want to look too far ahead because it's still going to take some time," Conner said Thursday. "We'll see. Hopefully I can get out there as soon as possible, but this week? Nah."
Conner, who hasn't played since a brief appearance against the Browns on Nov. 14, said he's been taking scout team reps this week.
"Just don't want to take none of the game reps away from some guys that are going to be active," said Conner, who was a limited participant in Wednesday's practice. "Nice to get out there and just run around."
Conner injured the AC joint in his right shoulder during the final two minutes of a win against the Miami Dolphins on Oct. 28. He was wrapping up his best game of the season: 145 yards and a touchdown on 23 carries.
Conner missed the next two games against the Colts and Rams before trying to play against the Browns in the Thursday night game. Conner realized after a quarter that his body wasn't ready.
"I just wasn't ready to come back," he said. "I just tried to fight through it, but I wasn't able to."
Rookie Benny Snell Jr. has stepped up in Conner's absence, particularly in the past two games. He scored his first NFL touchdown this past Sunday against the Browns, a 1-yard run to give the Steelers a 17-10 lead. He finished the game with 16 carries for 63 yards. A week earlier against Cincinnati, Snell led the Steelers with 21 carries for 98 yards.
"He prepared himself well," Conner said. "My job is to be there [for] anything he needs, questions that he has. He's been doing great."
Before he played against the Browns, Conner said playing with the injury was a matter of pain tolerance. He said he's "day-by-day" at this point but isn't ruling out returning to the field in the final three regular-season games. The Steelers are in contention for the final AFC wild card, holding the No. 6 spot if the regular season ended today.
"Honestly, taking it day-by-day," Conner said. "So whatever that may be, I'm not going to count it out until I'm done for sure."