Kenny Golladay's quiet rise has been what the Lions have needed – Detroit Lions Blog
ALLEN PARK, Mich. — Kenny Golladay isn't the loud one. Not in the locker room, where he'll often speak softly while sitting at his locker during media sessions. Not in the meeting room, either, where fellow Detroit Lions receivers Marvin Jones and Danny Amendola will be more vocal.
Golladay prefers to be the quiet devastator. In meetings, he prefers to sit and ingest all of the notes receivers coach Robert Prince will give him, sitting in the front row asking questions when he needs to.
On the field, he'll talk by ripping a ball out of a defensive back's hands for either a reception or a broken-up interception, happening so often it's almost expected. He'll talk by the way he plays, the aggressiveness he shows.
Last week, before he played his hometown Chicago Bears, he was asked what he thought about not being drafted by the Bears in 2017. "A lot of teams passed on me." But Chicago is home. "It's all right," Golladay said, with a pause. "I'm with [Lions QB] Matthew Stafford." When he was asked if that was a shot at Bears quarterback Mitchell Trubisky, he laughed: "Hey, I ain't saying nothing." Then he went out with backup quarterback Jeff Driskel and scored Detroit's only touchdown.
His eight receiving touchdowns lead the NFL and equal his touchdown total in his first two seasons combined. His four 100-yard receiving games are tied for third in the league. He's No. 10 in receiving yards this season with 697. Of the players in the top 20 in yards per reception, where he's ranked 20th at 18.34 yards per catch, only he, Minnesota's Stefon Diggs and the Chargers' Mike Williams have more than 30 catches.
He'll make plays in the red zone, where he has four of his eight touchdowns. He'll make plays deep — his other four scores are all of 30 yards or more. Wherever the Lions need him, he'll deliver — 84.2 percent of his catches end up being first downs.
"I don't think he's gotten more physical," receiver Jones said. "He's always had that from the start. … You know, once you get into a lot of games, he's a vet now. You start to know how people play you."
Part of that is routine. Golladay isn't superstitious, but he believes in his preparation. Each week, he and former South Carolina quarterback Dylan Thompson, now the Lions' character coach, will go through a pregame workout they started together last year.
Thompson will throw balls at Golladay in every type of direction — between 8 and 10 reps in each spot — to warm up his hands. Almost every angle is covered — just his way of making sure everything is taken care of.
Golladay's ability to time his contested catches at the highest point and expand his radius seems to come naturally. It's what attracted the Lions to him in the first place.
"No matter who is around or where the ball is thrown at," practice squad receiver Chris Lacy said, "he makes a play."
It's been like that from the first game of Golladay's career. He scored two touchdowns — including a 45-yard diving catch that caught the attention of almost everyone. It was his 'Hey, I'm here!' moment, even though he might not have recognized it yet.
His teammates had seen those plays throughout training camp. It was his public introduction, considering he played at Northern Illinois.
"You make a big shock or a wave or anything like that, people will come to expect it from you," said Jones, who experienced it himself with a four-touchdown game his second NFL season. "As a receiver, you want that. As a player you want that. You want people to expect highly of you so you can deliver.
"You definitely feed off that because you know what you can do and everyone knows what you can do and just keep being consistent with it, because obviously people are going to pay more attention to you. And if you can keep that success when everybody expects it to happen, then it's like, 'Yeah.'"
Golladay is reaching that 'Yeah' point. Not that he says it. He doesn't say much. Ask about his personal goals? "Those are personal." Ask if he's on pace to achieve them? "That's kind of revealing a little bit."
He's appreciated the internal competition with Jones, who has 35 catches for 508 yards and five touchdowns this year, and said that has pushed him. They both know the other receiver can make plays, whether it's going deep or making the contested catch. It is what makes the two of them devastating for opposing secondaries. It's tough to plan for them because they can do similar things.
For Jones, that's been known for a half-decade now. For Golladay, every game it's learned a bit more. He won't change, though. He'll stay in the front of the room not saying much, not revealing much, just continuing to go out there to make play after play, day after day.
Patriots settle compensation grievances with Antonio Brown, Aaron Hernandez
The New England Patriots have settled compensation grievances with Antonio Brown and Aaron Hernandez over the past week, which creates notable salary-cap space for the team, league sources told ESPN.
The Patriots had owed receiver Brown $9 million, and as part of the settlement, he will instead receive $5 million, per sources.
The settlement is notable, as some experts viewed the Patriots' chances of recouping any money as low. The Patriots gave Brown a $9 million signing bonus on Sept. 7, and half of it was to be paid on Sept. 23, three days after they cut him. The other half was to be paid in January.
In addition to that $4 million credit on the Patriots' cap, the club received a $2.25 million credit after settling a long-running compensation grievance with the late Hernandez, per sources.
The salary-cap space is significant for the Patriots, who have been tight to the league's limit.
Earlier this week, prior to restructuring the contract of running back Rex Burkhead, the Patriots were down to less than $500,000 in space. The club now has $7.79 million in room under the salary cap.
Sources — NFL, NFLPA expected to meet Monday about return terms
Clarity is coming soon about whether NFL players will report to training camp and salvage a season.
Sources say the NFL and NFLPA management councils are expected to meet Monday in hopes of agreeing to terms on a return to work.
The players held a call Friday, during which leadership said they would have more answers early next week.
Negotiations and counterproposals between the league and players are happening frequently each week as training camp is a little more than two weeks away.
Players want frequent testing (every day) and no preseason games, while the league wants testing less frequently than the players (like every other day) and two preseason games.
A source told ESPN that players and the league were close on agreeing to working conditions and that momentum for at least some preseason action exists, with a one-game format also being discussed. The source added the players would likely get concessions as a result of preseason play.
But all that has not been finalized yet, and there are other issues to hash out.
Acclimation period: Players want a slow ramp-up from working out to taking the practice field to avoid unnecessary injuries and to get comfortable in the new working environment.

Opt-out clauses for players: What happens to a player's contract if he decides to sit due to COVID-19 concerns, and does he get an accrued season?

Whether trimming the 90-man training camp rosters to avoid unnecessary contact is the right thing.

Equipment modifications: Players are lukewarm about wearing masks over their helmet bars, while the NFL has been working with Oakley on a yet-to-be-revealed design.

Economics: How to share lost revenue, with players knowing they have to take a loss somewhere to offset the lack of fans in the stands, but the league's offer to place 35% of salaries in escrow is considered a non-starter.
Both sides want camp and want to play, so the goal is to get there and survive the probable initial wave of positive tests, then manage expectations from there.
"Get the 16 games on TV," a source involved told ESPN. "That's the main goal."
If there are fans in the stands, the league standard for all 32 team will be for fans to wear face masks, while the league is hoping teams can have socially distanced fan days inside stadiums for training camp.
16-0? Analytics and oddsmakers say Ravens on path to perfection – Baltimore Ravens Blog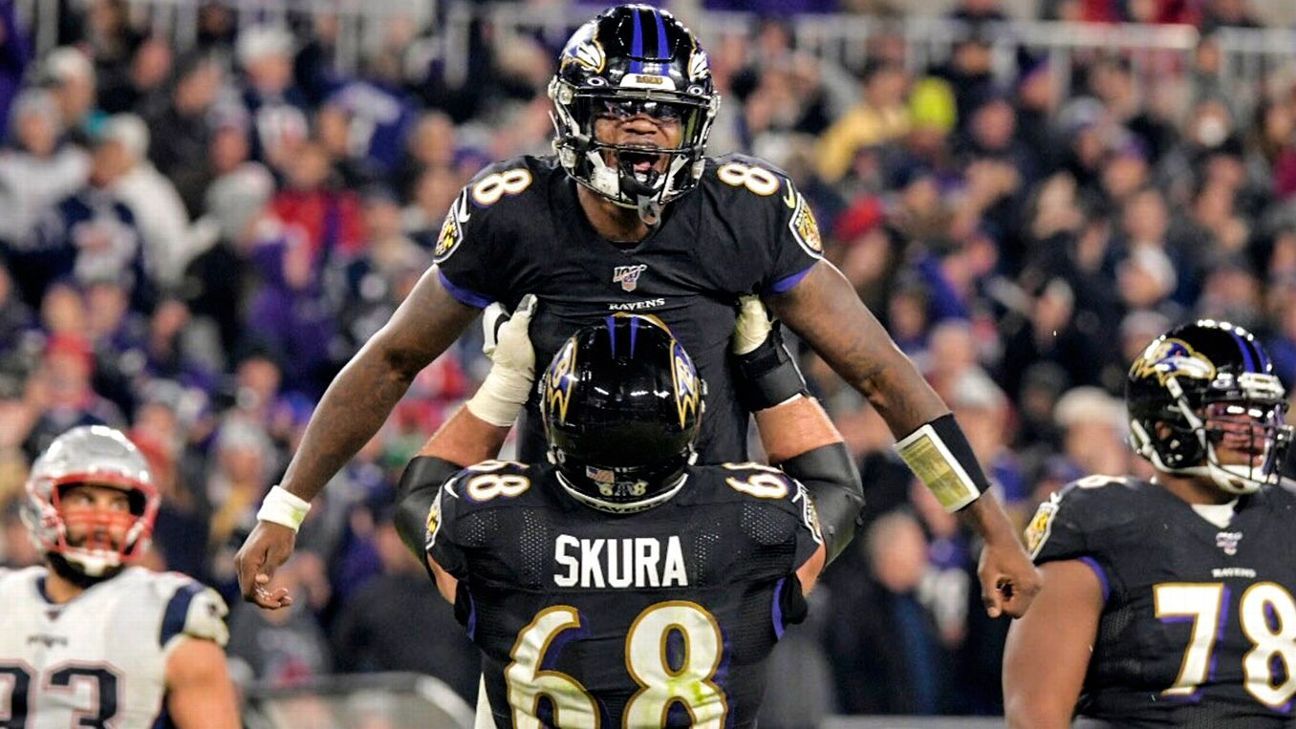 At this time last year, the Baltimore Ravens were considered a middle-of-the pack team in the NFL, the third best in their division, and in coach John Harbaugh's estimation, an iceberg.
"Ninety percent of what we were going to be capable of was still underwater and people hadn't seen it yet," he said.
As the start of this year's training camp nears, titanic expectations await reigning NFL MVP Lamar Jackson and the Ravens.
• Big questions » | Power Rankings »
• Free agency: Tracker » | Grades »
• Draft: All 255 picks » | Grades »
• Fantasy: Cheat sheets » | Projections »
• 2020 schedule » | More NFL coverage »
Analytics and oddsmakers have the Ravens favored to win all 16 games this season. Baltimore looks just as strong or even better than last season, when it won its last 12 regular-season games to finish 14-2. The Ravens return all but one starter from the NFL's highest-scoring offense and improved the front seven, the weakest part of the defense.
If that doesn't set up the Ravens for success, they play teams whose combined 2019 winning percentage was .438 (worst in the NFL) and travel a total of 6,310 miles, the lowest of any team over the past four years. The Ravens play outside the Eastern time zone only once (a Week 2 game at Houston) and go a stretch of 47 days in which they won't have to board a plane (three home games, short road trips to Washington and Philadelphia in addition to a bye).
As a result, Baltimore is projected to win 12 of its games by over a field goal, including eight by more than a touchdown, according to ESPN's Football Power Index. The easiest game on the Ravens' schedule is home against the Jacksonville Jaguars, whom Baltimore is predicted to beat by 15.9 points.
What does Harbaugh think about all this 16-0 talk?
"It really is just noise — it's static, it's background," Harbaugh said. "You can't let other people define you. You define yourself."
The 2007 New England Patriots are the only team to record a perfect regular season since the NFL expanded to its 16-game schedule in 1978. Only three other teams — the 1934 and 1942 Chicago Bears and the 1972 Miami Dolphins — have completed undefeated and untied regular seasons in the 101-year history of the league. Only six teams have finished 15-1 and just two of them (1984 49ers and 1985 Bears) won a Super Bowl.
"At the end of the day, the only expectations that matter are the ones that we have for ourselves," Ravens wide receiver Miles Boykin said. "If we go out there and say our expectation is to win a Super Bowl, we'll have to start with Week 1. I think [Harbaugh] is great on talking about that and talking about how it starts at Week 1. It doesn't start at Week 16; it doesn't start at the Super Bowl. You have to build yourself a Super Bowl team."
Jackson doesn't lose many regular-season games that he's expected to win, which is why Baltimore being favored in every game this season is so significant. The Ravens are 15-1 as the betting favorites with Jackson as their starting quarterback. Baltimore's .938 win percentage as the favorite with Jackson is the best in the league, according to ESPN Stats & Information research.
According to Caesars Sportsbook, the Ravens' toughest games are home on Sept. 28 against the defending Super Bowl champion Kansas City Chiefs and at the Philadelphia Eagles on Oct. 18. Baltimore is listed as a 2.5-point favorite in both games.
"We have the Ravens and Chiefs pretty much dead even on a neutral field," said Jeff Davis, the director of trading at Caesars Sportsbook.
Stephen A. Smith makes a case that Lamar Jackson hasn't done enough yet to be considered one of the top two quarterbacks in the NFL.
Few saw Baltimore and Kansas City on equal footing last summer, when the Ravens were ranked No. 16 in ESPN's preseason Football Power Index and had the third-best odds to win the AFC North, behind the Pittsburgh Steelers and Cleveland Browns.
Now, Jackson is on the cover of the Madden video game. The Ravens return a dozen Pro Bowl players. Baltimore is the consensus No. 2 team in the NFL, behind the Chiefs, in the Power Rankings.
There's no ambushing teams this season.
"I think there's always a challenge when you have a target on your back, and that just comes with the territory," Ravens All-Pro offensive tackle Ronnie Stanley said. "Everyone's going to bring their best game when they play you, so you just have to be ready for that. And, if you're not ready for that, then you really don't deserve to be the best. So, that just comes with the territory."
ESPN's David Bearman contributed to this article.