Rams' offense stalls out, puts defending NFC champs in tough spot – Los Angeles Rams Blog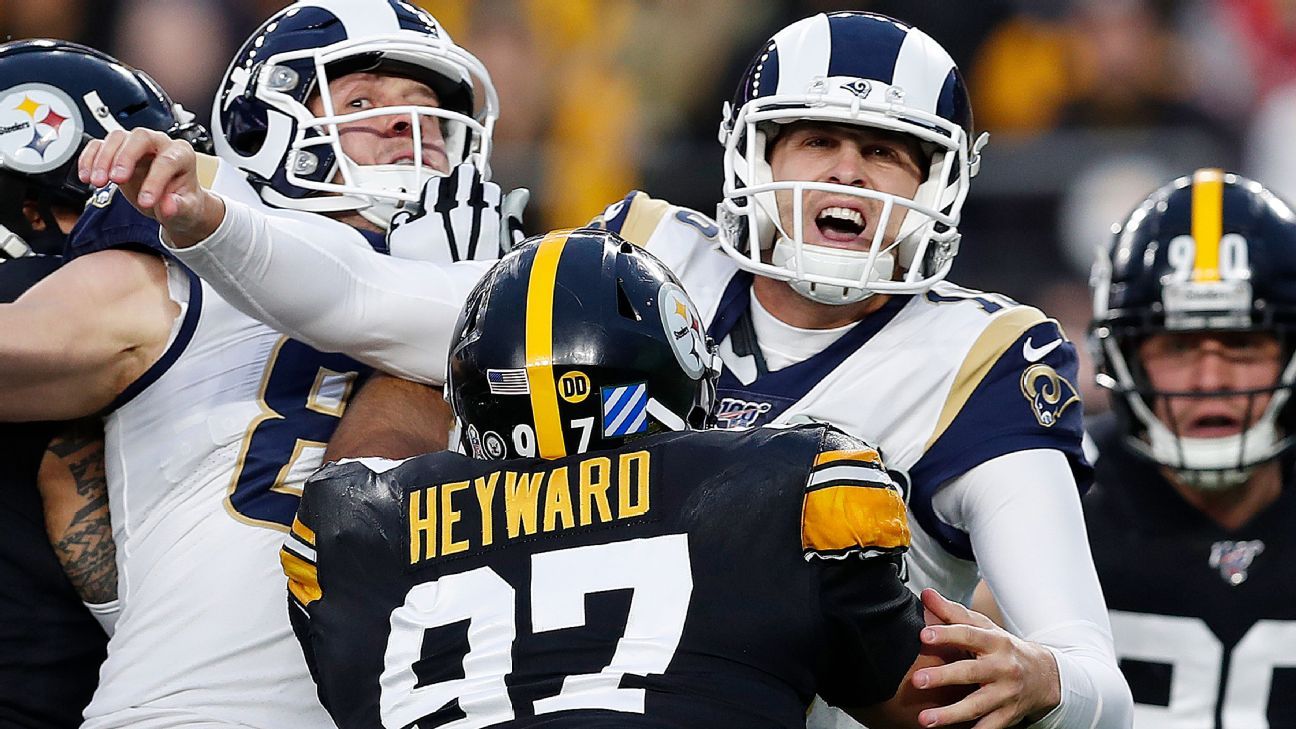 PITTSBURGH — Aaron Donald's homecoming was spoiled, as the Los Angeles Rams' hopes of returning to the playoffs, never mind the Super Bowl, faded quickly into the chilly Pittsburgh night.
The offense faltered, the defense produced two turnovers and scored a touchdown but couldn't overcome the stubborn Pittsburgh Steelers in a 17-12 loss.
The Rams, who at 5-4 remain in third place in the NFC West, have struggled to find their way in 2019 following a discombobulating loss to the New England Patriots in Super Bowl LIII.
On Sunday, they had extra time coming off a bye week to prepare for the uneven Steelers, who have rallied behind backup quarterback Mason Rudolph. However, preparation didn't appear to be the issue, as the same inconsistencies the team has suffered throughout the season, mostly on offense, appeared once again.
Entering Sunday, the Rams were 10-0 against teams in the AFC in the regular season since Sean McVay took over as coach in 2017. This loss ended that streak.
Describe the game in two words: Who needs two words when one will do? UGLY. The Rams turned the ball over four times, had 10 penalties for 95 yards and were unable to establish any offensive momentum.
QB Breakdown: Behind an offensive line that struggled to keep the pressure away, Jared Goff struggled to hold onto the ball and connect with receivers. Goff completed 22 of 41 passes for 243 yards, with two interceptions. The Rams were 1 of 14 on third-down conversions. In the second quarter, Goff was sacked and fumbled, as safety Minkah Fitzpatrick recovered and returned the takeaway 43 yards for a touchdown to give the Steelers a 14-7 lead. On the opening series of the second half, after converting on third down for the first in nine tries, Goff threw a pass that was intercepted by Joe Haden.
A game after receiver Cooper Kupp caught seven passes for a career-high 220 yards and a touchdown, the Rams' go-to slot receiver did not catch a pass despite Goff targeting him four times. The offensive line, which lost center Brian Allen in the first quarter to a knee injury and later right tackle Rob Havenstein, provided their quarterback no favors, as Goff was sacked four times and under duress throughout the game. With the game on the line, Goff was picked off by Fitzpatrick on a deflected pass with 20 seconds left, sealing the Rams' fate.
Promising trend: The defense forcing takeaways and scoring points. The Rams produced two turnovers and nine points. Outside linebacker Dante Fowler Jr. set the tone on the opening series, when Steelers center Maurkice Pouncey airmailed a bad shotgun snap that Fowler recovered and returned 25 yards for a touchdown to give the Rams a quick 7-0 lead 14 seconds into the game.
Fowler, who is playing on a one-year deal worth up to $12 million, is having a career-best season that includes 6.5 sacks. Later in the first half, cornerback Nickell Robey-Coleman stripped receiver James Washington after a 34-yard catch. Linebacker Cory Littleton recovered the fumble. In the fourth quarter, with the Steelers deep in their own territory, Donald sacked Rudolph for a safety, pulling the Rams to within 14-12. Donald, playing in Pittsburgh for the first time in his six seasons as a pro, finished with a half-sack and three quarterback hits.
Neither Jaguars nor Yannick Ngakoue appear to be blinking at deadline – Jacksonville Jaguars Blog
JACKSONVILLE, Fla. — Unless Yannick Ngakoue has a change or heart or the Jacksonville Jaguars make him an offer he can't refuse, the defensive end will have to wait until 2021 to get a long-term deal.
The deadline for franchise-tagged players to sign a long-term contract extension is 4 p.m. ET Wednesday. If Ngakoue doesn't sign an extension by then, he'll have to play out the 2020 season for the franchise-tag number of $17.8 million, whether that's with the Jaguars or another team.
Ngakoue has made it clear he wants it to be another team, and he was hoping the Jaguars would have traded him by now. But the Jaguars received no offers before the NFL draft, and there was no movement on an extension or trade talks in the following week, either. A big potential holdup: Any team that trades for Ngakoue would want to sign him to a long-term deal, and Ngakoue's camp has been adamant that he wants a deal that averages $20 million annually.
• NFL veterans on bubble for all 32 teams
• The story of the Broncos' offseason
• 16-0? Analytics put Ravens on path to perfection
• Rams better, worse or same without Gurley?
• Inside the process of renaming Redskins
The Jaguars still could work out a deal with a team after Wednesday's deadline — though their asking price has reportedly been two first-round picks — and while that would make Ngakoue happy, he would have to wait until after the 2020 season before he could work out a long-term deal, and that hurts the Jaguars' bargaining position.
Any team that trades for Ngakoue, 25, could use the franchise tag on him for 2021, as well, which would put him in essentially the same spot he is in this year if both sides couldn't agree on a long-term deal.
This could play out the way it did for linebacker/defensive end Jadeveon Clowney and the Houston Texans last season, and that strategy hurt both the team and the player.
Houston used the franchise tag on Clowney in 2019, but he didn't want to sign the one-year deal with the Texans, and he held out of training camp. On Aug. 31, the Texans traded Clowney to the Seattle Seahawks for linebackers Barkevious Mingo and Jacob Martin and a third-round pick. Mingo signed with the Chicago Bears in April, and Martin remains with the Texans as a reserve linebacker. The Texans also had to pay $7 million of Clowney's $15 million salary.
That trade happened after the deadline for a long-term deal, and the Seahawks agreed not to use the franchise tag on Clowney in 2020, essentially renting him for a season.
Clowney is still looking for a team for the 2020 campaign. He was not signed in free agency after his reported asking price was $20 million annually. He has since lowered that demand, and Clowney said in June that he had a plan in place and would sign with a team before training camp begins.
A similar trade is a less likely scenario for Ngakoue, because what the Seahawks gave up for Clowney — who has 32 sacks in six seasons — would not be nearly good enough for the Jaguars to part with Ngakoue, who has 37.5 sacks in four seasons.
So Ngakoue has a tough choice: He could swallow his pride and play this season for the Jaguars under the franchise tag. Or he could sit out and leave nearly $18 million on the table. It would be a surprise if Ngakoue did sit out — especially with the uncertainty of the season due to the coronavirus pandemic — but there's another recent precedent of a player who did.
Running back Le'Veon Bell sat out the 2018 season and left $14.5 million on the table after the Pittsburgh Steelers used the franchise tag on him. However, that was the second consecutive year the Steelers had tagged Bell, who wanted a long-term deal and got one in 2019 with the New York Jets.
If Ngakoue were to sit out, he would join Bell and defensive tackles Sean Gilbert (1997) and Dan Williams (1998) as players who sat out a year because they didn't sign their tag by the season opener, per ESPN Stats & Information research.
The Ngakoue-Jaguars saga has been playing out for nearly 10 months. It started last July, when executive vice president of football operations Tom Coughlin abruptly broke off negotiations with Ngakoue and his agent, Ari Nissim. The Jaguars reportedly offered Ngakoue a deal that would pay him $19 million annually, but Ngakoue turned it down, and he played last season — after an 11-day training camp holdout — for $2.025 million, a considerable bargain for a player who had 29.5 sacks in three seasons.
Hours before the deadline, it doesn't appear the impasse will be ending soon.
NFLPA seeks opt-out clauses for at-risk players, conditional stipends, source says
The NFL and NFLPA continue to negotiate terms for a return to work and players are requesting financial backing in case they decide to sit out the season.
Among the requests in the players' recent proposal to the league, according to a source involved:
An opt-out clause for at-risk players to receive salary (but not bonuses) if one decides not to play.

An opt-out clause for players with at-risk families to earn an accrued season and benefits if they decide not to play.

An opt-out clause for players who leave the team after reporting (terms uncertain).

A $250,000 stipend guaranteed to all players if they show up to camp and everything is shut down because of COVID-19 concerns. That amount rises to $500,000 if the season starts, only to be shut down.
The definition of "at-risk" is part of the discussion, and procedures for applying for medical opt-outs are not yet finalized.
The league's June 7 memo listed the following as considerations for high-risk individuals:
Players also want, according to ESPN's Dan Graziano, no salary in escrow for 2020 and no reduction in the 2021 salary cap despite projected revenue loss, which they'd prefer to spread over multiple years.
A source told Graziano there are no further conversations scheduled between the NFL and NFLPA on Wednesday, after the two sides talked each of the past two days.
Chris Jones' deal with Chiefs the latest move toward a dynasty
The headline-snaring contract numbers handed out by the Kansas City Chiefs are these: $503 million over 12 years for quarterback Patrick Mahomes and as much as $85 million over four years for defensive tackle Chris Jones.
But the more important numbers for the Chiefs are these: 24 and 26. Those are the ages for Mahomes and Jones, respectively, when they put ink to paper — meaning both will play the primes of their careers in Kansas City.
Jones and Mahomes are just the latest important young players the Chiefs have invested in heavily. The Super Bowl champions have all of their core players now signed through at least 2021 while playing in the primes of their careers, setting up a possible dynasty run. Reciever Tyreek Hill is 26, defensive end Frank Clark 27, safety Tyrann Mathieu 28.
Throw in other good, young players such as receiver Mecole Hardman (22) and safety Juan Thornhill (25) and it's reasonable to conclude the Chiefs will be on the top of their game not just again in 2020 but for years to come.
Of the core players, all but Mathieu, tight end Travis Kelce (30) and right tackle Mitchell Schwartz (31) are signed at least through 2022.
It's why the Chiefs' unofficial mantra this offseason has been "Run it back."
Let's gooooo!!!!
The Dynasty Continues….#RunitBack #Sacknation

— Chris Jones (@StoneColdJones) July 14, 2020
Many of the Chiefs' other top players also have at least one more seasons in Kansas City. Players such as receiver Sammy Watkins (27), running back Damien Williams (28) and cornerbacks Charvarius Ward (24) and Bashaud Breeland (28) are in the final years of their deals. But the Chiefs have already prepared for their possible departures. Hardman could eventually replace Watkins. First-round pick Clyde Edwards-Helaire could replace Williams. The Chiefs took two cornerbacks in the lower rounds of the 2020 NFL draft but they believe they got bargains in L'Jarius Sneed and BoPete Keyes.
As for Jones, the Chiefs had to keep him off the free-agent market by naming him as their franchise player, iron out a deal with Mahomes and beat the Wednesday deadline before reaching a long-term deal. But they eventually felt comfortable making him their third player behind Clark and Mahomes to get a contract with at least $60 million guaranteed. The Chiefs are the only team with three such contracts.
They gave Jones one of those contracts because they allowed six more points per game without an injured Jones last season than when he was in the lineup. They did it because opposing quarterbacks had a 32 QBR against the Chiefs when Jones was in the game and a 59 QBR when he wasn't. They did it because he led them in sacks in each of the last two seasons.
But they paid Jones as they did mostly because he's only 26 and he should continue as one of the NFL's best defensive players for the life of this deal.