Rams' offense stalls out, puts defending NFC champs in tough spot – Los Angeles Rams Blog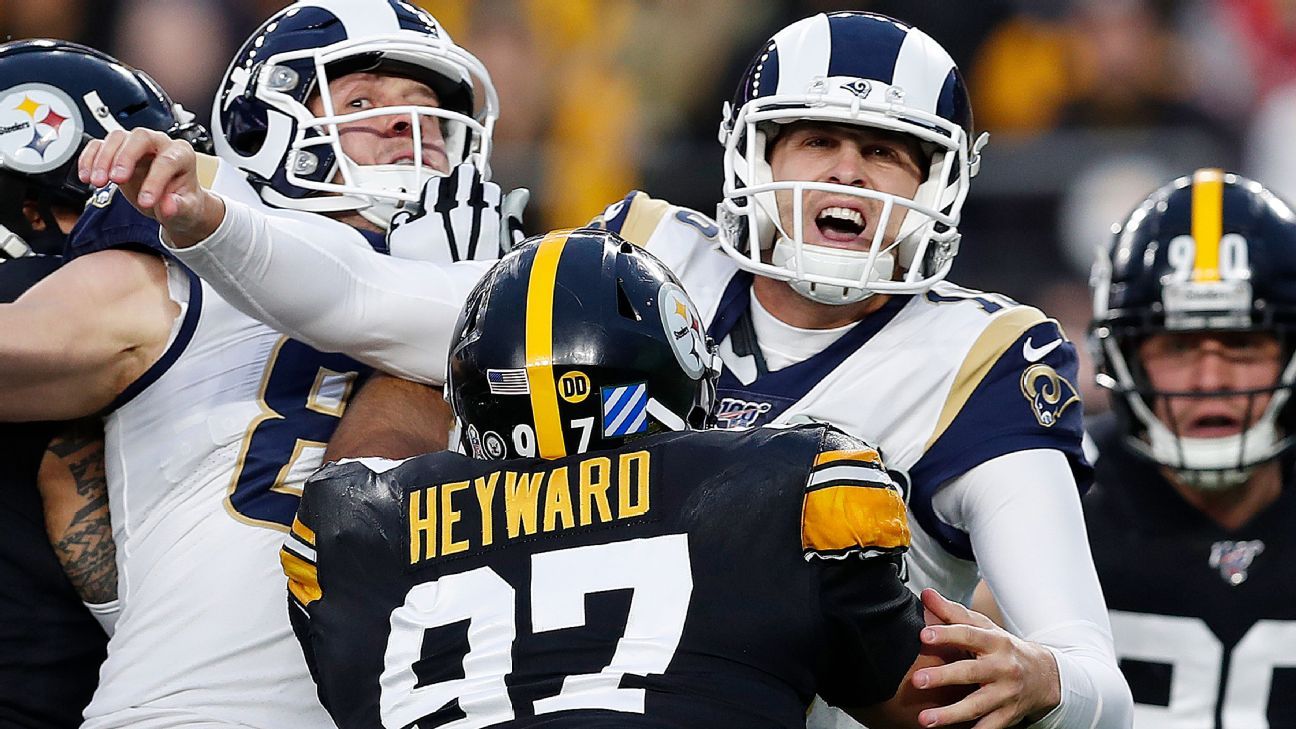 PITTSBURGH — Aaron Donald's homecoming was spoiled, as the Los Angeles Rams' hopes of returning to the playoffs, never mind the Super Bowl, faded quickly into the chilly Pittsburgh night.
The offense faltered, the defense produced two turnovers and scored a touchdown but couldn't overcome the stubborn Pittsburgh Steelers in a 17-12 loss.
The Rams, who at 5-4 remain in third place in the NFC West, have struggled to find their way in 2019 following a discombobulating loss to the New England Patriots in Super Bowl LIII.
On Sunday, they had extra time coming off a bye week to prepare for the uneven Steelers, who have rallied behind backup quarterback Mason Rudolph. However, preparation didn't appear to be the issue, as the same inconsistencies the team has suffered throughout the season, mostly on offense, appeared once again.
Entering Sunday, the Rams were 10-0 against teams in the AFC in the regular season since Sean McVay took over as coach in 2017. This loss ended that streak.
Describe the game in two words: Who needs two words when one will do? UGLY. The Rams turned the ball over four times, had 10 penalties for 95 yards and were unable to establish any offensive momentum.
QB Breakdown: Behind an offensive line that struggled to keep the pressure away, Jared Goff struggled to hold onto the ball and connect with receivers. Goff completed 22 of 41 passes for 243 yards, with two interceptions. The Rams were 1 of 14 on third-down conversions. In the second quarter, Goff was sacked and fumbled, as safety Minkah Fitzpatrick recovered and returned the takeaway 43 yards for a touchdown to give the Steelers a 14-7 lead. On the opening series of the second half, after converting on third down for the first in nine tries, Goff threw a pass that was intercepted by Joe Haden.
A game after receiver Cooper Kupp caught seven passes for a career-high 220 yards and a touchdown, the Rams' go-to slot receiver did not catch a pass despite Goff targeting him four times. The offensive line, which lost center Brian Allen in the first quarter to a knee injury and later right tackle Rob Havenstein, provided their quarterback no favors, as Goff was sacked four times and under duress throughout the game. With the game on the line, Goff was picked off by Fitzpatrick on a deflected pass with 20 seconds left, sealing the Rams' fate.
Promising trend: The defense forcing takeaways and scoring points. The Rams produced two turnovers and nine points. Outside linebacker Dante Fowler Jr. set the tone on the opening series, when Steelers center Maurkice Pouncey airmailed a bad shotgun snap that Fowler recovered and returned 25 yards for a touchdown to give the Rams a quick 7-0 lead 14 seconds into the game.
Fowler, who is playing on a one-year deal worth up to $12 million, is having a career-best season that includes 6.5 sacks. Later in the first half, cornerback Nickell Robey-Coleman stripped receiver James Washington after a 34-yard catch. Linebacker Cory Littleton recovered the fumble. In the fourth quarter, with the Steelers deep in their own territory, Donald sacked Rudolph for a safety, pulling the Rams to within 14-12. Donald, playing in Pittsburgh for the first time in his six seasons as a pro, finished with a half-sack and three quarterback hits.
Seahawks DE Jadeveon Clowney questionable with sore hip
RENTON, Wash. — Seattle Seahawks head coach Pete Carroll said defensive end Jadeveon Clowney was away from the team Friday getting "treatment" on a sore hip that has him questionable for Sunday's game at Philadelphia.
Clowney will meet the team in Philadelphia and will be a game-time decision, according to Carroll. He didn't specify the nature or extent of Clowney's hip injury nor where he was receiving treatment, only saying it was off-site. The injury stems from the Seahawks' win over the 49ers two weeks ago, which preceded Seattle's bye.
"Something he felt in the game, came out of the game with a little something," Carroll said. "Just checking him out, making sure he's OK."
Clowney missed practice Wednesday, Thursday and Friday. The Seahawks weren't required to detail player participation in their "bonus Monday" practice.
Clowney has been the Seahawks' best pass-rusher this season — he's fifth in the NFL in ESPN's Pass Rush Win Rate at 26.6% — and arguably their most impactful defender. His dominant performance against the 49ers included a sack, five quarterback hits and his second defensive touchdown of the season.
Tyler Lockett, the Seahawks' No. 1 receiver, is expected to play Sunday after being limited in practice the last three days. He spent two nights at Stanford Hospital as a precautionary measure last week after suffering a lower leg contusion against the 49ers, which sidelined him for overtime.
"At this point it's not a dangerous injury now," Carroll said. "He had a real contusion in his lower leg that just needed some time. There was enough time fortunately. We had the week off. I don't know if he would have made it now if we had played last week. That would have been hard to see that happening. But he's ready to go now. He's fine."
The Seahawks on Friday placed veteran tight end Ed Dickson back on injured reserve, officially ending his season two days after he was activated off IR. The Seahawks had to activate Dickson this week in order to make him eligible to play this season. They promoted Tyrone Swoops from their practice squad while putting Dickson back on IR.
Tight end Luke Willson (hamstring) is listed as doubtful for Sunday, though Carroll came up with his own designation, calling him "probable-doubtful" in reference to Willson's history of being a quick healer. Jacob Hollister and Swoops are the only healthy tight ends on Seattle's roster, though backup tackle George Fant also plays a de facto tight end role.
The 32-year-old Dickson will have missed 22 of 32 regular-season games over his first two years with the Seahawks. He's set to count almost $4.3 million against the cap next season in the final year of his deal.
"Eddy, he's just not ready and it's unfortunate and I feel bad for him and all," Carroll said. "It's just the right thing to do. He's not ready to play yet. He was ready to get back to practice. He did that. When we pushed it up, we could tell. So we had to move him back to IR. We had to activate him on Wednesday to make him available. He had a good day's work and you could tell. I sat with him .. talked through it and he understood. He could tell he doesn't quite feel as ready as he needs to be."
49ers set to embark on historically difficult three-game stretch – San Francisco 49ers Blog
SANTA CLARA, Calif. — To say the San Francisco 49ers' schedule is about to get tougher over the next three weeks would drastically understate what's coming.
The journey the Niners are about to begin — with games against the Green Bay Packers, Baltimore Ravens and New Orleans Saints — could be the most difficult stretch any team has faced this late in the season in the Super Bowl era.
Through Week 11, those teams have combined for a 24-6 record (all three are 8-2), good for a winning percentage of .800. According to ESPN Stats & Information research, no team has played three straight games against teams with an .800 or better winning percentage this late in the season in the Super Bowl era. If the Ravens and Saints can win their games before facing San Francisco, the Niners would be the first team to face such a stretch.
What's more, only four teams in the Super Bowl era — the 2007 Detroit Lions, 1999 Cleveland Browns, 1990 Washington Redskins and 1990 Minnesota Vikings — have played three such games (not consecutively) in their 11th game or later.
None of those teams entered such a gantlet with as much on the line as these 49ers, who are 9-1 and in control of the NFC playoff picture.
"This is why you play football, for this kind of a stretch," Niners right tackle Mike McGlinchey said. "We have put ourselves in a pretty solid position here, but it means nothing if we don't get our jobs done over these next few weeks. … We've got our work cut out for us but we've got the right coaching staff to get us in the game plan, and I believe in this locker room to execute and get the job done."
For much of this season, the 49ers' turnaround has been met with raised eyebrows. Even after manhandling teams like the Rams, Panthers and Browns, the Niners' lack of top-tier victories has left skeptics questioning how good they really are. Suffice it to say, definitive answers are coming soon.
Simulate your own scenarios and check out the latest playoff picture. Playoff Machine »
• Full schedule » | Standings » | More »
ESPN's Football Power Index rates the 49ers' remaining strength of schedule the most difficult in the NFL, with the next three games providing the stiffest of tests. FPI gives the 49ers a 61% chance to beat the Packers on Sunday but those numbers drop to 34% against the Ravens and 40% against the Saints. The latter two are the lowest-percentage chances for wins remaining on San Francisco's schedule, and a Week 17 trip to Seattle offers the only one lower than the Green Bay game.
It all starts with the Packers traveling to Levi's Stadium as the Niners look to win the one home game of the three. At a combined 17-3, the combined .850 winning percentage is the best in a game between these historic rivals in the Super Bowl era.
At stake? A spot in the driver's seat for the NFC's No. 1 seed. FPI gives the 49ers a 45% chance at the NFC's top spot with a win and just a 10% shot with a loss. Green Bay would have a 44% chance at the 1 seed with a victory and 4% with a defeat.
None of that includes juicy subplots such as the first meeting between quarterbacks Aaron Rodgers and Jimmy Garoppolo and the offensive battle of Mike Shanahan coaching-tree luminaries Kyle Shanahan and Matt LaFleur.
"It will be another unique battle," 49ers cornerback Richard Sherman said. "It'll be a play style similar to what we see week in and week out with Kyle and their offense. So we'll prepare for that. A-Rod is one of the best to ever do it. So it will be a tremendous challenge for us, and we're excited about it."
A win against the Packers would go a long way before heading on another weeklong stay on the other side of the country. Like they did earlier this year — when they went to Tampa Bay and Cincinnati with a week in Youngstown, Ohio, in between — the Niners will travel to Baltimore, play the Ravens, travel to Florida for the practice week and then head to New Orleans before returning to the Bay Area.
If the 49ers can pocket a victory against Green Bay, it would mean a split of the two road games would keep them in a prime position for a bye and the top seed, especially if that win came in New Orleans. It would also likely mean losing both games wouldn't be a death knell to their hopes of advancing directly to the divisional round.
"Week in and week out, you always find out stuff about your team," Niners coach Kyle Shanahan said. "You find out about people. There's lots of football here to play. Each game's going to be huge, so just trying to take it one week at a time and make sure we don't look too far down the road because everyone's in this it seems like right now."
Ten games into the season, the 49ers have found myriad ways to win. They've also shown warts that could come back to haunt them.
Could their problems defending the run cost them against Baltimore's dynamic rushing attack? How will they hold up in raucous road environments in Baltimore and New Orleans?
Of course, those teams also have to play the Niners, who seem to have a knack for winning in new ways, with a different hero emerging every week. No matter how difficult or dramatic the game, the moment has never seemed too much, even for those 49ers in such big games for the first time.
Can they keep it up against the teams that currently stand as the NFC's Nos. 2 and 3 seeds (the Packers and Saints, respectively) and the AFC's No. 2 team (Baltimore)? We're about to find out.
"I love it," 49ers defensive tackle DeForest Buckner said. "Every week is a new opportunity. We've just got to show everybody what we're all about."
Los Angeles Chargers' Michael Davis suspended 2 games for violating NFL's substance abuse policy
COSTA MESA, Calif. — Los Angeles Chargers cornerback Michael Davis has been suspended two games for violating the NFL's substance abuse policy.
The Chargers (4-7) are on their bye this week. The suspension will cover road games against Denver (Dec. 1) and Jacksonville (Dec. 8).
Davis, who is in his third season, has started nine games this year and has an interception along with 27 tackles.
General manager Tom Telesco said in a statement that Davis is a good person who made a "significant mistake this past offseason."