Astros biggest World Series favorites since 2007
The Houston Astros have been installed as the favorites over the Washington Nationals in the World Series.
Caesars Sportsbook on Sunday opened the Astros as -235 favorites to beat the Nationals in the best-of-seven series. The Nationals are listed as +195 underdogs.
Game 1 is Tuesday in Houston.
At -235, the Astros are the largest favorites entering the World Series since the 2007 Boston Red Sox were -240 to beat the Colorado Rockies, according to Sportsoddshistory.com.
The Astros and Nationals each were considered World Series contenders entering the season but took different routes to the Fall Classic.
Before the season, the Astros opened as co-favorites with the Red Sox, at 6-1, to win the World Series at Caesars Sportsbook. Houston won an MLB-high 107 games. The Astros reached their second World Series in the last three years with a dramatic win over the New York Yankees in the American League Championship Series. Houston's Jose Altuve hit a two-run, walk-off home run to finish off the Yankees in Game 6 of the ALCS on Saturday. Houston beat the Los Angeles Dodgers in the 2017 World Series.
The Nationals are making the franchise's first appearance in the World Series and had to overcome a disappointing start to the season to get there. Washington was 19-31 on May 23, with their World Series odds drifting to 50-1 at some sportsbooks. The Nationals caught fire in the second half of the season to earn a wild-card berth in the National League. They outlasted the Milwaukee Brewers in a wild-card game and then upset the Dodgers in a National League divisional series. They swept the St. Louis Cardinals to win the NL pennant and advance to the World Series, where they're one of the largest underdogs in recent years.
The Astros winning in a sweep is +750 at DraftKings sportsbook. The Nationals winning in a sweep is 25-1.
Astros' Josh Reddick — Death-threat messages also target kids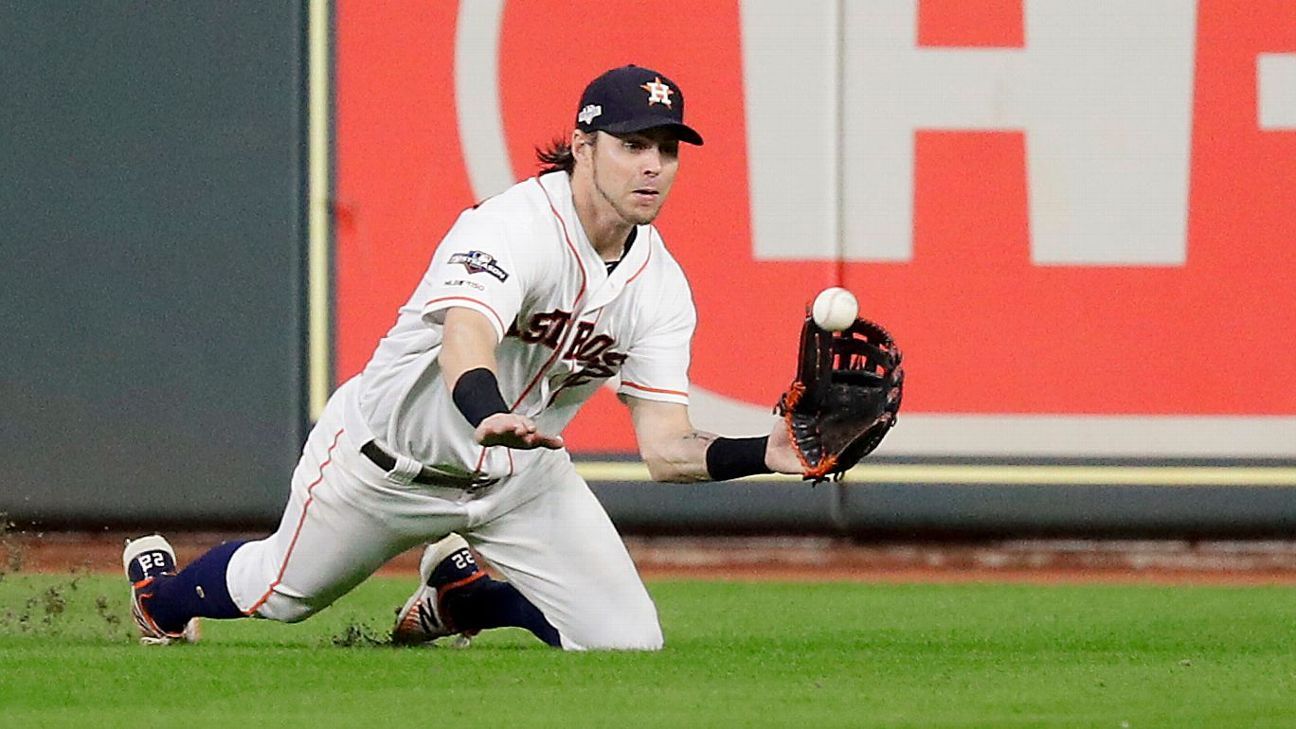 Houston Astros players have gotten threats "every day" since the team's 2017-18 sign-stealing scheme came to light in recent weeks, according to outfielder Josh Reddick, who said Friday that messages he's received also targeted his family.
"You just see the first things in your suggested box and it just says, 'I will kill your family. I will kill your kids. Blah blah blah,'" Reddick said. "It's depressing to read because it's over a game of baseball. It's not worth that kind of drastic measure."
Reddick, who did not take part in the trash-can banging scheme, said the threats he has received so far were limited only to social media. He spoke about his experiences one day after former Astros pitcher Mike Fiers, who revealed to The Athletic in November that the Astros were stealing signs in violation of MLB rules, said he had received death threats.
As he enters his 12th major league season and fourth with the Astros, Reddick said he expects to hear more from fans about the issue both on and off the field, to the point where he thinks "it could be very dangerous outside of the ballpark to even bring your family."
"There are ways to add security to a lot of places on the road whether it be in our hotels, on the way to the field," he said. "At the field, obviously, being a lot more hostile environment. Be a little crazier. I think, also, at the hotels because you see a lot of people line up at our hotels. They know where we stay, they know what times we usually go to the ballpark. And what time we get back.
"For me, myself having almost 5-month-old boys, it is going to be pretty scary because my wife is going to go want to come on a lot of road trips just because wanting to have my help in raising them and do our parenting thing. So it is definitely something you can think about every night."
Astros players won't necessarily be safe when the games begin, as pitchers such as the Cleveland Indians' Mike Clevinger and the Los Angeles Dodgers' Ross Stripling have hinted at the possibility of throwing at Houston batters.
Los Angeles Angels star Mike Trout this week joined a long list of players who have been critical of the Astros' actions, saying he "lost some respect for some guys." Reddick said he didn't believe condemnation from opponents was adding fuel to the online threats, but he said he would like to see a more unified front in light of the messages.
"I think the best situation for us is to have our families be safe and ourselves be safe," Reddick said. "But yeah, I think player unity is going to be a big thing. Especially with the way things are going now and way things will be in a couple of years to renegotiate stuff. I think that is one way the players need to get united. I think the more we are one on the same page and united it is going to be better for the whole game. It may take time the way this thing is being handled right now. I think ultimately the family safety is a big issue right now."
For now, Reddick said his plan to deal with the most egregious messages is largely to "just avoid clicking on it," but he still gets angry when he sees people threatening his children.
"I put a post of my kid rolling over for the first time and I gotta look down there and see 'I hope your kid gets cancer,'" Reddick said. "It makes you really want to see that person in person. Really makes you want to go up to him and see what they would do if you put your face to their face and really get a little bit of retribution for yourself. Pisses you off."
The Phillie Phanatic has gotten a spring training makeover
Teams close with 7-5 edge in arbitration as Diamondbacks' Archie Bradley wins final case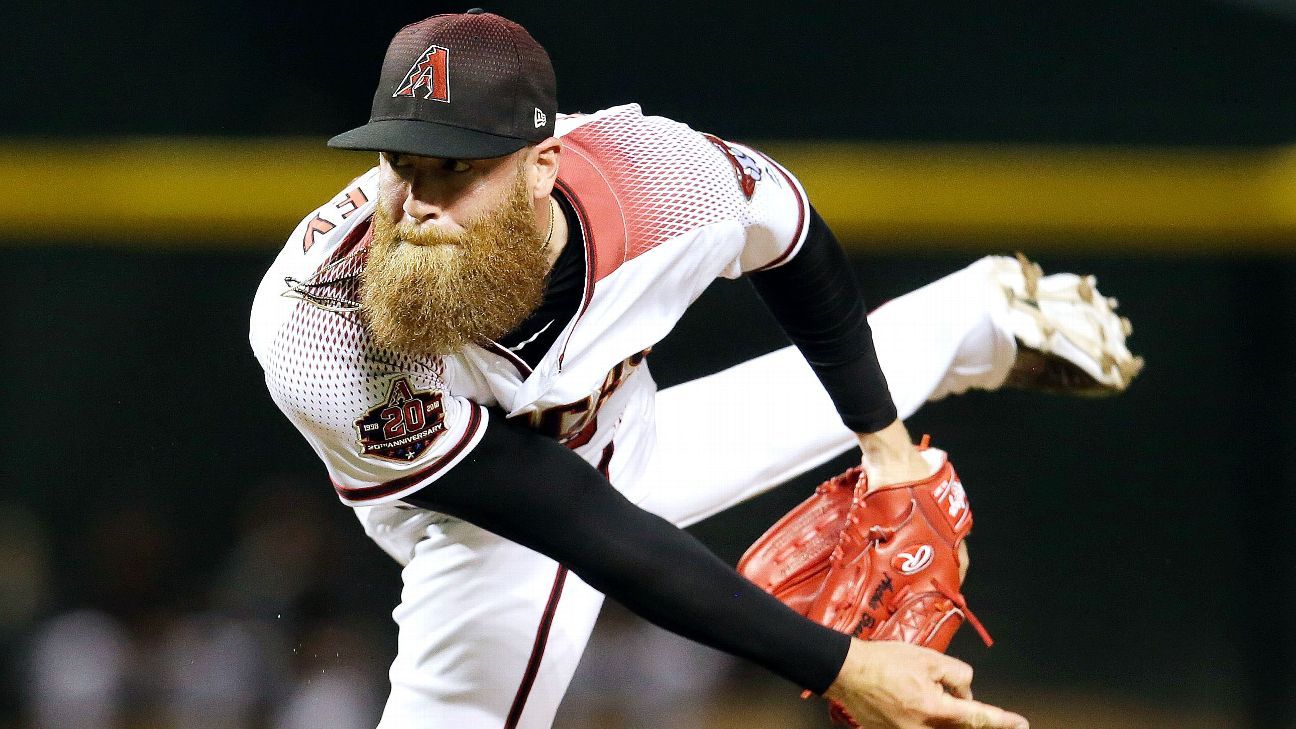 PHOENIX — Arizona Diamondbacks reliever Archie Bradley won the final salary arbitration case of the year, leaving teams with a 7-5 advantage over players.
Bradley, a 27-year right-hander, was given a raise from $1.83 million to $4.1 million Friday by arbitrators Andrew Strongin, Steven Wolf and Jules Bloch. The Diamondbacks had argued for $3,625,000.
Bradley was 4-5 with a 3.52 ERA in 65 relief appearances and one start last year. He struck out 87 and walked 36 in 71 2/3 innings.
Teams won six of the first seven decisions, and players won four of the last five. Teams have had a winning record in four of the past five years, the exception a 12-10 margin for players in 2019.
A relatively small percentage of players went to hearings among the 162 who were eligible after teams offered contracts on Dec. 2. Just 20 players exchanged proposed salaries with their clubs on Jan. 10, and nearly half of them wound up with agreements.
Clubs defeated Philadelphia Phillies catcher J.T. Realmuto, Boston Red Sox pitcher Eduardo Rodriguez, Los Angeles Dodgers outfielder Joc Pederson, Minnesota Twins pitcher Jose Berrios, Milwaukee Brewers closer Josh Hader, Atlanta Braves reliever Shane Greene and Colorado Rockies catcher Tony Wolters.
Winning players included Dodgers reliever Pedro Baez, Houston Astros infielder Aledmys Diaz, Miami Marlins first baseman Jesus Aguilar and Los Angeles Angels outfielder Brian Goodwin.
Phillies reliever Hector Neris agreed Thursday night to a one-year, $4.6 million deal, avoiding a hearing. His deal includes a $7 million team option for 2021 with no buyout. Neris can earn an additional $1.2 million this year in performance bonuses for games finished: $50,000 each for 10, 15, 20, 25, 30 and 35; $100,000 apiece for 40, 45 and 50; and $200,000 each for 55, 60 and 63.
Neris was Philadelphia's most reliable reliever last year, leading the team with a career-high 28 saves in 34 chances. He had a 2.93 ERA with 89 strikeouts in 67 2/3 innings, earning $1.8 million.
He is 67-for-83 in save opportunities in his career.