What Steelers' offense looks like with 'mad man' QB Mason Rudolph – Pittsburgh Steelers Blog
PITTSBURGH — As guard Ramon Foster walked out of the locker room after a second-straight loss for the Pittsburgh Steelers, he was asked about quarterback Mason Rudolph taking over the offense if Ben Roethlisberger's elbow injury keeps him sidelined.
His answer was blunt: Rudolph prepares like a mad man.
"He wants this," Foster added.
On Monday, Steelers head coach Mike Tomlin announced that Roethlisberger will have surgery on his elbow and be out the remainder of the season.
The Steelers are sold on Rudolph for one prime reason: He grinds. They aren't worried about his preparation if he makes the start Sunday at San Francisco, which is crucial to avoid dropping to 0-3 and dwelling at the bottom of the AFC North.
No matter the results, they know he'll be ready for everything on the field. This is the same guy who wears his helmet on the sideline as the backup or used to mimic practice plays from the sideline as the third-stringer last season.
In Rudolph's NFL debut, he completed 12 of 19 passes for 112 yards, two touchdowns and one interception (not his fault coming off a Donte Moncrief drop) for a 92.5 passer rating. But guard David DeCastro cared less about the numbers and more about the command as Rudolph was mixing signals at the line of scrimmage.
"We like our chances," DeCastro said. "He's a guy who cares a lot. That means a lot in this league."
Here's what to expect with Rudolph at the helm for the Steelers' offense.
Confidence to "let it fly," which is mostly good …
Rudolph said in the preseason, that in Year 2, he would hold nothing back, which eventually helped him beat Josh Dobbs for the No. 2 job. Rudolph delivered two touchdown strikes to Vance McDonald, who broke free for seven catches Sunday. Those were confidence throws.
Rudolph also isn't afraid to hold the ball in the pocket as routes develop or make intermediate-to-deep throws to tough spots.
"I am completely confident in myself, being a leader of a team, and playing games," Rudolph said. "That's what it all comes down to. If that's the case, I'm ready to roll."
But Rudolph has to make sure the timing is down on those tough throws. Rudolph said he needed to get the ball earlier to Diontae Johnson on a 17-yard sideline catch that required an acrobatic play to complete. On his interception on the two-point conversion attempt, Rudolph said surging defensive backs affected his vision.
These are good plays to experience entering a potential first start.
"He is going to throw the ball and make his reads," McDonald said. "I think he is very deliberate about that and that is something we can look forward to on offense."
More run-pass balance
The Steelers aren't a heavy play-action team, but Roethlisberger is most comfortable in the no-huddle offense and can use the short passing game to simulate runs. That helps explain his league-high 675 passing attempts a year ago.
Mason Rudolph enters the game for the injured Ben Roethlisberger and hits JuJu Smith-Schuster on a 45-yard flea-flicker pass.
The Steelers should support Rudolph with a stout running game to help set up the pass. James Conner and Jaylen Samuels combined for 39 rushing yards on seven carries (5.6 yards per carry) in the second half. That lessened the burden on Rudolph, who feels comfortable in play-action sets.
McDonald said the offensive line will set a tone in Week 3 and beyond, regardless of who's at quarterback.
"We rely on our big men up front to not only lead us but take charge as leaders of this team," McDonald said. "Just carrying us from week-to-week. Even with Ben up, they are our guys. We'll rely heavily on them."
DeCastro is up to the challenge.
"We'll see what this team's made of," he said. "I don't expect any drama. I expect guys to shut up and go to work."
Creativity in the game plan
A 45-yard flea flicker to JuJu Smith-Schuster in the third quarter eased the tension for Rudolph and the offense, and everyone played loosely after that.
Surely offensive coordinator Randy Fichtner has some trickeration he hasn't used for a while. This might free him up to try some stuff.
And what helps Rudolph, college and NFL teammate James Washington says, is making extra time to throw with receivers during and after practices. There's not one pass-catcher in the offense that Rudolph doesn't know well, tendency-wise.
"He's got a lot of weapons to play with," Washington said.
Make an imprint for the future
Rudolph now gets almost a full season to audition and, for the Steelers, this is his chance to inject clarity into the post-Roethlisberger succession plan. Roethlisberger is 37 and plans to play out the three years remaining on his deal, but the Steelers saw Rudolph as a first-round-caliber prospect in 2018.
"The reps in practice might change, but my [diligent] approach won't change," Rudolph said about how he prepares for this week.
Miami Dolphins to open drive-in theater at Hard Rock Stadium
The Miami Dolphins will soon let fans drive their cars inside the stadium where football players typically play every weekend in the fall.
The Dolphins announced Tuesday that they are launching an outdoor drive-in theater inside Hard Rock Stadium that will be used to show marquee games in team history, classic movies, commencement ceremonies, concerts and more. They are also hosting an open-air theater which can host small groups for an intimate viewing experience in the complex plaza.
The Dolphins have mocked renderings of the drive-in venture, which they say can host up to 230 cars. They are promoting it as a family-friendly event that people can participate in amidst the coronavirus pandemic.
Food and beverage can purchased through an online system and delivered to cars. Restrooms will also be made available for use. Fans can put their name on an email list via the stadium website to be notified when tickets are available.
"We've spent several weeks planning this to be able to provide people with a safe option to go out and enjoy movies, classic Dolphins content, concerts, and celebrate 2020 graduates," said Dolphins and Hard Rock Stadium vice chairman and CEO Tom Garfinkel. "It's a fundamental human need to physically experience and celebrate events and experiences together, and we're trying to provide options for everyone where they can be safely socially distant and socially present at the same time."
Hard Rock Stadium became the first public facility to earn the Global Biorisk Advisory Council's STAR accreditation, the standard used for facilities to implement cleaning, disinfecting and infectious disease prevention work practices to control risks involved with infectious agents like the coronavirus.
Garfinkel and the Dolphins have been proactive and innovative in ways to function during the pandemic. They released mock-up plans earlier this month for what it could like to host approximately 15,000 fans in the stadium for NFL fans if the NFL and the government allows it in the fall. Owner Stephen Ross also said on CNBC Tuesday that there will "definitely" be a football season this fall and the plans as of now is to include having fans in the stands.
Hard Rock Stadium was the host for Super Bowl LIV. It also has hosted Miami Open tennis tournaments, several multiple large music festivals, college football championship games and international soccer games.
Ravens' Lamar Jackson to host informal workouts for teammates
With the Baltimore Ravens facility unavailable to players due to the coronavirus pandemic, reigning NFL MVP Lamar Jackson is hosting his Baltimore Ravens teammates for some informal workouts in south Florida next week.
Wide receiver Miles Boykin told reporters in a video conference call that he is scheduled to run plays with Jackson, wide receiver Marquise "Hollywood" Brown and others in what is believed to be the team's largest gathering this offseason.
"We're still finalizing it," Boykin said Tuesday. "There are going to be a lot of guys down there. There's only so much you can do in [virtual] meetings without being able to go out on the field."
And while the Ravens announced Tuesday that they have re-opened their training facility under Phase 1 of the NFL process, it is still closed to players and coaches. Like many other teams, Baltimore's offseason training activities would've begun by now.
What works in the Ravens' favor is their continuity and familiarity on offense. Baltimore returns 11 of 13 players who caught a pass from Jackson last season in what was the NFL's highest-scoring offense (33.2 points per game).
Boykin said there are plans for additional workouts with Jackson beyond next week. Jackson's recent throwing sessions appear to have been limited to Brown, who also lives in Florida. Based on social media posts, it looks like Jackson and Brown have been working on routes at a local park.
👀 @Primetime_jet and @Lj_era8 are putting in WORK. 😈 pic.twitter.com/flBTNJnJXS

— Baltimore Ravens (@Ravens) May 23, 2020
Boykin isn't sure of the exact details of the workouts.
"Right now, we just have the plan to go down there and be able to run through some plays on offense and just play football a little bit to get back to something that we love doing," Boykin said. "It'll be exciting for us to be together, just work on that chemistry."
This is the second straight year that Jackson has gotten together with teammates in the offseason, which had been a point of contention with the Ravens' previous starting quarterback. Joe Flacco only held private workouts twice in his 11 seasons in Baltimore.
Jalen Ramsey, Rams 'on same page' concerning contract extension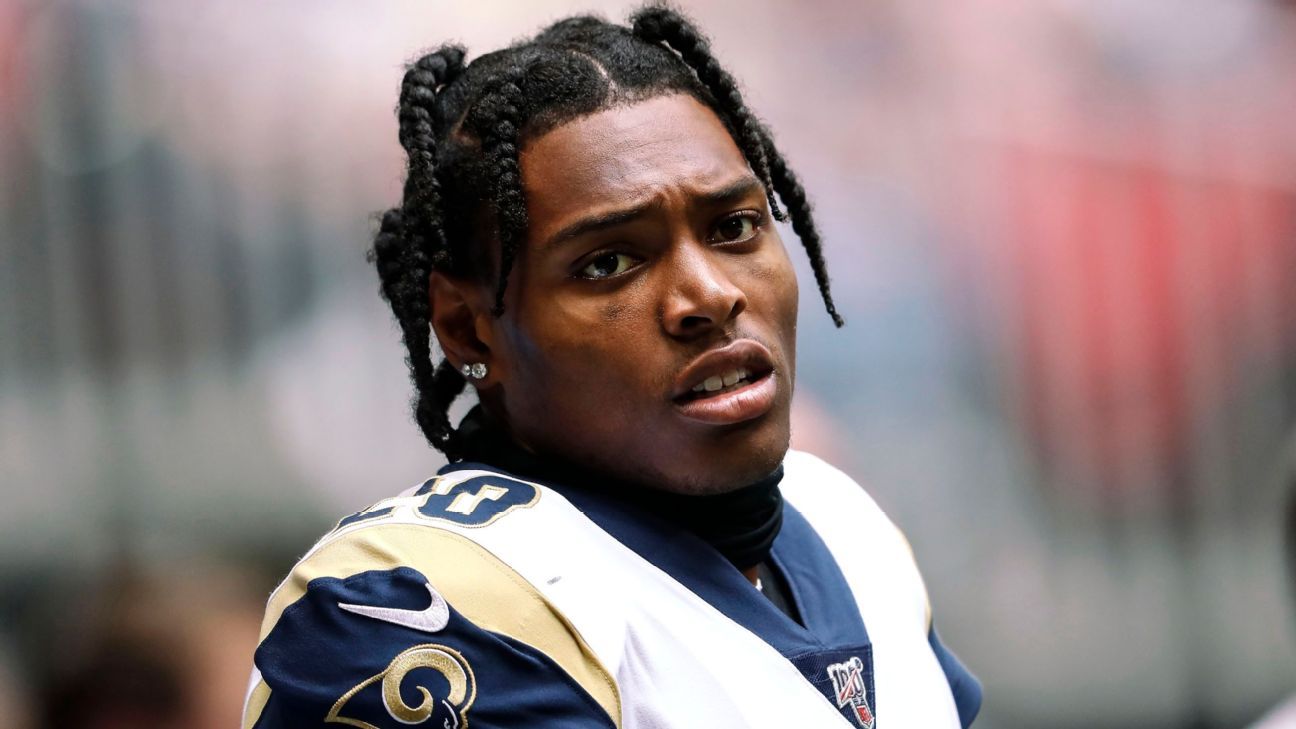 The Los Angeles Rams have been in contact with Jalen Ramsey's representatives about a contract extension as the All-Pro cornerback enters the final season of his rookie deal.
Ramsey played coy Tuesday when asked where negotiations stood.
"The Rams know where I stand," Ramsey said on a video conference with reporters. "I think that's all that matters at the end of the day. It will be handled. They know where I stand. They've been in contact with my agent. … They're on the same page as my agent."
When asked whether he would attend training camp if he had yet to sign an extension, Ramsey showed no hesitation.
"Yeah, for sure," he said.
Ramsey is expected to command a record-breaking contract, and it's anticipated that he will have the upper hand in negotiations, given what the Rams paid to acquire him before the trade deadline last season.
The Rams sent their 2020 and 2021 first-round draft picks and a 2021 fourth-round selection to the Jacksonville Jaguars for Ramsey, who was the No. 5 overall pick in 2016.
"I can't really worry about that," Ramsey said about the negotiations. "I just control what I got to worry about right now. … I feel like everybody knew what type of situation it was gonna be once they traded for me, so I think it doesn't really need to be talked about that much. It will get handled."
Considered among the top lockdown corners in the NFL, Ramsey has 10 interceptions, including one for a touchdown, and 49 pass deflections in four seasons.
The Rams have been aggressive in signing players to record-breaking contracts over the past two years.
Running back Todd Gurley signed a four-year, $40 million extension in July 2018 that included a record-breaking $45 million guaranteed. A month later, defensive tackle Aaron Donald signed a six-year, $135 million extension that amounted to the richest contract ever signed by a defensive player. Last September, quarterback Jared Goff signed a four-year, $134 million deal that includes a record-breaking $110 million guaranteed.
The Rams, however, cut Gurley this offseason and also traded receiver Brandin Cooks, who was in the midst of a five-year, $81 million contract.
Gurley's and Cooks' contracts will cost the Rams nearly $30 million in dead money cap charges in 2020.