Redskins' Jay Gruden back in familiar spot, coaching for his job – Washington Redskins Blog
ASHBURN, Va. — It's not the first time Washington Redskins coach Jay Gruden has entered a season on the hot seat and, if he's here next year with anything short of a long playoff run in 2019, it won't be the last.
But this time, it could be real: The Redskins haven't made the playoffs since 2015, when they lost in their only postseason game. They're 31-32-1 the past four years after a 4-12 mark in Gruden's first season. His contract expires after the 2020 season.
"Had it my first year, probably," Gruden said, maybe only half-joking, of the speculation. "That's just the way it is. That's what happens when you sign on the dotted line. All you care about is that season and then after the season you have a chance to talk about contracts and where you're at with job security. But you can't worry about that."
As the Redskins prepare for Sunday's opener at Philadelphia (1 p.m. ET, Fox), all Gruden can do is focus on what he can control. The hard part? He enters the season with his fourth starting quarterback (Case Keenum) in six years and a receiving corps that has one player with more than three career games played, and with seven-time Pro Bowl tackle Trent Williams still holding out.
It's not ideal, even if paired with a defense that could crack the top 10.
"I'm very excited about 2019," Gruden said. "Anytime I've been a coach or a player all I care about is the year I'm in. Everything else will take care of itself. We're focused on Philadelphia. What happens after the season I'll worry about then, but right now I feel confident we can line up with the defense we have and compete and win every game we play."
And he's confident in what the offense can do under Keenum, who is with his third team in three seasons. They still have tight end Jordan Reed, who looked good all summer until suffering a concussion. They still have third-down back Chris Thompson, who said he never felt healthy last year and it showed in his play. He had only one catch of more than 20 yards last season. In 2017, before breaking his leg in Week 11, he had 10 such gains.
"If we can be diverse in what we're doing, be balanced," Gruden said, "stay away from holding calls and the negative plays … if we can do that on offense, we have a chance to be really, really good."
They do have a healthy Derrius Guice at running back, and his ability to help in the run or pass game should enable them to be less predictable.
That's part of Gruden's reason for optimism.
"I see great skill set from our tight ends and backs," he said. "They can carry the ball and they can catch it out of the backfield. Our tight ends are versatile in what they can do and where they can line up."
Then there are the receivers. Washington has three rookies, including one who was undrafted, among its six wideouts. Starting slot receiver Trey Quinn, in his second year, has nine catches in three career games. Paul Richardson, with 115 career receptions, is the most experienced player. But Gruden sees positives. They have speed (Richardson, rookie Terry McLaurin and undrafted Steven Sims Jr.,) and size (four of the six are at least 6 feet tall and 200 pounds).
"When you have tiny guys out there and you want to be physical and run the ball and someone has to come in and block Malcolm Jenkins or a Landon Collins, I mean, come on," Gruden said. "Now we have the physicality to where we can do that and match a bigger receiver with a safety, maybe block him on an end from time to time. There's a lot of things we can do in the run game that will help with the bigger guys we have. We have versatility with what we can do."
Gruden had hoped they found a quarterback for the foreseeable future last offseason in Alex Smith. But he broke his leg in Week 11 and remained on crutches as of this week. That forced the Redskins to again start over at the position; they traded for Keenum and drafted Dwayne Haskins. They don't feel the latter is ready so the former gets the start.
Two years ago Keenum helped Minnesota reach the postseason and left for Denver, where he was ousted after one season. Kirk Cousins, now in Minnesota, started three years with Gruden; no one other quarterback has started more than one.
"It's a process that people don't understand how difficult it is to get a new guy ready to play, no matter how many games he's played," Gruden said. "It's getting used to him, him getting used to the receivers, tight end, the line, cadence, terminology, protection, audibles. It's a lot of work for a quarterback and it takes some time.
"It does get a little frustrating because there are plays we've seen for six years [that] they've only seen for six months. It's like, 'How do you not know this?' It's like, 'Well, s— I don't remember that play.' It's a matter of repetition. Case has picked it up very well."
Redskins president Bruce Allen declined to comment on Gruden's job security entering the season. Gruden's demeanor has largely remained the same; he's still self-deprecating, though there's less humor during his news conferences. On the field during training camp, Gruden at times chastised his group more — he made the lines run extra sprints for their behavior in one practice.
Players say they haven't noticed a difference.
"He's been the same for the most part," said Thompson, entering his sixth season. "We can feel more how bad he wants this, how bad he wants to win year in and year out. I'm sure it sucks to hear every year that your job is on the line. … That's one reason why I try to go out and play as hard as I can for him. He's a great coach; he's a great human being. He deserves to be that head coach that changes this program around."
Long-snapper Nick Sundberg, entering his 10th season, said he hasn't seen a change in Gruden, either.
"He's trying to do his best to get the best out of every one of us," Sundberg said. "Not to say he hasn't done that in the past, but maybe he's holding himself to a different standard in the way he holds us to a different standard. It's not necessarily different. But when we have team meetings there is more accountability on guys.'"
Gruden said he does not feel a different sense of urgency.
"Not really, no," he said. "Everybody has a great desire to win every year that I've been here. Some things get blown up here and that we're dysfunctional … but we're all focused on our job. We have to get players ready to go and they have to buy in and perform on Sundays. That's what it's all about every year."
Who is Patriots' next TE? Scouting draft prospects who could fill void – New England Patriots Blog
FOXBOROUGH, Mass. — The New England Patriots knew it would be a challenge to fill the void created by Rob Gronkowski's retirement in 2019, but they couldn't have envisioned it would be this hard.
Patriots tight ends ranked last in the NFL in receptions and targets, according to research by ESPN's Stats & Information, and New England was tied with the Chicago Bears for the fewest receiving touchdowns from tight ends (two).
Limited production from the position was one factor in the Patriots' season ending earlier than it had in a decade, with a home loss in the AFC wild-card playoff round to the Tennessee Titans on Jan. 4. It highlights how tight end is a major priority for the team in 2020, which could mean anything from a run at potential free agents such as Hunter Henry (Los Angeles Chargers) and Austin Hooper (Atlanta Falcons) to targeting the position in the NFL draft.
If there was a silver lining to the abrupt end to the season, it's that coach Bill Belichick and offensive coordinator Josh McDaniels had open dates to attend this year's Senior Bowl. While there isn't a tight end currently projected to be a first-round pick, Belichick and McDaniels had an up-close look at some of this year's best prospects.
What did they see?
Senior Bowl executive director Jim Nagy, a former Patriots scout, breaks down the Senior Bowl tight ends, with some crossover at the fullback spot as well:
Jared Pinkney (Vanderbilt, 6-foot-4, 260 pounds): "If you go back and look at his numbers in 2018 [with 50 receptions, 774 receiving yards, a 15.5-yard average and seven TDs], he was a top producer in the SEC. But they lost [quarterback] Kyle Shurmur and consistent quarterback play, and his numbers suffered [20 catches for 233 yards and two TDs in 2019]. I told him coming into the week that I thought his situation was very similar to O.J. Howard when he was coming out of Alabama [in 2017]. O.J. … went back to Bama and [quarterbacks] didn't target him much [in 2018]. With Jared, this is a talented guy with size to play on the line of scrimmage, he can be an effective in-line blocker, and he's shown what he can do in the pass game. He's not a super athlete, and I wouldn't expect him to be a combine star, but he's really fluid and he knows how to get open. Going into this process, over the summer, he was our No. 1-rated tight end."
Stephen Sullivan (LSU, 6-5, 229 pounds): "They listed him as a tight end, and also as a wideout. But really, he's a mismatch player. He is really, really fluid. For a guy his size, he can really run routes. He has a really generous catch radius; he can go up and get the football. I've equated him all along to [the Raiders'] Darren Waller … coming out [of college], they are very similar prospects. He's a Day 3 player [Rounds 4-7], but with a creative coaching staff that can get guys mismatched, he's that type of player. He only had 12 catches [in 2019], but the benefit now is you can cut these [clips] up and sort it. When you looked at that cut-up, that's when you really got more excited about him."
Josiah Deguara (Cincinnati, 6-2⅜, 239 pounds): "We brought him in to play fullback as he has the right frame to line up in the backfield. He can get through the hole and strike people with good pad level. He's a good bender. He is similar to [West Virginia's] Trevon Wesco from last year's game. More athletic than Trevon, but not quite the same in-line blocker as an attached 'Y' [lined up next to a tackle] that Trevon was. But really similar in the sense that they are both scrappy, highly competitive, tough guys. They are the kind of guys you want on your team at some point — Wesco went in the fourth last year — because they play on special teams. [Deguara] can really, really run. He's going to be someone's starting fullback and you can do a lot with him in the pass game. He's a good route runner who has a really nice skill for setting up routes and getting open."
Harrison Bryant (Florida Atlantic, 6-4⅜, 240 pounds): "He was the Mackey Award winner [as the nation's top tight end], and is a really athletic guy. He's a little undersized, so he isn't the 6-5/6-6 on-the-line guy but he's athletic in space, so you can get him on the move and do things. He's scrappy. He's willing to block and … he did a nice job Senior Bowl week in the run game — better than people probably expected. But he won the Mackey because of his production as a receiver. Where you really get excited about him is after the catch. Even though he didn't run a lot of different routes at FAU, you knew he could do it because of his change-of-direction with the ball in his hands. He's going to be a playmaker in the pass game and he has a good enough feel."
Adam Trautman (Dayton, 6-4⅞, 256 pounds): "He's done nothing but climb and climb. He had a great week at the Senior Bowl. He went [to Dayton] as a quarterback and just kept growing. He has the measurables, is a crisp route runner, has good quickness. He has a basketball background, he can catch the ball over people. Adam was truly a man among boys at that level this year [70 catches for 916 yards and 14 TDs]. Then to come down to the Senior Bowl and show out like he did, he might be the first tight end taken. He's going to test well and he's a great kid. He's hungry. What he really showed [at the Senior Bowl] was what he can be as a blocker. Everyone knew what an athlete he was and what kind of player he was in the pass game, but here he is going against SEC-level guys, some really good ones in the game this year, and he just fought his tail off and got into people and showed a level of physicality and competitiveness. Someone is going to draft this guy to be their starter."
Brycen Hopkins (Purdue, 6-3¾, 238 pounds): "He's the son of [longtime Titans offensive lineman] Brad [Hopkins], NFL bloodlines. He's a phenomenal kid. Really bright. He had a big senior year statistically [61 catches, 830 yards, seven TDs]. He was going down to the wire with Harrison Bryant for being the most productive tight end in the country this year at the FBS level; Trautman was the most productive at the FCS level. Hopkins is a really good route runner. Hands were a little inconsistent on tape during the fall, but I thought he caught it really well Senior Bowl week and answered some of those questions. He's going to do a really nice job at the combine. He probably will be the best tester at the position. They didn't ask him to do a ton as a blocker at Purdue, so the physicality, that will be where he needs to make his biggest [jump]. But I think he will play on special teams and will have a role in sub packages early, because he can really run and is a mismatch."
Charlie Taumoepeau (Portland State, 6-2¾, 248 pounds): "We used him at fullback. He was kind of the favorite small-school guy of the West Coast area scouts in the fall. He really got our attention last year as a junior, in the two games they played up in competition against Oregon and Nevada. He really went off. He is a really fluid athlete who can run. A really natural catcher. He [shined] down here in Senior Bowl week and did a really nice job blocking — even in pass pro. Charlie is another guy you can get production from in the pass game. He's a really smooth route runner and has quickness at the top of the break, so he can get open."
Sean McKeon (Michigan, 6-5, 248 pounds): "He was injured early in the week and didn't play in the game. Sean is a legit 'Y'-sized guy, which makes him a little different from some of the others. He has a nice, big frame. Good blocker. He can come in and be functional on the line of scrimmage pretty quickly. He's a really solid kid whose ceiling is probably as a really good No. 2. He's not the pass-game player that some of the others are. Hands were a little inconsistent at times, but he's a big target who runs well. He's tough, competitive. I don't know if McKeon will get drafted higher than the fifth [round], but … it shouldn't be any lower than that for him."
Cowboys' Jason Witten wants to play in '20, open to other teams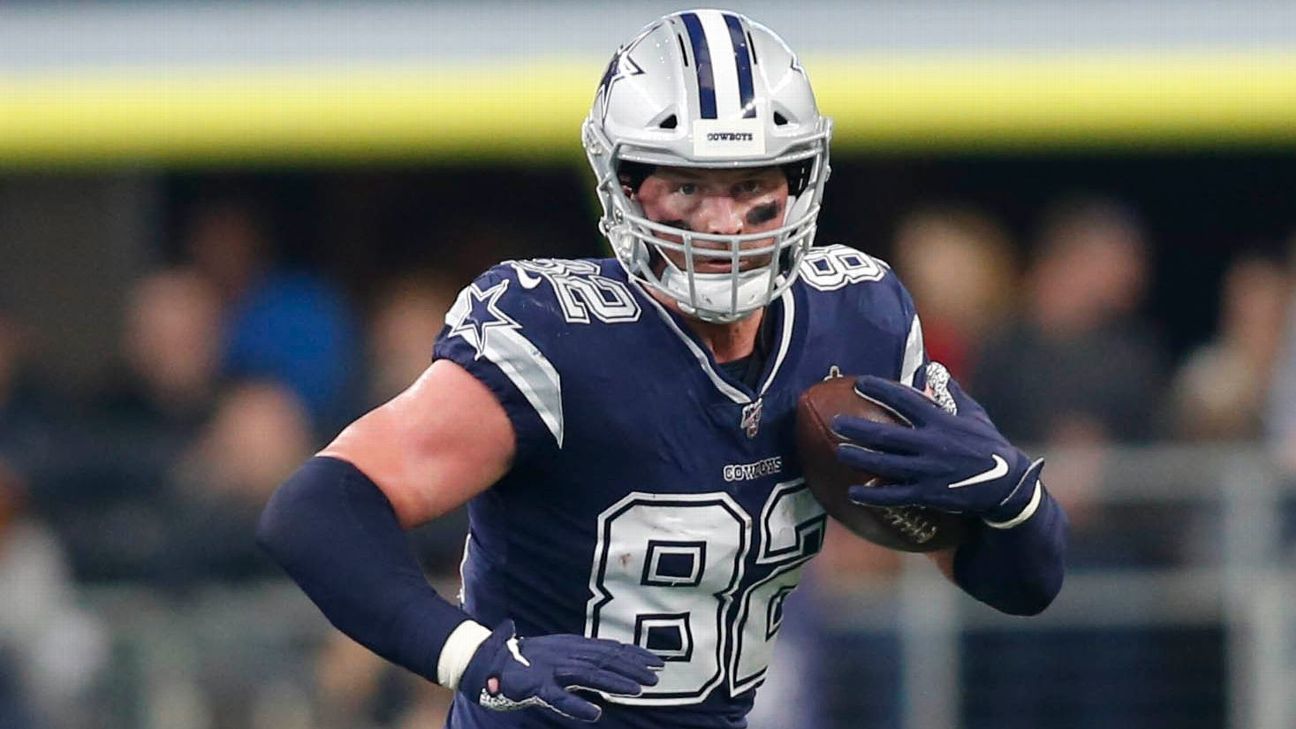 FRISCO, Texas — Jason Witten wants to play another season but acknowledged it might have to be with a franchise other than the Dallas Cowboys.
"I think I have to be," Witten said when asked if he's open to playing elsewhere. "Obviously I'd love to finish it out here, but some of those things are not in your control."
Witten said he met with Mike McCarthy not long after McCarthy was named head coach. He has had conversations with owner and general manager Jerry Jones and executive vice president Stephen Jones.
While Witten said the talks with McCarthy and Jones were great, he added, "We didn't get into the weeds of my role and what that would look like."
He said he will have more discussions after next week's scouting combine in Indianapolis but before free agency begins on March 18.
Witten caught 63 passes for 529 yards and four touchdowns in his return from a one-year hiatus as an analyst on ESPN's Monday Night Football. He has played 16 seasons for the Cowboys, a franchise record.
"I still feel like I have something to give," Witten said. "I've obviously been on the other side of that in the decision to retire. Yeah, I think coaching is in the future, but I want to play while I can. We'll see where that takes place. Of course I want it to be with the Dallas Cowboys and I'll always be a Dallas Cowboy, but I also understand that with all the changes that I might have to go somewhere else."
Source — Ex-Panthers TE Greg Olsen joining Seahawks on 1-year deal
Former Carolina Panthers tight end Greg Olsen has agreed to terms on a deal with the Seattle Seahawks, the team announced Tuesday.
Terms weren't released, but a source told ESPN's Adam Schefter the deal is for one year and worth $7 million, with $5.5 million in guaranteed money.
Olsen visited with Buffalo, Seattle and Washington, and he felt most comfortable with the Seahawks, the source said.
Tight end was an area of need for the Seahawks with Will Dissly coming off a ruptured Achilles, his second major injury in as many NFL seasons. Veteran Ed Dickson is a candidate to be released after missing most of his two seasons with Seattle due to injuries. Luke Willson, whom Seattle re-signed after trading Nick Vannett last year, is an unrestricted free agent. Jacob Hollister is a restricted free agent.
Because Olsen was released by Carolina, his addition won't cost the Seahawks a compensatory pick.
Olsen became a free agent after he and the Panthers mutually agreed to part ways after nine seasons. A three-time Pro Bowl selection who has played 13 NFL seasons, he said he was still interested in playing in the NFL.
Olsen's cap number for the 2020 season was to be $11,675,000 after he ruled out an extension to lower that number.
After dabbling in broadcasting during some time off, Olsen returned to the field in 2019 to prove that he could still be among the top tight ends in the league. From 2014 to 2016, he became the first tight end in NFL history to have 1,000 yards receiving in three straight seasons.
Olsen, the 31st pick by the Bears in 2007, had 52 catches for 597 yards and two touchdowns this past season. He has 718 career catches for 8,444 yards and 59 touchdowns.
Olsen, who turns 35 on March 11, holds the Panthers' franchise record for single-season receiving yards (1,104 in 2015) and receptions (84 in 2014) by a tight end.
ESPN's David Newton and Brady Henderson contributed to this report.