MLB bans playing in Venezuela amid Trump order
Major League Baseball has banned all affiliated players from participating in the Venezuela winter league this year, a response intended to comply with President Donald Trump's embargo against the country's Nicolas Maduro-led government.
"MLB has been in contact with the relevant government agencies regarding the Executive Order issued by President Trump on Venezuela," the league said in a statement to The Wall Street Journal. "MLB will fully adhere to the policies implemented by our government. With respect to the Venezuela Winter League, MLB will suspend its involvement in that league until it receives direction from the relevant agencies that participation by affiliated players is consistent with the Executive Order."
The potential repercussions of the prohibition, which prevents major league and minor league players from joining the 75-year-old Liga Venezolana de Beísbol Profesional (LVBP), could be significant. Multiple sources told ESPN they feared the ban would warp the heretofore strong bond between MLB and Venezuela and spawn a similar situation to Cuba, another embargoed country whose complicated relationship with the league has festered for decades.
Dozens of affiliated players either return home to Venezuela or travel there annually to play winter ball, as many supplement paltry minor league incomes with low- to mid-five-figure sums to play in a 63-game season. The LVBP, whose champion participates with those from the Dominican, Puerto Rican, Mexican, Cuban and Panamanian leagues in the annual Caribbean Series, is sponsored by Petróleos de Venezuela, S.A. (PDVSA), the country's state-run oil company, according to sources.
The murkiness of the LVBP's link to a government-run business spurred MLB to consider the ban and consult with the MLB Players Association, according to sources. The fear, sources said, is that players agreeing to deals, or agents consummating them, with a government-affiliated entity would run afoul of the Aug. 5 executive order, which banned any such transactions.
Venezuela, once a bustling economic power in Latin America, has plunged into crisis, with widespread food and medicine shortages, millions of refugees leaving the country and toxic political infighting. The U.S. recognizes Juan Guaidó, the leader of the opposition, as president instead of Maduro, who remains in power.
One consequence of MLB's plan, sources said, could be Maduro retaliating by banning the league from signing amateur players in Venezuela. The country has proved to be a hotbed of talent, with Atlanta Braves outfielder Ronald Acuña Jr., Houston Astros second baseman Jose Altuve, Chicago Cubs catcher Willson Contreras and New York Yankees second baseman Gleyber Torres among the 95 Venezuela-born players who have logged major league time this season.
In recent years, as the economic strife worsened, teams shut down academies in Venezuela and consolidated their Latin American operations in the Dominican Republic. Top Venezuelan prospects have begun following suit, according to sources. Some of the best 12- and 13-year-old players in the country have moved with their families to the Dominican Republic in anticipation of signing with major league teams at age 16, sources said.
While all of the concerns about the executive order could be mollified by an agreement between the United States and Venezuela — both countries Thursday acknowledged recent backchannel discussions — MLB's desire to abide by it comes at a moment when the league's international dealings have been under scrutiny.
The Trump administration in April scuttled a deal between MLB and the Cuban government that would have allowed Cuban players to sign directly with the league instead of taking the circuitous and dangerous paths offered by traffickers. The Department of Justice continues a wide-ranging investigation into baseball's Latin American business — including deals for Cuban defectors — that sources said have targeted a number of teams, including the Braves, Los Angeles Dodgers and San Diego Padres.
MLB this week contacted the Office of Foreign Assets Control, the U.S. Treasury department that imposes economic sanctions, seeking clarity on the executive order, according to a source. Teams expect to continue to sign amateur players as long as Venezuela does not prohibit it, believing that doing so would not breach the executive order because individual teenage players are not under the Venezuelan government's purview.
Whether that legal argument holds up is unclear and part of the complications caused by the embargo. While a number of major league and minor league players planned to play in the LVBP, contracts are not typically agreed upon until September and October. With no affiliated players allowed, Luis Amaro, the general manager for the Aguilas del Zulia, said he expected Venezuela natives playing in the Mexican and Italian leagues this summer to fill out the rosters.
Until then, MLB and the MLBPA only can wait to see the consequences of the potential action. The lockdown of the Venezuelan talent pool, while not crippling, would significantly hinder the talent base in the minor leagues, where hundreds of Venezuelans play. The lack of a winter option for young players in Venezuela concerned one agent, who said LVBP helps keep players out of trouble when they return home. Another agent, who expected multiple clients to make up for below-minimum-wage minor-league salaries by playing in Venezuela, said he hopes clients still can get jobs in the Dominican, Mexican or Puerto Rican leagues.
Indians' Carlos Carrasco to undergo testing for discomfort in right leg
Cleveland Indians starter Carlos Carrasco is set to undergo testing on his right leg after experiencing discomfort during a Wednesday workout, according to the team.
The Indians are expected to provide an update on Carrasco, the American League Comeback Player of the Year in 2019, on Friday.
Last season, Carrasco was diagnosed with chronic myeloid leukemia in early June, missed three months while undergoing treatment and returned to the Indians in a relief role in September. He finished with a 6-7 record and 5.29 ERA in 23 appearances (12 starts).
In October, the 32-year-old right-hander from Venezuela won the Roberto Clemente Award, presented annually by Major League Baseball to recognize a player's high character, community involvement and positive contributions.
Pennsylvania Little League district to drop 'Astros'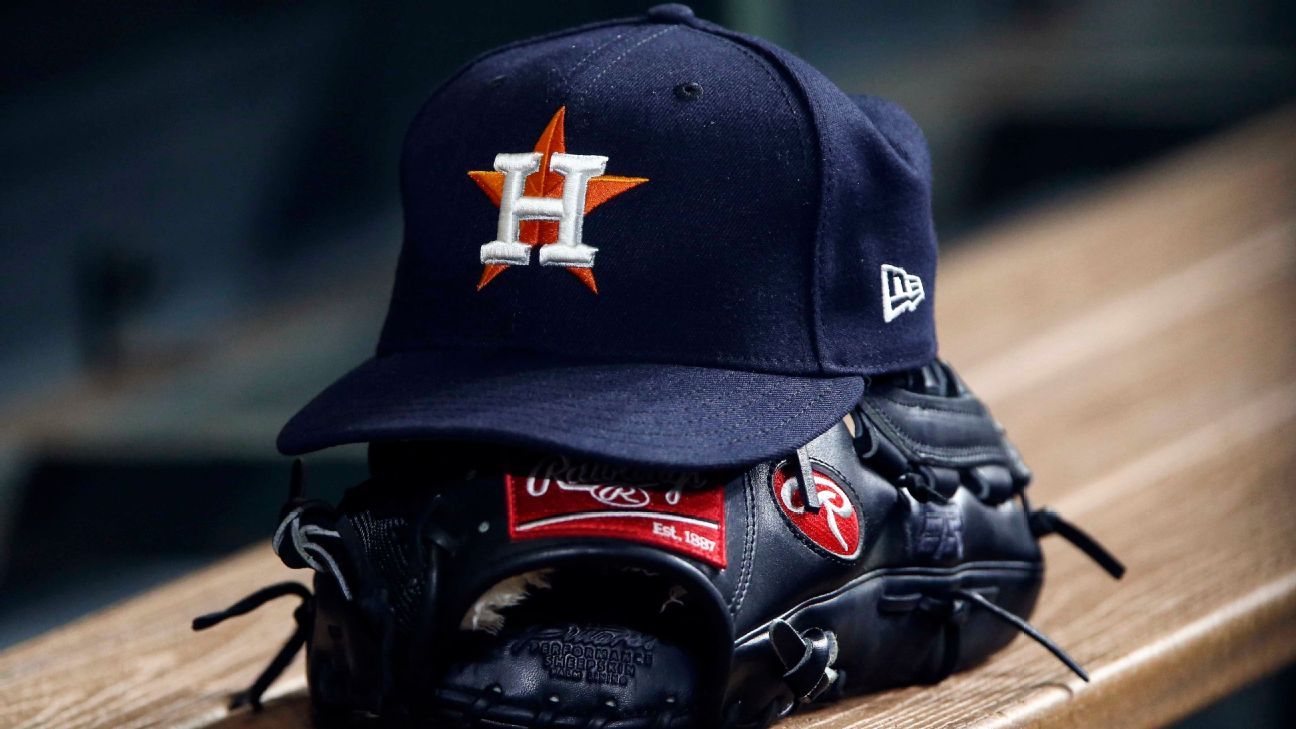 Just 60 miles east of Williamsport, Pennsylvania, one Little League director is sending a clear message to his 4,000 players about the Houston Astros and their sign-stealing scam.
Jose Altuve? Alex Bregman? Carlos Correa? They're all out.
"Right now, in our leagues, the Astros are suspended," said Bob Bertoni, head of District 16/31 Little League.
Bertoni is recommending that no teams in the 23 leagues he oversees use the Astros name this season after it was discovered Houston took a live camera feed to steal signs en route to a 2017 World Series title. He said a few teams used the name last year.
"I think about our Little League pledge; that's the first thing that comes to my mind. Part of the pledge is, 'I will play fair and strive to win,'" Bertoni said.
"Our kids emulate and idolize major league players," he added. "I don't think we as an organization should be idolizing teams that have decided not to play by the rules."
The Orange County Register reported last week that two Little League communities in Southern California banned the Astros team name for the upcoming season — a matter of ethics, but also a reflection of frustration after Houston beat the Los Angeles Dodgers in the 2017 World Series. The Central Amherst Little League in Buffalo, New York, has also dropped the team name this year.
Commissioner Rob Manfred addressed the decision by the California leagues in an interview with ESPN's Karl Ravech on Sunday.
"For me, personally, one of the most troubling pieces of all this was the message that we sent to young people about the game," Manfred said. "I do believe that our game is special in that it teaches values to young people, whether they become baseball players or not, and when you hold that belief and you see what happened here, you have to accept the fact that this was a step backward for us, one that we're going to have to work really, really hard to correct."
Little League International, the Williamsport-based governing body for baseball and softball leagues around the world, said in a statement it won't restrict districts or leagues from barring the Astros name.
"Local Little League programs have long used Major League Baseball club names for their local teams," it said. "The volunteers operating those programs have the authority to name their teams, which often reflect the interests of their community and its baseball fans. This unfortunate situation has taught Little Leaguers an important lesson about playing by the rules.
"We value our relationship with Major League Baseball and its efforts to expand opportunities for youth baseball and softball, and the best thing that Little League International can do for MLB and the entire baseball community is to teach children how to play the sport by the rules and with a high-level of sportsmanship."
Bertoni said his district, which covers all of Luzerne County in northwest Pennsylvania, was already considering outlawing the Astros name when he saw those headlines.
He doesn't think he will be the last district administrator to take such action either. Little League heads from around the country are set to meet in Hartford in two weeks, and Bertoni anticipates the Astros will be a top talking point.
"I think you'll see it on a larger scale," he said.
Bertoni said he is concerned that impressionable players might try to mimic parts of Houston's scheme, in which players watching the catcher's signals via a video feed near the dugout would bang on a trash can to relay to hitters whether the pitcher was throwing a fastball, breaking ball or changeup.
"That is the reason for the first initial step," Bertoni said. "If we did nothing, that opens the door to allow these kids to do that.
"We're going to educate our managers and coaches to say, 'Stealing signs, pounding on a trash can, that nonsense is not what you do when you play baseball or softball. Cheating should never come into play.'"
Bertoni said feedback from parents has been positive and that some communities couldn't buy Astros uniforms this year if they wanted. At least one supplier — Athletic Image in Wilkes-Barre, Pennsylvania — told Bertoni his company won't be selling replica Astros hats or jerseys this season in protest.
"Is it crazy? Yes," Bertoni said. "But I think in today's world there has to be consequences for everybody's actions."
Information from The Associated Press was used in this report.
MLB Stock Watch — Where all 30 teams stand as spring training games begin
Hall of Famer Rogers Hornsby isn't remembered as having the cheeriest of personalities, but his Kierkegaardian demeanor has always channeled the wintertime ennui of the baseball fan. Hornsby's most-repeated quote went, "People ask me what I do in winter when there's no baseball. I'll tell you what I do. I stare out the window and wait for spring."
Spring won't be officially sprung for a few more weeks but in baseball, we get a jump start on it when teams head south in February to prepare for the approaching season. The time for staring has ended, Rogers. Baseball is back. Well, mostly.
Of course, this year, the game has arrived in the outposts of Florida and Arizona with a bit more baggage than usual. While each day seems to offer up a fresh log to throw on the fire engulfing the Houston Astros, teams are nonetheless getting ready to play actual games on the field. There is no telling when the baseball world will be ready to collectively move on from the scandals and disputes swirling around the majors. But games will be played. At least that much should give us solace.
The first "official" exhibition game is scheduled for Friday, when the Kansas City Royals and Texas Rangers square off at their shared facility in Surprise, Arizona. The stakes are nil, yet that first spring training game, between two teams in actual big league uniforms, will be a time to rejoice. That's especially true this year, more than usual. If and when the game heals itself, as it has always done, that's where it happens. On the field.
Eventually, we'll be able to refocus on how teams are shaping up for the coming season. Which rookies look ready to hit the ground running? Who will win that third-base battle? Does that aging slugger having anything left? Does that lefty look fully recovered from his arm trouble? These are the type of questions that we prefer to dwell on, at least when those mortals who populate the game allow us to. Don't we?
That's where our focus is in the latest Stock Watch — on the field. We'll be zeroing in on one key issue to watch for in each team's training camp. The clubs are ordered by their current power rating, per my projection and tracking system. The rating simply represents the baseline forecasts for each team. Those forecasts are then run through a Monte Carlo-style simulator of the 2020 schedule 10,000 times to yield the win predictions for each team.