Terrence Brooks could be key piece in Patrick Chung fallout – New England Patriots Blog
FOXBOROUGH, Mass. — With starting safety Patrick Chung scheduled to be arraigned next Wednesday on a charge of cocaine possession, the New England Patriots have to be prepared with contingency plans if they are without Chung for any period of time.
Chung is one of the key cogs of the defense, having played 85% of the defensive snaps in 2018, with linebacker Kyle Van Noy affectionately referring to him as a "beast" and "one of the most underrated" players in the NFL last year.
• Why the Broncos turned to Joe Flacco
• Vikings look for Cousins to run more
• Nick Chubb primed for big Year 2
• Matt Gay embracing Bucs' pressure
• Lions have real-life fantasy sleeper in Ty Johnson
Chung's ability to match up with opposing tight ends is a significant part of his value to the Patriots. His physicality and tackling also is critical for a defense that plays about 90% of its snaps with five or six defensive backs on the field, which means they are a lighter unit and need their safeties to fill a linebacker-type role at times. The 5-foot-11, 215-pound Chung does that exceptionally well.
There probably isn't one player on the roster who can fill that type of role, but a possible silver lining for the Patriots is that defensive back is one of the deeper positions on their roster — especially when factoring in some cornerbacks who can flex into a safety role in certain packages, such as Jason McCourty, Jonathan Jones and Duke Dawson.
Six-year veteran Terrence Brooks (5-11, 205 pounds) is probably the Patriots' closest facsimile to Chung in terms of a pure safety. He entered the NFL as a third-round draft choice of the Baltimore Ravens in 2014, and has only one career start on his résumé, with his primary niche coming on special teams in stints with Baltimore (2014-2015), Philadelphia (2016) and the New York Jets (2017-2018).
He has opened some eyes this preseason, but asking him to fill a potential Chung void might be too much, even though the Patriots obviously liked him enough to give him a two-year, $4 million contract in the offseason.
"Terrence is a smart kid, works hard, has a lot of versatility," Bill Belichick said on Aug. 12. "We've asked him to do a number of different things. He's handled that well."
One of the points Belichick made was how important communication is among players in the secondary, and given Chung's experience in the team's system, Brooks obviously has some ground to make up in that area. That would be a big part of what the Patriots potentially miss without Chung.
Devin McCourty is locked in at one starting safety spot, with his range and speed top assets. Seven-year veteran Duron Harmon is a top backup, with core special-teamer Nate Ebner an emergency option.
Chung and Brooks are top options at the other safety spot, with undrafted Malik Gant (Marshall) also in the mix.
Elway calls out Broncos' Bolles for holding flags
ENGLEWOOD, Colo. — The Denver Broncos have tried patience, constructive criticism and a sliver of tough love for penalty-prone left tackle Garett Bolles. And now after another rash of yellow flags in the Broncos' first two games, the clock is ticking on the former first-round pick's place in the lineup.
Teammates have tried to help Bolles, and Denver hired one of the best offensive line coaches in football in Mike Munchak to, among everything else on his to-do list, to help out the former first-round selection.
Bolles, who was the 20th pick of the 2017 draft, is really the only one who can fix it.
"Obviously it hurts us (Sunday) at different points in the game … you know a lot of times, even though we overcame a couple of them, they're a drive stopper," said Broncos coach Vic Fangio. "We've got to be able to block our guy without holding."
Even the guy who picked him in the 2017 draft, who has been one of Bolles' biggest supporters — Broncos president of football operations/general manager John Elway — has had enough.
"Well, it's got to stop. Period," Elway said on a weekly appearance on Newsradio KOA (850-AM). "There are no more excuses for it. He's had 26 holding penalties in the last two years and two games, so it's got to stop. The bottom line is if he thinks he's getting singled out, he is. He's got to understand that. He's got to understand what he's doing. And that was my question (Sunday), 'Does he know what holding is?' Does he know what he can and can't do? If he thinks he's getting targeted, he's got to realize he isn't. We'll keep working for it and he's still a talented guy. He cannot do that because it's beating us."
Bolles has indeed been flagged for 26 holding penalties in 34 career games, including four times in the Broncos' 16-14 loss to the Chicago Bears last Sunday. And this is certainly not a new issue with Bolles, who was highly-penalized player in his one year at Utah.
He was flagged 15 times overall (three were declined) as a rookie in 2011, 14 times overall in 2018 (four were declined) and five times already this season (three have been declined). That's 34 penalties and almost 450 yards walked off against the Broncos' offense.
There is some feeling in the Broncos' complex that if Elijah Wilkinson, who is Bolles' backup and who worked with the starting offense plenty in training camp, was not already filling in for the injured Ja'Wuan James at right tackle, a move would have already been made in the Broncos' lineup.
When asked Monday if Bolles could be taken out for a series or two in games at times when he was clearly struggling, Fnagio said: "With our depth the way it is at this point, that's probably not an option."
James has missed the Broncos' first two games with a knee injury and has not yet returned to practice. The Broncos initially expected his return to take four to six weeks, so that may now be the time frame Bolles has to figure out a solution before Wilkinson moves to left tackle.
Some with the Broncos also took notice Bolles seemed to point the finger at the officials at least some after Sunday's game instead of at his own play.
"It was frustrating," Bolles said. "I've built a reputation for myself in this league of holding. I disagree with it, to be honest. There are some calls I disagree with, and there are some things that I understand … But I have the best O-line coach in the National Football League with Coach Munchak … I'm going to turn this around. I promise you all that. I promise Broncos Country that. I promise my teammates that. That was just unfortunate that they keep coming after me, but it is what it is."
Bolles added he thought he had done a "phenomenal job" improving from last season and that while he could improve his technique with his hands and footwork, added that "I'm not going to change my physicality, I'm not going to change my mindset."
Former Broncos guard Mark Schlereth, who is a co-host on a morning radio show in Denver and worked Sunday's Broncos game as an analyst for Fox Sports, has repeatedly cited Bolles' "stubborness" in changing his technique and offered earlier this week on his show that Bolles "flat-out can't play."
Many players have tried to help Bolles in the past, including Broncos linebacker Von Miller, and wide receiver Emmanuel Sanders said this week that "everybody's trying to talk to him."
"Obviously, I'm going to keep trying to talk to Bolles and see if we can get him right and understanding what he's doing wrong because obviously to say that he'll been alright is not OK," Sanders said. "He needs to understand that he is doing something wrong because they keep throwing the flags on him and he keeps holding. I'm going to talk to him and hopefully we keep breaking down the film and just see him make that jump and get that debt off his back because it's been happening for like two or three years."
With swagger and that 'stache, Minshew Mania engulfs Jacksonville – Jacksonville Jaguars Blog
JACKSONVILLE, Fla. — Abner Santiago is the barber you want to see if you want an artistic cut in Orange Park, Florida. If you've got a design — whether it's a cartoon character or, say, a local NFL team's logo — Santiago will put it on your head.
But when Matthew Spanopoulos sent him a photo of what he wanted on the back of his head, Santiago had no idea what it was. Spanopoulos explained it was Jacksonville Jaguars quarterback Gardner Minshew.
"Yo, this is awesome," Santiago said. "Let's do it."
Forty-five minutes later, Minshew Mania landed on the back of Spanopoulos' head. And right in the middle of a city that desperately needs something positive after the loss of quarterback Nick Foles. Minshew has captured Jaguars fans' attention as much for the way he looks as the way he has played.
Minshew has thrown just 58 passes and made one start, yet he already has the best-selling Jaguars jersey since the season began across the Fanatics network, which includes NFLShop.com and the Jaguars' online store.
Jaguars fan clubs are selling T-shirts with Minshew's face on them — one with the same design on the back of Spanopoulos' head — and someone already created a Twitter account for Minshew's mustache.
The city was smitten with Minshew when the Jaguars drafted him in the sixth round in April, but it was captivated by the former Washington State standout when he was thrust into a starting role after Foles broke his collarbone in the first quarter of the season opener against Kansas City. Minshew completed 22 of 25 passes for 275 yards and two touchdowns with one interception (which bounced off Leonard Fournette's face mask).
Minshew's completion percentage (88.0) was the highest in NFL history for any player with at least 15 pass attempts making their NFL debut. It is also a franchise single-game record among players with at least 25 pass attempts.
"He didn't just do OK," Spanopoulos said. "He did better than any rookie in 40 years and left me wondering, who the heck is the dude and how can I summon my inner Minshew?"
Minshew completed 23 of 33 passes for 213 yards and a touchdown last Sunday in his first start against Houston. He drove the Jaguars down the field for a touchdown with 30 seconds to play, but the Jaguars lost 13-12 when Fournette was stopped short on a two-point conversion attempt.
After two weeks, Minshew has the third-best completion percentage (77.6) and seventh-best passer rating (111.8) in the league. The single-season franchise records in both categories are 64.5 percent and 102.2.
"My plan is to prove that I'm the best I can be for this team every day at practice, every snap I get in a game," Minshew said.
Mix in his look — a headband, the mustache, cutoff jean short, sleeveless shirts — along with his charisma and a gunslinger attitude (a little Brett Favre, a little Ben Roethlisberger), and it's easy to see why fans love him.
Oh, and the mustache. A big ol' Tom Selleck. Boy, does everyone love the mustache.
It's all new to most everyone in Jacksonville. People in the Eastern time zone had rarely, or never, seen Minshew play at WSU. Because of that, one of the most prolific college passers in 2018 was somewhat anonymous on the East Coast. ESPN NFL analyst Matt Hasselbeck did a piece on Minshew for Sunday NFL Countdown last week and knew all about the kid. But someone else on set didn't.
"I think Randy Moss was like, 'Whoa. Who is that? Why is he wearing a headband? What's with the mustache?'" Hasselbeck said. "It's like that in the Pacific Northwest. It is like the witness protection program to the rest of the country."
Nobody in Pullman knew much about Minshew when he first got to Washington State, either. Then he threw for 319 yards and three touchdowns in a 41-19 victory at Wyoming in the 2018 season opener. Then 414 yards and three touchdowns in Washington State's 31-0 home victory over San Jose State. The following week, he threw for 470 yards and two touchdowns in a 59-24 home victory over Eastern Washington.
By then, the Pacific Northwest was scrambling to find out as much as it could about the kid from Brandon, Mississippi, who showed up in June after a phone call from Cougars coach Mike Leach, asking him if he wanted to come to Pullman and lead the nation in passing instead of transferring to Alabama to be a backup quarterback.
"No one really knew who he was or what he was about," said Dylan Greene, who was the editor in chief of the Daily Evergreen, WSU's student newspaper, at the time. "It wasn't until that first game that people understood what he was capable of. People start to look him up and see pictures of him and they saw the mustache and they were mesmerized by it."
By the time the regular season ended and Minshew had led the Cougars to an 11-2 record, he was the biggest thing in Pullman since Klay Thompson. But so, so much bigger.
"He is like a Pullman icon," Greene said. "If he came back, they'd probably have a parade through downtown Pullman, throw mustaches everywhere, be chanting 'Mississippi Mustache.'"
It hasn't quite reached that level in Jacksonville. Yet.
But Jaguars fans have definitely embraced him. They've been desperate for quarterback success since Mark Brunell led the Jaguars to the AFC Championship Game after the 1999 season, and they have latched on to Minshew.
And the more they learn about him, the more they love him. Even though he was second in the nation in passing yards in 2018 (behind first-rounder Dwayne Haskins of Ohio State and ahead of No. 1 overall pick Kyler Murray of Oklahoma), he was somewhat anonymous in Jacksonville.
That didn't last long.
People found the photos of Minshew on social media arriving for the Cougars' flight to San Antonio for the Alamo Bowl wearing a red leisure suit with the shirt open to his navel. The multiple shots of him in cutoff jean shorts. The aviator sunglasses.
Then they found the anecdotes:
Working out in the locker room with resistance bands wearing only his aviators and a jockstrap — and sometimes just the aviators. Steve Spurrier, whose son is the receivers coach at WSU, wanted to speak to Minshew after a game. He walked in, saw Minshew working out, and then told his son to tell Minshew: "Good game."

Doing a naked cannonball into a swimming pool during camp at WSU.

Buying a bed for $10 on Facebook Marketplace.

Carrying a full-size bottle of vanilla Crown Royal around in the waistband of his jeans on a night around Pullman.

His grandfather wanting to name him Beowulf.
And, just to clear up an erroneous story floating around: Minshew shares the same name as his father, Gardner Flint Minshew. Minshew's father, who goes by Flint, explains that he and his wife named their son Gardner Flint Minshew II and not Gardner Flint Minshew Jr. because in Mississippi, "If you're junior, you're probably going to get called Bubba. So my wife's like, 'No way he's going to be called Bubba.' Nothing against all the Bubbas out there. It wasn't what my wife wanted."
So, Minshew is kinda … sorta … the quintessential Florida Man.
"[Minshew] seemed like another in the line of [Mike] Leach Air Raid guys putting up bonkers numbers, but as everyone knows now, he had a fun story and magnetic personality to go with it, sparked by the whole mustache deal," said longtime Jaguars fan Alfie Crow. "Jaguars fans are familiar with the fun of a 'stache because of [owner] Shad Khan, so that was the easy part. Much like Blake Bortles, Minshew just seems like a dude you'd want to hang out and have a beer with."
Marcus Mariota's mistakes contributing to Titans' losses – Tennessee Titans Blog
NASHVILLE, Tenn. — Tennessee Titans great Eddie George addressed the team before practice last Thursday, urging the players to take the home opener against Indianapolis personally. If quarterback Marcus Mariota took former running back's words to heart, he's surely feeling sick after Tennessee's disappointing loss.
Mariota finished the day having completed 19 of his 28 pass attempts for 154 yards and a touchdown. But there were a lot of plays left on the field for him and the Titans offense. No one questions Mariota's talent and potential, but issues that typically plague first- or second-year quarterbacks continue to surface even in Mariota's fifth season.
The very first offensive play of the game is a perfect example: Mariota had Delanie Walker wide open with plenty of space to run, but the pass was behind the tight end and fell incomplete. (Animation provided by NFL Next Gen Stats.)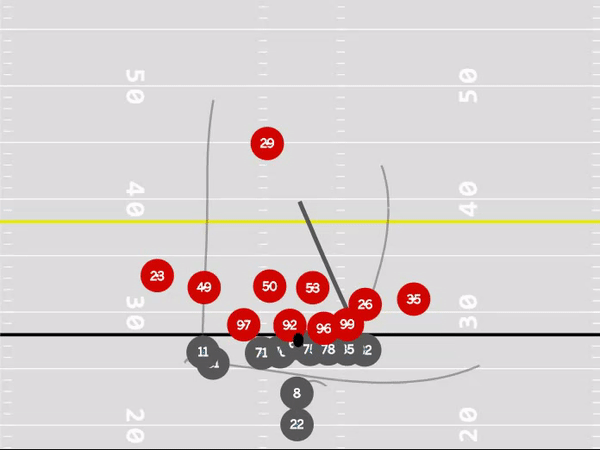 Instead of starting the game with a big play, the opening series resulted in a three-and-out.
Mariota missed another opportunity later when he didn't connect with a wide-open Corey Davis on an out-breaking route that would have been at least a 12-yard gain. Instead, Tennessee was forced to punt, failing to take advantage of a Logan Ryan interception that gave the Titans the ball at their own 40-yard line.
Sacks are another issue. The Titans gave up four on Sunday, but some of those are on Mariota for not getting rid of the ball fast enough. Walker had a chance at making a big play when he was wide open on a crossing route, but Mariota failed to pull the trigger even though the tight end came open right in front of him. The play ended in a 7-yard loss when Mariota was sacked.
Make way for Denico Autry. #INDvsTEN pic.twitter.com/r5TCgzhlWL

— Indianapolis Colts (@Colts) September 15, 2019
"Maybe instead of taking some of these sacks, just dumping it off so we can go and get some positive yards. Those are things that I've got to do better and help our offense out," Mariota said during his postgame news conference.
"We discussed being able to scramble when you have to scramble," coach Mike Vrabel said, "and know when you have to get out there, check the ball down when you have to, or throw it away when you have to."
Mariota could have checked down to running back Dion Lewis for a minimal gain on a third-down play in the third quarter, but instead he took a sack that resulted in a 7-yard loss. That led to a longer field goal attempt for Cairo Santos (from 45 yards), who missed the kick.
"In that situation, obviously getting the ball out [and] not taking a sack would've been better," Mariota said of the play.
Mariota's lone touchdown pass came on a tackle-eligible play in which he found offensive lineman David Quessenberry for a 1-yard touchdown. Quessenberry was able to haul in the pass even though it was slightly behind him.
Mariota's accuracy, field vision and pocket awareness have to get better.
To his credit, Mariota does make some outstanding plays to offset the bad ones. He has shown an ability to extend plays and still deliver strikes to receivers down the field. For example, he rolled to his left on a play against the Colts and delivered a bullet to A.J. Brown for an 11-yard gain on an out-breaking route. Mariota's play-action pass to Davis in the first quarter was also on the money, allowing him to gain yards after the catch.
Winning and losing is a total team effort. It's wrong to say the Titans lost on Sunday because of Mariota, but it's fair to say they could have won if he had played better. Mariota has to make progress if the Titans want to make a run and find themselves playing after December.