Rays' Lowe injures quad, likely done for season
Tampa Bay Rays second baseman Brandon Lowe has likely been ruled out for the season after suffering another injury during his attempted comeback from a right shin bruise, manager Kevin Cash said Thursday.
Lowe suffered a left quad strain during a Triple-A rehab game Wednesday night. It was his fourth rehab game from the shin injury that had kept him out of the majors since July 2.
"He's most likely done for the year," Cash said Thursday. "I think that's the best way to say it. If he comes back early, great."
The rookie had been named as an All-Star replacement when he injured his shin against the Baltimore Orioles.
"From basically July 2, 3 or whatever it was, it's kind of become a disappointment," Cash said. "He's done everything we could ask in the first half for us. Very deserving of being on the All-Star team.
"Unfortunately, the shin injury comes out and now this as he's getting closer. Just not ideal, but we're equipped with some guys that can certainly come in and continue to fill that void. We've been doing it, but we're going to miss him."
Lowe, 25, finishes the season hitting .276 with 16 home runs and 49 RBIs.
The Rays entered Thursday at 74-54, tied with the Oakland Athletics for the American League's second wild-card berth.
The Associated Press contributed to this report.
Rebuild nearly over, White Sox say they're ready to win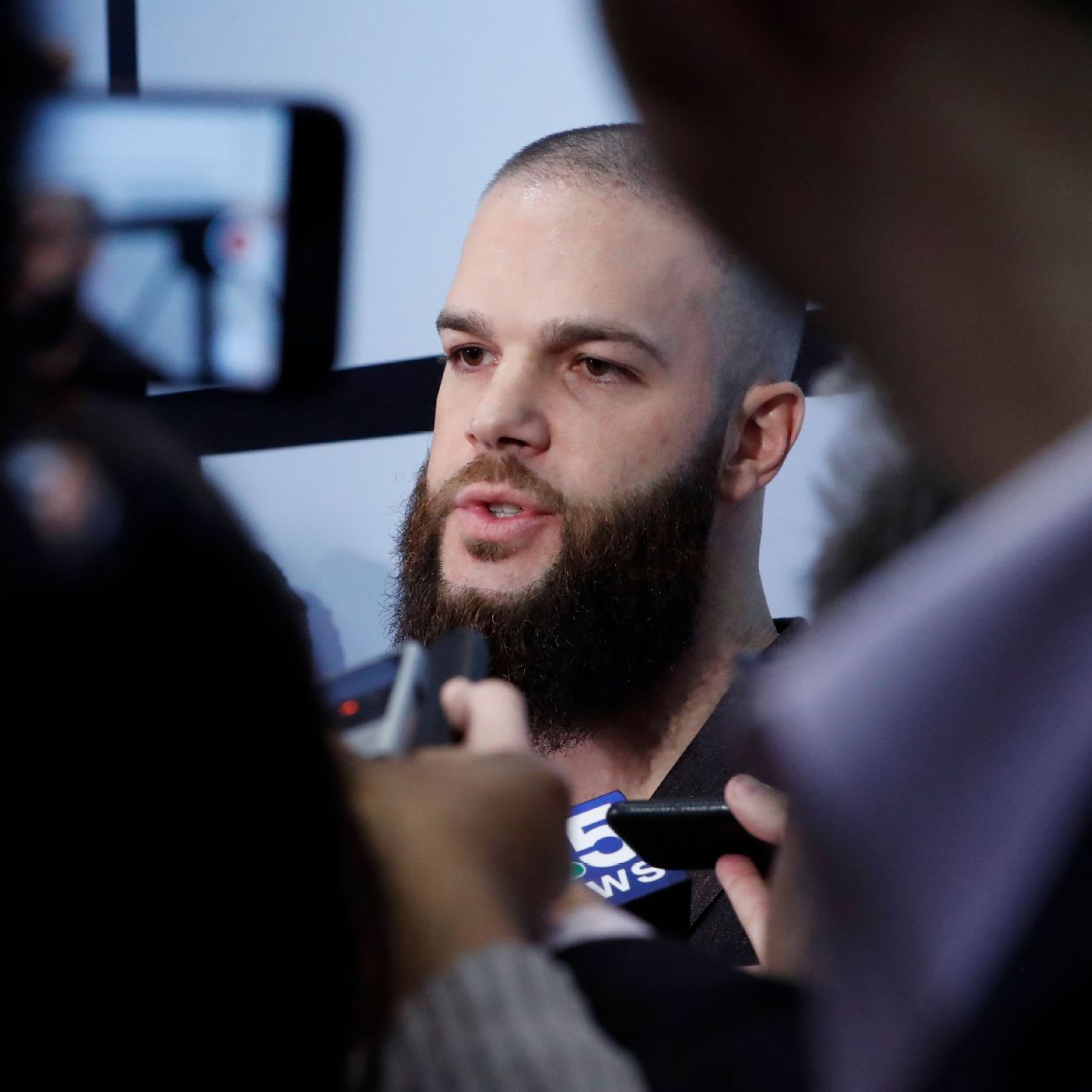 GLENDALE, Ariz. — The rebuild may not be quite over yet but the Chicago White Sox hope the fun is already beginning.
Three years of rebuilding and overhauling the roster have brought in young players who are developing into stars. The offseason was highlighted by the additions of All-Star catcher Yasmani Grandal and former Cy Young winner Dallas Keuchel.
By all indications, the players couldn't wait to get to Camelback Ranch this spring. On the day when pitchers and catchers reported, there were plenty of infielders and outfielders as well.
For a team that hasn't had a winning season since 2012 and been absent from the postseason since 2008, it can't come soon enough.
"You can see the entirety of it coming together," White Sox general manager Rick Hahn said Wednesday. "We are not certain how quickly it's all going to click on all cylinders the way we want. When we started this process, it was about putting ourselves in position for annual contention."
But for manager Rick Renteria and some of the players, the expectations are high now. The playoffs are a goal, and the phrase "World Series" was even uttered a time or two — a big leap for a team that won 72 games last season and finished 28 1/2 games out in the AL Central.
"We talked about this today," Hahn said. "The coaches and the players, everyone in uniform being focused on it's time, this year, let's go. That's fantastic. That's great. That's where you want their mindset."
All-Star Lucas Giolito heads a rotation that now includes Keuchel and another free-agent lefty, Gio Gonzalez. Dylan Cease will be in there somewhere, with Reynaldo Lopez likely the No. 5 man at least until Michael Kopech or Carlos Rodon return from arm injuries later this season.
Offensively, the Sox featured slugging first baseman Jose Abreu, batting champion Tim Anderson and emerging young hitters Yoan Moncada and Eloy Jimenez. Add to that Grandal, DH Edwin Encarnacion and highly regarded rookie center fielder Luis Robert, and they figure improvement is not far away.
"Putting the expectation in there that this is a team ready to win and we expect to win or we are a playoff-caliber club, it raises the focus for everyone around here," Hahn said.
Renteria, in his fourth year at the helm, has not been shy about proclaiming that this can be the year the White Sox take the big jump into postseason contention.
"We want to play to put ourselves in position to give ourselves a chance to get to the dance. That's what it's about," Renteria said. "If people say I'm scared to say that you're looking at the wrong guy."
A's filed complaint to MLB on Astros before Mike Fiers talked
The Oakland Athletics filed a formal complaint to Major League Baseball about the Houston Astros' sign stealing before Mike Fiers told The Athletic about the scheme, manager Bob Melvin and general manager David Forst told the San Francisco Chronicle.
"MLB does a great job of monitoring these things, but it's very difficult if a team calls in and complains about something, they can only do so much," Melvin told the newspaper. "It took a player and a player who was on that team to put it over the top. And I think MLB is handling it very well right now."
Fiers, who now pitches for the A's, made it clear he is moving forward after he told The Athletic in November that his former Houston team had stolen signs using a video camera in center field during the Astros' 2017 run to the World Series title.
"Right now I want to focus on this team and not the past," said Fiers, who has declined to speak in detail about the scheme or his decision to go public.
The revelations prompted an investigation that shook up several teams. Houston manager AJ Hinch and general manager Jeff Luhnow were fired on the same day they were suspended by commissioner Rob Manfred. Former Astros bench coach and then-Boston Red Sox manager Alex Cora also was dismissed, and then ex-Astros player Carlos Beltran lost his job as New York Mets manager.
"I'm glad we're at this point right now, and obviously Mike had a lot to do with that," Melvin told reporters Wednesday as pitchers and catchers held their first spring workout. "The game's better for it from this point going forward. I think it's all about moving past right now and getting through a lot of the issues that you saw. It's supposed to be an equal playing field, and it wasn't."
The Associated Press contributed to this report.
Royals' Salvador Perez says elbow at 90 percent after missing 2019 season
SURPRISE, Ariz. — Preparing to return to the major leagues after a one-season absence, Salvador Perez caught a bullpen session from prospect Brady Singer in the Kansas City Royals' first spring training workout on Wednesday.
Perez hurt a ligament in his right elbow during drills in spring training last year, and Los Angeles Dodgers team physician Dr. Neal ElAttrache performed Tommy John surgery on the six-time All-Star on March 6. Perez is hitting and throwing to bases.
"I'm like 90 percent, very close to 100 to be able to do anything," Perez said. "We'll see what [the doctor] says, so I can do some more stuff on the field. I feel good."
Perez said it was difficult to watch last year and not play as the Royals skidded to their second straight 100-loss season.
"You start to think too much sometimes," Perez said. "It's a good thing I'm back. I'm ready. Hopefully, I can stay healthy for the opening day."
Approaching his 30th birthday in May, Perez is a five-time Rawlings Gold Glove Award recipient and the 2015 World Series MVP. He has a .266 average with 141 homers and 503 RBIs in eight major league seasons.
"I really don't need to remind people," he said. "They already know. They know who I am. They know I love to play baseball. When the light is on, it's my time."
Manager Mike Matheny said he is not ruling out using Perez at first base at times.
"If they need me for a couple of games, I don't have any problem to do that," Perez said. "I don't like to think I'm going be the first baseman or DH. I'm the catcher. I prepare myself to catch 162 games, more than that if we're in the playoffs."
Perez hit 27 home runs in both 2017 and 2018, his fourth straight season with at least 21 homers.
"He looks great and ready to go," Matheny said.