Braves' Acuna pulled after not running out single
Braves star Ronald Acuna Jr. was removed from Sunday's victory against the Dodgers after he stood at the plate admiring a long fly ball that did not leave the park.
Acuna, an All-Star outfielder for the NL East leaders, was pulled before the fifth inning after failing to run out a drive off the right field wall in the third. The ball bounced off the wall for a long single. Acuna likely would have had an easy double if he had hustled from home plate.
Manager Brian Snitker followed Acuna into the tunnel for a conversation during the fourth inning before Adam Duvall entered the game in left field in the fifth, with Rafael Ortega moving from left to center field.
"He didn't run. You've got to run," Snitker said. "That's not going to be acceptable here. The name on the front is a lot more important than the name on the back. … You can't let your teammates down."
Snitker also said Acuna handled his decision maturely and "knew he screwed up." Acuna is expected to be back in the lineup for the Braves' next game Tuesday against the Marlins.
Acuna, 21, said through a translator that there was "no excuse" for the baserunning mistake and that he respected Snitker's decision.
The move by Snitker came in the decisive game of a three-game series between the teams with the National League's best records. The Braves trailed 3-1 when Acuna was pulled, but Ortega's sixth-inning grand slam lifted Atlanta to a 5-3 victory.
Acuna just missed robbing Cody Bellinger of a three-run homer in the first with a leaping try in center field.
Acuna is hitting .296 with 35 home runs and 85 RBIs, and he leads the NL with 29 stolen bases and 104 runs scored.
The Associated Press contributed to this report.
Braves' new world — Loftier goals than NL East title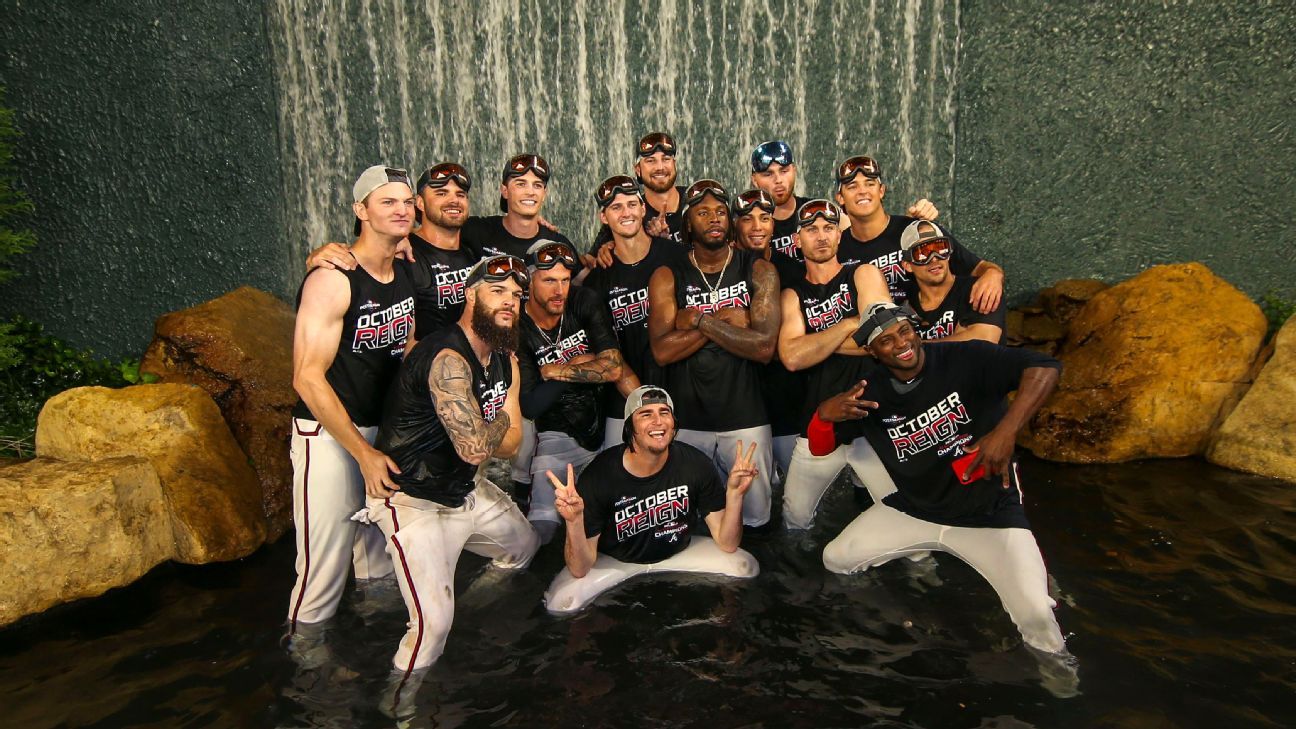 ATLANTA — One year ago, just winning the National League East was enough for the rebuilding Atlanta Braves.
Now manager Brian Snitker and general manager Alex Anthopoulos expect more.
Even as players celebrated their second consecutive division title with beer and bubbly on Friday night, focus shifted.
"Our first goal was to win the East and we did, and I think now that's not good enough," Snitker said Saturday. "I think our guys know they're capable of a lot more than that. The goal now is the big prize. We feel like we have a team that can do that. We are deep enough, strong enough. I think that is a realistic goal, not just to want to get in but to win the whole thing."
After Friday night's clinching 6-0 victory over the San Francisco Giants, Anthopoulos stood outside the clubhouse doors while the rowdy celebration continued inside.
The GM didn't allow himself to be sprayed. He was looking ahead to the division series starting Oct. 3.
"Kind of by design," Anthopoulos said when asked how he stayed dry. "Hopefully we're doing this after the DS and that's when I'm going to be wet."
The Braves haven't won the World Series since 1995 at Atlanta-Fulton County Stadium, two ballparks ago. They have lost nine straight playoff series since sweeping Houston in the 2001 NL Division Series, including last year's four-game loss to the Los Angeles Dodgers.
Atlanta's only regulars in Saturday night's lineup were Ronald Acuna Jr., Josh Donaldson and Dansby Swanson. Others, including Freddie Freeman and Ozzie Albies, were rested.
Donaldson likely will not start on Sunday. Snitker acknowledged it might be more difficult to hold out Acuna, who is chasing a 40-40 season.
Swanson, however, said he's seeking at-bats after missing a month with a foot injury.
"I need to play," Swanson said. "I missed enough time. I'm still looking for ways to kind of find that groove and get back to where I was before. Each day I'm working to get better and I need the at-bats to continue to boost myself in the right direction."
"I told the guys I feel like we knocked on the door last year. Now we're going to try to kick that sucker in."

Brian Snitker, Braves manager
Swanson said the offseason additions of Donaldson and catcher Brian McCann plus re-signing Nick Markakis put the Braves in position to be a more viable postseason contender.
"I think as soon as the season was over last year everyone was excited to come back and get to work," Swanson said. "With the additions of JD and Mac and having Nick come back really put us in a good position to really win consistently and to be able to do it in a multitude of ways."
Acuna (41 homers), Freeman (38) and Donaldson (37) have led Atlanta's deep lineup. Freeman's 120 RBIs led the majors entering Saturday's games. Acuna led the NL with 126 runs and 37 stolen bases.
"I told the guys I feel like we knocked on the door last year," Snitker said. "Now we're going to try to kick that sucker in."
'Animated' Boone ejected for arguing strike zone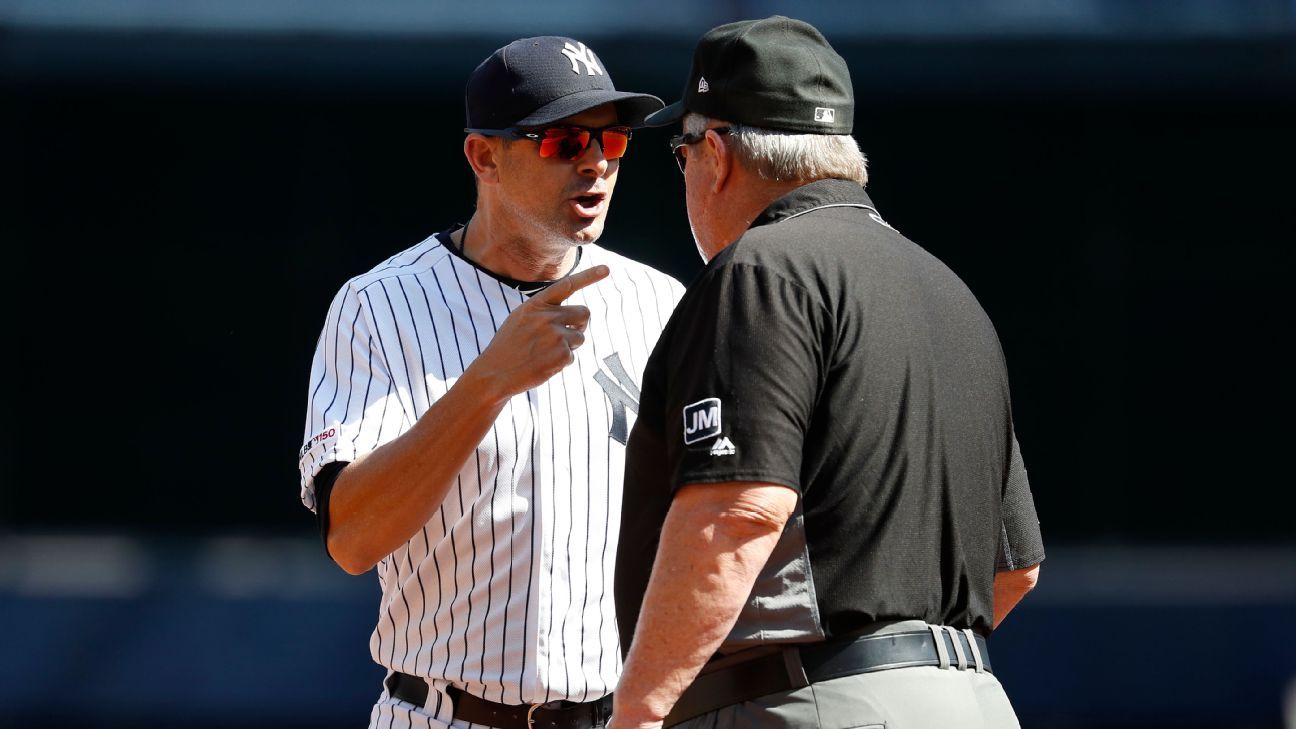 NEW YORK — Yankees manager Aaron Boone clashed Saturday with another rookie umpire, and this time, veteran crew chief Joe West stepped in.
Boone was ejected by West, umpiring at third base, for arguing balls and strikes during a 7-2 win over the Toronto Blue Jays.
New York slugger Giancarlo Stanton struck out looking at three low strikes from rookie T.J. Zeuch for the final out of the first inning. Stanton argued briefly with plate umpire Jeremie Rehak — an injury replacement from Triple-A — before heading back to the dugout.
Boone, meanwhile, shouted profanities from the bench, and West signaled his ejection from across the field. Rehak also booted Yankees hitting coach Marcus Thames during the exchange.
"I was just upset within an at-bat where G's coming back and I felt like there were a few in there in his at-bat where it kind of got taken away, so I just got animated," Boone said. "The bottom line is I probably wasn't going to get thrown out from Jeremie. I was starting to walk away and the confrontation happened with Joe."
Boone's interactions with umpires have been well-documented this year, and he's been tossed five times. The most notable was an exchange with rookie ump Brennan Miller in July when TV mics capture Boone repeatedly calling his players "savages." That tirade went viral, and New York players routinely wear T-shirts commemorating the rant.
"I like to think I'm always in control of my emotions," Boone said. "There's times that I'm going to fight and I think it's necessary. As hard as we are on our guys about controlling the strike zone and how much we demand of them in that regard, it's something I'm passionate about and I'm going to fight. I don't want our guys leaving the strike zone."
New York was also peeved with West over his strike zone Friday night, when Brett Gardner argued forcefully after a called strike in the ninth. Boone said that disagreement wasn't a factor Saturday.
Two outs — Yanks' Boone, Thames ejected in 1st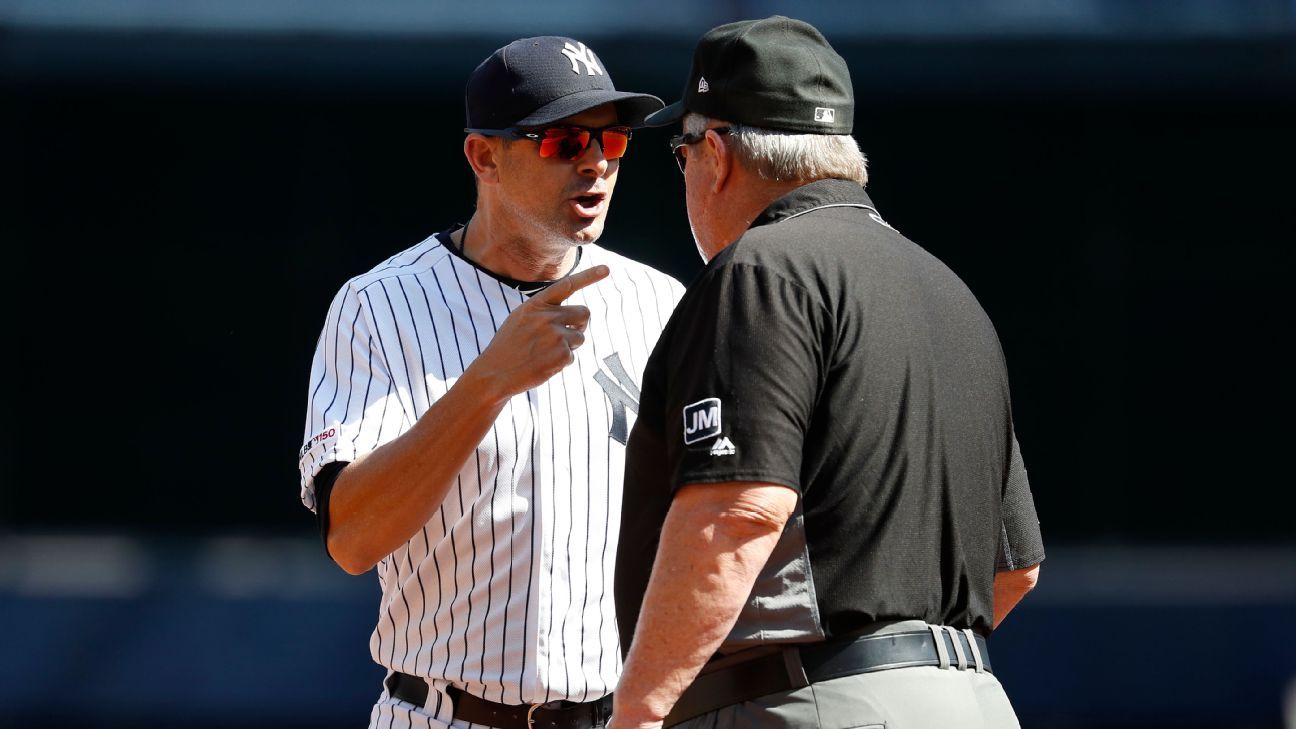 NEW YORK — Yankees manager Aaron Boone was ejected by crew chief Joe West in the first inning of the Yankees' game against Toronto for arguing balls and strikes.
Boone yelled from the dugout Saturday at plate umpire Jeremie Rehak after Giancarlo Stanton struck out looking against Blue Jays starter T.J. Zeuch to end the inning. West tossed Boone from third base, and Rehak — a recent call-up from Triple-A — ejected Yankees hitting coach Marcus Thames.
Stanton watched three called strikes near the bottom of the strike zone and then exchanged words near home plate with Rehak. As Stanton walked off, Boone shouted profanities from the dugout, prompting his ejection. He then came out and argued with West near third base during the inning break.
The ejection was Boone's fifth of the season. He memorably called his players "savages" during a tirade aimed at rookie umpire Brennan Miller in July. He wasn't as lively jawing with West on Saturday.
The Yankees already were peeved with West over his strike zone Friday night, when Brett Gardner argued animatedly after a called strike in the ninth. There were no ejections Friday.