Yankees targeting September return for Stanton
NEW YORK — Giancarlo Stanton wants to return from his knee injury in time to fine-tune that powerful swing for October.
Sidelined nearly all season, the New York Yankees slugger is hitting indoors and throwing as he rehabs from a sprained right knee that's been slow to heal since he got hurt June 25. The next step will be jogging and running outside before ramping up baseball activities.
General manager Brian Cashman originally targeted August but now says the American League East leaders hope to get Stanton back sometime in September.
"Once I start moving around, just see how it bounces back. But I do want to have a few weeks of at-bats before October, for sure," Stanton said Thursday in his first comments to reporters in some time. "I want to be out there for a couple weeks, just the game routine and having whatever amount of at-bats I can."
The 2017 National League MVP said he's confident he'll return to health this season but has no particular date in mind.
"I'm doing everything I can to get there, so that's what this process is and that's what I'm working for," the 29-year-old said.
"The deadline is when my knee is ready to play major league games," Stanton added. "So if something happens to that, then I can always get at-bats, non-big league at-bats, but by close to big league pitching, to catch me up if need be. But that is the deadline — not any rush past when my knee is ready."
Stanton strained his left biceps March 31 in his third game of the season, strained a shoulder and calf during his rehabilitation and returned June 18. He quickly went down again and is batting .290 with one home run and seven RBIs in nine games this year.
The outfielder and designated hitter was transferred to the 60-day injured list Sunday.
"It's been brutal on my side, but it's been really good to see the team playing so well. I mean, that's what's really kept it not so bad for me is just to watch everyone bringing together wins in all different type of ways, not one hero every night," Stanton said. "That's what I've been focusing on. Not poor me, all this stuff. I'm just watching how good we've been playing and just, what strategy for me to come file in. Not to just be back playing, but to get another little boost to what we've already been doing really well."
Despite a series of injuries to All-Stars and other accomplished players, the streaking Yankees began the day tied for the best record in the majors with the Los Angeles Dodgers at 81-41.
Pointed toward the playoffs, New York held a 10-game lead in the AL East with 40 to play.
"I'm definitely glad to be hitting and moving around. Still got a lot of work to do, but I'm definitely glad for that," Stanton said. "Just waiting on this knee to be full go and then we'll be ready."
Champion Nationals largely mum when asked about Astros
WEST PALM BEACH, Fla. — Max Scherzer grunted and cursed his way to 56 pitches during his first formal bullpen session of spring training — about 20 more throws than other Washington Nationals starters Thursday, but "standard" for him, the righty said — and then was asked about … the Houston Astros cheating scandal.
Manager Dave Martinez began camp in the final season for which his contract is guaranteed at the moment — the Nationals hold an option for 2021 — and then was prompted to talk about, well, another team entirely.
Nationals players could look around their clubhouse at the Ballpark of the Palm Beaches and see the new locker nameplates or new red-and-blue clocks on the walls or patches stitched to the sleeves of their new jerseys, all festooned with some sort of logo proclaiming the club to be the 2019 World Series champions … and then were queried about the club that was the runner-up last season.
It was an odd dynamic: The Nationals and Astros were foes last October; Dusty Baker, hired to replace the fired AJ Hinch as Houston's skipper, was Martinez's predecessor in Washington; the teams share a complex in Florida; they will open their Grapefruit League schedule against each other on Feb. 22.
And so Martinez jutted his thumb over his right shoulder, in the direction of Houston's half of the facility, when he said, "I don't focus on none of that stuff."
If it takes a lot to render the reigning champs' first official workout of the spring a non-story, well, Houston managed to do just that.
"They crossed the moral line and cheated, but they've got to answer to it. It's not really for us to speak for them, they need to speak for themselves," Scherzer said. "They need to talk to the fans of baseball and explain what happened."
The Astros were punished by Major League Baseball for a sign-stealing scheme that an investigation determined was used during their 2017 run to the title and in 2018, too. They addressed the matter during a news conference that included their owner, Jim Crane, on Thursday, and two players; other players spoke in the team's clubhouse.
"One day of having to answer questions is not going to make this go away," said Nationals reliever Sean Doolittle, who also spoke about the effect Houston's cheating had on pitchers who fared poorly against the Astros. "This is going to be something that they're going to have to work really hard at to show baseball, to show other players, to show fans, that they are remorseful and they do want to move on from this."
One current Nationals player was on the Astros team that engaged in the sign stealing: Will Harris, a reliever who switched teams as a free agent this offseason.
"I was on that team. I take responsibility for it just like every other man that was in there," Harris said. "I'm not going to try to separate myself in any way."
Angels RHP Justin Anderson to miss 4-6 weeks with oblique injury
Los Angeles Angels right-hander Justin Anderson will be sidelined for four to six weeks after injuring his oblique muscle while playing catch, manager Joe Maddon said Thursday.
Anderson said he got hurt Tuesday. He only had a few throws left when he abruptly felt pain "like somebody stabbed me in my side," he said.
Anderson, a former 14th-round pick who made his major league debut in 2018, missed a chunk of last season with an injured trapezius muscle in his neck and back. He had spent the offseason strengthening his core and diligently working back from that injury, only to find out he essentially will miss spring training this year.
Anderson went 3-0 with a 5.55 ERA last season in 54 appearances with the Angels. He is fighting for a spot in Los Angeles' bullpen again this year.
The Associated Press contributed to this report.
Report — Kevin Pillar agrees to 1-year, $4M deal with Red Sox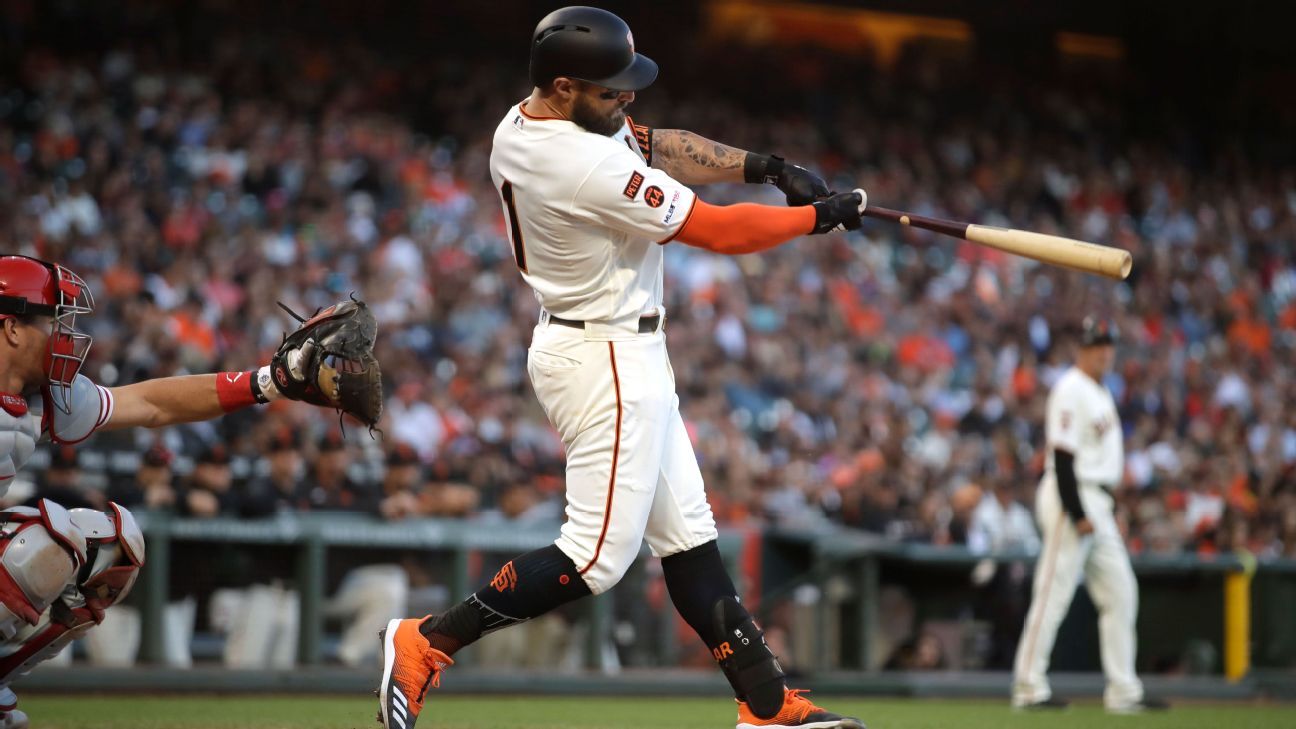 The Boston Red Sox have agreed to a deal with free agent outfielder Kevin Pillar, according to The Boston Globe.
The newspaper reports it's a one-year, $4 million deal that could become official as soon as this weekend if Pillar passes his physical.
Pillar will provide Boston with some outfielder depth with Mookie Betts now gone via trade to the Dodgers and Alex Verdugo, whom the Red Sox acquired in the deal, no certainty to be ready for Opening Day. Verdugo missed the end of last season with a back/oblique injury, and while he said in December that his goal was to be ready for the opener, he told MLB.com then that he'd have to wait and see how the injuries were progressing.
Red Sox position players aren't mandated to report to spring training until Sunday.
Pillar began last season with the Toronto Blue Jays and moved to the San Francisco Giants as part of a four-player trade in early April. The slugging outfielder had the best season of his career, leading the Giants in several offensive categories, including homers (21), RBIs (87), hits (157) and on-base percentage (.339).
Pillar, who made $5.8 million in 2019, was not tendered a contract by the Giants following the season, as he would have become eligible for arbitration and likely would have commanded approximately $10 million.
A right-handed bat, Pillar had been Toronto's longest-tenured player before being traded in his seventh season with the team. Known for stellar defense in center field, the 30-year-old (DOB 1/4/1989) has a .261 average with 76 home runs and 318 RBIs in 851 games. The Blue Jays selected Pillar in the 32nd round of the 2011 amateur draft, giving him a $1,000 signing bonus.
Pillar's time in Toronto was not always smooth. In May 2017, he was suspended two games after yelling a homophobic slur at Atlanta Braves reliever Jason Motte. Pillar later apologized to fans, Major League Baseball and the LGBTQ community.