ROY candidate Tatis going on IL with back strain
San Diego Padres shortstop Fernando Tatis Jr. is going on the 10-day injured list with a back strain.
Tatis, a Rookie of the Year candidate who is batting a team-leading .317, left Tuesday's game against the Tampa Bay Rays with back spasms and did not play Wednesday.
He is eligible to come of the IL on Aug. 24.
Infielder Ty France was called up from Triple-A El Paso on Friday and is playing second base against the Philadelphia Phillies, batting seventh.
Tatis missed 34 games earlier in the season with a hamstring injury.
'Animated' Boone ejected for arguing strike zone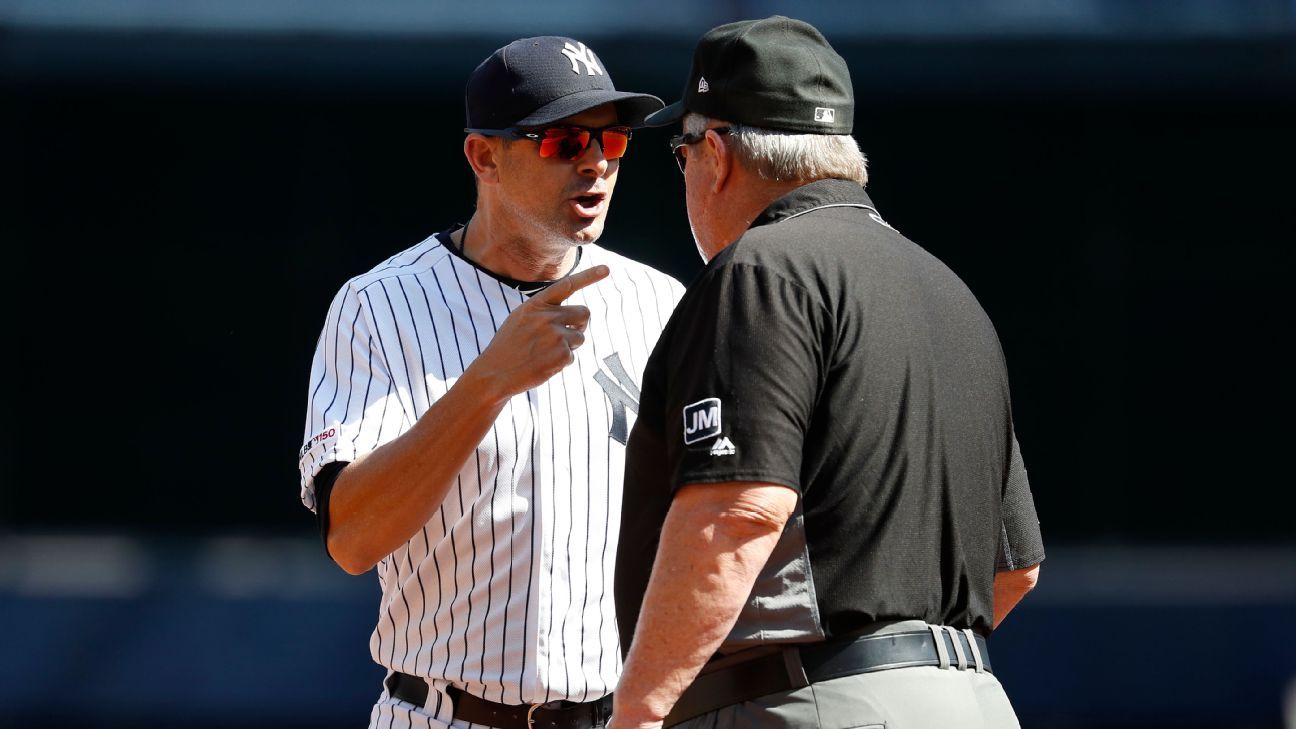 NEW YORK — Yankees manager Aaron Boone clashed Saturday with another rookie umpire, and this time, veteran crew chief Joe West stepped in.
Boone was ejected by West, umpiring at third base, for arguing balls and strikes during a 7-2 win over the Toronto Blue Jays.
New York slugger Giancarlo Stanton struck out looking at three low strikes from rookie T.J. Zeuch for the final out of the first inning. Stanton argued briefly with plate umpire Jeremie Rehak — an injury replacement from Triple-A — before heading back to the dugout.
Boone, meanwhile, shouted profanities from the bench, and West signaled his ejection from across the field. Rehak also booted Yankees hitting coach Marcus Thames during the exchange.
"I was just upset within an at-bat where G's coming back and I felt like there were a few in there in his at-bat where it kind of got taken away, so I just got animated," Boone said. "The bottom line is I probably wasn't going to get thrown out from Jeremie. I was starting to walk away and the confrontation happened with Joe."
Boone's interactions with umpires have been well-documented this year, and he's been tossed five times. The most notable was an exchange with rookie ump Brennan Miller in July when TV mics capture Boone repeatedly calling his players "savages." That tirade went viral, and New York players routinely wear T-shirts commemorating the rant.
"I like to think I'm always in control of my emotions," Boone said. "There's times that I'm going to fight and I think it's necessary. As hard as we are on our guys about controlling the strike zone and how much we demand of them in that regard, it's something I'm passionate about and I'm going to fight. I don't want our guys leaving the strike zone."
New York was also peeved with West over his strike zone Friday night, when Brett Gardner argued forcefully after a called strike in the ninth. Boone said that disagreement wasn't a factor Saturday.
Two outs — Yanks' Boone, Thames ejected in 1st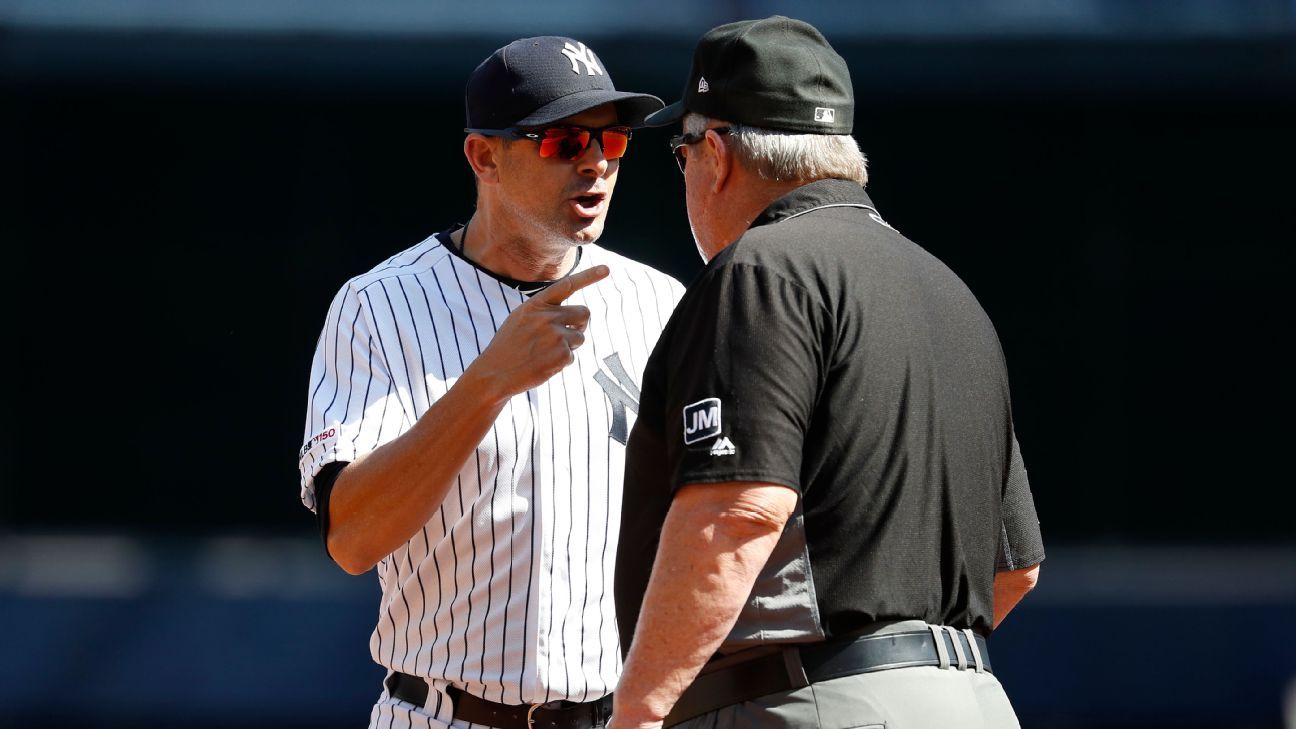 NEW YORK — Yankees manager Aaron Boone was ejected by crew chief Joe West in the first inning of the Yankees' game against Toronto for arguing balls and strikes.
Boone yelled from the dugout Saturday at plate umpire Jeremie Rehak after Giancarlo Stanton struck out looking against Blue Jays starter T.J. Zeuch to end the inning. West tossed Boone from third base, and Rehak — a recent call-up from Triple-A — ejected Yankees hitting coach Marcus Thames.
Stanton watched three called strikes near the bottom of the strike zone and then exchanged words near home plate with Rehak. As Stanton walked off, Boone shouted profanities from the dugout, prompting his ejection. He then came out and argued with West near third base during the inning break.
The ejection was Boone's fifth of the season. He memorably called his players "savages" during a tirade aimed at rookie umpire Brennan Miller in July. He wasn't as lively jawing with West on Saturday.
The Yankees already were peeved with West over his strike zone Friday night, when Brett Gardner argued animatedly after a called strike in the ninth. There were no ejections Friday.
Padres fire Green after four sub-.500 seasons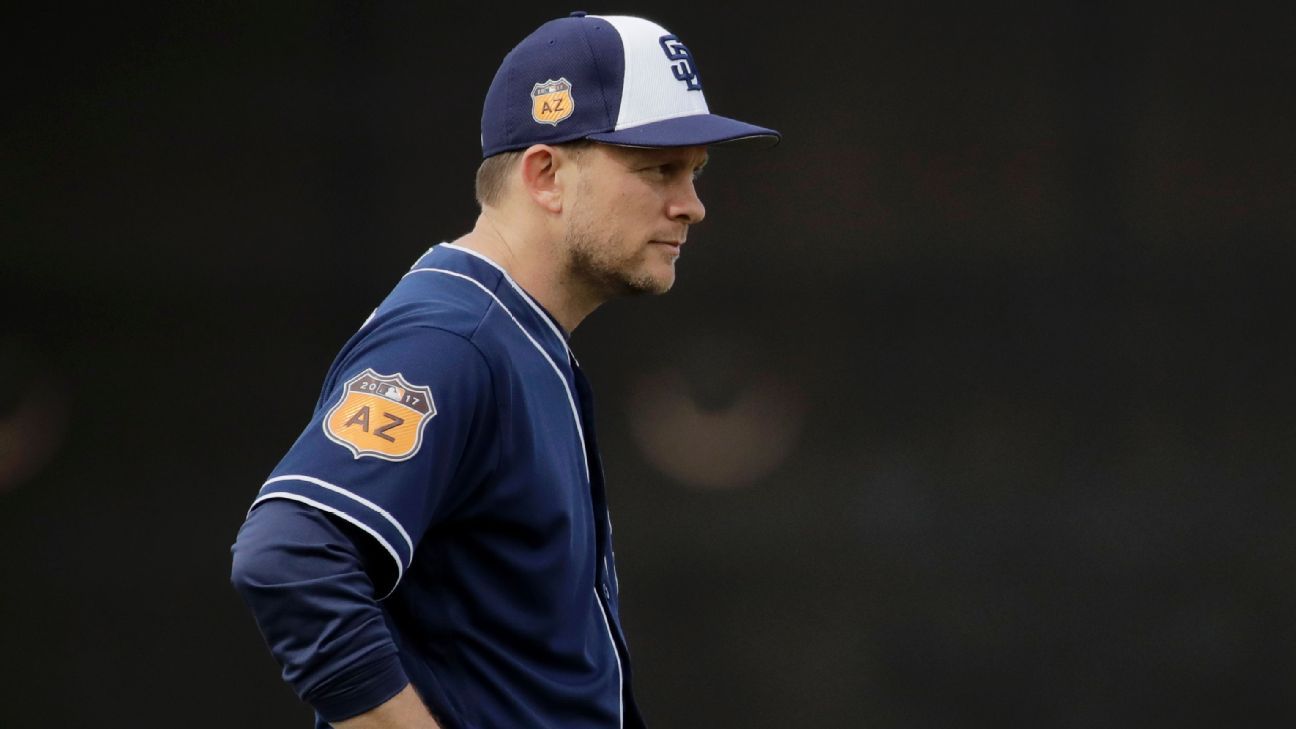 The San Diego Padres have fired manager Andy Green, general manager A.J. Preller announced Saturday.
"I want to thank Andy for his tireless work and dedication to the Padres over the last four seasons," Preller said in a statement. "This was an incredibly difficult decision, but one we felt was necessary at this time to take our organization to the next level and expedite the process of bringing a championship to San Diego. Our search for a new manager will begin immediately."
Green was 274-366 in four seasons as Padres manager. They hadn't won more than 71 games in any of his three full seasons in charge and are 69-85 in 2019.
In August 2017, the Padres gave Green a contract extension that ran through the 2021 season.
San Diego's .428 winning percentage with Green was the fourth-worst in the majors since 2016, ahead of only the Detroit Tigers (.406), Baltimore Orioles (.408) and Miami Marlins (.427), according to ESPN Stats & Information. The Padres' 4.0 runs per game, .236 batting average and .695 OPS since 2016 were all the worst in MLB.
The big offseason signing of Manny Machado to a 10-year, $300 million contract couldn't turn the Padres' fortunes, as San Diego will miss the playoffs for the 13th straight season.